Gobhi 65's origin could be traced to some restaurant in India.

It is a combo of dry-cauliflower sabzi and cauliflower manchurian. I bet you will love the recipe and the final dish irrespective of the fact whether you love or hate gobhi. There are many reasons how this dish got its name. I am listing a few of them. They are:
1. It was the 65th item on the menu list in the restaurant.
2. Another claim is that it is prepared by cutting gobhi in 65 pieces(quite a large cauliflower).
3. It is a dish containing 65 chilli peppers devised by an enterprising hotelier.
4. Dish emerged as a simple meal solution for Indian soldiers in 1965.
5. It is made from cauliflower weighing 650 gms.

I have tried this recipe in a healthy way of baking the florets in oven which involves very less oil. This recipe also saves your time in a way that you can prepare your sauce by the time the florets are baked.
It serves 3-4 people. Although this recipe is mainly consumed as a side dish or an appetizer but I prefer it in the main course. So you may have it with any type of flat bread like chapati, paratha , tortilla etc.

So lets proceed to this spicy recipe of gobhi 65 without any reason..
Ingredients:
For batter:
1. All-purpose flour – 4 Tbsp
2. Corn starch or corn flour – 2 Tbsp
3. Rice flour – 2 Tbsp(optional)
4. Ajinomoto – 1 tsp (optional)
5. Red Chilli powder – 1/2 tsp
6. Salt to taste
7. Kasoori methi – 2 Tbsp
8. Ginger paste – 1 Tbsp
9. Garlic paste- 1 Tbsp
10. Cumin powder -1 Tsp(optional)
11. Garam masala- 1 Tsp
12. Coriander powder(dhania powder) – 1 Tsp
13. Cauliflower florets (washed and cut) – 2 cups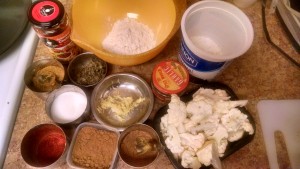 For sauce :
1. Spring onion(hari pyaz) chopped – 1/2 cup
2. cooking oil – 1 Tbsp
3. Curry leaves – 5-6
4. Green chillies chopped – 2-3
5. Salt adjust according to taste
6. tomato ketchup – 3 tbsp
7. Schezwan chilli sauce – 1 tbsp
8. Soy sauce – 1 tbsp.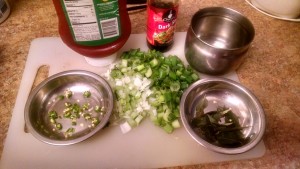 Method:
1. Add all the dry ingredients in a bowl and mix them well with a spoon. Now slowly add water to form a thick paste. This will need 2-3 tbsp of water. Thick paste helps in coating the florets well.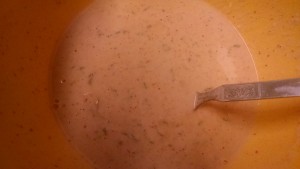 2. Line the aluminium tray with a parchment paper and apply non-stick cooking spray or oil on the edges and the bottom.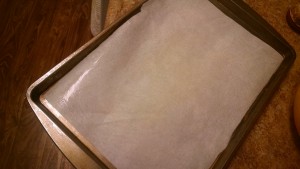 3. Dip the florets in the batter and you may leave in the batter for 20 mins for getting them marinated properly. But if you are in a hurry you may line them instantly after dipping on the baking tray.



4. Bake them at 350 Degree F for 15 mins. They will get well roasted.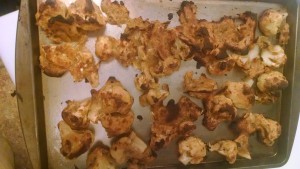 5. In the meanwhile ,take a non-stick pan and heat it.

6. Add cooking oil in it and the curry leaves, then the ginger-garlic paste. Now add the salt,schezwan spicy sauce,soy sauce and ketchup on low heat.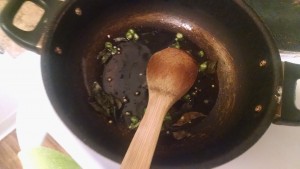 7. In the end add the spring onions and give it a stir.


8. Take out your roasted -coated florets and add the sauce just made over it .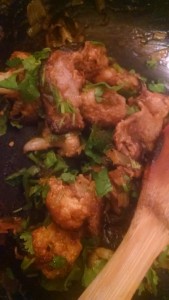 9.Garnish with chopped cilantro. Gobhi 65 is ready to serve and enjoy.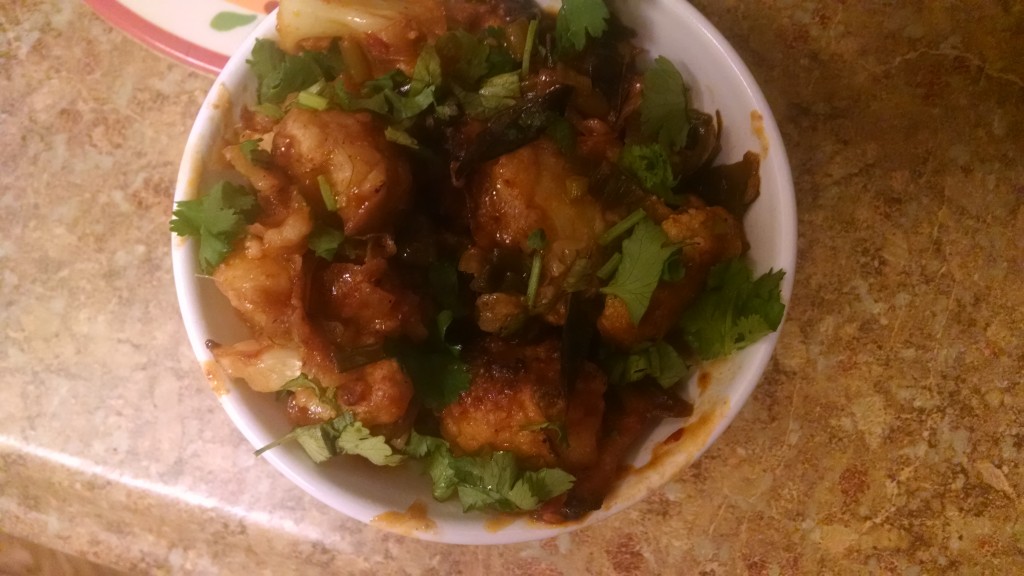 This is an appetizer and could be consumed within 2-3 days if kept in fridge after cooling.
Enjoy and share your experience here!!