Paczki Donuts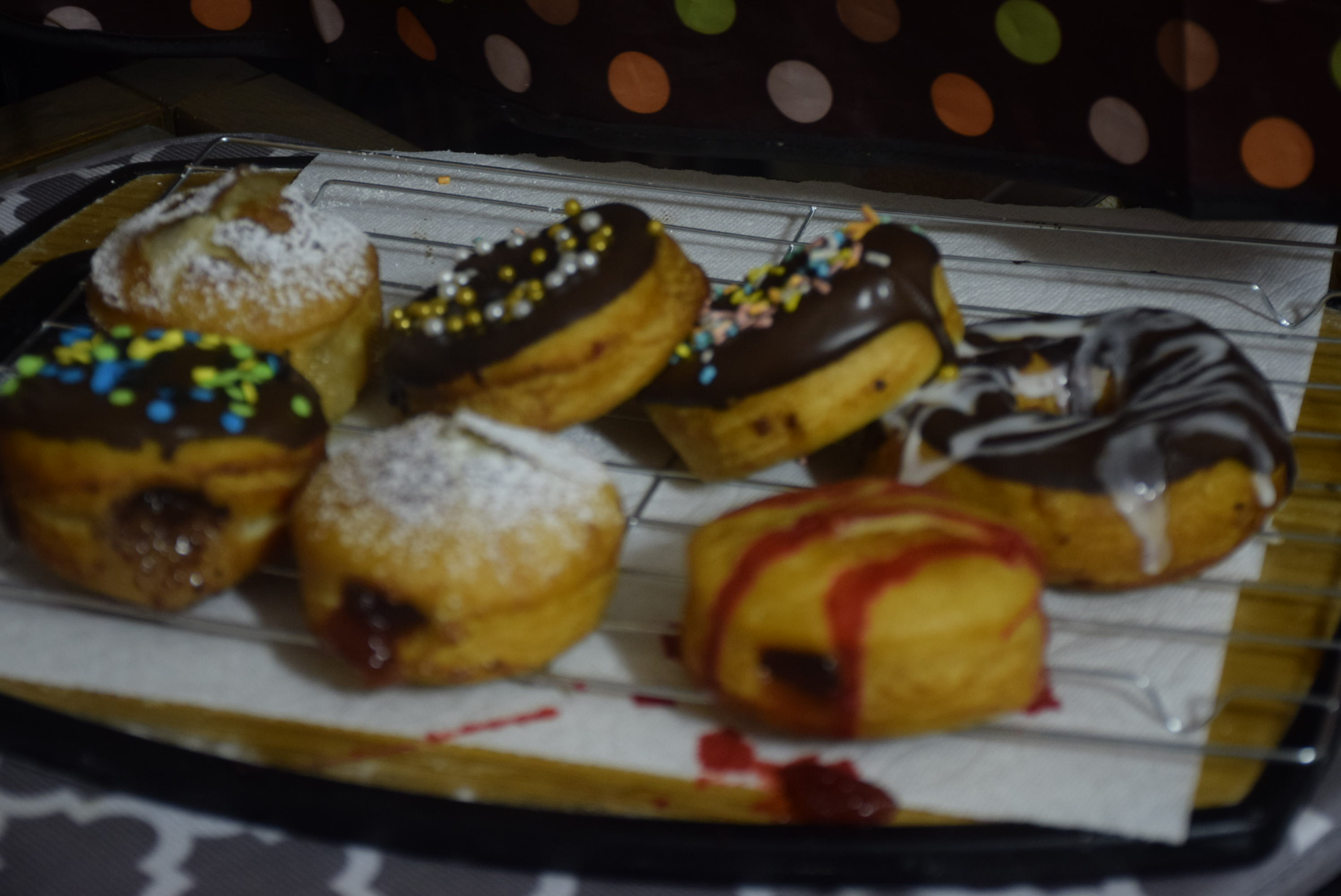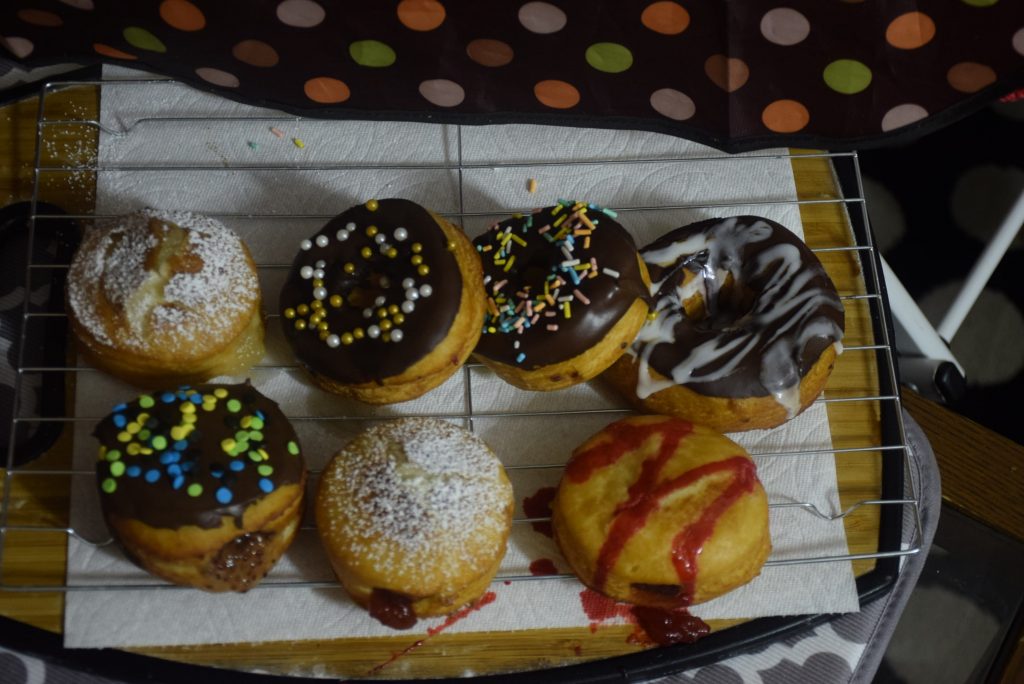 Mardi Gras and Donuts are long known in marriage. Mardi Gras, a french word for Fat Tuesday or Shrove Tuesday is celebrated widely today in Sweden, Netherlands, Italy, Germany, United States, Belgium, Brazil, Colombia And Czech Republic. Although in Poland, this festival is celebrated on the (Fat Thursday) last thursday before Ash Wednesday.It refers to the practice of the last night of eating richer fatty foods before the ritual fasting of the Lenten Season.

I read this term "Paczki donuts" just a day before and fell in love with those delectable pictures instantly. So thought of celebrating this day with these Polish donuts. My daughter being my inspiration as usual, I made this Donuts with some filling of love and warmth. 😀

Paczki is a Polish word and is pronounced as "Poonch-key" which means filled with luscious filling. Indeed these are a feast for the eyes and soul of any donut-lover! In Poland, people line up in long queues since 6 a.m. at the Donut shops just to dig a bite in these pillowy soft donuts.


Whether you are on a fast or a diet, these donuts are definitely worth trying.
INGREDIENTS:
1. Plain Flour or All-purpose flour (maida) – about 3 and 1/2 cups
2. Butter unsalted – 1/2 cup or 1 stick
3. Granulated sugar (cheeni) – 3/4 cup or 12 tbsp
4. Active dry Yeast or Instant yeast – 2 and 1/4 tsp
5. Lukewarm (110 F) milk – 1 and 1/3 cup
6. Milk powder – 2 tbsp (optional)
7. Oil – for deep frying and basting
For Filling>>
1. Strawberry Jam or preserve – 1/4 cup or to your preference
2. Chia Squeeze (store bought) – 1/4 cup
3. Chocolate syrup – 2 tbsp
4. Custard – 4 tbsp
5. Cookie icing – 2 tbsp
6. Applesauce – 4 tbsp
7. Fresh fruits paste – strawberry paste, mango paste
For garnishing>>
1. Sprinkles – a tbsp
2. Golden and white sugar balls – a tsp
3. chocolate ganache or glaze – 4 tbsp
4. Sugar Glaze – 4 to 6 tbsp
5. Confectioner's or powdered sugar – 1/4 cup
METHOD:
|Preparation time : 2 and half hours | Cooking time : 30 mins | Makes 12-14 donuts medium size|


I was not able to record the whole recipe and specially the final product since my camera ran out of battery. So we have to just compromise with the pictures shared below.

1. We start by making the dough for the doughnuts. For this we will warm our milk in microwave or pan on our stove such that it is not hotter than 110 degree F. Dissolve the yeast with 1 tsp sugar and let it rest on the counter for 5-10 mins. In the meanwhile assemble the dry ingredients in a tureen(parat) or a large bowl. Also melt the butter in microwave.

2. Add half the quantity of flour mentioned , the sugar, milk powder in the bowl. Check the frothy yeast, if it has started bubbling, add it to the flour mix in the bowl and mix with a spatula or a spoon.
3. Add the butter and gently mix it in the mixture.
4. Cover it with cling wrap and let it sit in a warm place for 50 to 120 mins. I allowed it to rest for 75 mins. At this stage it will be a runny ,sticky moist dough.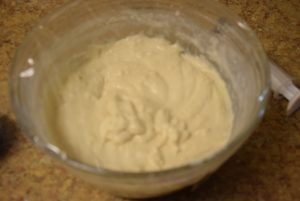 5. When your dough has doubled in volume, the yeast has activated and you can see the long glutenous strands made in the dough, remove the cling wrap. Start with 1/4 cup of dry plain flour in the wet and moist mixture. Continue mixing this dry flour till you get a soft, pillowy pliable dough which will not stick to your hands . You may overturn the dough ball on the counter or your board and knead it a few times to make it stringy and smooth.
6. Now start rolling the soft pliable dough with some dry flour dusted on the counter or board. Roll it to almost 1/2 inch thickness.
7. Take a steel glass with sharp edge or a cookie cutter to cut out the big rounds from the rolled dough.
8. For making hollowed donuts, take a small cap of a bottle to cut out small holes from the dough.
9. Cover all the cut-out donuts in a tray lined with parchment paper with a wet kitchen towel . You may grease the top surface with some oil to prevent them from drying. Keep them in a warm place till they double in size and volume.
10. I kept them for an hour but they proof even better when kept covered overnight.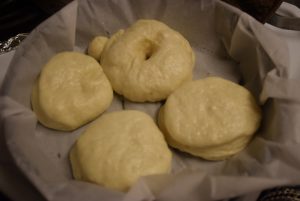 In the meanwhile , prepare the filling like custard, chocolate glaze and pour them in a plastic piping bag .
For Chocolate glaze :
1. Warm some milk ( 3 tbsp at a time) in microwave. Add dark unsweetened chocolate pieces (1/2 oz each) to it and keep on adding powdered sugar to it (a tsp) to make a thick syrup kind of consistency.
2. For melting , 3 oz of chocolate I needed 150 ml milk and added 4 tsp sugar to sweeten it. You may use semi-sweet chocolate chips or sweetened dark chocolate or white chocolate too for making this glaze.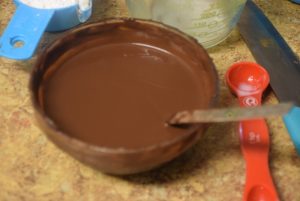 11. When they puff up double in size , heat some oil in a wok(kadhai) at medium heat. Drop them such that they are not crowded in oil and get space to swell again with oil.

12. Make sure the oil not too hot and not too cold. It should be just 360 degree F. Adding too many donuts at a time could drop the temperature of the oil. Let them fry for 5-6 mins . Turn them once they are browned on one side.

13. Once they are fried from both sides, take them out on an absorbent tissue in a plate.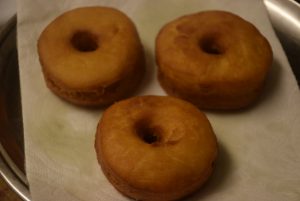 14. Now take a food syringe, fill it with chocolate syrup and inject it through the hollowed donuts such that they are filled with luscious chocolate. Similarly inject chocolate syrup, or strawberry jam in Paczki donuts with a cone filled with preserves.

15. Garnish them with chocolate glaze or sprinkles or powdered sugar.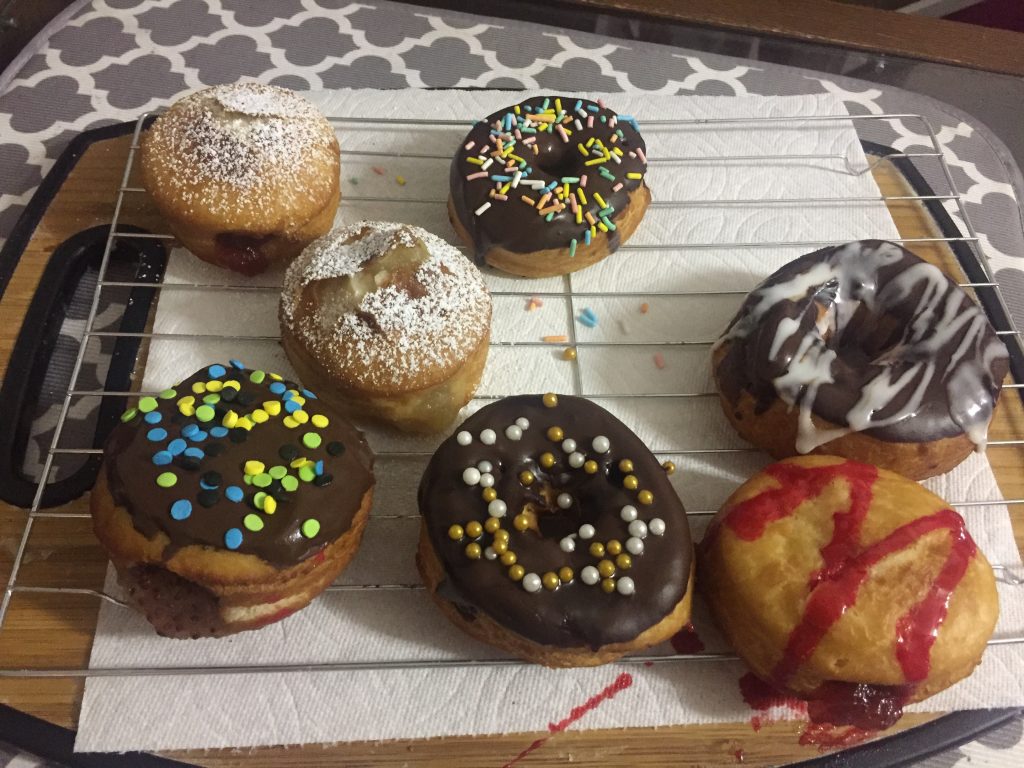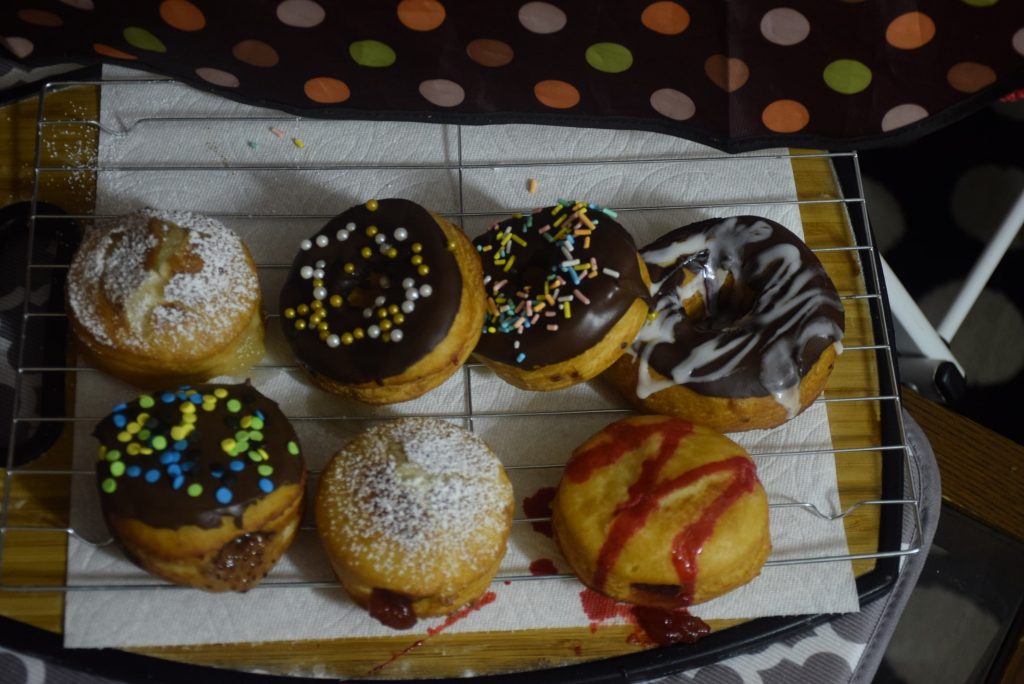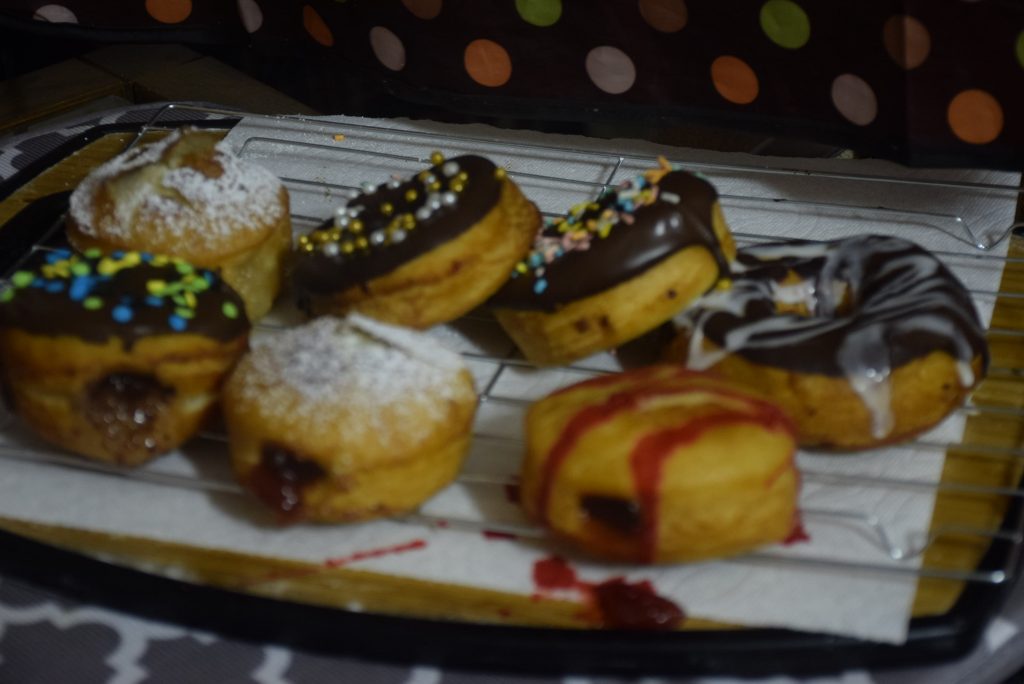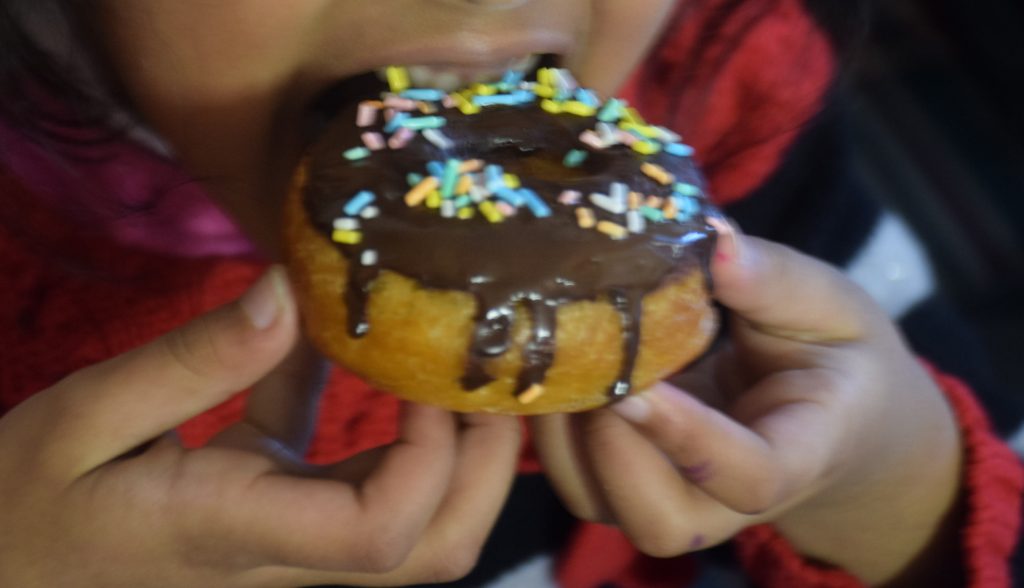 This is my first video recipe. I hope to make better videos with all of your support. Thank you for reading this recipe and watching the video!
😀