Sirke-wali pyaz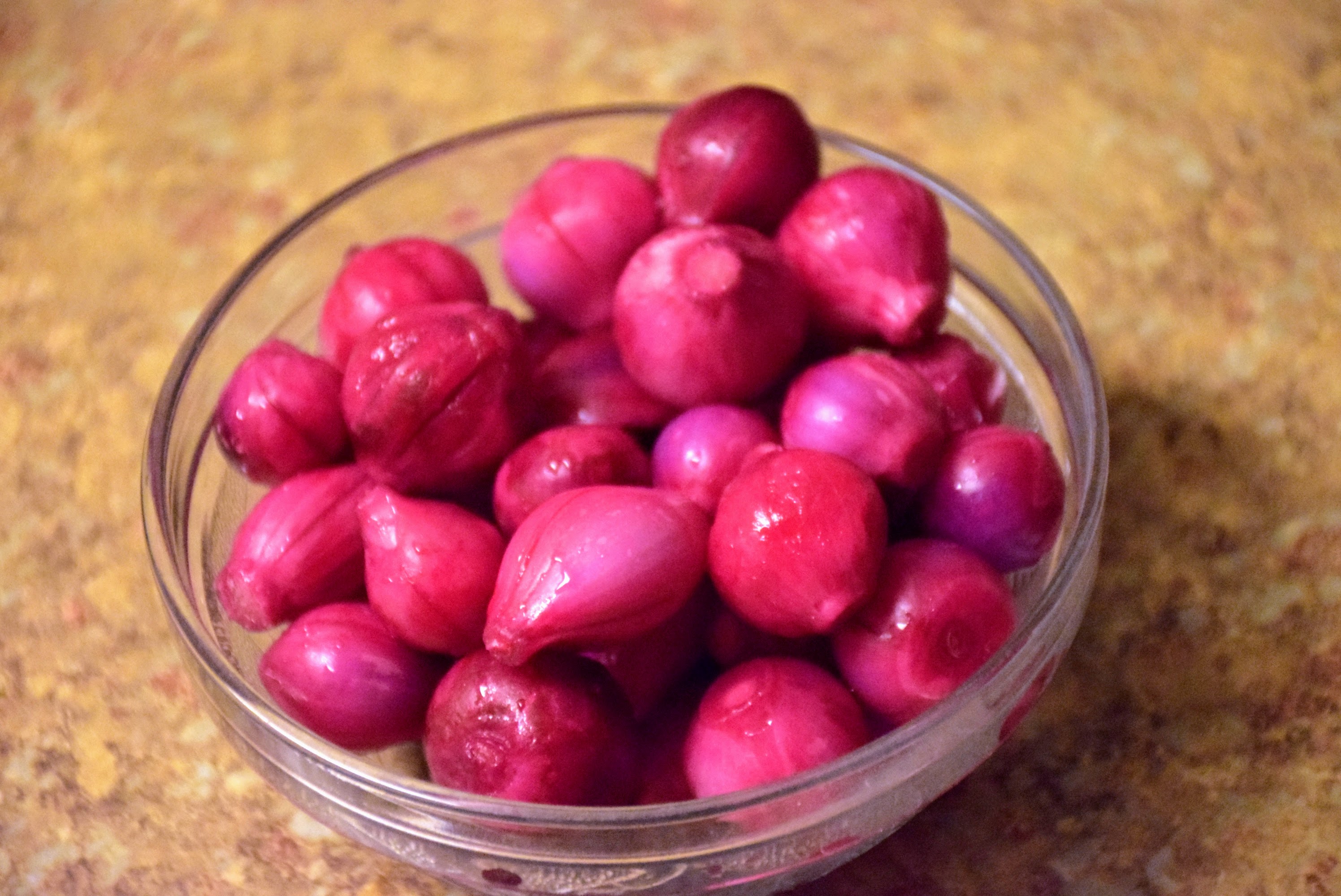 In India, most of the "Dhabas" or loacal eateries serve this as a complimentary side with the main course we order. My hubby, who hails from Haryana, has fond memories of this dish served with "Dal Makhani" or "Paneer Butter Masala" or "Chhole" or "rajma". After moving to US, we nearly forgot to cherish and enjoy these simple pleasures of life.

But one day, it occurred to me, that we miss these petty things more than anything else in the world. Since I don't like raw onions much, I never thought of this recipe. But my hubby's tasting buds compelled me to make this pickle kind of dish and to my surprise everyone enjoyed it (including my friends).

So the recipe goes…
INGREDIENTS:
1. A bag of red pearl onions – 1 lb or 25-30 pieces
2. Half beetroot sliced – 4 to 5 slices
3. Sugar (cheeni) – 3 tsp
4. Salt (namak) – 2 tsp
5. Black peppercorns (sabut kali mirch) – 8 to 10
6. 1 Cinnamon stick (Dal-chini) – 1/2 inch
7. Water – 1 cup
8. White distilled Vinegar (5% acidity) – 1/2 cup
METHOD:
| Preparation time : 5 mins| Cooking time : 2 mins| Fermentation time : 8 to 12 hrs | Makes almost 25 -30 pieces|

1. Peel and wash the pearl onions. The only hard-work is this, believe me. Rest is easy. Make a cross-slit with a paring knife upto 3/4th depth in each onion.

2. Dip these onions in vinegar for 5 mins. In the meanwhile, take a pan and add water in it. Keep it on high heat to bring it to a boil.

3. Peel and slice the beetroot. You may use dry beetroots or beetroot powder too to get this same pinkish color of onions. Beets not only add color, but also nutrition to this dish.

4. When the water starts boiling, add cinnamon, peppercorns in it. Also add the sugar and salt in the water.



5. Add the beetroot slices and turn off the heat. Let them sit for 2 mins and keep stirring the water. The water will turn fuchsia almost immediately.



6. Strain this solution through a sieve in another container and allow it to cool to room temperature.

7. Once it is normal to feel, add the vinegar soaked onions with vinegar into the prepared water. Transfer it into a glass container or jar and refrigerate it. You may check after 8 hours if the onions have absorbed the pink colored water and changed in color. The onions would taste like pickled vegetables when they are ready.

8. Drain the solution and keep the onions dry in the same jar. Drained onions taste crunchier than the dipped ones. Enjoy them for 4 to 5 days or till they last. Always store them in refrigerator when not in use.

Hope you enjoyed reading this post ! Keep sending your love in the form of comments ! 😀
Till then keep cooking..
🙂