Lake Tahoe – The Mesmerizing Place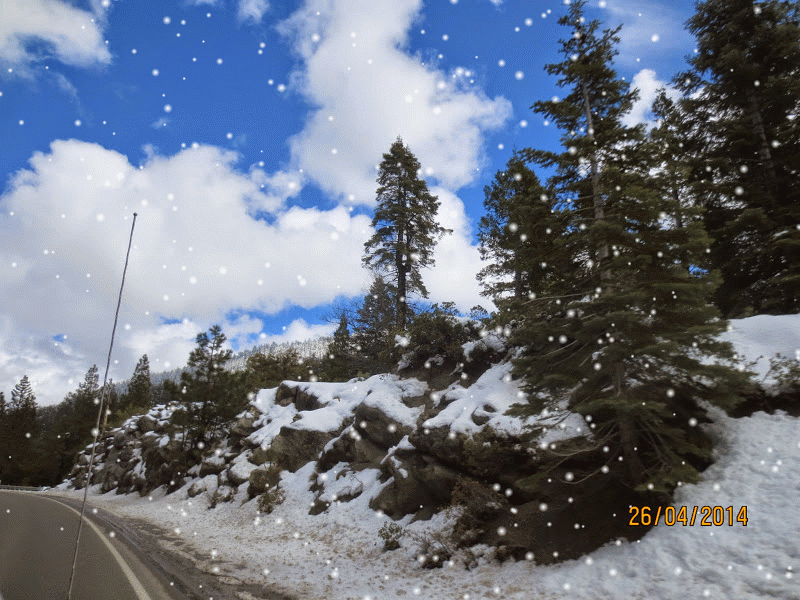 Lake Tahoe , one of the most visited place in California, is surely a second heaven on earth. I have visited this place three times in different seasons and still can't get enough of it. This place has activities for all age groups in all seasons.
Wake up early to catch the glimpse of red sky with a shining red ball at sunrise. It is so quiet and serene ,which couldn't be explained in words here. Pack yourself before stepping out in early morning and enjoy the blissful sun-shine on the frozen sparkling deck.
You can skate-board, ski, tube, sled , build snow-mans, take up challenging hikes or just enjoy in blissful snowfall during winters which starts from late November to April. While in summers (lasts from May to September), you may enjoy zip-lining, bungee-jumping, para-sailing, kayaking, river rafting, cruise , rock-climbing, jungle-gym etc.
Since California witnessed the heaviest snow and rain in a decade, this year is worth-visiting all the lakes and rivers.

It is being said that the snow would stay till May this year. So its never too late to plan your visit. Just pack your snow-pants, boots, caps, jackets ,gloves ,goggles and head on to this picturesque destination.

There are various options available to enjoy a good stay in Lake Tahoe. Its always advisable to stay in the city rather than in desolated areas ,if going with a family. Since the weather is unpredictable , and heavy snow block the roads in far-off regions. Speaking about options, you may rent a Hotel, a lodge, a vacation home, a resort as per your convenience and affordability.
We stayed at Pavati Lakefront. It was a decent home facing the lake and decks. All thanks to our friend, Nitin Mittal for booking this lovely home.

Not only the destination, but the journey to Tahoe is scenic too (at least if you are going from Bay Area towards Lake Tahoe.)
Plan your itinerary in such a way that you get to spend at least 1 night in Tahoe. We started on Friday evening and came back by Sunday evening. In hilly regions, it gets dark pretty sooner than plains, so try to cover all the points in daytime.
Lake Tahoe divides the two states : California and Nevada. Hence a part of it ,is with California and a part with Nevada. It has resorts for snow activities all around it. So choose the most accessible resort from your home and begin your day with excitement.
We went to the
Heavenly Village resort
for Tubing. It was just 15 mins drive from our home. Heavenly is famous for its highest (9123 feet) and longest Gondola ride (ropeway) in Lake Tahoe. If you are a nature-lover and enjoy photography as much as me, then it is the right choice. The top skyscraper view it offers is speechless. According to me ,its totally worth the money. I have been there both in summer and winter seasons, and the views are spectacular. While in
Gondola
, don't forget to spot
The Harrah's
and the beautiful blue lake circumscribed with snow-capped peaks. You can see
Mt. Tallac
,
Emerald Bay
,
Nevada Beach
and the whole of Lake Tahoe in a breathless, panoramic view from its observation deck.
However, if you are planning to go only for Tubing, skiing and sledding activities , you may choose any resort from Squaw Valley, Sierra at Tahoe, Hansen's Tubing etc.
Tubing is a family-fun activity irrespective of age and even a novice like me ,could enjoy there. The only drawback is that it is too pricey. In spite of thick layers of snow, we were lucky enough to enjoy a warm sunny day on the top there. The Rock music in
Tamarack Lodge
, which has 5-6 types of cuisines ; the ski trainers and the students; the sanitized restrooms ; our snowman and unlimited tubing was an unforgettable experience. However,if you are a vegetarian or prefer home-cooked food, then don't rely on these eateries.
After having a lot of fun ,while returning through Gondola they will click a group picture which is usually for 20-25$. We ate pizza at Base Camp Pizza, which is surely a good option to try out after unloading from Gondola. Also don't forget to indulge in freshly made Heavenly Donuts (again a bit pricey) when you touch base.
We don't wanted to miss our Sunset View , so we set out for home around 5:00 p.m. Then we relaxed for a while and get ready in pajamas for our sunset view and dinner. You may stop at the Nevada beach or Long beach to get a view of sunset before heading for home. We made snow-mans again in the evening , played with snow balls and finally relaxed in our rocking chairs.
You can reserve the next day to visit some vista points :Logan vista point, Zephyr Cove , Eagle Vista Point are a few to name. Near Eagle Vista Point, there are several trails like Eagle falls trail, Trail to Lower Velma Lake , Pinnacle trail etc. There is an old castle – Vikingsholm which is a historic place to visit in summers. You may take a cruise or just drive your way to the castle or if you enjoy hiking could go down walking the steep trail of Vikingsholm. Emerald Bay ,is a scenic place , house of Fannette island and an interesting marine life, with green waters ashore.
Before starting ,crosscheck the accessibility of these points and roads. Because of excess snow the road to Vikingsholm was closed ,hence we missed it.
While returning to Bay area, you may visit the Folsom lake ,if you have some spare time of 1-2 hrs in hand. It is an iconic recreation state park and is a favorite school trip destination during summers.
Points to Remember:
1. Check the weather and temperature before planning a trip.
2. Check the real-time routes, accessibility for the points.
3. Pack all the warm essentials, even if the temperature is moderate.(except in summers)
4. Carrying one's favorite eatables is an icing on cake in one's trip.
5. Don't park in desolated or no-parking areas to avoid ticketing issues and enhance safety.
6. Have some time for relaxation and leisure in the trip.
Above all, remember, life is a journey ! It is best enjoyed with family and friends !!