Continue from Part 1 ……
DAY 3
Warm Waffles with muffins, scrambled eggs , roasted potatoes, cereal and milk in the breakfast being served at the lodge, we were ready to bid adieu to the pleasant haven. This journey was in itself so rewarding that we couldn't have asked for more! Within hours, we found ourselves going through the windmill-landscapes, deer waiting in herd for us and The Columbia Scenic Gorge Highway. This Highway envelops the parallel running Amtrak rail, the Gorges in mountain created by river Columbia, the Greenish Blue waters, the bridges and The Waterfalls . You guessed it right … We were going to Portland. 😀
So we started with :
1.The Bridge of the Gods
2. The Horsetail Falls
3. The Multnomah Falls
4. The Wahkeena Falls
5. Vista House
6. The Latourell Falls
7. The Bridal Veil Falls
[Note: Please see this Highway has several stop-points but in spite of appearing sequential, they are best covered in this order if we are moving towards Portland. For the reverse order, you might have to check with the google maps i.e. if you are moving from Portland to some other place.]

If you are fond of hiking , you may also visit The Sherrard Point Trail (0.6 mile) Which offers the view of 6 peaks : Mt. St. Helens, Mt. Larch, Mt.Rainier, Mt.Adams, Mt. Hood, Mt. Jefferson. We went in end of April, hence the trail was closed.
Be prepared to receive jam-packed parking and overwhelming crowd on weekends especially at Multnomah Falls.
All falls need a little hike ,so wear comfy clothes. For kids, keep a jacket or a raincoat.
Multnomah Falls are so astounding that you would feel like staying the whole day there!

Vista house offers good panoramic views and top of the mountain feeling.
Latourell Falls are approachable.
It was time for food and rest, so we stopped at an Indian Buffet restaurant – Namaste Indian Cuisine.It was just opposite The Grotto, another good visiting place ,but was booked until June this year. Our Plan was to drive to Cannon Beach and Astoria Tower after checking in the Portland Hotel – University Place Hotel and Conference center. But due to exertion , we dropped the plan and instead drove in Local Portland and visited the Cathedral Park facing the Willamette river. It had a deck with a peaceful environment which can relax a weary traveler like me. Our day ended with dinner in Swagat Indian Cuisine. 😀 . Yes, again Indian, because while travelling, kids and we needed just soulful comfort food.

DAY 4:
If I were to rate Portland ,then definitely not less than 4/5 stars as compared to Seattle which would be like 2.5/5 to 3/5.
From amazing snow capped peaks to lush-green parks , from high-rise skyscrapers to aerial view through Tram, from waterfront parks to Rose gardens, from imagery waterfalls to rainy streets. Above all ,it is tax free city so shop as much as you want. 😉
We started our trip's last day with breakfast in the hotel. Without missing a moment, we hopped on to the
Trimet Max
(Orange line) to
Tilikum Bridge
(walkway bridge over Willamette ). The public transport is convenient and our hotel was few feet from the station. The Trimet Max line share roads with the traffic and glides slowly with door-size windows. We walked half the bridge and then walked to the
Aerial Tram station
:
South Waterfront
. The Aerial Tram was a great ride-cum-transport , built primarily to escort Doctors and patients from downtown to the OHSU (hospital).
[ Note: Portland has a well executed Transport system with 5 Trimet lines and 3 Portland StreetCar lines .]
Next we headed to the
Voodoo Doughnut
(the famous cash-only donuts shop in the Historic Waterfront District. It has several flavors : Mango Tango, The Homer, The Glazed are a few exceptional ones and a must-try. We then roamed in
Chinatown
and went to the
Waterfront Park
besides Willamette where we spotted the " Historic white Stag sign of Portland Downtown" .
Lan Su Chinese Garden
garden is a visual treat in the downtown ,one of the most authentic Chinese gardens outside China. The name Lan Su stands for the combined sounds of Lan from "Portland" and Su from "Suzhou" (sister city in Jigansu,China). It is a window into Chinese culture, history and way of thinking.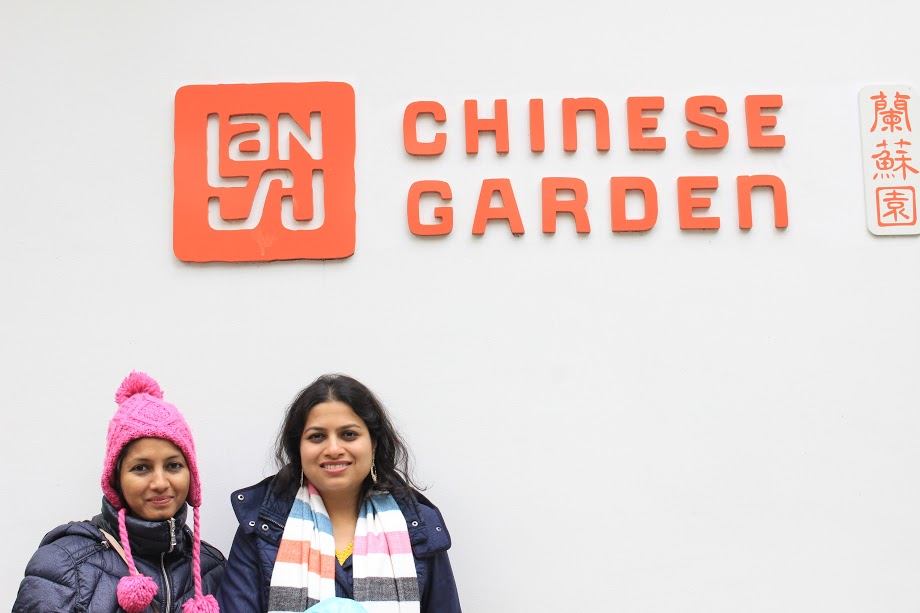 We ate lunch in Old town Pizza , downtown. Then we roamed on streets in downtown and found a souvenir shop. We learnt the new meaning of Namastey here : " Now am stay here" (Speak this without any pauses ,swiftly to hear "Namastey here".) We explored the tax-free shops like Oregon leather Co., Orox leather where we saw actual skins of foxes, wolves, tigers, etc.
Before checking in to Portland Airport (PDX) we caught a glimpse of Union Amtrak station where we saw " The Coast Starlight" departing the station. We have planned to visit Portland through Amtrak next time. 🙂 Yes, you can't get enough of this city in one go. It has so much to offer that every day seemed less.

For more pics click here : More Pics
Thank you for reading this post !! Hope it helps you to plan your next itinerary for Oregon and Washington. For more information or questions ,please leave your comments below ..
Till then keep roaming…
😀