Aloo Parantha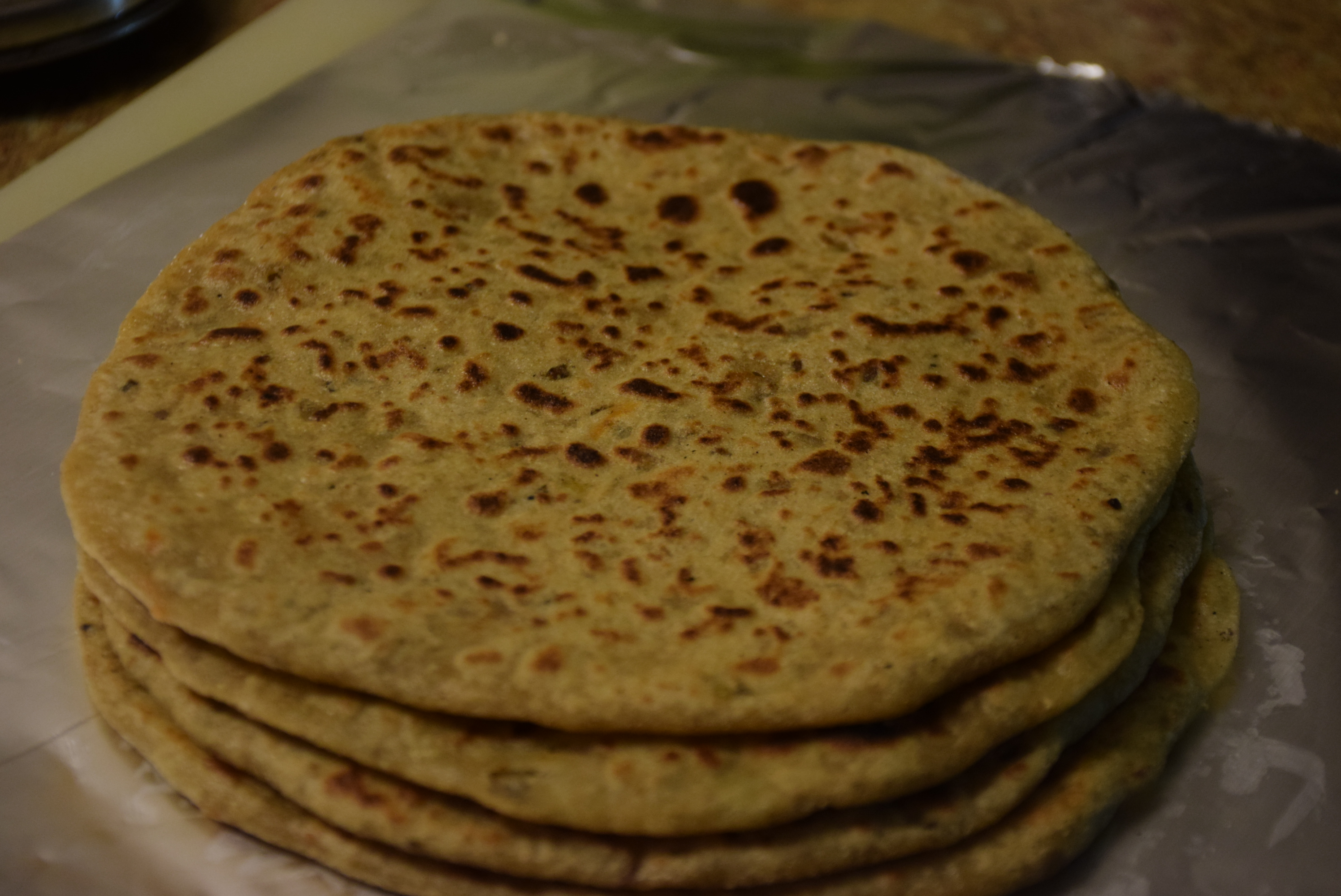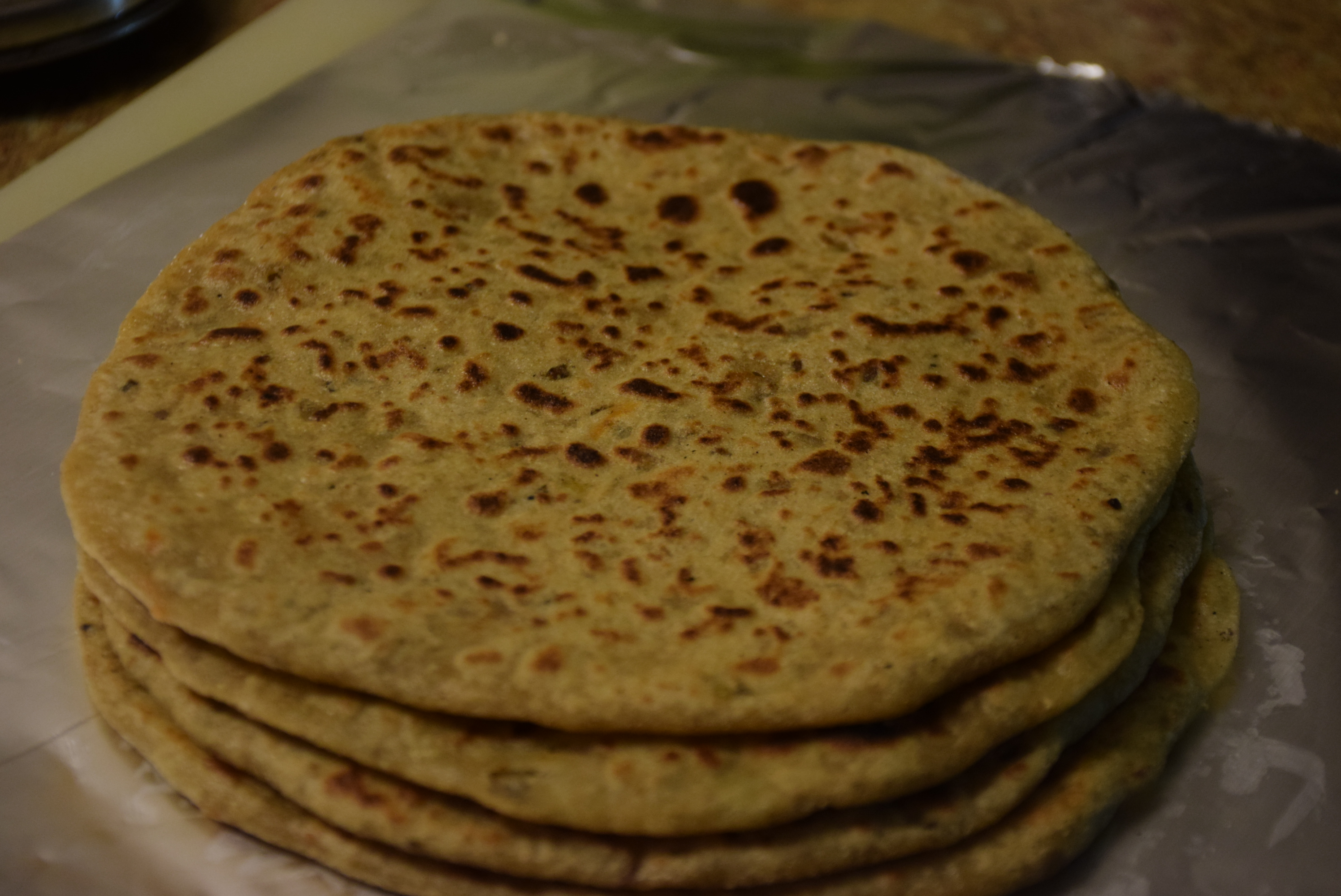 This was the first dish I learnt

after my marriage.It is my hubby's and daughter's favourite breakfast, lunch or dinner. Literally they could have this at any time of the day. So after trying out different styles of stuffing paranthas(Indian stuffed flatbread), I came up with my own simple style of stuffing which enables the parantha to be puffed up like a " ball" while cooking 😛 . These are the most basic stuffed parathas, hence I have skipped onions, green chillies, cilantro in it(you may add). So this recipe focuses on "how to stuff and roll paranthas".

The key is the practice. You may not get the right shape or analogously cooked texture in first attempt. But definitely you would get it 2nd time. Its richness will tempt you to try again and again. I try to use minimum oil for cooking them, hence they are guilt free too 😀
INGREDIENTS:
For stuffing:
1. Boiled and grated potatoes – 3 medium sized
2. Salt – 1 tsp or to taste
3. red chilly powder – 1/4 tsp
4. Coriander powder(dhania) – 1/2 tsp
5. Fennel powder(saunf)- 1/2 tsp
6. Chaat masala/ Amchur(dry mango) – 1/2 tsp
7. Kasoori methi(dry fenugreek powder)/ Pudhina powder( dried mint powder)- 1/2 tsp for flavor
For Dough:
1. Whole wheat Flour( atta)- 3 cups
2. water – 1.5 cups or as required
3. salt to taste
4. Ghee(clarified butter) – 1 tsp to smear the dough
5. Dry flour – 1/2 cup (for dusting and rolling)
6. Oil – 1 tbsp per parantha
METHOD:
|Preparation time : 20 mins | Cooking time : 20 mins | Makes 8-10 paranthas |
1. First of all lets prepare the soft dough. For this take a Tureen(paraat) and add flour to it. Make a depression in the center and then sprinkle salt over it. Although I don't add any cooking oil in the dough, you may add if you prefer. The reason I don't add oil is that the dough dries out faster if mixed with oil as compared to without oil and though you get softer paranthas but you need to cover it all the time even while rolling.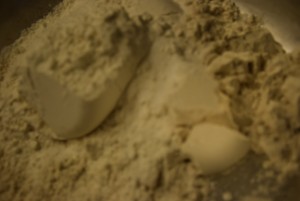 2. Add water little by little to form a dough. Bring all the flour together and try to bind it well.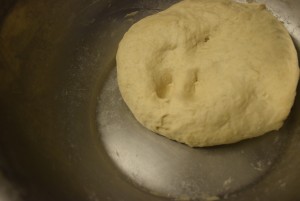 3. Now knead it well if you feel it is quite tough. If it is soft enough just cover it with a cloth or plate and keep aside for 15-20 mins. The softness could be checked by poking a finger in the dough, if just by poking , you make a clear depression in the dough and it comes back slowly ,it has formed the gluten and is perfect. Smear it with some ghee to avoid drying and for smoothness.
4. Boil potatoes either in pressure cooker with a dash of lime juice or lemon slice to prevent blackening of cooker from inside. Or you may wash and keep them in a clear plastic bag/ziplock in microwave for 6 mins. (I have boiled them the previous night and kept in fridge).
5. Once they are boiled, cool them under cold running water and peel them.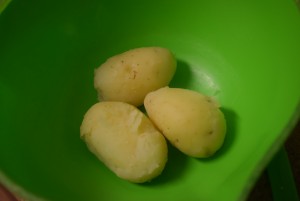 6. To prepare the stuffing grate them using a shredder. You may mash them too, but mashing gives an uneven texture and shape to the stuffing.
7. Mix the dry spices with a spoon in the grated and cooled potatoes. Don't mix the spices in hot potatoes or else the stuffing will absorb moisture and become sticky and watery.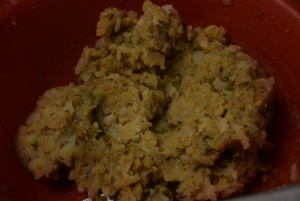 8. Preheat the griddle on medium heat( 5 on the scale of 0 to 10).Now pinch a lemon size ball from the dough , press it between your palms after rolling it to give it a pedha (flattened disc)shape.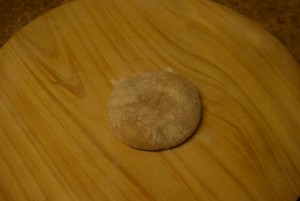 9. Dust dry whole wheat flour on both sides by rolling your pedha in it.
10. Take a rolling pin(belan) and start rolling. Roll it into 4-6 cm diameter circle (i.e. half the size of parantha).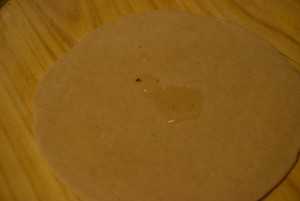 11. Pour a tsp of oil in the center and then place a generous amount of stuffing nearly 2 tbsp in the center of the rolled pedha.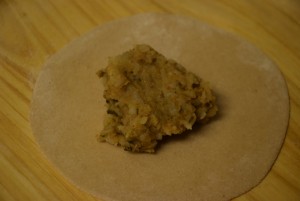 12. Lift the edges from all sides and bring them together to seal in the center at the top. After sealing nicely , clip off the extra dough from the peak formed so.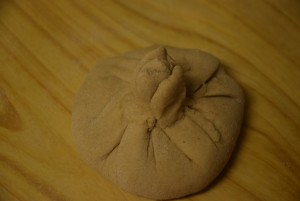 13. Flatten the stuffed pedha with your thumb and fingers by rotating them in both your hands.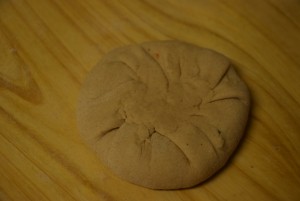 14. Again dust it with dry flour(plothan) and roll it with light hands (not too much pressure) in a circular way. While rolling try to rotate your parantha with the rolling pin to give it a nice circular shape.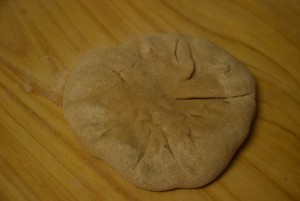 15. After rolling it to the desired thickness and diameter flip it on a preheated Griddle(tawa). For checking the tawa, place your ghee container on it, if it melts instantly it is hot enough.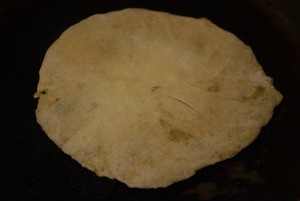 16. Let it cook on one side for a whole minute or till you see it bubbling in different spots.
17. Turn it on the other side with a pair of tongs( I use my hands though ). You will see small brown spots all over this cooked layer.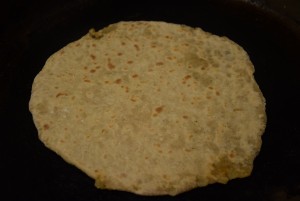 18. Similarly cook the other layer till you see brown spots on the other side.This will take another minute or less.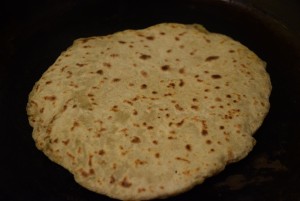 19. Once you see brown spots on both the layers, apply a tbsp of oil on the 1st top layer with a ladle (palta) and quickly flip the other side. Again apply the same oil on the bottom side too and press slightly on the edges.
20. The parantha will puff up and swell hereafter and now be careful with the hot steam.( Sometimes the steam escapes through edges , so it settles down again.) Cook it till both the sides get crisp and cooked.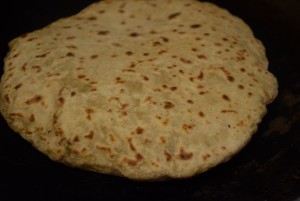 21. Serve them hot with butter, Dahi(curd), or with any side(sabzi) or some pickle etc.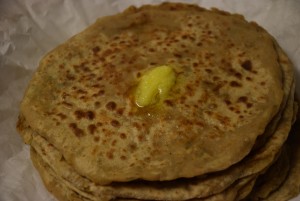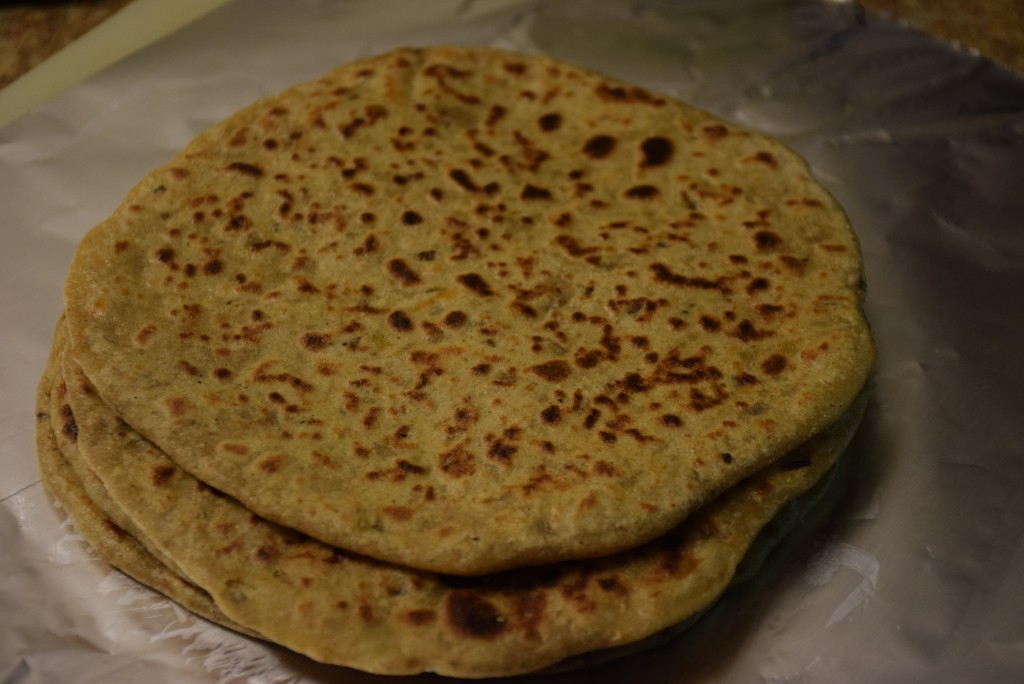 [Note: 1. The dough should be soft and non-sticky.
2. The stuffing should not be dry or moisture-laden. It should be sticky enough to form a dough-kinda structure but not squishy on hands.
3. Don't try to overstuff the pedha, or the stuffing will bulge out from all the circumference.
4. Don't prepare the stuffing beforehand and refrigerate it , it will absorb moisture.
5. Don't over- boil the potatoes in microwave, they will dry out.
6. The best stuffing is prepared from Indian Russets brown potatoes. The stuffing from white and red ones is squishy and too sticky.]
TIP: For softer paranthas, you may use leftover dal(lentil) to prepare the dough. The dough thus made would be softer.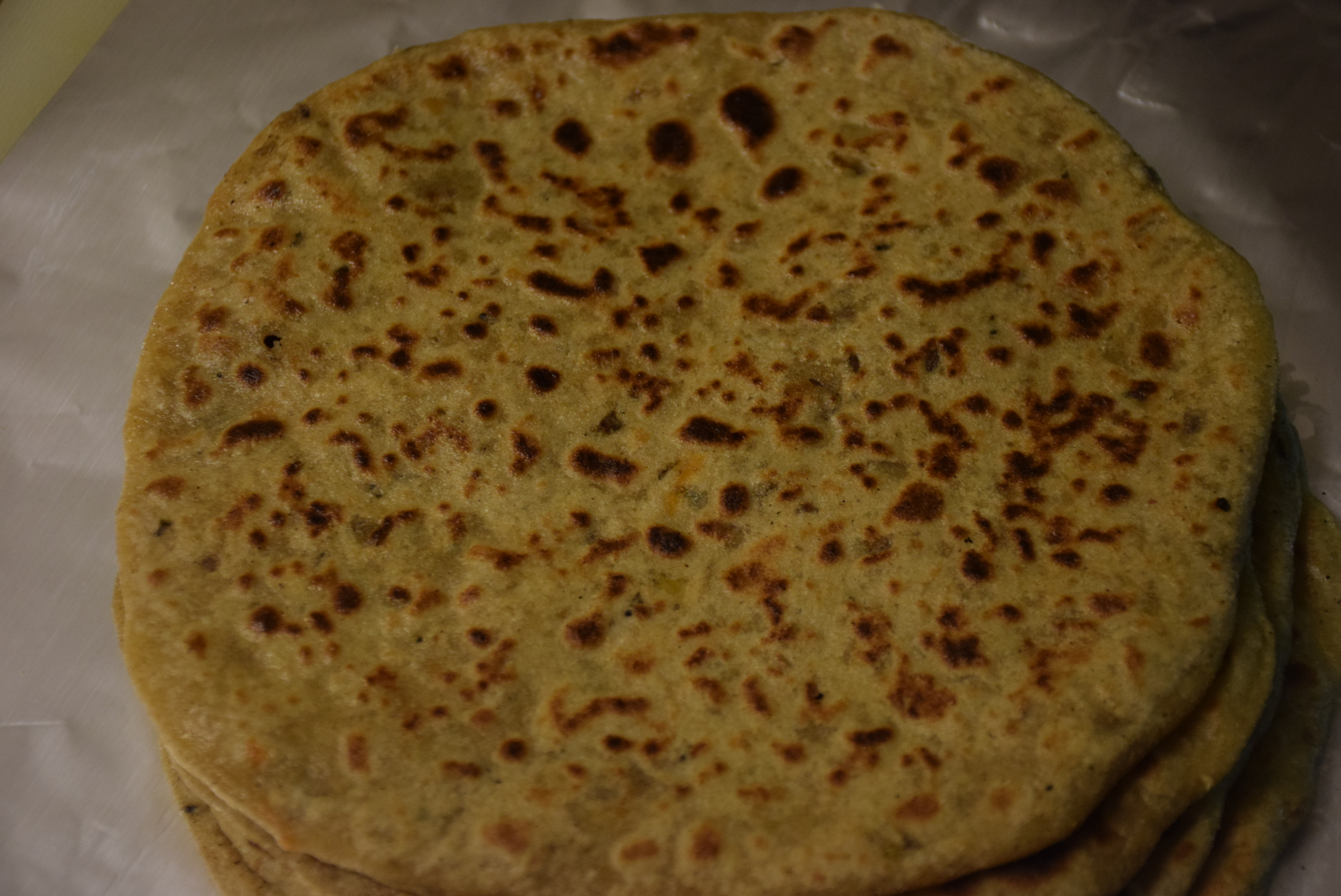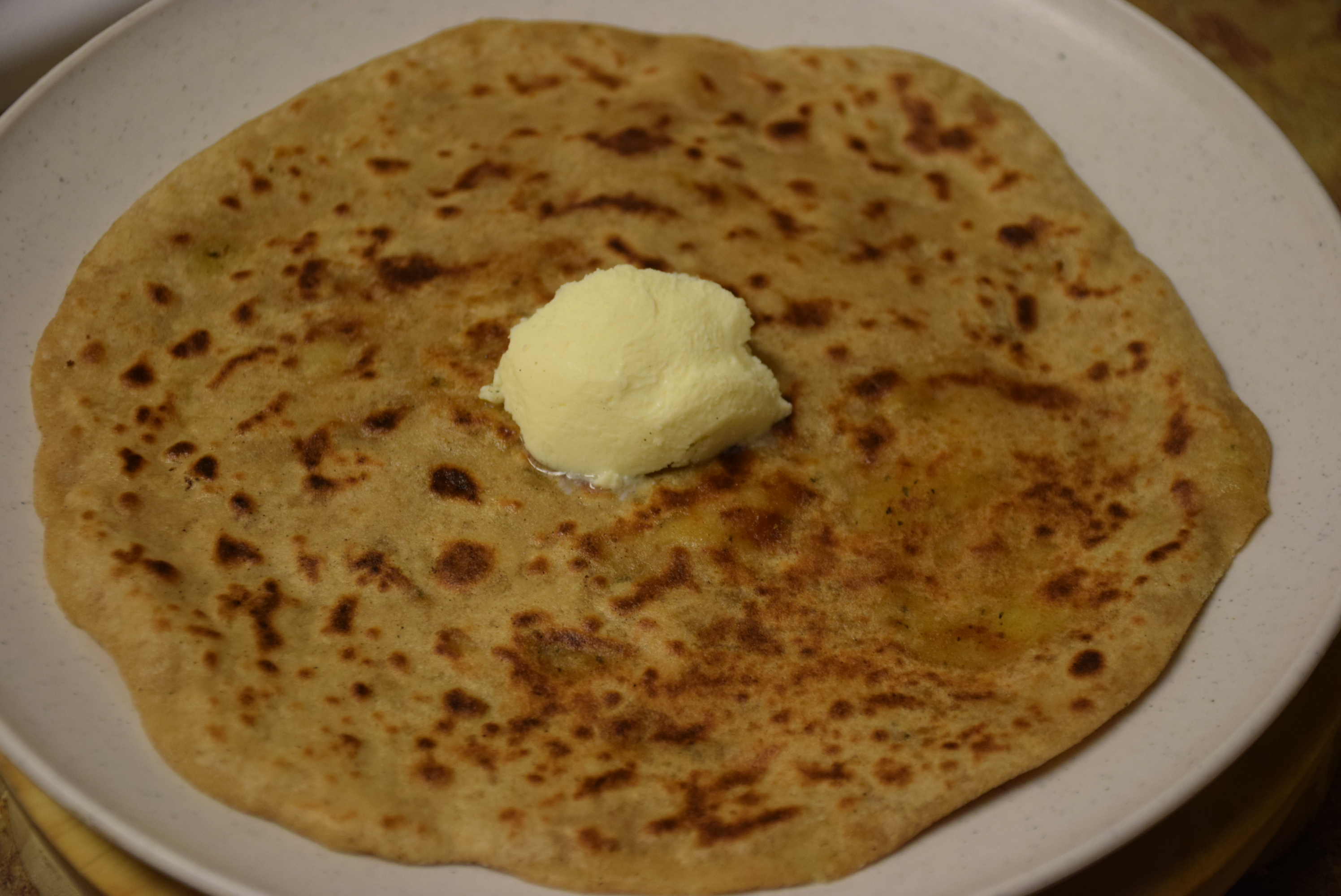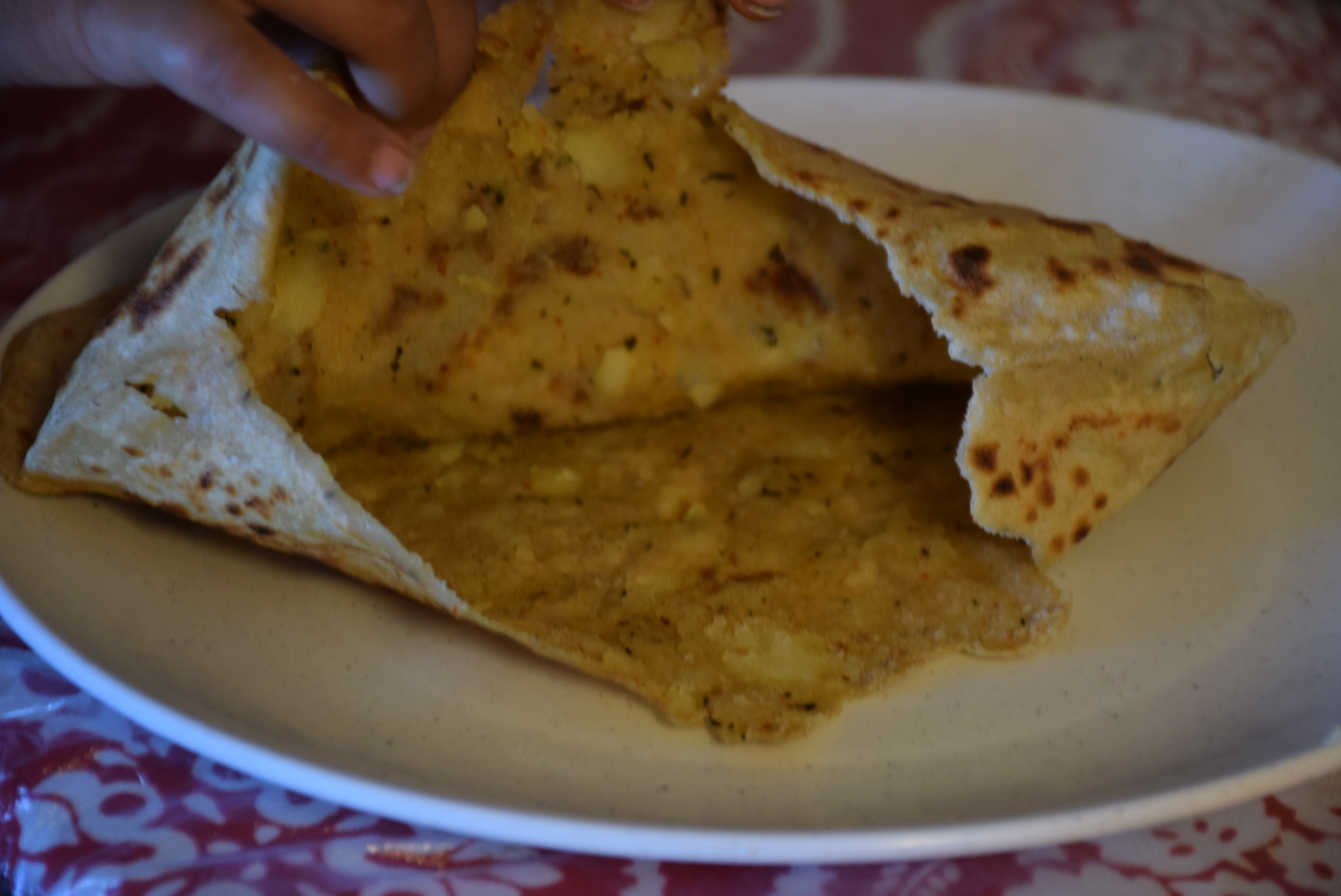 Enjoy!! Till then happy cooking !
Please share your comments below! We love to hear from you!!
😀