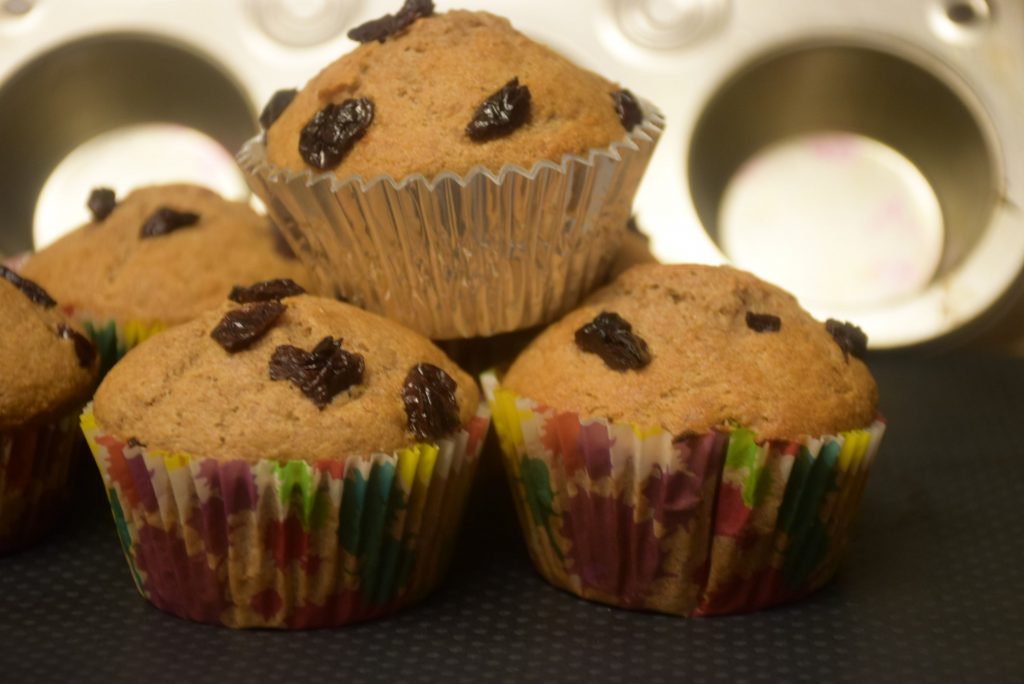 Owing to the health awareness, I thought of trying out the Vegan muffins for the first time. So I started with the basic recipe of banana muffins, in which I added a few more cherries 😉 to go with the Holiday theme.

I have used Spelt flour instead of All-purpose wheat flour. For more info , please visit : Spelt Flour . Another variation is the light brown sugar and Coconut milk for the preference of less processed and vegan style ingredients. The overall taste will be of Banana, so don't worry about these and lets proceed to the recipe.
INGREDIENTS:
1. Banana smashed – 1 (3/4 cup)
2. Spelt FLour (Bob's mill Spelt flour) – 1 cup
3. Baking powder – 3/2 tsp or 1/2 tbsp
4. Baking Soda – 1/2 tsp
5. Salt – 1/4 tsp
6. Brown Sugar /white sugar – 1/4 cup
7. Maple syrup/corn syrup (agave syrup/ or pancake syrup) – 3 tbsp
8. Applesauce (seb ka gudda) – 1/2 cup
9. Apple cider vinegar /White vinegar – 1 tsp
10. Canola oil (Safflower/Sunflower oil/Avocado oil )- 1/4 cup
11. Coconut milk (Soy milk/Almond milk) – 1/4 cup
12. Walnuts (akhrot) chopped finely – 2 tbsp
13. Dried Cherries (dried cranberries / dried blueberries)- 2 tbsp
14. Vanilla Extract – 1 tsp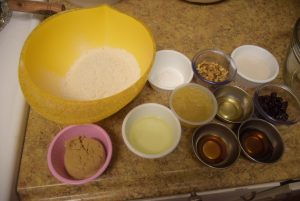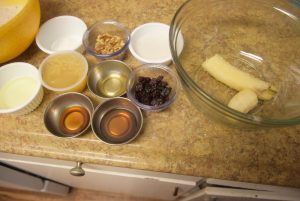 MEHTOD:
| Preparation time : 5 mins | Baking time : 12-15 mins | Makes 7 regular size muffins |

1. Peel the over-ripe banana and smash it with a fork or spoon in a bowl. You may use not so ripe banana too, but the taste will not be that overpowering as that of the fully ripened banana. Also it needs more effort to cut it and mash it in a paste like consistency.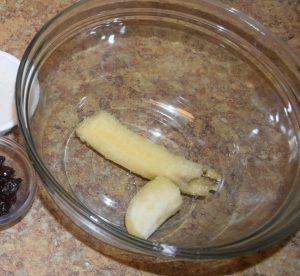 2. Assemble all the dry and wet ingredients on the counter. Preheat the oven to 400 degree F or 204 degree C. Sift the spelt flour , baking soda, baking powder and salt through a sieve or colander in a bowl.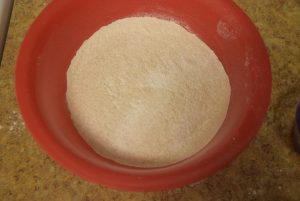 3. Now add the brown sugar in the mashed banana and mix them well.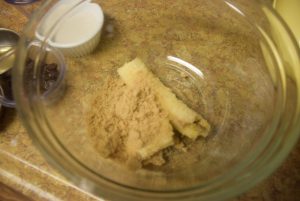 4. Add the remaining wet ingredients viz. oil, milk, apple cider vinegar ,applesauce, maple syrup and vanilla extract in banana-sugar mix. Add the chopped cherries and walnuts in the flour mixes. Save some cherries for drizzling in the end on the top of muffins.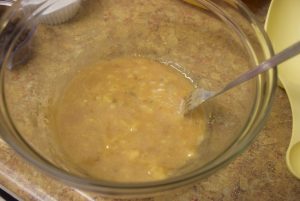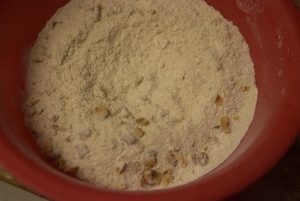 5. Now line the muffin tray with oil. I used baking paper cups too. So you may line them with oil too . Place them in the muffin tray and keep the rest on a flat tray.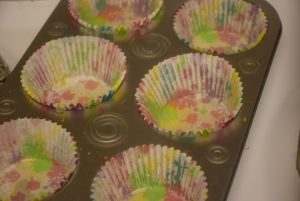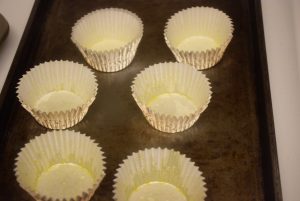 6. Slowly fold in the wet ingredients with the dry ones in 2-3 parts. The batter is ready to go in the oven now.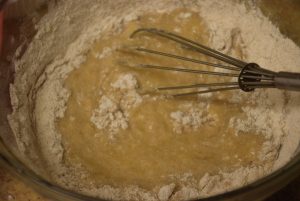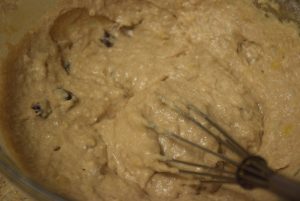 7. Oil the spoon with which you will scoop the batter in the muffin tray or baking cups. Now scoop the batter not more than 3/4 level of the cup in the tray and cups prepared above. If you have mini baking cups or tray , you may get 12-14 mini muffins out of this batter.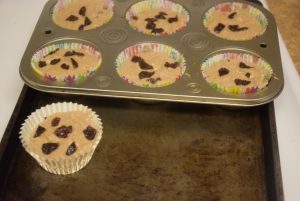 8. Tap the filled trays 2 to 3 times on the counter and drizzle the saved dried cherries on the top. Now place in the oven for 10 mins and keep a close eye.

9. After 12 mins I checked with a tooth-pick and they were still moist in the center. So my muffins took 15 mins to get baked in all. If you are using mini muffins cup , probably you would get fully baked in 10 mins only.

10. Take them out and allow to rest on the counter for 5 mins .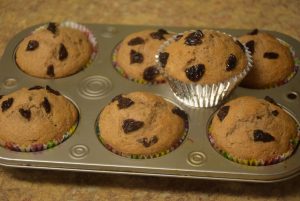 11. After the resting time, demold them. For me it was pretty easy,since I lined my tray with baking paper cups. They are ready to eat warm with tea or milk. You may allow them to cool and store on the counter for a week and enjoy.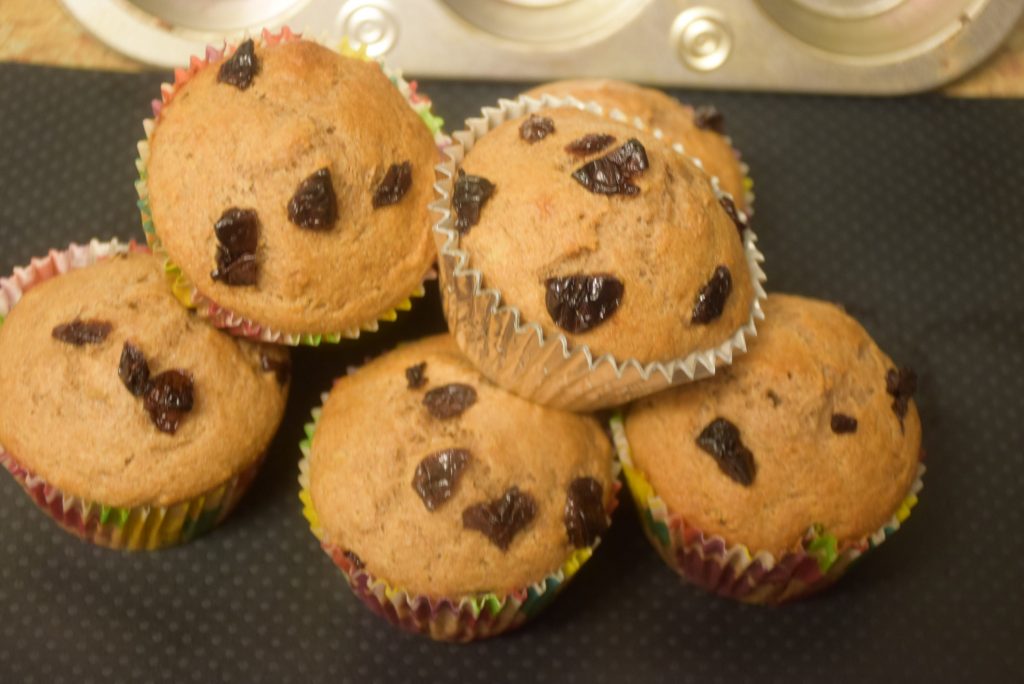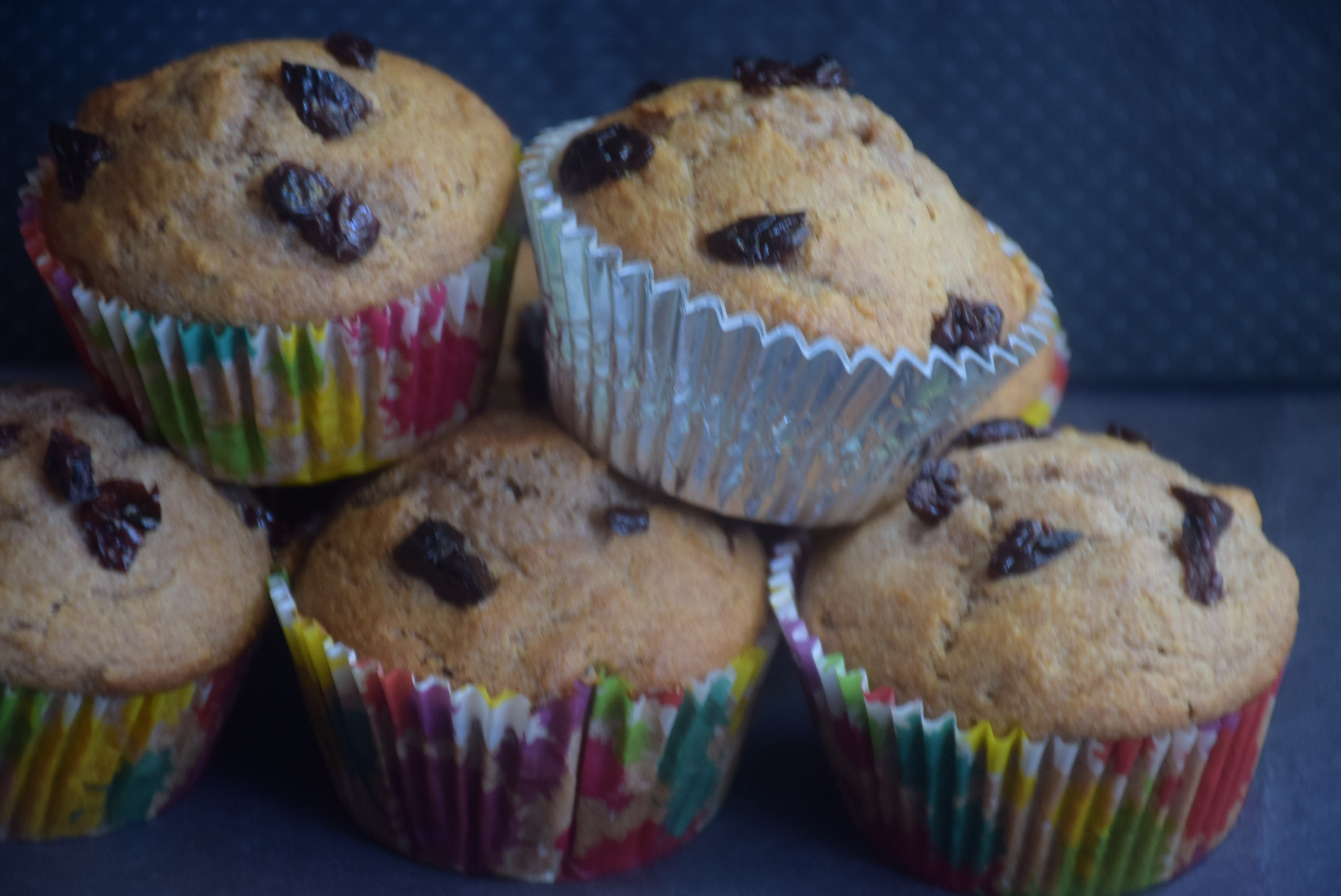 See how moist and fluffy they are from inside,even after a week. 😀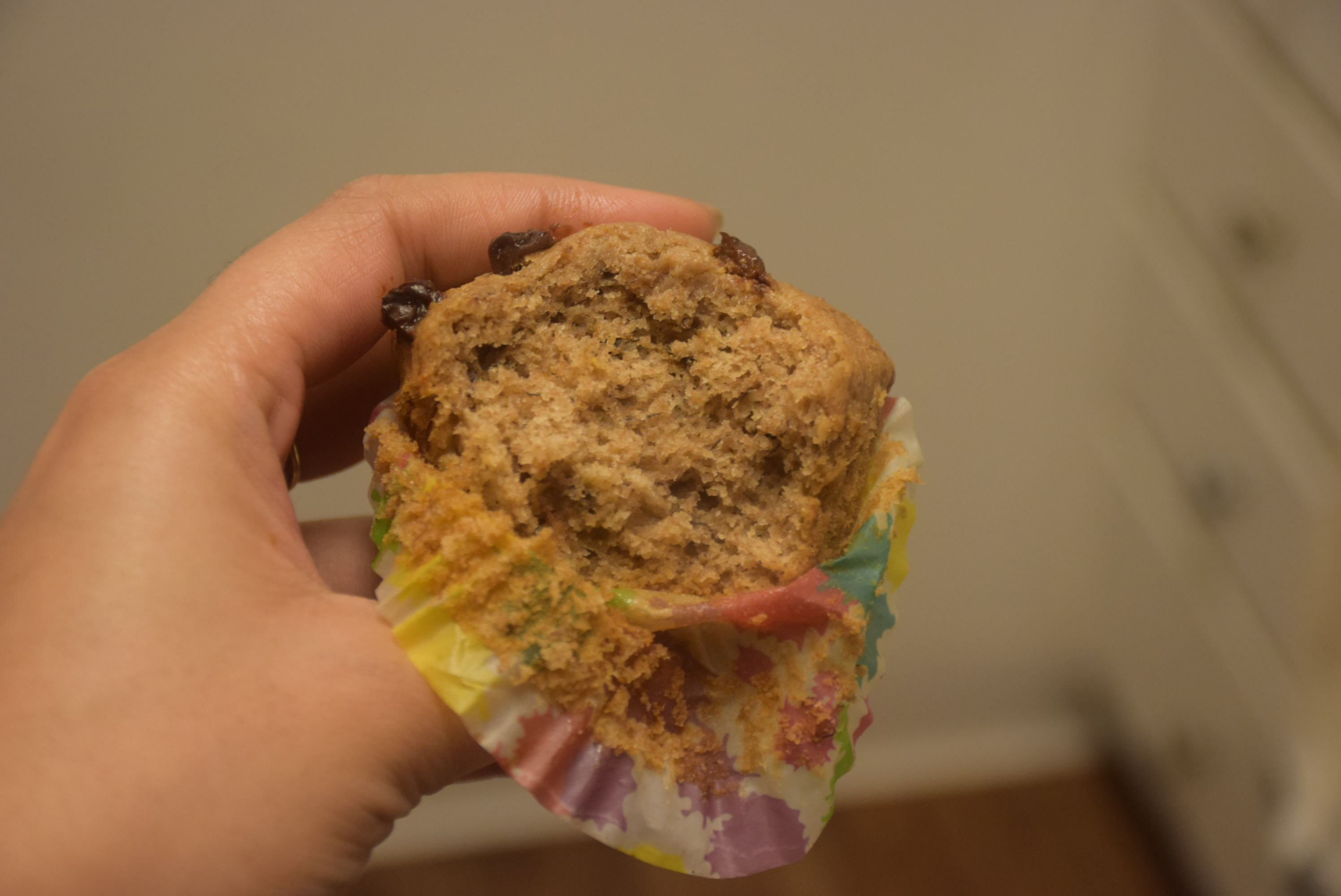 Hope you all are having Fun in holidays !! Please feel free to suggest or ask anything related to this recipe ! Thank you for your time and patience !!
Till then keep cooking …..
🙂