Chirote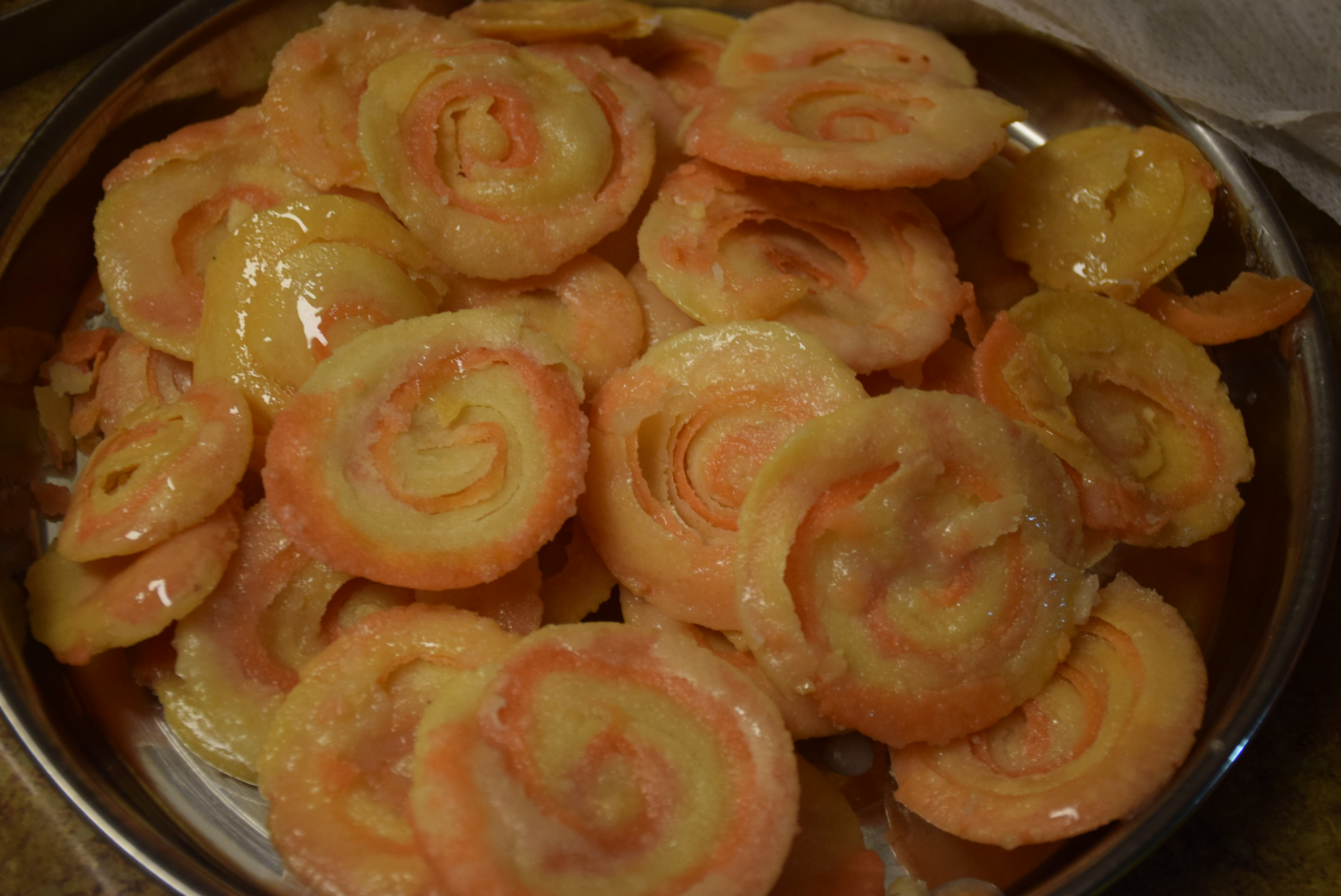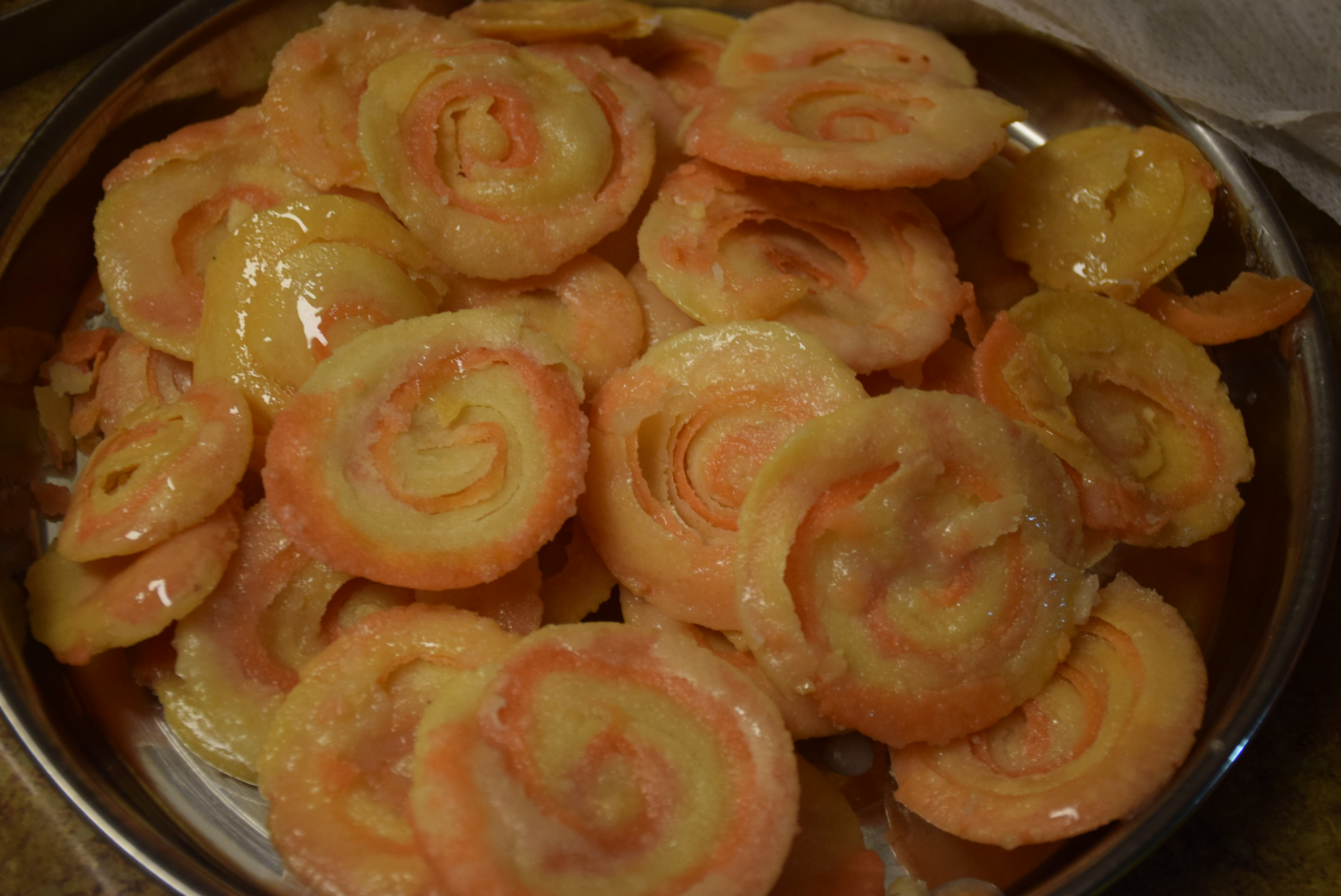 "Chirote" (a chakli sarkhach sweet ) is a sweet spiral shaped sweet prepared in Maharashtra, India. Its unique and attractive shape compelled me to try this recipe at home for Diwali. I also found it apt ,since they resemble our fire-cracker Chakri . So I followed Madhura's recipe with a twist.

Talking about the taste, they are sweet, crispy poori. Also called "Pakatliyan poori" in marathi. I first tasted them at my friend (Rupali Deshmukh) 's home two years back. Since then ,they have been on my hit-list. Finally I made them , ;). For me, they are Indian Swiss roll.

The twist I added is : I made them without using any food color, though it has changed the taste by 5%, but in the process I found a new natural color for sweets. Lets see the recipe now..
INGREDIENTS:
1. Sooji (Semolina/Rava) – 1 cup
2. Dry Beetroot (Chukunder) – 1 piece crushed into powder
3. Water (lukewarm) – 4 tbsp
4. Milk – 4 tbsp
5. Salt – a pinch (optional)
6. Hot Clarified butter (Desi ghee) – 1/4 cup
7. Cooking oil – 2 cups (for deep frying)

For paste (Satha) :
8. Corn starch – 3 tsp
9. Clarified butter(ghee) – 2 tsp

For Sugar syrup (Chashni) :
10. Sugar (Cheeni) – 1 cup
11. Water – 1/2 cup
METHOD:
| Preparation time : (5+ 30) mins | Resting time: 2 hrs | Cooking time : (35 + 10 )mins | Makes approx. 35 chirote|

Dough making>>
1. Let me disclose the secret of pink first. I used dry beets for this color. You may use beetroot powder or fresh beets too. For using this , boil some water in a pan and add the dry beets or beetroot to it and leave it aside for 5 mins. Once the beet has released all its color in the water, strain it and keep it ready for the recipe.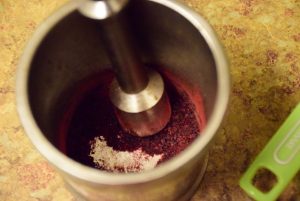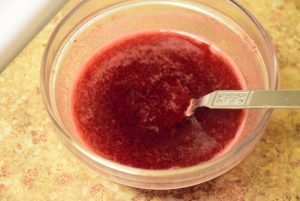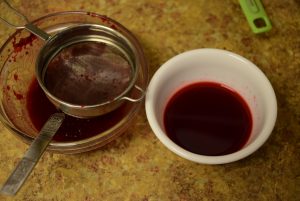 2. We start with making the dough for Chirote. Usually it is made with maida(refined flour) but thanks to Madhura's recipe, I found a healthier version of making them with sooji(semolina). Add sooji in a bowl and add the ghee or oil.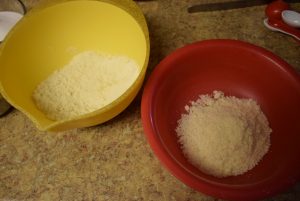 3. Here too the ghee should be enough that you are able to bind the sooji in your fist. Divide this flour into two parts or take out just 1/3rd portion of the flour in another bowl.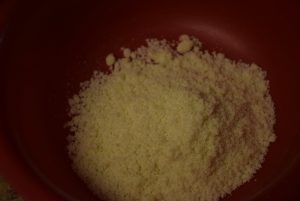 4. To the 1/3rd portion add the beet-water little by little to just bind it . It would need 3 to 4 tbsp of water. If you see the surface is wet and sticky, it is good. After giving it a rest time of 1.5 to 2 hrs, it will be absorbed in the sooji and the dough will be dry again.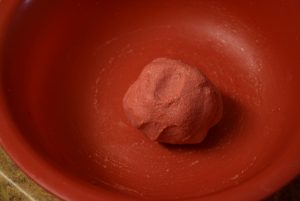 5. Similarly add milk in the other 2/3rd portion of the dough little by little . It used 4 tbsp of milk in all. Cover it with fresh wrapp or a plate and let it rest for 2 hrs.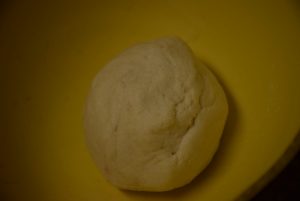 Prepping the swirls >>
6. After uncovering the dough ,knead it again (for 3 mins )to make it smooth and if you feel the dough is sticky or loose, add more sooji in it and knead it. Similarly smothen the pink dough.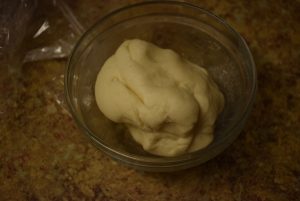 7. Pinch small poori size roundels (pedhas) from both the doughs. Cover them with a wet cloth or plastic wrap.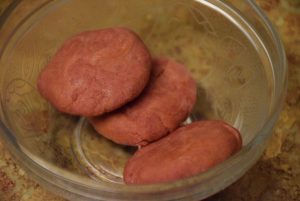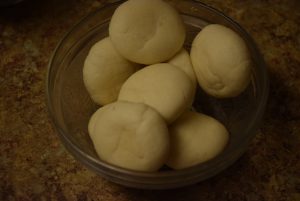 ( I made 8 white and 4 pink pedhas.)

8. When we are ready to roll them, prepare satha(paste) with corn starch and ghee. For this beat the ghee in a bowl such that it becomes creamy and white.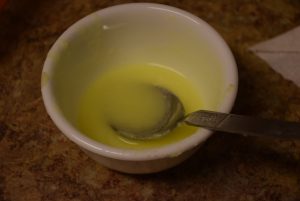 9. Add the corn starch(not the corn flour) and mix in the ghee evenly. You should get an even creamy paste without any particles.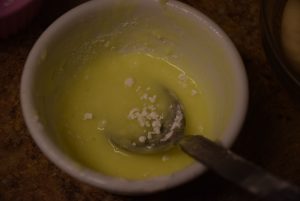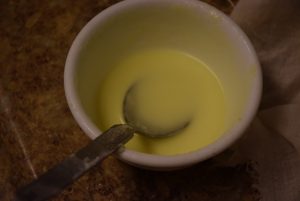 10. Start rolling the roundels. Begin with the white one , then pink and then white. Roll all the loi( latiyan) into roti size or poori size thin rounds. Cover them with a cloth. Make sure all rotis are of same size.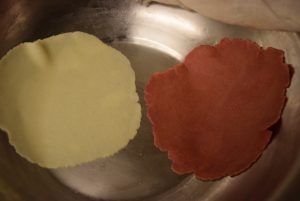 11. Pick one white roti, spread satha(paste) on it and brush it evenly all over it. Layer it with a pink roti(poli). Apply satha again all over it. Again layer it with a white poli. Spread satha over it too.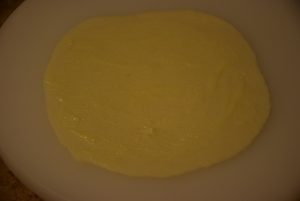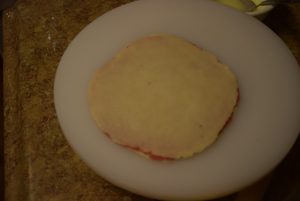 12. Pick up one end of the 3-rolled rotis. Start rolling them carefully and tightly such that it becomes a log.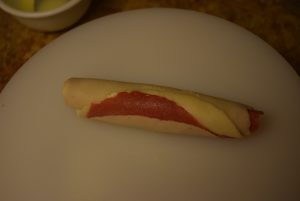 13. Tighten the log, by rolling it again from the center to the ends with hands in one direction.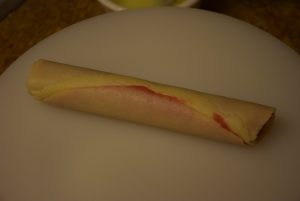 14. Cut 1 inch thick pieces with a knife from the log. Face them the swirl side up and cover them with a cloth.
Similarly make all the loi(latiyan/roundels).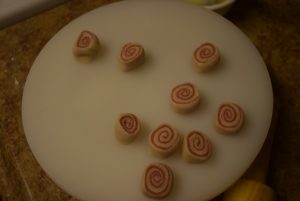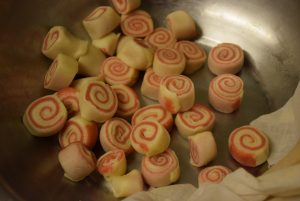 Frying >>
15. Heat the oil for frying in a wok(kadhai). Test by dropping a bit of dough in the oil . If it comes up slowly with bubbles, it is ready.
16. Start rolling the swirls with in a small thick mathri size poori. Add 5-6 pooris or chirote in the hot oil.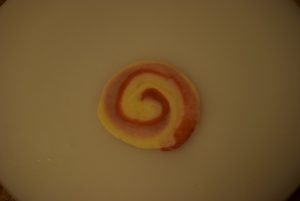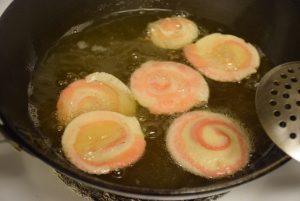 17. We need to fry them at medium to low heat so that they get cooked evenly from inside and the layers open up and swell. Move them like pooris so that they come up and swell. Also we don't want to brown them so fry at low heat ,such that they get a crisp form after frying.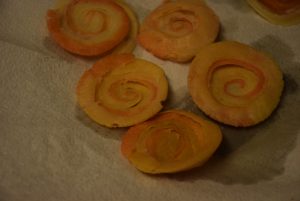 18. Take them out, once they change color slightly and are fried on both sides. Turn them in between while frying. Handle them gently while taking them out, since they might break and crumble in the oil due to crispiness.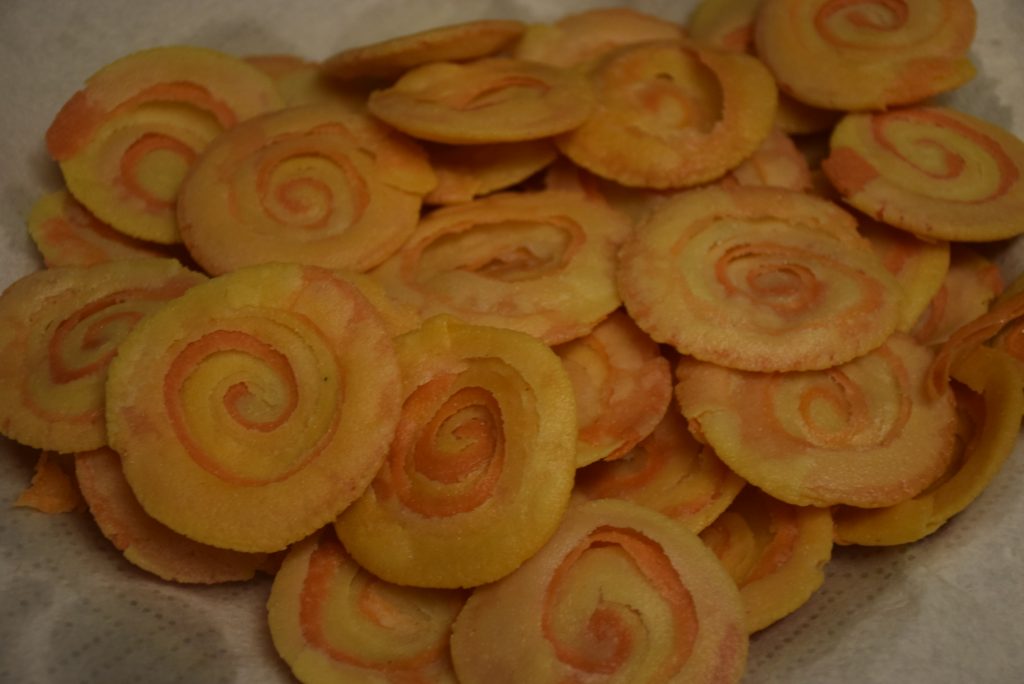 Making Sugar syrup and coating >>
19. Prepare a sugar syrup for coating them . For this boil sugar and water in a pan.

20. Once it is boiling hot, lower the heat and check the thread. We need 1 thread (1 tar) syrup here.

21. Turn off the heat, once you get that syrup. Add 4 to 5 fried Chirote and turn them in the syrup for 2 mins. Take them out and add another batch.

22. If the syrup cools down in between, reheat it and then add the next batch of Chirote.

23. Spread them in a thali (platter) for quick cooling.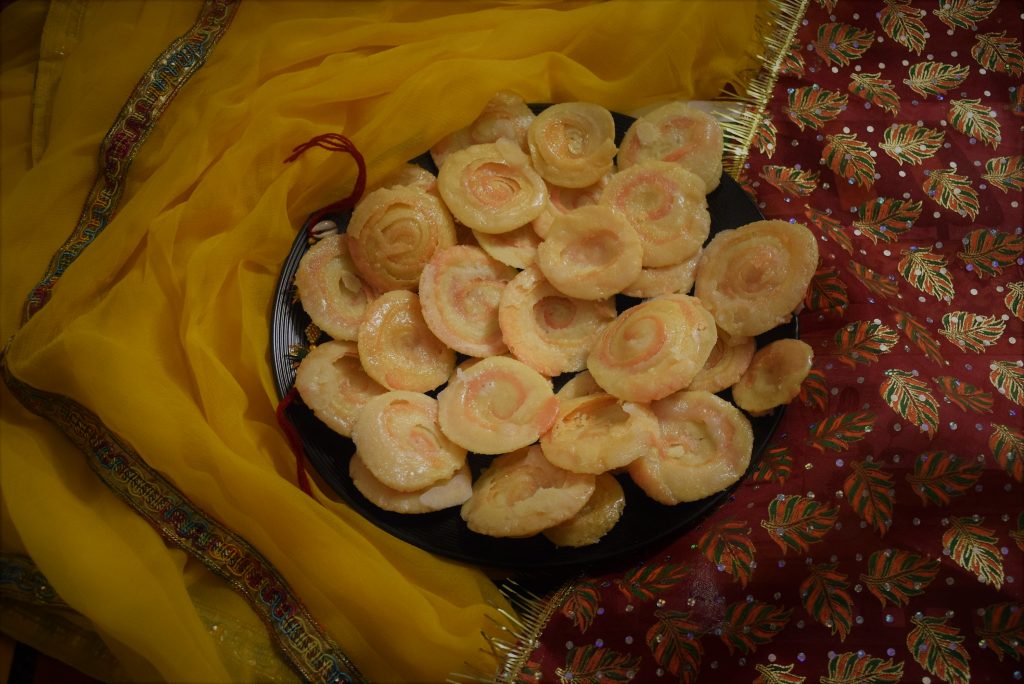 Diwali special Chirote are ready to enjoy ! Hope you have a blast this Diwali making sweets, burning crackers,deorating homes,dressing up and celebrating with full vigor with family and friends !!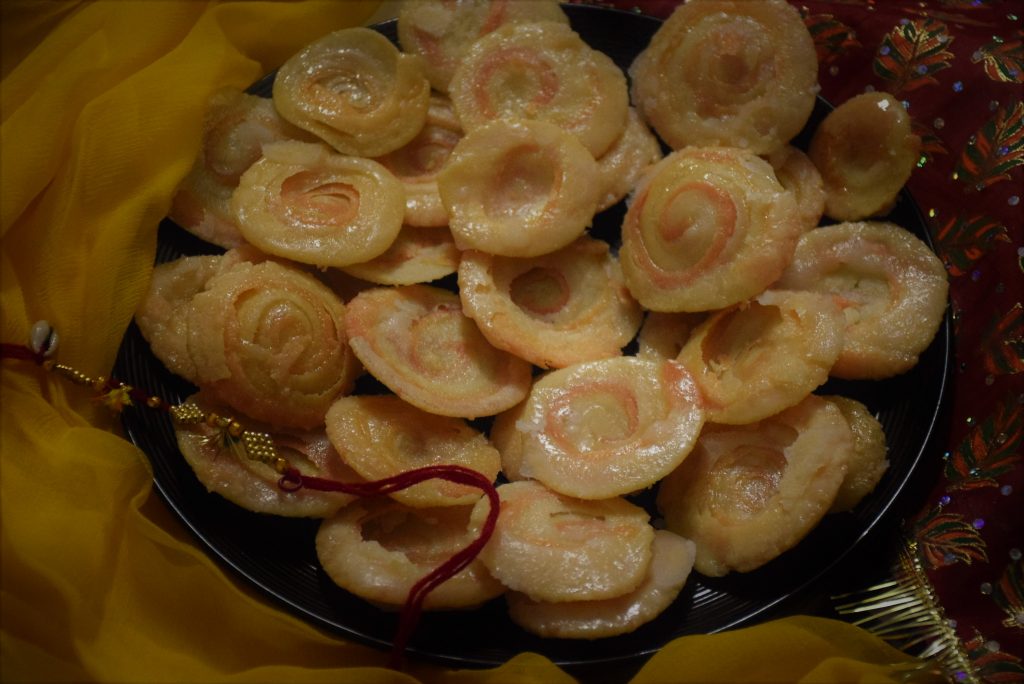 Till then keep smiling and cooking…
🙂