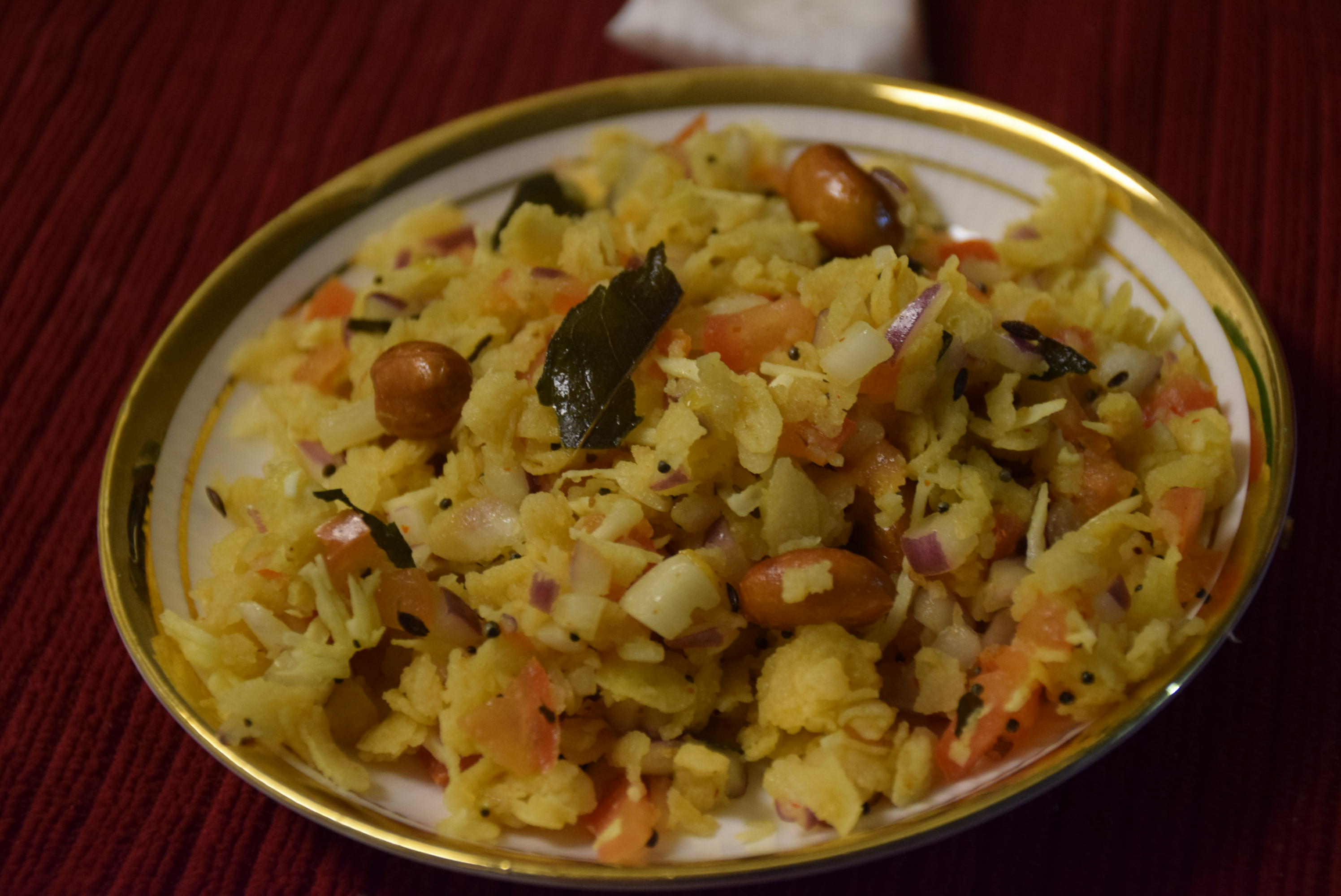 Sometimes culturally easiest and quickest recipe comes to our relief ,when we have unexpected pack of guests at home. Dadpe pohe as called in Marathi is one such Indian snack. It really involves negligible cooking time to create this tasty recipe within minutes. Poha is also called as beaten rice, which is made by flattening rice through heavy machines. It is not only healthy for all but addictive too , just kidding; On the health note, it is recommended to diabetic patients. This recipe is told and shared by my friend Amruta.
INGREDIENTS:
1. Onions – finely chopped (1/2 cup)
2. Tomatoes – finely chopped (1/2 cup)
3. Green chillies – finely chopped -2
4. Lemon juice – 3 tbsp
5. salt to taste
6. Tumeric (haldi) – 1/2 tsp
7. Fresh Coconut -finely grated ( 4 tbsp)
8. Fresh coconut water – 2 tbsp (optional)
9. Oil for seasoning
10. Mustard seeds ( Rai) – 1 tsp
11. Curry leaves(kadi patta)- 5-6
12. Peanuts – 2 tbsp (optional)
13. Thin Beaten rice (Poha flakes) – 1.5 cups
METHOD:
| Preparation time: 5 mins | Cooking time : 2 mins | serves 2 to 3 persons |
1. Chop the onions,tomatoes and chillies finely in a food-processor or with knife.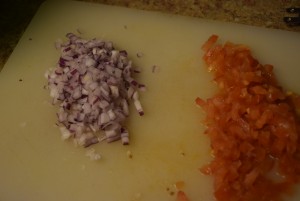 2. Take thin poha, add onions,tomatoes, salt, lemon juice,shredded coconut and chillies in it. Mix it well with a spoon or ladle.(Its better to use fresh brown wet coconut (gola/nariyal) not dry one(khopra).But if you have coconut powder ,you may add that as well.)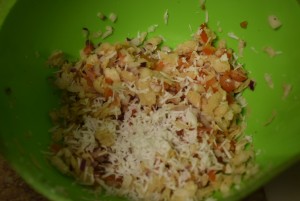 3. Make tadka in a small fry pan or tadka-pan. For this heat 2 tbsp oil in it. Add rai to it. When it starts sputtering ,add curry leaves to it. As soon as they start splattering, add turmeric to it and lower the heat to low.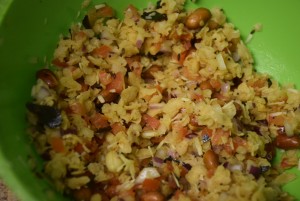 4. Now add the peanuts(shing-dana) and roast them well till golden in color. Don't over-roast them or they will turn bitter. For faster recipe you may skip this ingredient and step. Alternatively you can roast peanuts in a microwave -safe bowl in microwave too; for 2-3 mins in the installments of 30 secs.
5. If you like to add sugar, then add it to the raw ingredients in step 2. Also add coconut water in step 2. Although it is optional and depends on availability, but it adds a nice flavor to the whole dish.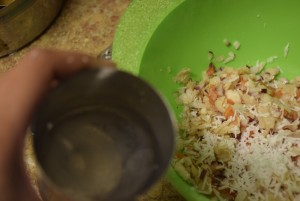 6. When your tadka is prepeared pour it on the raw ingredients in the bowl and stir them nicely to assimilate all the flavors and zest. Serve it now or cover it for later use.
7. Garnish with sev , dhania (coriander leaves/cilantro) and serve.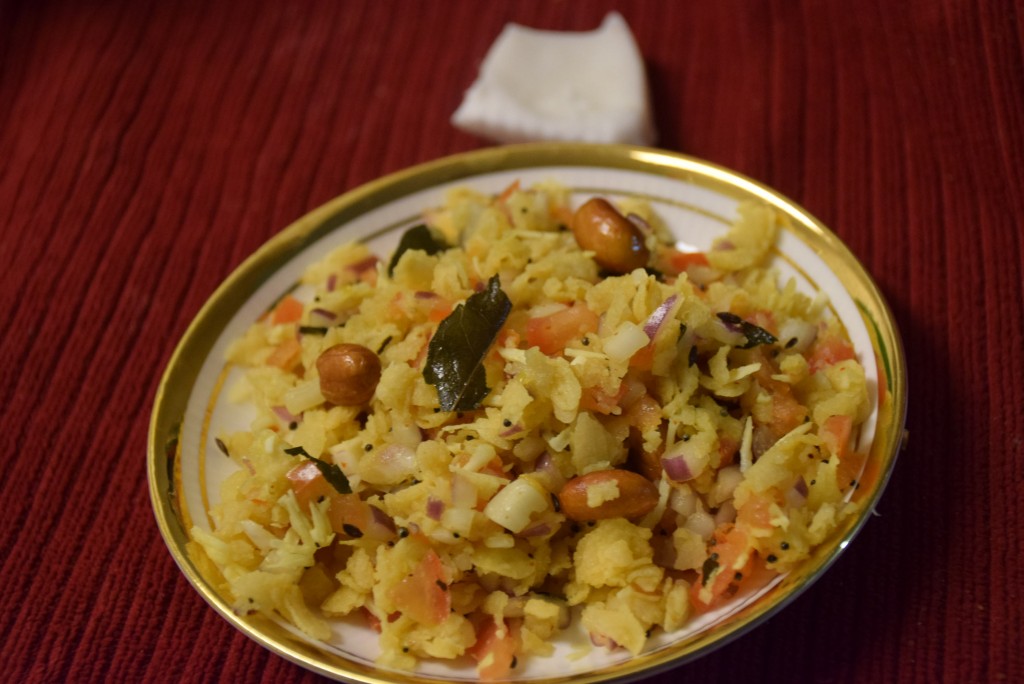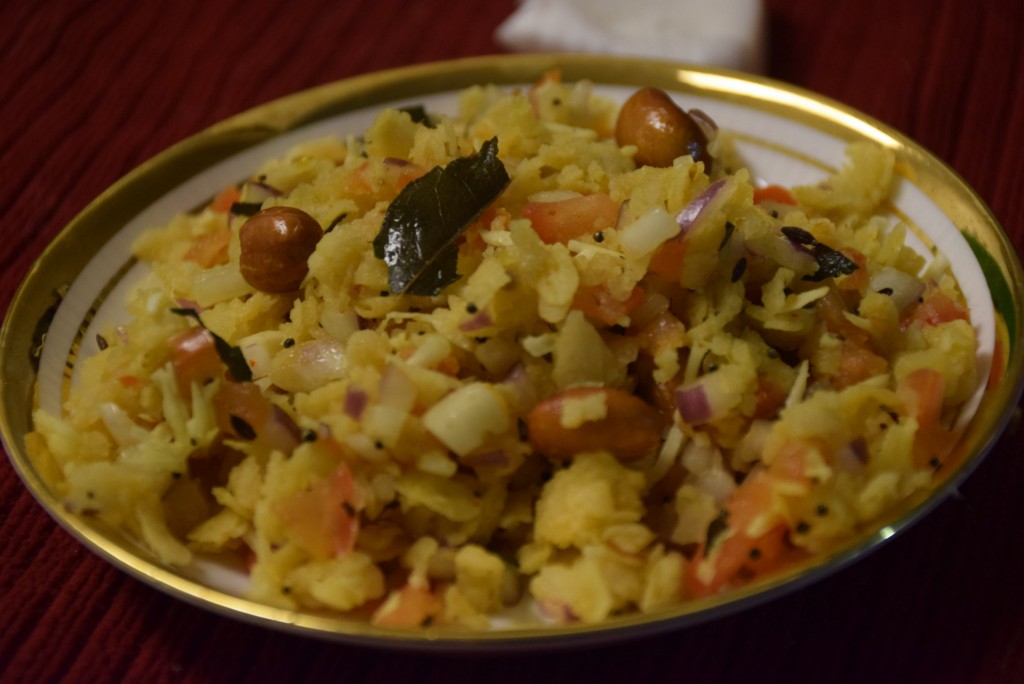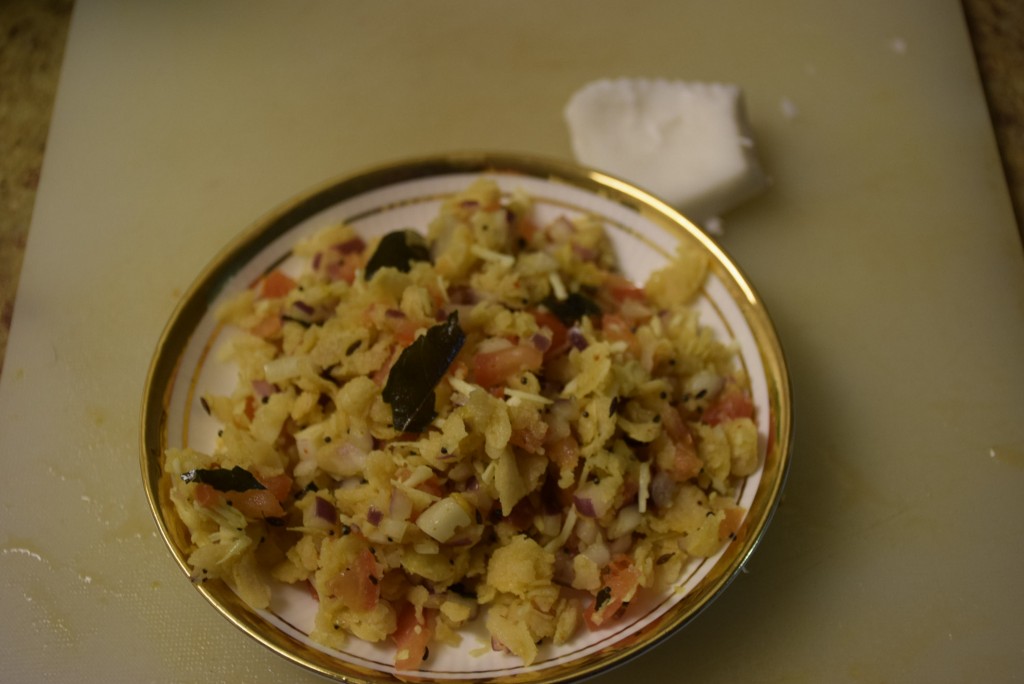 It has a good shelf life. It can be stored for 2 days. However, I prefer it making Ala-carte since it is ready in minutes and finished in seconds! 😉