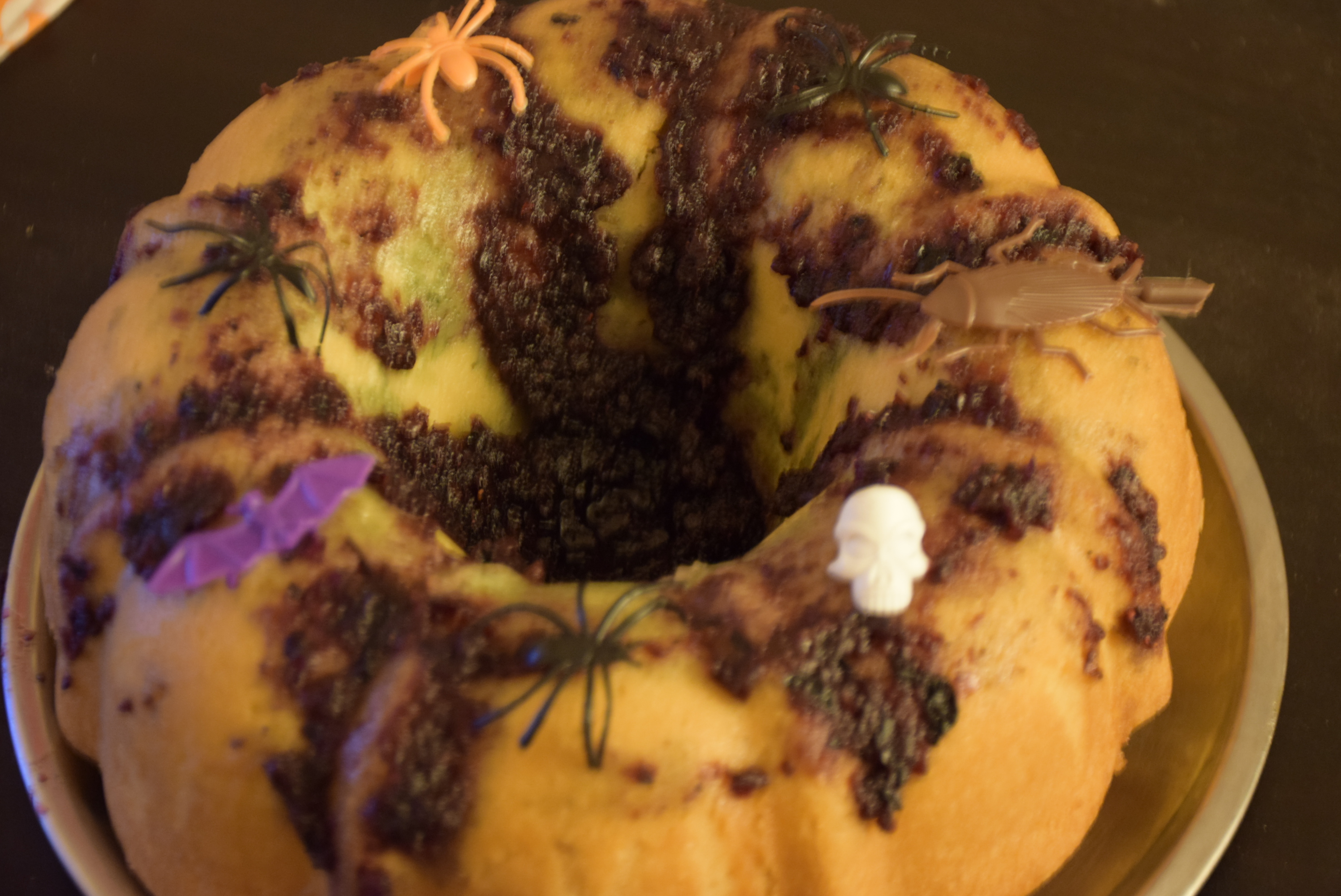 With Halloween round the corner, are you thinking of trying some cake for it? If you are looking for an egg-less, butter-less , milk-free chocolate cake recipe , then you are on the right page. 🙂 This cake not only turns out soft , spongy but also moist without adding any flax-seed gel cubes or vinegar or baking soda or banana or Ener-G egg replacer. So for those who have dairy allergies , this is the right choice.
Amazed ?? So was I ,before trying this recipe, but after seeing the results , you would simply love it and make it repeatedly for your kids. 😀 . Also the cranberry sauce I made for the topping could be stored in an air-tight glass jar in refrigerator for future use.
And yes this is a repeat of Vegan Bundt Cake where I just skip the Cocoa powder and added All-purpose Flour instead. 😉
INGREDIENTS:
1. Vegan Bundt Cake
2. Dried or fresh Cranberries – 1 cup
3. Dried or fresh Cherries – 1/2 cup(optional)
4. Blueberries – 1/4 cup(optional)
5. Sugar – 1 cup
6. Water – 1 cup
7. White skeleton candies or gifts for topping – 2 tbsp or according to the preference.
8. Nutmeg powder ( Jaiphal ) – 1/4 tsp(optional)
METHOD:
| Preparation time : 45 mins | Assembling time : 1 hr | Makes 10″ by 3″ inch Bundt cake |

1. Follow the "Vegan Bundt cake recipe" for making a mountain first.
2. In the meanwhile, when the cake is baking ,lets make the cranberry sauce. Take a saucepan or non-stick steel pan. Add water and sugar to it.



3. When the water starts boiling and the sugar has dissolved completely ,add the dried cranberries and stir them.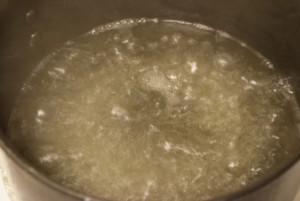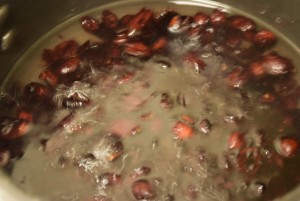 4. When the cranberries get softer and mushier, add the dried cherries and the blueberries for extra sweetness. This step is completely optional. Also add the nutmeg powder and mix it all together.



5. When the sauce starts thickening and you see a red syrup in the pan, turn off the heat and let it cool down to the room temperature.
P.S. : This cranberry sauce thickens on cooling . So its better to leave it watery while hot. Also I crushed it in my food-processor after making this jam for an even coating.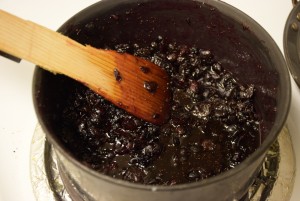 6. Now take out your vanilla sponge cake and allow it to cool down on a wire rack for an hour.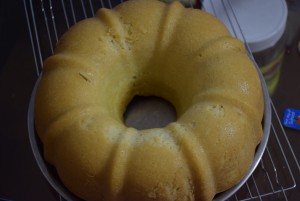 7. After an hour when the cake is cool to touch invert it in a plate to cool down completely.

8. Next melt 2 tbsp white chocolate chips in a microwave for 30 secs at power level -50 %. Take them out stir with a spoon well and then again heat it for 30 secs at 50% power level. Let it stand outside the microwave for a minute and continue stirring. The chocolate should be just as warm as the inner side of your lips. Pour it in a skeleton-shaped molds or spider molds and refrigerate it for 4 hrs.
P.S : Don't go by the texture of the chips after taking them out of the microwave. The latent heat retained by them is enough to melt them. So just keep stirring them and you will get a molten white chocolate in a minute.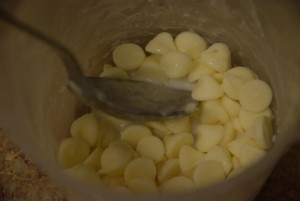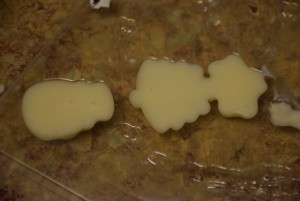 My mold wasn't good, so the chocolate didn't come out without breaking it. 🙁 But yes , I decorated with some toys. The Cranberry glaze looks like a blood stream and the skeletons, spiders to add to the scary setup. 😀 .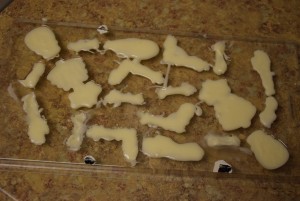 9. Now top the inverted cake with the cranberry glaze in the ridges and fill some cranberry sauce in the center too.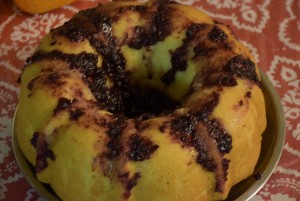 10. In the end top it with the frozen white skeleton candies or toys.
The "Death Valley" is ready to devour !!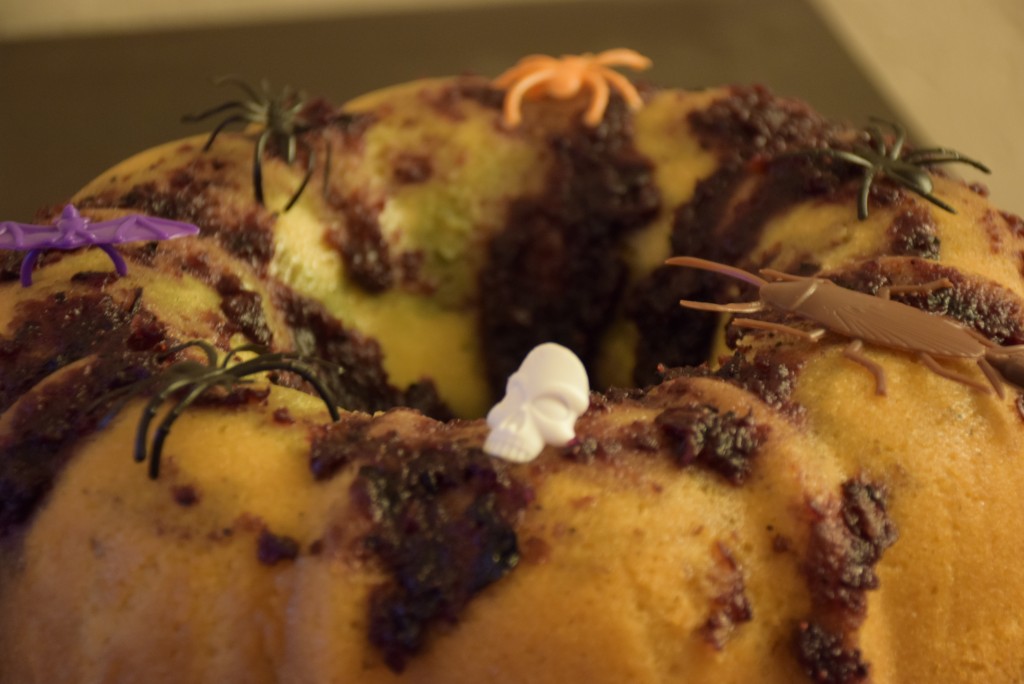 Thank you for taking time out to read this post !! If you feel to ask or suggest something, write to me in the comments below !!
Till then Happy Halloween
and Happy baking !!! 🙂