Kuttu ke pakode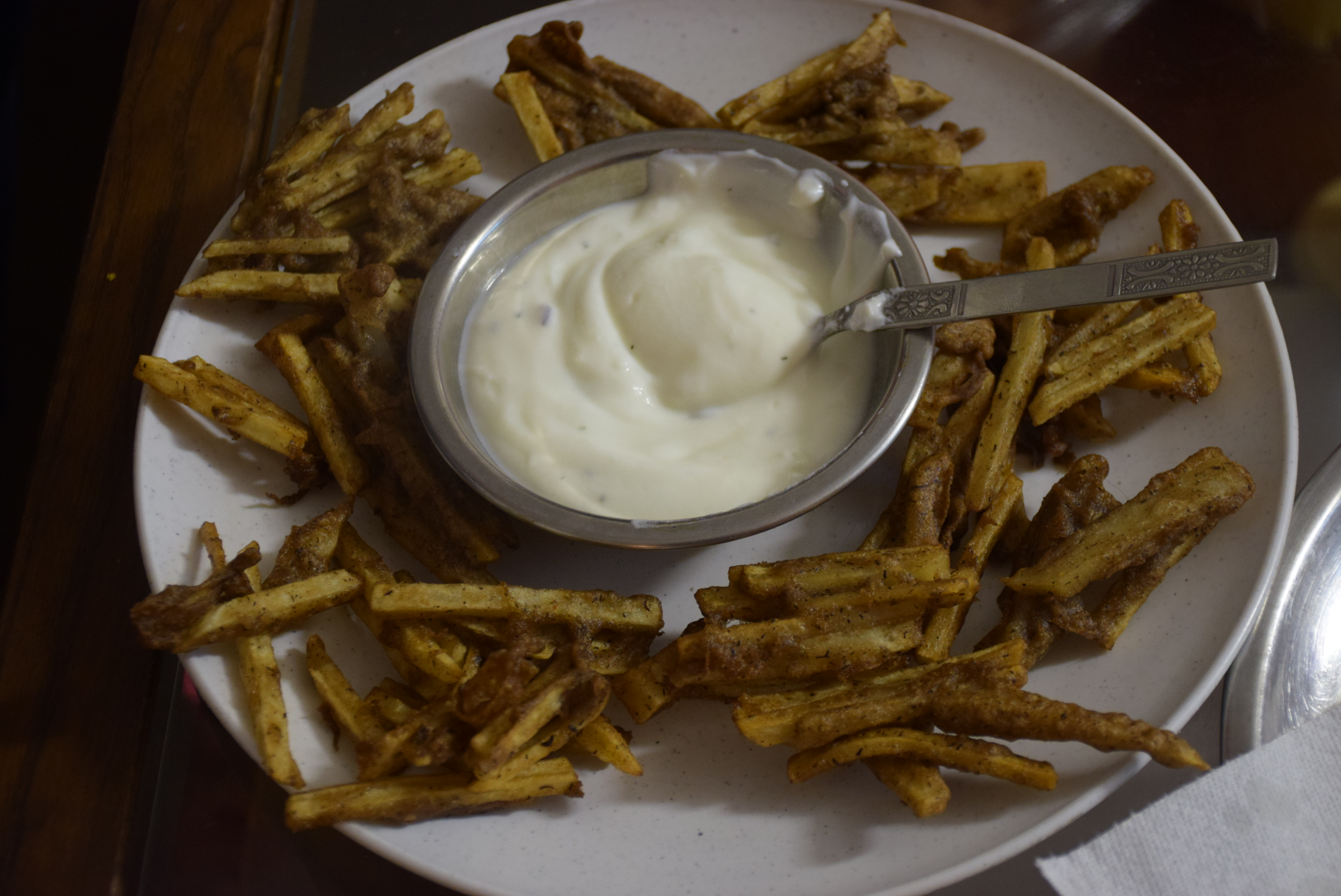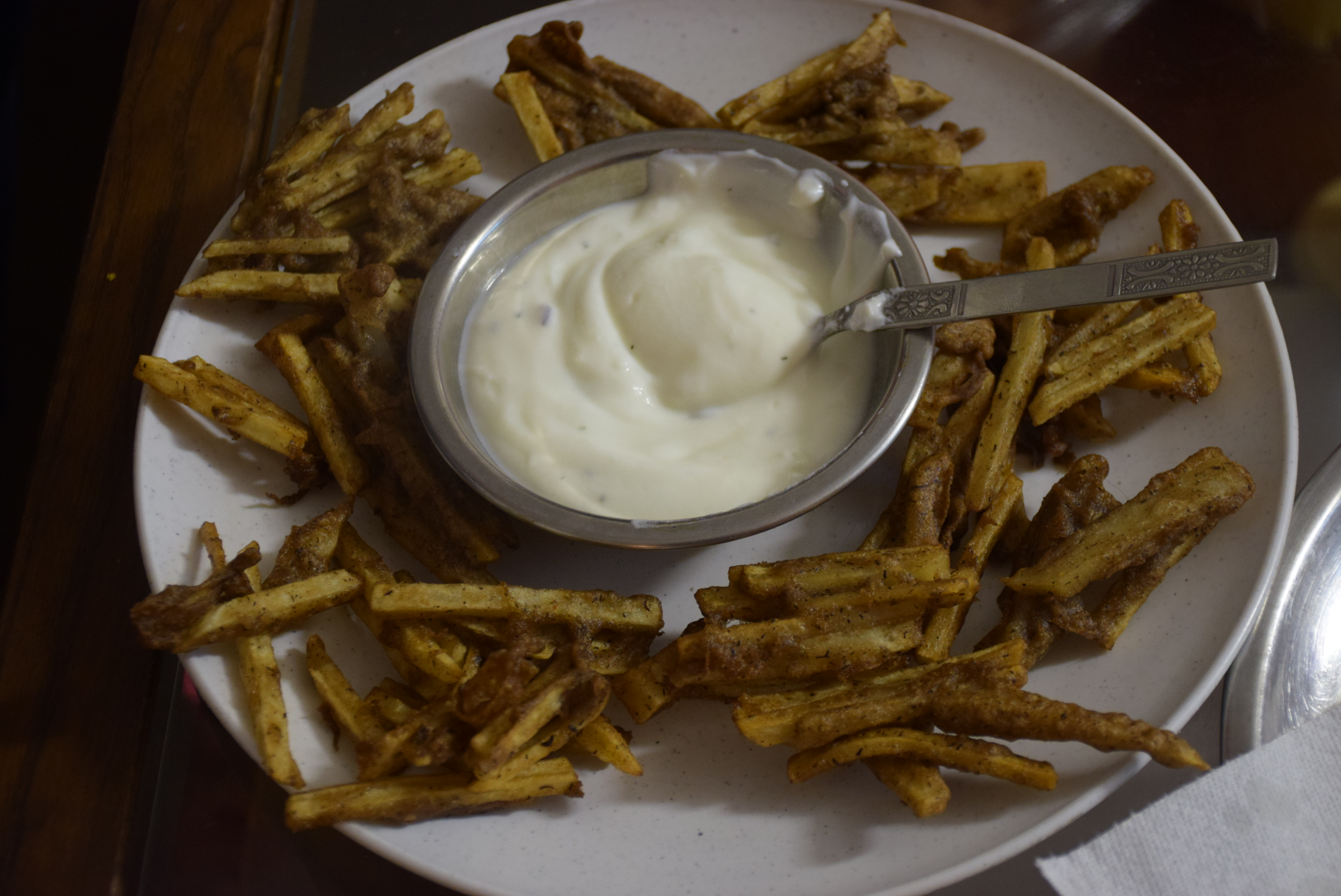 Whenever Navratri begins, the only dish my family craves for are "Kuttu ke pakode" (buckwheat-potato juliennes)!! Initially my Juliennes didn't came out perfect for him, like sometimes they got heavily coated ,sometimes lightly coated ,sometimes left raw inside ,sometimes turned soggy etc etc.

But thanks to my 'Progressive Prepworks' chopper, that I was finally able to make the perfect shaped and ,textured and crispy juliennes today. So lets proceed to this recipe which is one of the secret recipes of my Mom-in-law. 😉
INGREDIENTS:
1. Potatoes peeled and chopped – 3 large
2. Buckwheat Flour(kuttu ka atta) – 1/4 cup
3. Chestnut Flour (singhare ka atta) – 1/3 cup
4. Rock salt (sendha namak) – 2 + 1/2 tsp
5. Red chilly pepper (lal mirch) – 1/2 tsp
6. Coriander powder ( dhania ) – 1/2 tsp
7. Amchur powder ( dry mango powder ) – 2 pinches (optional)
8. Water – 1/2 to 3/4 cup or as required
9. Cooking oil – 2 cups (for deep frying)
METHOD:
|Preparation time : 10 mins | Cooking time : 20 mins | Serves 2-3 persons at a time |

1. Peel the potatoes and chop them into thick juliennes or thin wedges or thick slices. Dip them in cold water with (1 tsp) rock salt in a bowl. This helps them to absorb salty water and get cooked easily by osmosis. Also it prevents the cut potatoes to turn pinkish in color.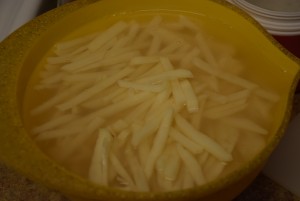 2. Now take another bowl and make a thick viscous batter by adding buckwheat flour ,chestnut flour and water.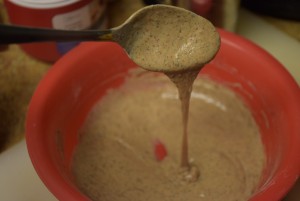 3. Take some oil in a wok (kadhai) . Heat it on high.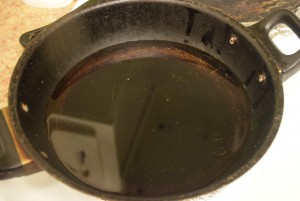 4. Now add the spices like salt, red pepper, coriander powder ,amchur powder etc in the batter and mix them well. The batter should be thick not runny.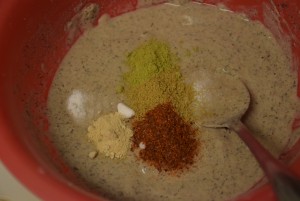 5. Strain the potatoes in a colander and then dip some of them in the batter and with a spoon add them to the hot oil in the wok.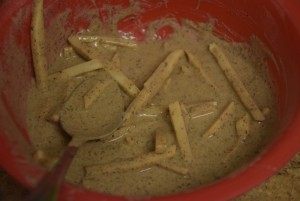 6. Let them cook for 3-5 mins. When the oil stops sizzling , then turn them slightly and cook again for 1-2 mins.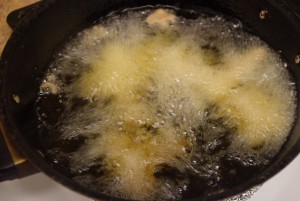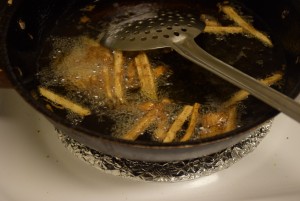 7. Strain them with a slotted spoon and take them out on a paper-towel lined plate.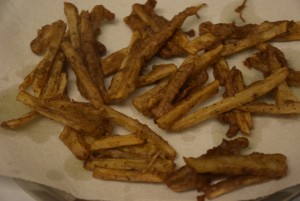 8. Serve them with a bowl of yoghurt or Aloo tamatar ki sabzi.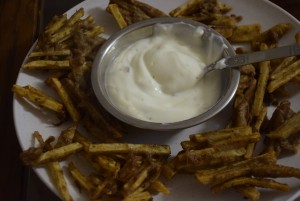 Tip : The potatoes dipped in water can be used the next day too if left unused. Similarly, julienne sweet potatoes/yam too taste good.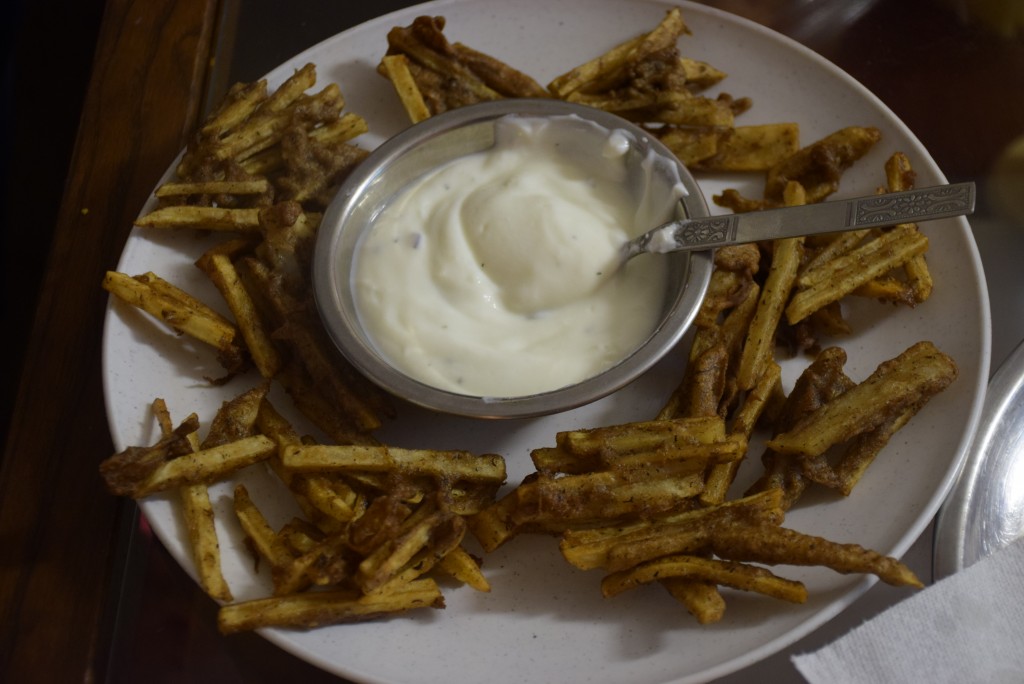 Happy Navratri !! Happy cooking 😀