Mango Coconut Cookies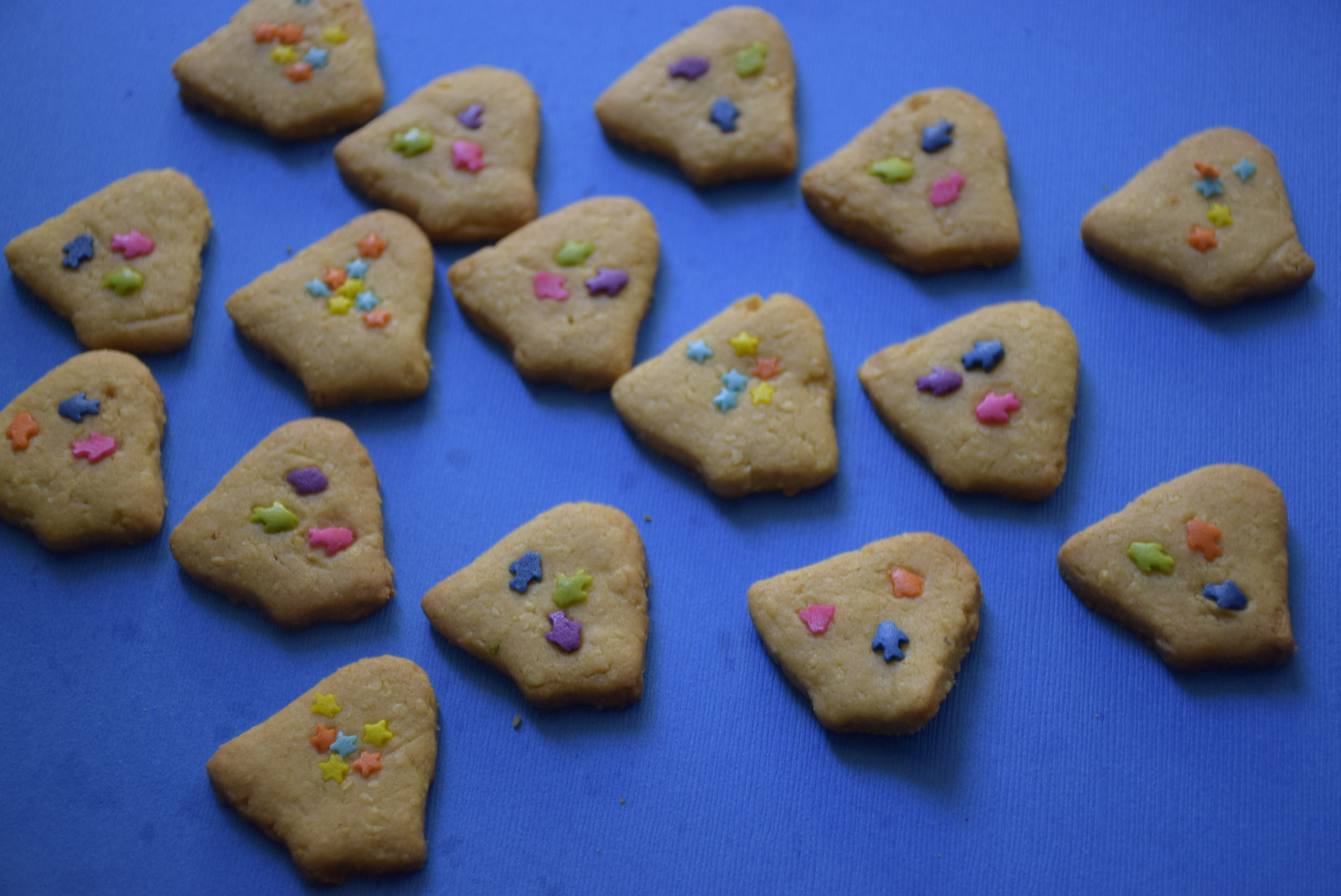 What do you do with your kids to pass time during their holidays?? why not do something creative like making cookies and designing them with your kiddo. Believe me you will never know where the time flew and the outcome , 😛 it will be enjoyed by one and all!! Mango -coconut cookies are the ones I prepared using Mango pulp and dessicated coconut powder. This is the easiest recipe with easily available ingredients. They are crunchy, sweet and have the mango tanginess too!!

Although I used the Ingredients in a large quantity, since I need to use up my whole mango pulp(which was about to expire) 😉 , you may halve them according to your convenience and practice.I have used jaggery powder and whole wheat flour only on the health note, but you may replace them with sugar and maida if you like. But this is a fool-proof recipe. So for the next holiday season you have a job now . 🙂
INGREDIENTS:
1.Unsalted Butter (softened at room temp) – 2 cups
2. Granulated sugar(white sugar) – 1.5 cups
3. Jaggery powder(Shakkar) – 0.5 cup
4. All-purpose Flour(maida) – 3 Cups
5. Whole wheat Flour(Atta) – 2 cups
6. Mango Pulp (canned) – 3 cups ( you may use fresh mango pulp too)
7. Dessicated coconut powder – 1.5 cups (you may use freshly dessicated coconut too here)
8. Flax seed Gel cubes – 4
9. Baking powder – 2 tsp
10. Chopped nuts – 1/2 cup ( I used mix of cashews and pistachios) [optional]
11. Sprinklers – for garnishing
12. Bikaner Aloo Bhujia – for garnishing
13. Chironji(Chiroli)- for garnishing
METHOD:
1. Sift together the maida, atta and baking powder through a sieve in a large bowl.

2. In a separate bowl , beat the sugar,jaggery powder and butter till it gets light and fluffy.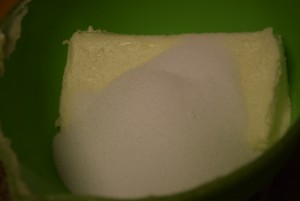 3. Now add the flaxseed gel cubes,beat it again either with an electric mixer or with hand whisk. I would say do it with hand whisk, since it gets messy and tough afterwards to clean the electric mixer.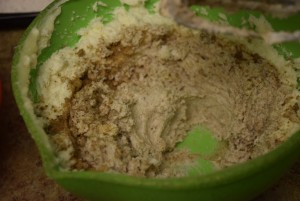 4. Now add the flour mix in parts to the butter-sugar mix and bring it together with hands. At this stage keep the whisk or mixer aside and proceed with hands to form a dough. Also keep adding the mango pulp,chopped nuts and coconut powder in parts alternately. I added everything in 5 parts.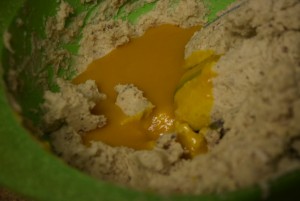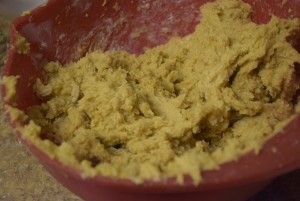 5. Make a dough and wrap it in cling wrap to avoid dehydration. The dough should be tight enough to be rolled and soft enough to be plucked. It would be more or less like the chapati dough without any gluten.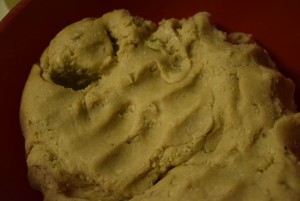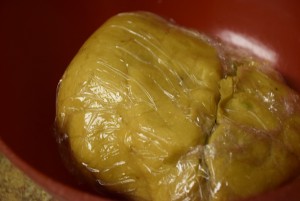 6. You may start rolling the dough at that moment or you may refrigerate it and roll it the next day. It wouldn't affect the process at all. So I decided to make half of the cookies the next day.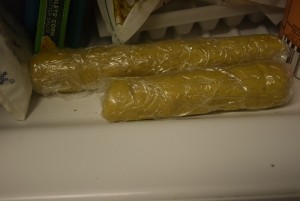 7. Now pluck a handful of dough from it and roll it on your counter -top or the cutting board with your rolling pin. I had store bought cookie cutters ,but you may DIY them using soda cans, aluminium foil pans or candles-cover.Roll the dough to 1/2 cm thickness. The thickness could be betweeen 1/2 cm to 1 cm.If you are making simple round cookies then 1/2 inch slices could be sliced from the log refrigerated and wrapped in plastic cling wrap.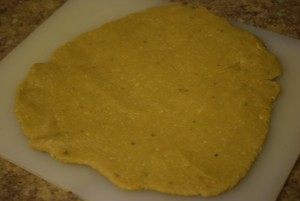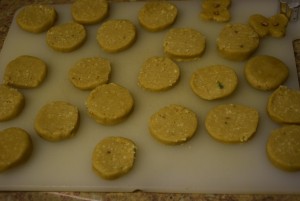 8. So the fun part begins now, engage your family in this activity, use nuts like chironji or sprinkles for decoration .Be as creative and you would enjoy this work a lot..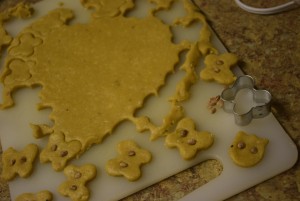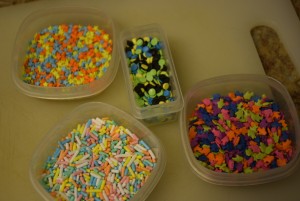 9. Preheat the oven at 338 Degree F. Refer to karachi biscuits for how to set the oven. At this temp you will get the crunchiest cookies with the inside cooked properly too.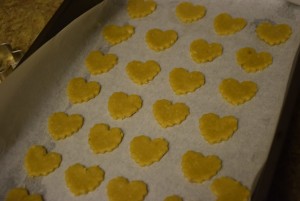 10. Now line your baking tray with parchment paper and arrange your cookies 1/2 inch separated from each other on the tray.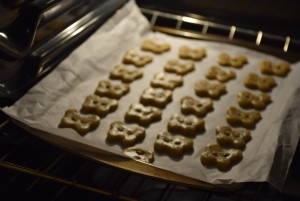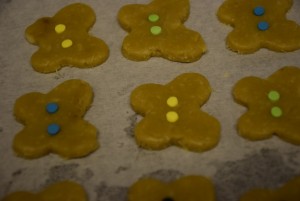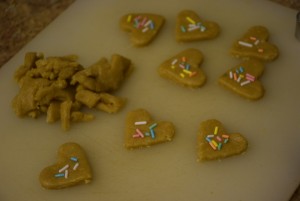 11. Bake them for 15-17 mins. The first batch may take more time than the next ones. So keep checking after 10 mins for the cookies. Once you see the sides getting slightly browned ,its time to take them out.
This is how they looked after 10 mins..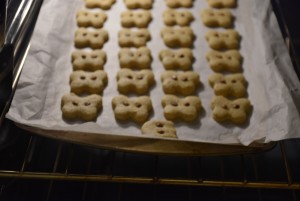 The other batches are still baking.. 🙂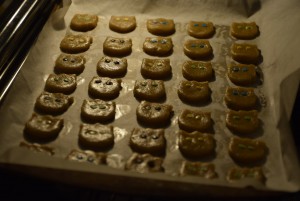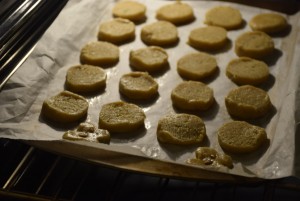 12. Cool them in a shallow tray before storing them. Once they are perfectly cooled, dig a bite and taste the yummy cookies!! 😉 enjoy!!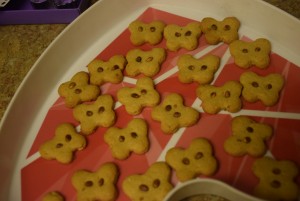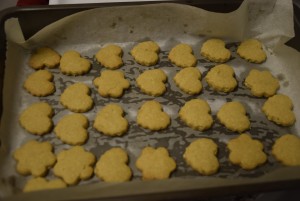 See the back of these cookies..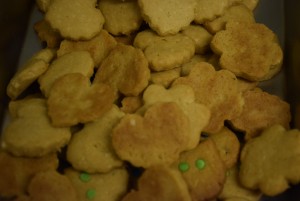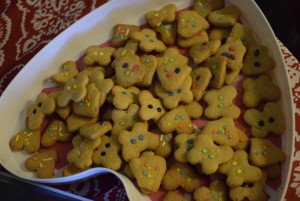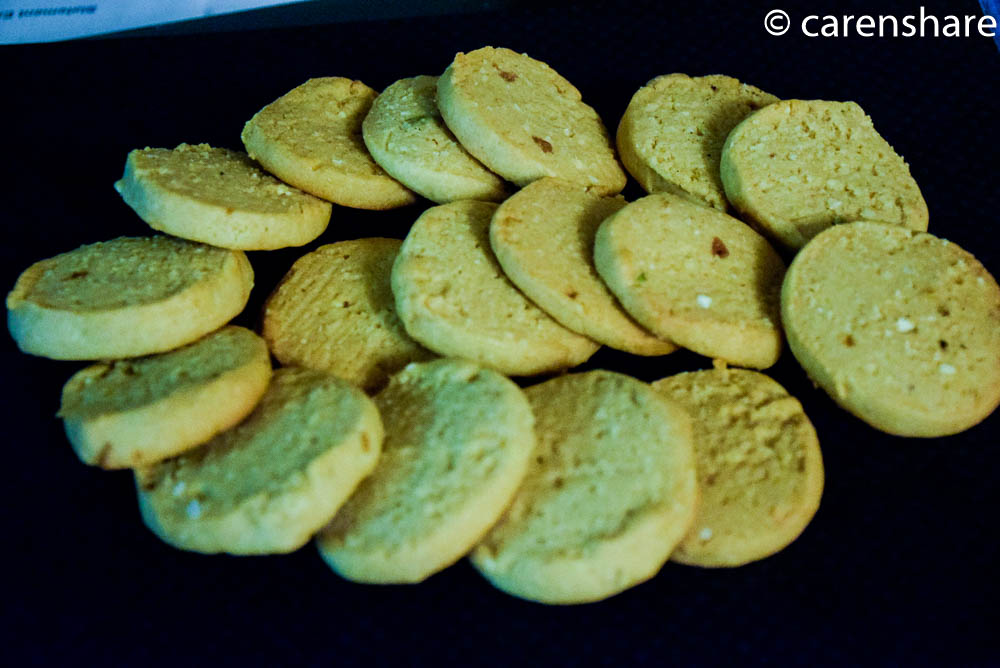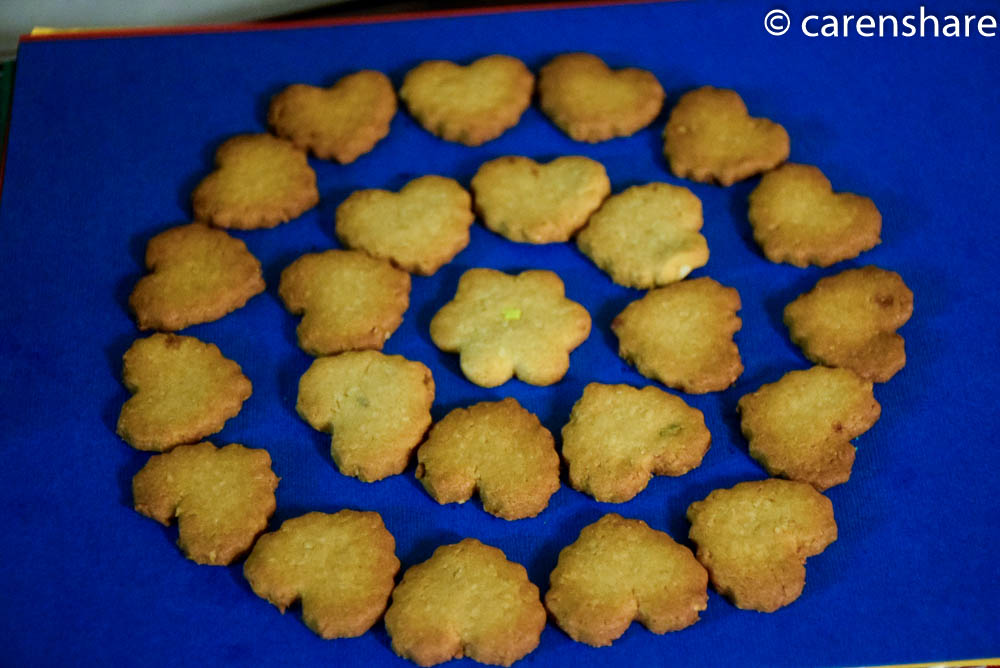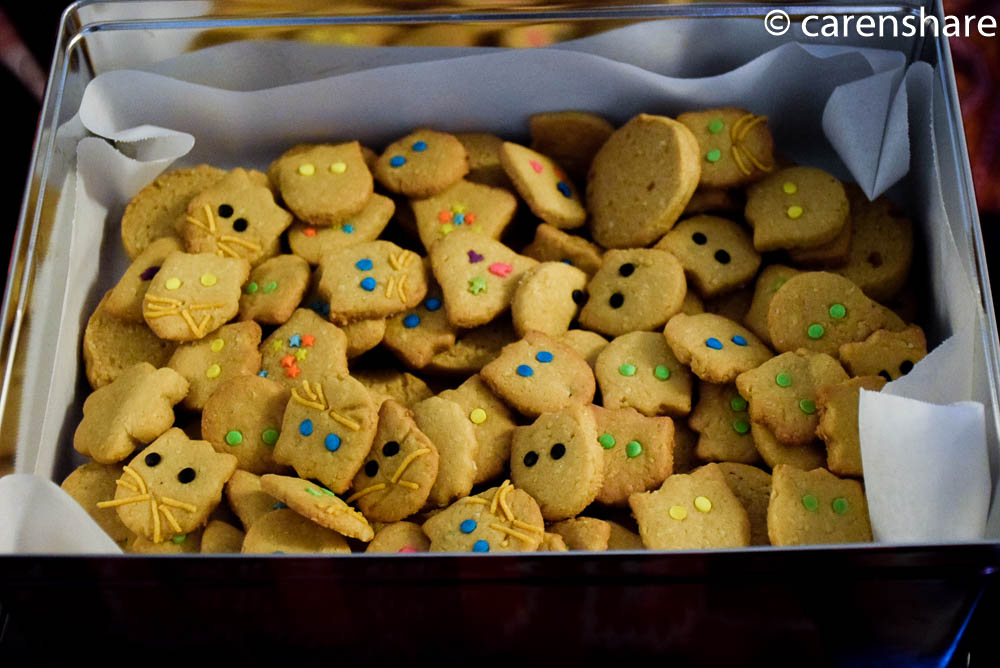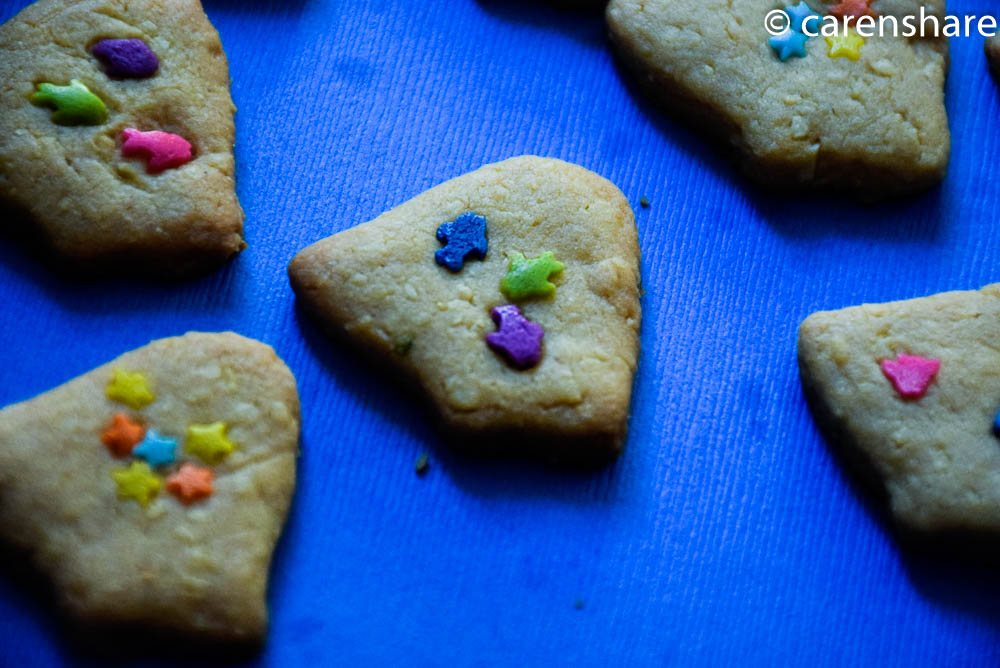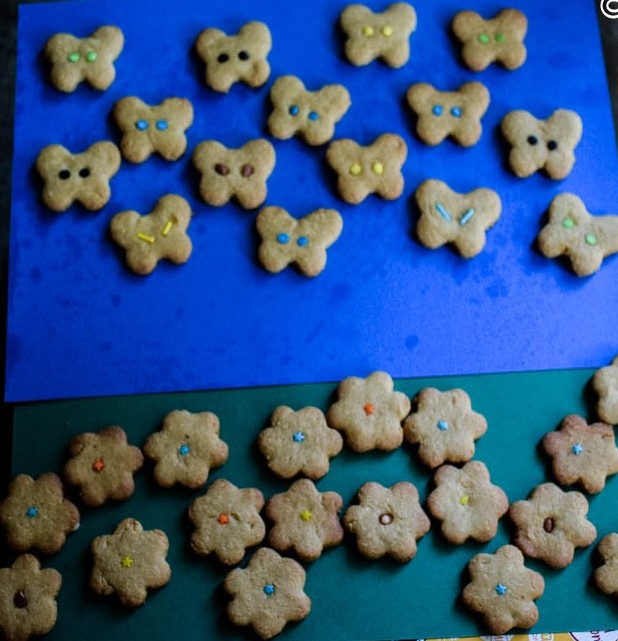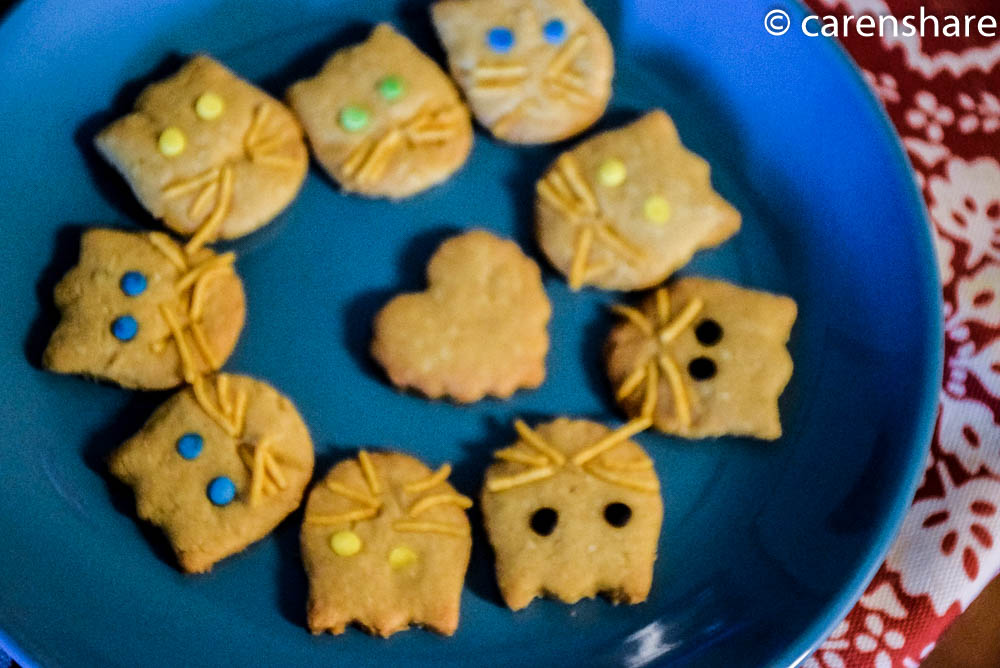 Happy Baking !! Enjoy your life before it melts!! Share your experience here!!