Mint Dip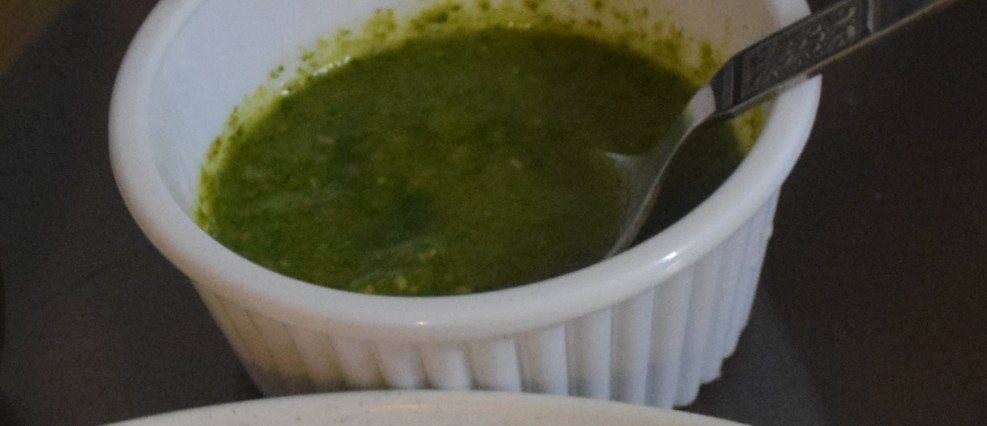 Green dip(Hari chutney) is an easy and versatile recipe. Every state in India has its own style to make this chutney. Like in North ,ginger and tomato are essential; in west peanuts,raw mango are essential; in south coconut water/ powder is essential ; in east green chillies are essential..But follow any recipe and the main ingredient that is the coriander leaves/cilantro /dhaniya remains the same. Now-a-days avocado is also added to get that gooey texture in this dip. However I am going to share which I liked and loved the most, but I would mention the exhaustive list of ingredients for your ease to pick and choose you like. Those which I haven't added will be with (optional) tag.
INGREDIENTS:
1. Cilantro(Dhaniya) washed and cut – 1 bunch
2. Mint ( pudhina) washed,stemmed and cut – 1/4 bunch
3. Avocado (ripe) pitted ,peeled and mashed – 1
4. Salt to taste
5. Tomato – 1 medium
6. Green chillies -2
7. Coriander powder(dhaniya)- 1 tsp
8. Fennel powder ( saunf)- 1 tsp
9. Cumin seeds (jeera)- 1/2 tsp
10. Lemon juice – 3 tbsp
11. Red chilli – 1/4 tsp
12. Chaat masala – 1/2 tsp
13. Ginger – 1/2 inch piece (optional)
14. Onion – 1 medium (optional)
15. Peanuts(Sheeng dana/ mung fali giri) – 4 tbsp
16. Coconut powder – 2 tbsp
17. Raw mango(kairi/ambi) pitted peeled and cut – 1/4 cup (If u are adding this decrease the amount of lemon juice) (optional)
18. Citric acid/ Cream of tartar – 1 tsp (optional) In place of lemon juice
19. Sugar – 1 tsp (optional)
20. Curd(Dahi) – 1/4 cup (optional)
21. Coconut water – 2 tbsp (optional)
22. Garlic cloves peeled (lehsun)- 2 (optional)
Please feel free to add more ingredients in the above list by commenting below.. I would be happy to edit this..:)

METHOD:
| Preparation time : 20 mins | Making time : 5 mins | Makes 1/2 lb of dip |
1. First of all wash the leaves and separate them from their stems. You may chop them or leave them as whole depending on the ability of the grinder you are using. Usually for small jars ,we need to chop the leaves too with the chillies and tomatoes.

2. Add all the ingredients in the grinder and grind them till they form smooth paste. If you are not able to add all of the ingredients in one go, add half and grind , then add the latter part and grind again.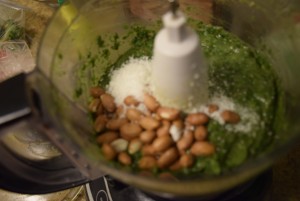 3. Also add water little by little to help grinding and get the right consistency. If you are using peanuts or coconut powder, you will need more water in the grinder because they absorb the water of the mix.

4. Adjust the taste of the dip according to your like.

5. Lastly when it is of one consistency , then store it in a glass bowl in refrigerator for fresh use.
This dip may be used for 2-3 days without rottening. However, if you are using curd,onion or garlic in this recipe ,it will rot quickly. Also if you use avocado, then just immerse its pit in the center to avoid darkening of the dip.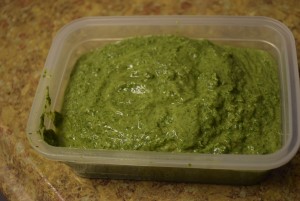 But still avocado , contains iron like bananas and apples.So after coming in contact with air it tends to form dark brown film of Ferrous oxide. So for this , You may just store the extra dip in ice-cube tray in the freezer and then transfer those cubes in a ziploc and preserve them in your freezer for months…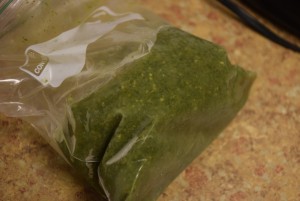 This dip not only enhances the taste of every side served with it, but is also beneficial for your digestive system ..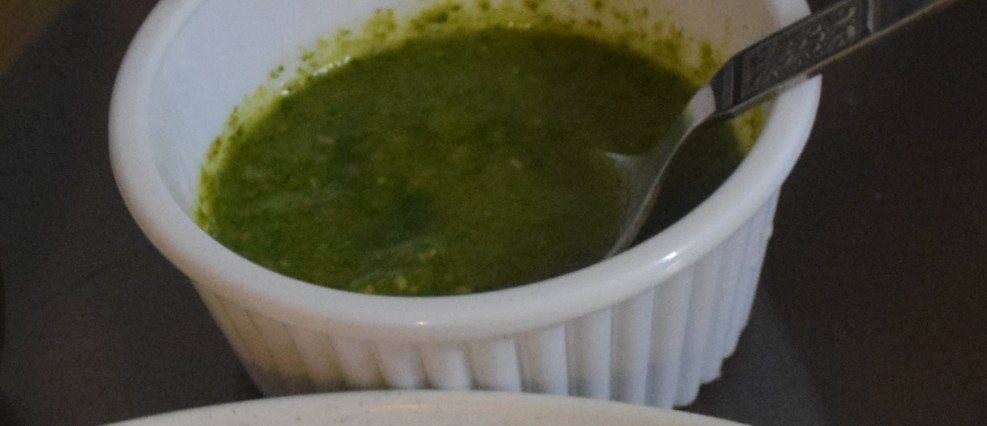 So stay happy and healthy!! Share your experiences with me !! We love to hear from you!! 🙂