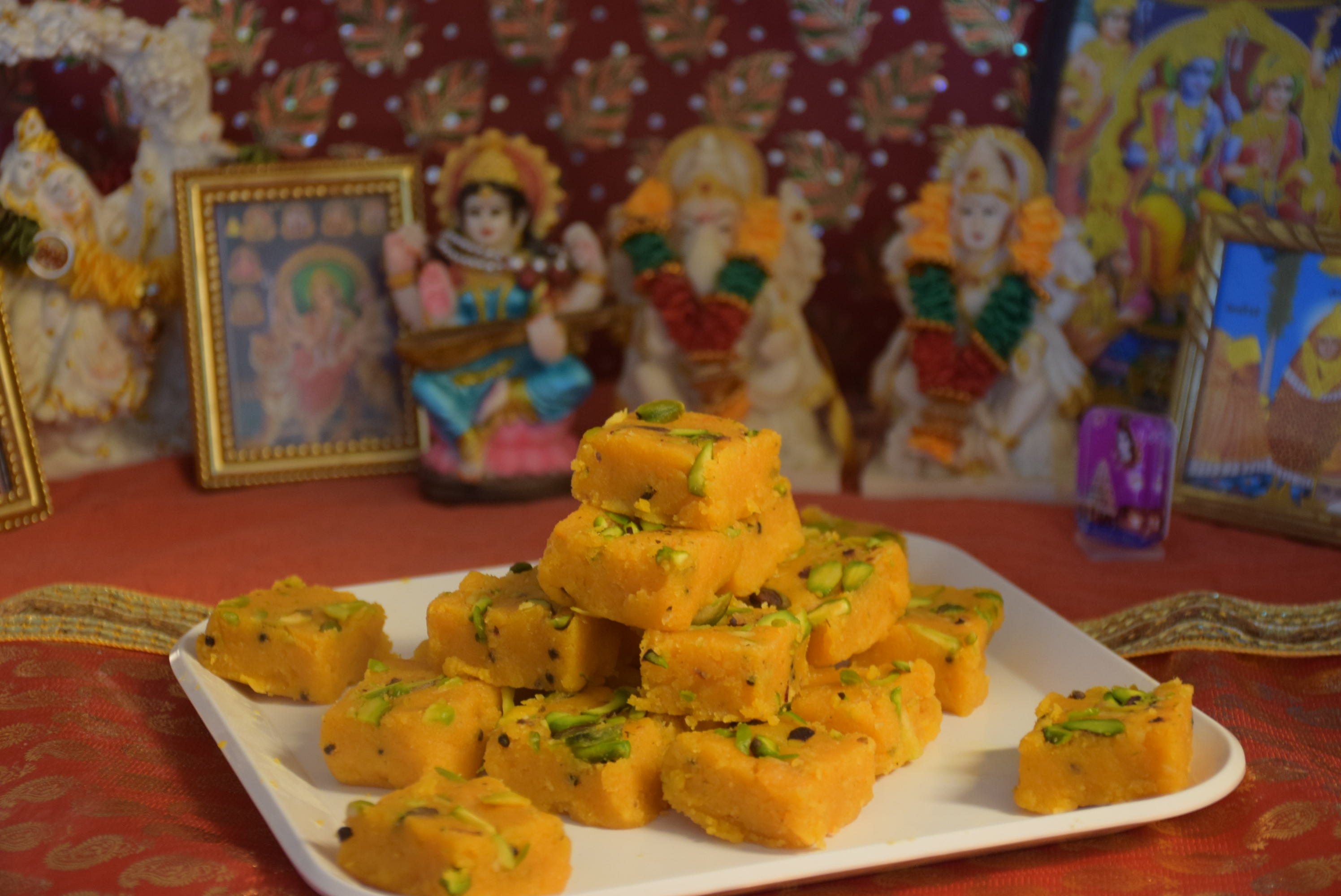 With Ganesh Chaturthi coming up next week, I thought of making a healthy sweet, which could be prepared ahead of time and served to the devotees as Prasad. Last year I made Ukadiche Modak, Mawa Modak, Baked Modak for this festival. But this time I wanted to offer "Ganapati" something different. 😉 And yes, I will make his favourite sweet 'Modak' too very soon.
Moong Dal Burfi utilizes readily available ingredients at home and does not require some special expertise. I hope that if you have tried the Moong Dal halwa , then this will not be an effort for you. It is again a Rajasthani sweet which is popular for its coarse inside and soft oustide texture. Unlike Mohanthaal which has a little hard texture , this one just melts in mouth with the grainy taste of Moong dal. So lets move to its recipe now . 🙂
INGREDIENTS:
1. Moong Dal (Yellow split Mung lentil) – 1/2 cup or 100 gms
2. Ghee (Clarified Butter) – 1/2 to 2/3 cup or 120 gms
3. Grated Mawa /khoya(Concentrated Milk solids) – 1/2 cup or 100 gms
4. Cheeni (white granulated sugar) – 3/4 cup or according to taste
5. Pisi chhoti elaichi (freshly ground cardamom )- 2 tsp
6. Kesar (saffron soaked ) – 10-12 strands
7. Pista ( sliced pistachios ) – for garnishing
8. Food color (orange or yellow) – 1 pinch (optional)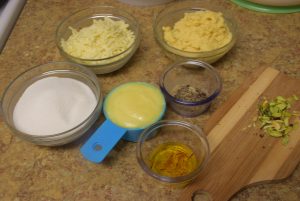 METHOD:
| Soaking time : 3-4 hours | Cooking time : 40-45 mins | Setting time : 2-3 hrs | Makes 30 medium size pieces |

1. Wash and soak the split yellow moong dal for 3 to 4 hrs. If you are taking double quantity soak it for 5-6 hrs. Also you may prepare Mawa following this recipe – homemade Mawa and let it cool for an hour before using it in the recipe. Using hot Mawa dries up all the moisture inside the mawa and makes it very dry and brittle.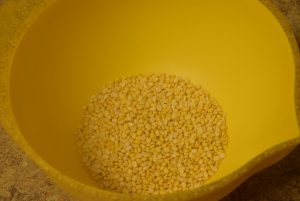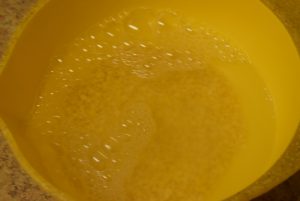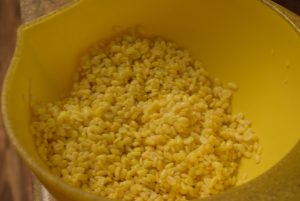 2. You will notice that after soaking the dal has nearly doubled in volume. Now drain the water of soaked moong Dal and grind it in a smooth paste and keep aside. Don't worry about 3-4 unground pieces of moong dal, just check that you should be able to break its grains by pressing between your fingers.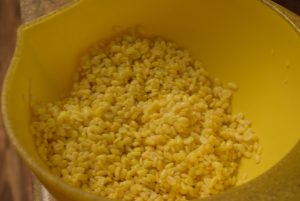 3. Heat ghee in a heavy bottomed pan or wok (kadhai) . When it has melted, add the Dal paste and turn the heat to medium . Slowly and carefully try to mix the dal with the ghee while stirring.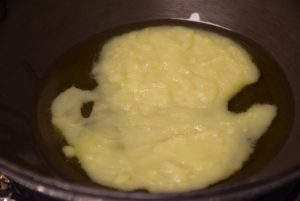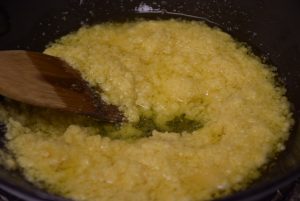 4. Also adjust the heat if you see the dal is sticking at the bottom, rather than adding more ghee. Use a wooden spatula and a non-stick pan for this process preferably.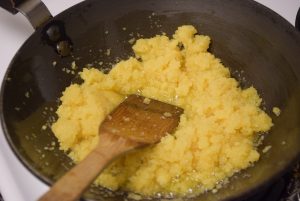 5. After nearly 13 mins you will see that the raw smell of Dal is gone and now it is properly mixed with the ghee and swelled a little. Continue stirring on low heat till you see a color change in the dal. Be careful not to overcook it , or it will get harder and grainier . Since we are making barfi we need a soft and grainier texture.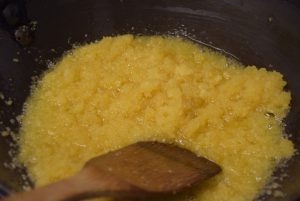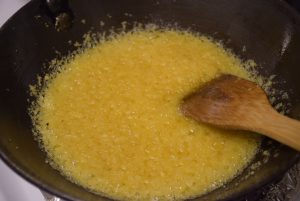 6. Mine took 8-10 mins to change slight color and then I took off the wok from the heat. Next in the same or different pan, add 1-2 tsp ghee and mawa.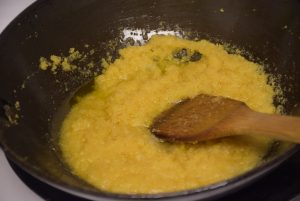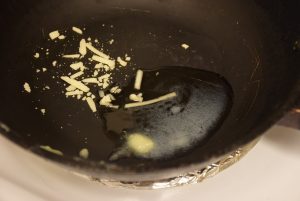 7. Roast mawa on medium heat for 4-5 mins or till it gets soft and mushy. I have used here store bought mawa , hence I grated it first with a grater. If you are using home-made mawa, you may just crumble it with hands in the wok.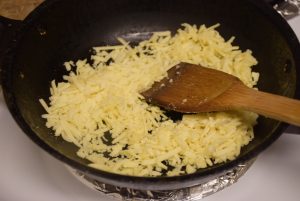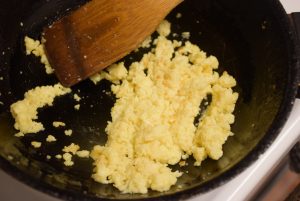 8. Add the roasted mawa in moong dal mixture and mix it.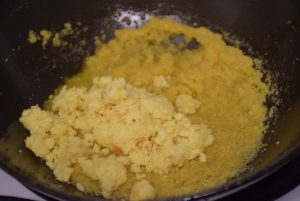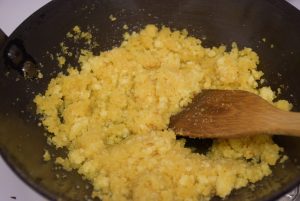 9. In a separate pan add sugar, 1 cup water and bring them to a boil. Let it keep boiling for 2 mins before you turn off the heat. You don't need to check the string consistency here.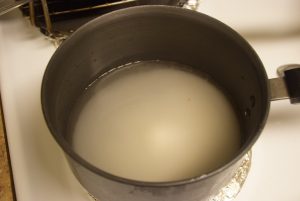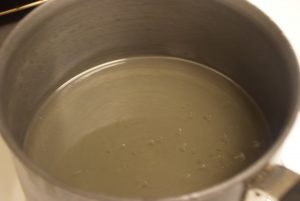 10. Turn on the heat under mooong dal+mawa mix and slowly pour the sugar syrup into it. Keep the heat on low-medium. Stir everything together slowly and nicely to avoid splatter outside. Let it soak the syrup and keep stirring in the meanwhile. You may also cover it and cook ,but keep an eye. In the meanwhile , prepare the garnishing pistachios or almonds if you are using.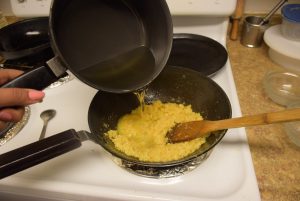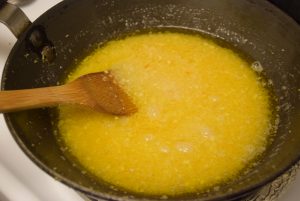 11. When almost all the syrup is soaked , then add the soaked saffron and lower the heat. Let it cook and infuse its flavor and let the water evaporate completely from the mixture. Turn off the heat.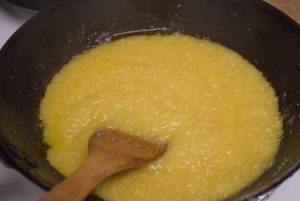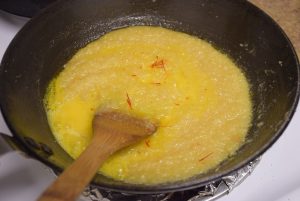 12. When it starts turning dry, add the freshly ground elaichi powder and mix it well .Cardamom not only adds flavor to it but helps in breaking down moong dal in our stomachs. 😉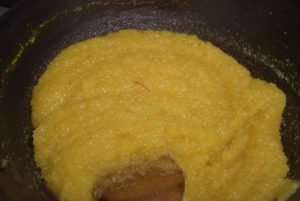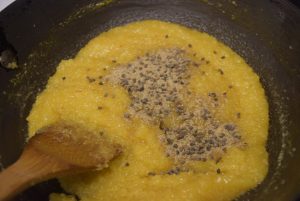 13. Next add the gel food color (1-2 drops) if you want and mix it well. Some people also cover it with vark(silver leaves) but after discovering its making process, I have abandoned its use in my cooking.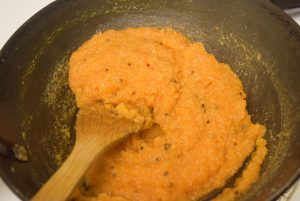 14. Now grease a plate or thali , I have used a pie-plate and empty the contents of wok in it. Spread it in an even layer in the plate.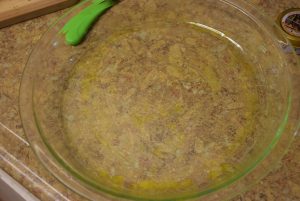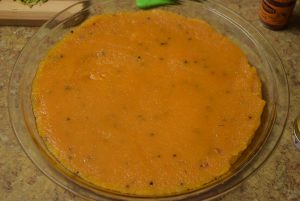 15. Garnish it with sliced pistachios and leave it to cool at room temperature for atleast 2 hrs. It cools in 1 hr but will be very soft to handle . Hence I covered it with plastic wrap after 1 hr and left it to set on counter overnight.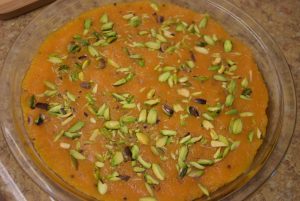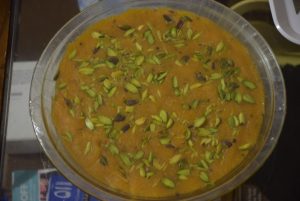 16. I cut out pieces with a knife and offer to Ganpati as a Prasad(offertory) next morning. 😀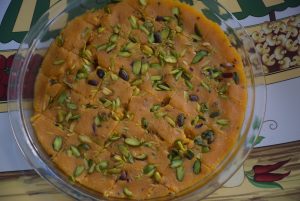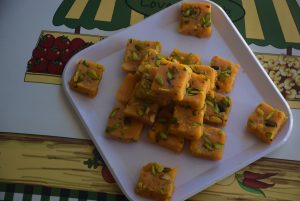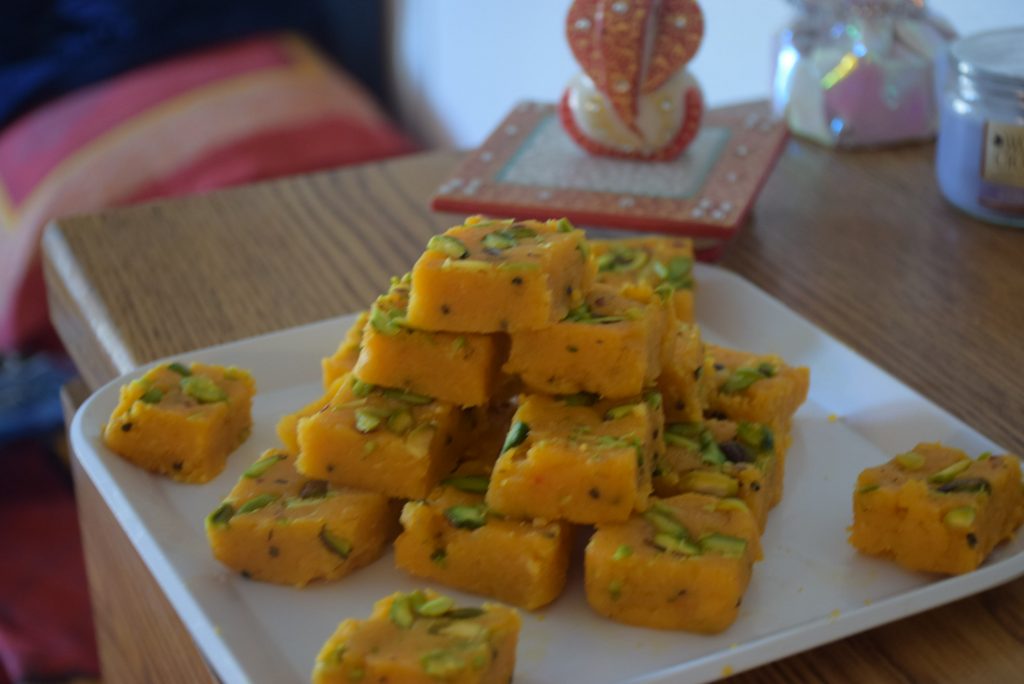 17. Now just take a bite and enjoy the yummy burfi which will compel you for another piece for sure. 😉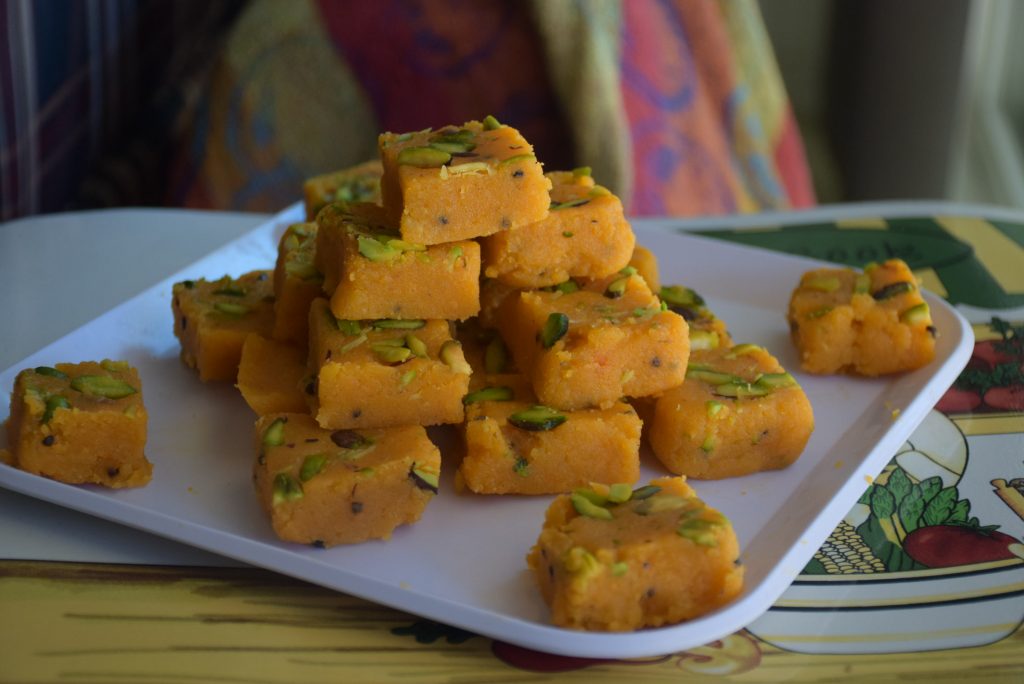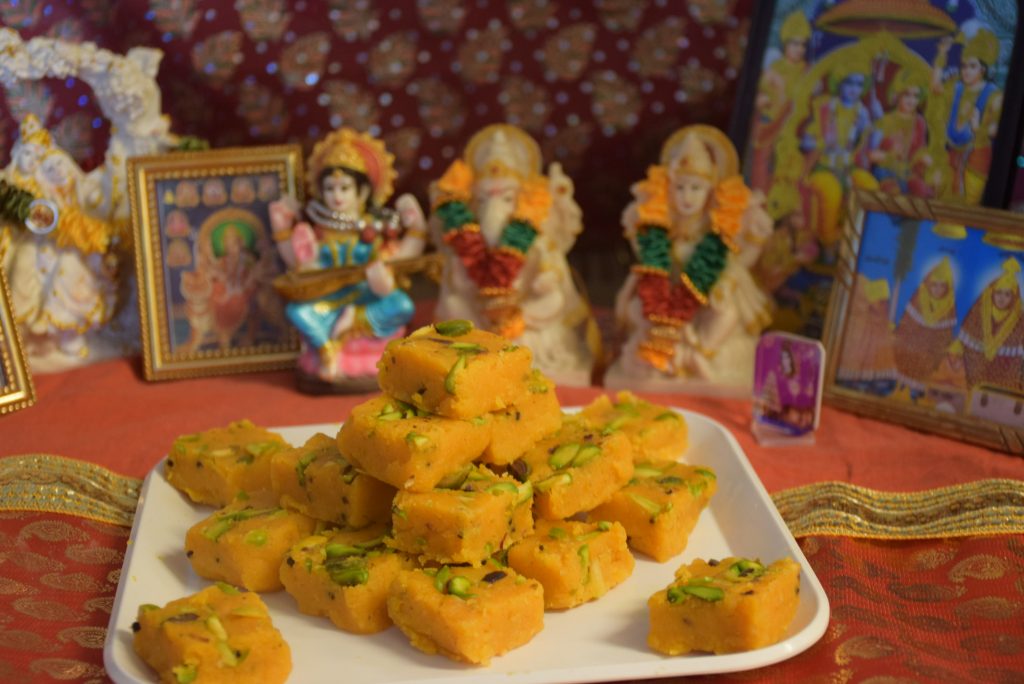 This sweet could be preserved in refrigerator for 2 weeks and 1 week on the counter.
Please feel free to suggest or ask questions if any!
Wishing you all a Happy Ganesha Chaturthi !! 😀