Panchmel Daal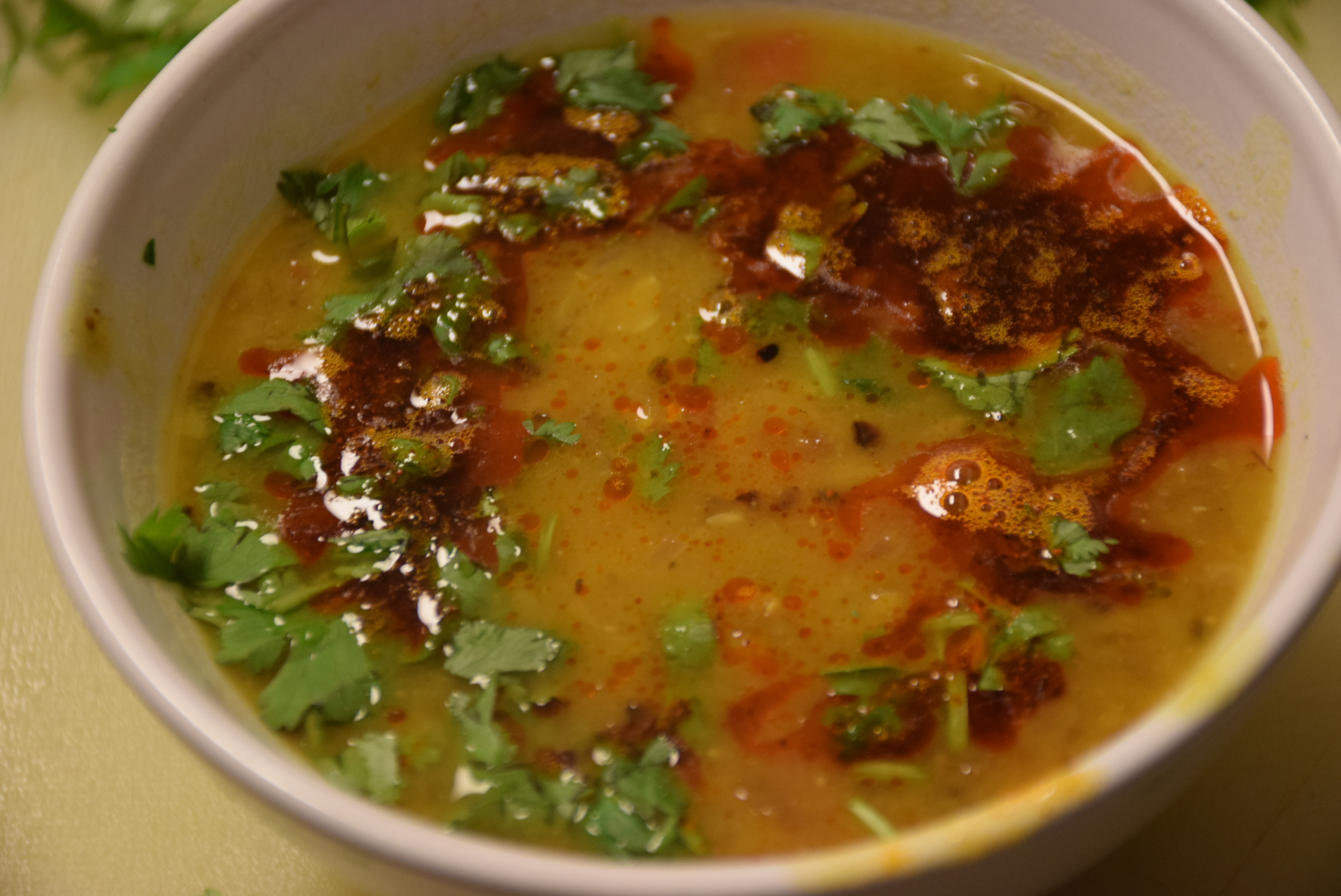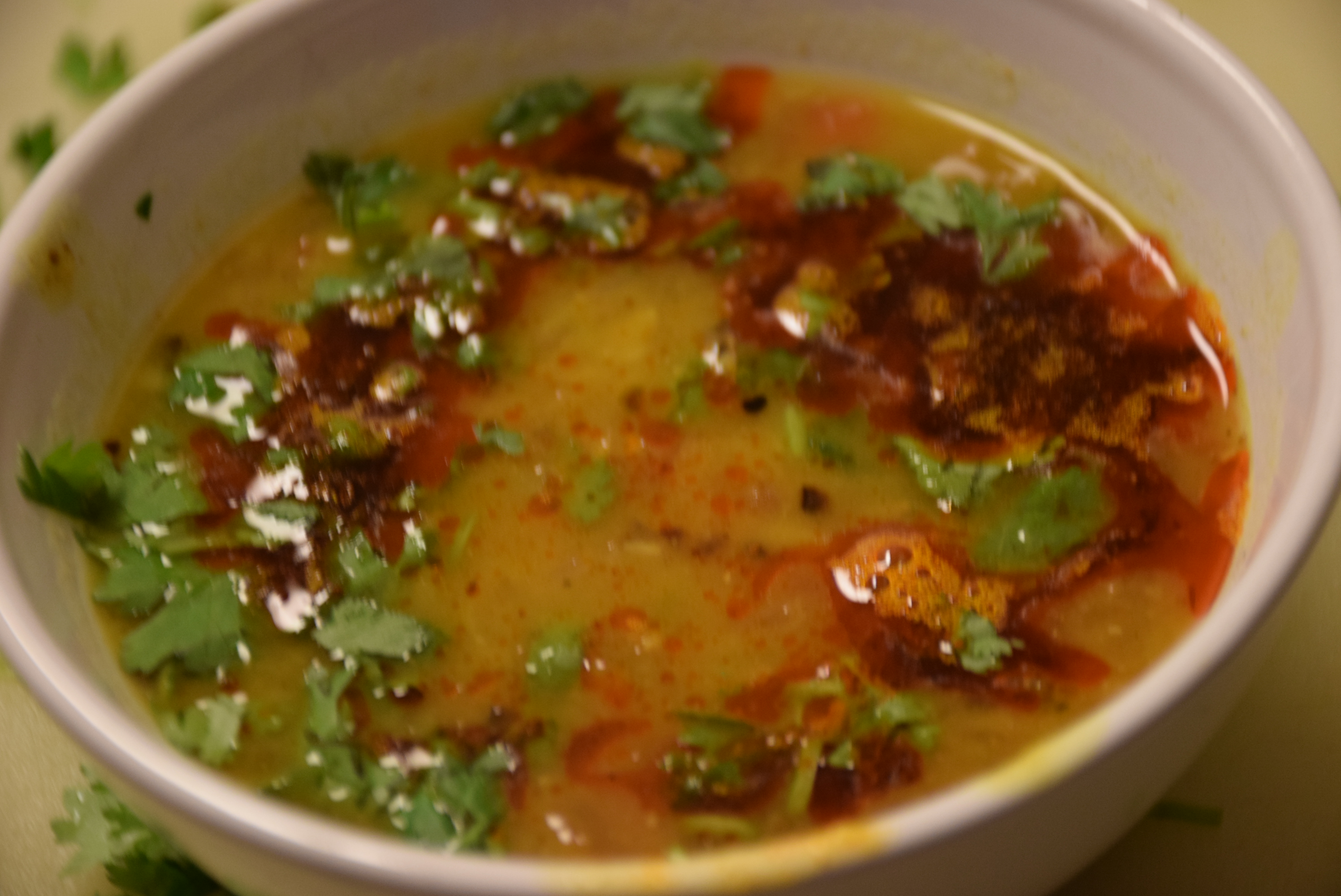 Panchmel Dal as the name suggests is made of 5 different types of lentils. The lentils I have chosen could be change for other similar texture lentils too. I used the word similar because different lentils have different cooking and soaking time. For example the whole lentils like rajma, Whole Urad, whole moong/moth, Chhole(chickpeas) need more soaking time than the split lentils or lentils without skin. So just mix your favourite five lentils with some spices and onion-tomatoes to make this easy dal and enjoy.
INGREDIENTS:
1. Split Urad dal ( Chhilka urad dal) – 2 tbsp
2. Chana dal – 2 tbsp
3. Split Moong dal (Chhilka Moong) – 3 tbsp
4. Toor dal (arhar)- 4 tbsp
5. Red Masoor Lentil ( masri dal) – 4 tbsp
6. Finely chopped red onions – 1/2 cup
7. Finely chopped tomatoes – 1/2 cup
8. Ginger paste – 1 tsp
9. Garlic paste (fresh grated garlic or paste) – 1/4 tsp (optional)
10. Red chilli powder – 1/2 + 1/2 tsp ( for spices and seasoning)
11. Clarified butter ( ghee) – 1 tbsp (for seasoning)
12. salt to taste
13. coriander powder (dhania)- 1/2 tsp
14. fennel powder (saunf)- 1/2 tsp
15. Curry powder (garam masala) – 1/4 tsp
16. Turmeric (haldi)- 1/4 tsp
17. Green chillies finely chopped – 2
18. Cilantro/Coriander leaves (dhaniya)- for garnishing
19. Cooking oil – 2 tbsp
20. Asafoetida (hing)- a pinch
21. Cumin seeds (jeera) – 1 tsp

METHOD:
|Preparation time : Nil or 20 mins(soaking time)|Cooking time : 10 mins | serves 2-3 persons at a time|
1. Take a Pressure cooker and add all the washed pulses in it with 1 tsp of salt and 1/4 tsp of turmeric powder and water which is 6 times the quantity of lentils you have taken. (since we are using cooker,its not necessary to soak them. But you may soak them for 15-20 mins if you like)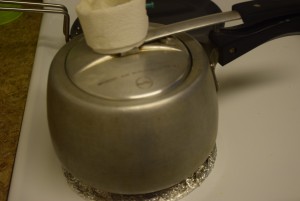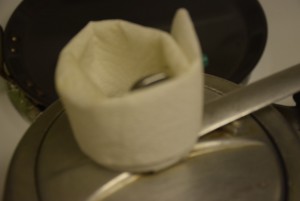 Don't worry this is not a bandage on the cooker. It is only to avoid spilling of excess water during cooking from the nozzle. This paper towel absorbs all the excess steam-cum-water and hence saves me the time of cleaning hereafter. 😛

2. Pressure cook them for 5-6 mins or until you hear a whistle. Lower the heat on 1st whistle.

3. Turn off the heat after you get the 2nd whistle from the cooker and let the steam escape naturally.Pressure cooking means that we are boiling the lentils with minimum water and time.It takes 5 mins to cook it.

4. Alternately for those ,who don't have a cooker can also make it in a steel/aluminium container with heavy base. For this, add 8 times water with respect to lentils and salt in it. Let it come to a boil, then add the soaked lentils(soaked for at least half hour) in it. Lower the heat and cover it partially with a plate to help escape the steam, and cook it for 10-15 mins. After 15 mins check the dal with a spoon, if its mashable ,its done.

5. Now take a fry pan or wok(kadhai) for making the seasoning. Heat it on the stove.

6. Add cooking oil and jeera(cumin seeds) to it. Then add hing to it. Hing helps in aiding digestion and prevents the formation of uric acid.

7. Once the jeera sizzles with hing, add the ginger,garlic paste,onions and saute them on medium heat.

8. Once the onion turns pink or translucent, add the tomatoes and the dry spices viz. salt, red chilli powder, fennel powder, coriander powder,garam masala and green chillies. Adjust the level of turmeric too.

9. Saute them till all the tomatoes turn soft and mushy. You could smell the aroma of all spices now.

10. Mix them in the boiled dal and bring the dal to a boil again on low heat. Cook it uncovered.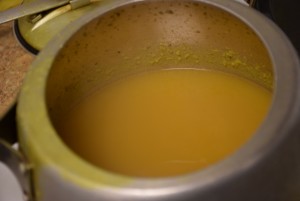 11. Adjust the quantity of water in the dal. If it is less, then add water to the seasoning(chhaunk) just prepared and then to the dal. If the water is more ,i.e. the lentils are not visible at all then, you can strain a little amount of water by tilting the cooker and then filling a ladle-full of dal and discarding it or you may just add the seasoning and cook it uncovered for 4-5 mins till some excess water evaporates.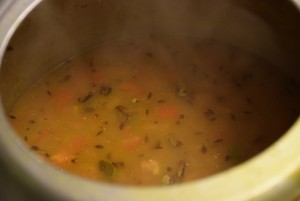 12. In the end, garnish it with cilantro leaves(dhaniya) and heat a spoonful of ghee in a ladle ,then add 1/4 tsp of red-chilli powder in the sizzling hot ghee. Pour this tadka on the dal just before serving.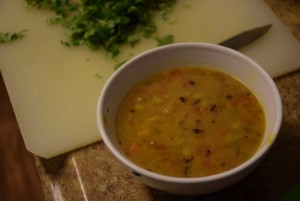 Some restaurants serve this dal with name as "Dal Tadka". But don't get carried away, not all will come up your expectations now!! 😛
This dal could be served with jeera rice ,baati or roti(bread) etc.

Enjoy! This dal is high in protein content and is good for a change. You may prepare any kind of dal using the above process.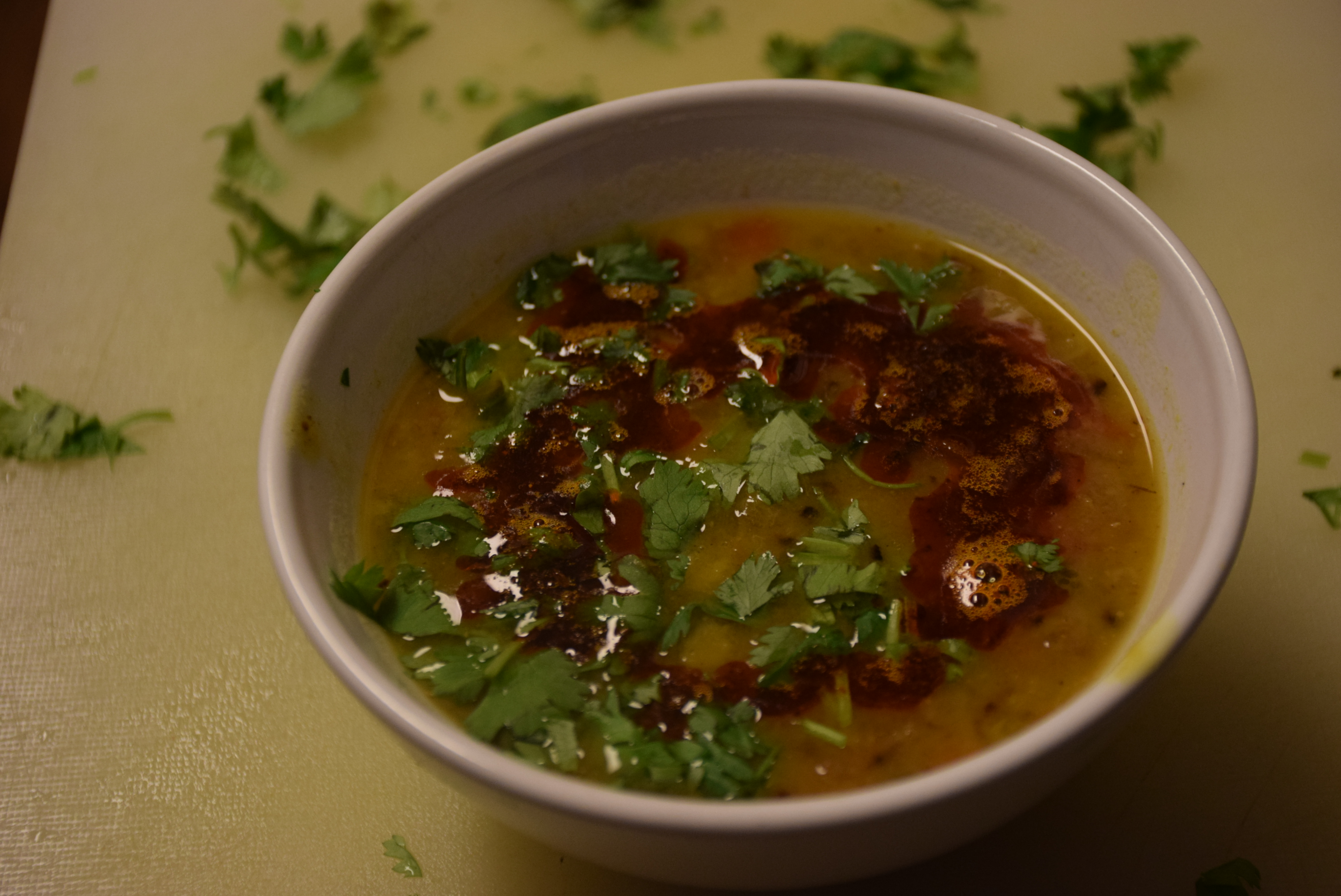 Please feel free to ask or suggest below !! We appreciate your time and hence will get back to you as soon as possible!! 😀