Pindi Chhole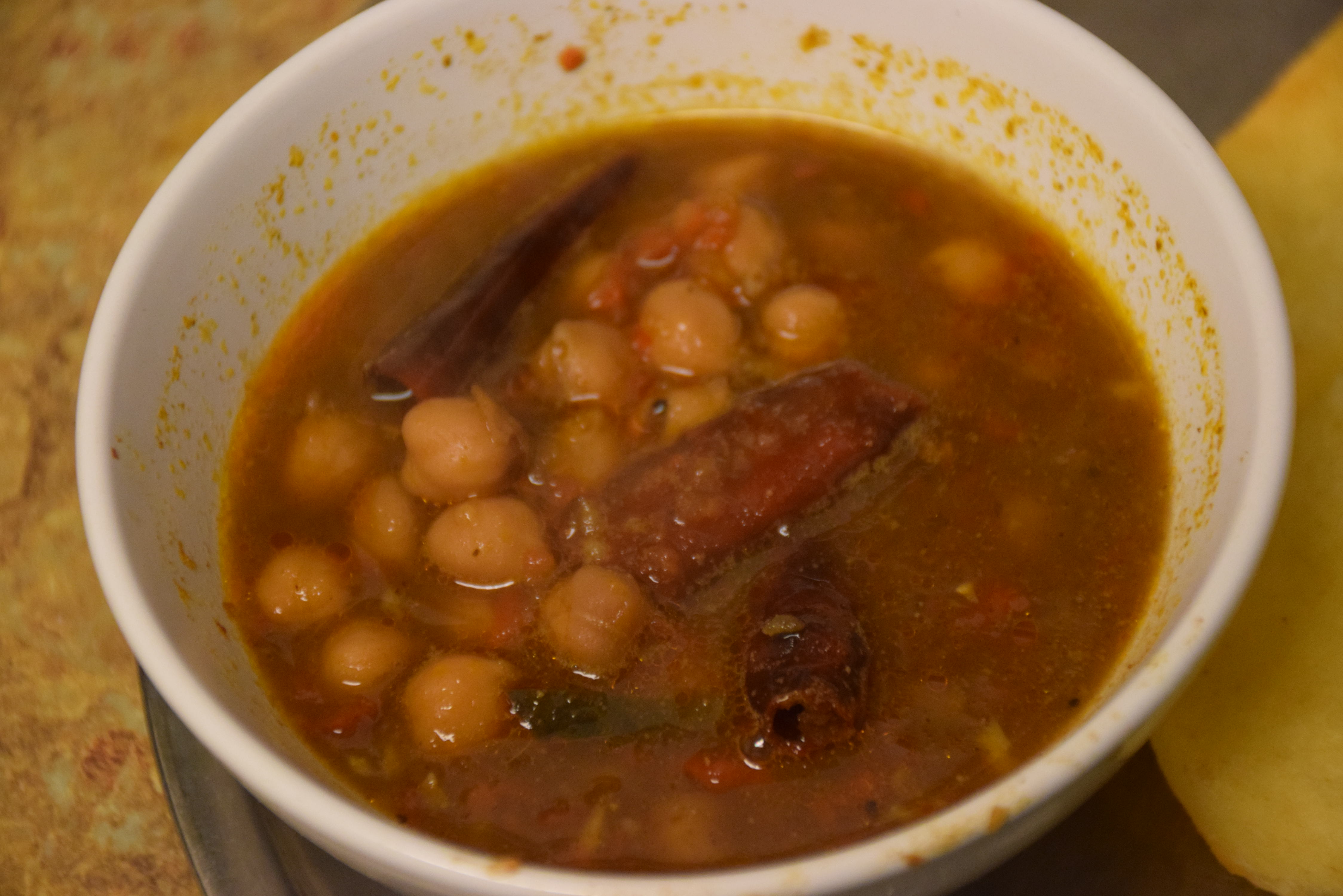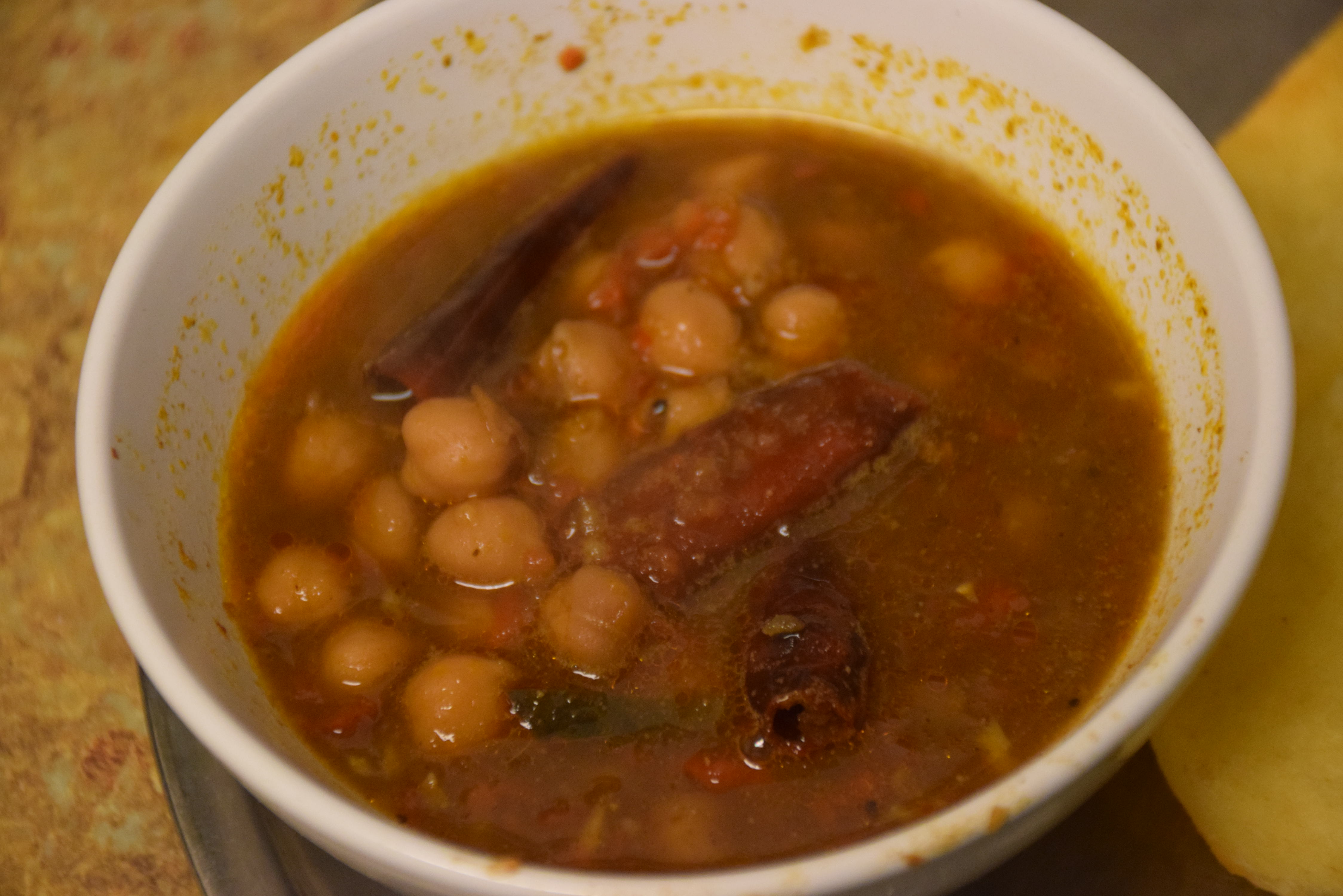 The recipe, which is, famous all over the world and the most versatile in nature is "Chhole". This curry is equally popular in north as well as in south India. In punjabi pind means "village" so pindi chhole means villager's chhole i.e. right from the home.


Versatility says that it could be had with puri,paratha,rice,Kulcha,naan or the famous Bhatura.This curry is served in two styles: both thick and thin. Depending on the requirement and taste the gravy could be thin or thick. With Bhaturas and kulchas, I like a thick one and with rice,parathas,pooris and naans I like the thin flowing gravy.
INGREDIENTS:/strong>
1. Chickpeas (safed chana or chhole) – 1 cup (soaked in water for 2 hrs/overnight)
2. Onion (chopped and minced) – 1/2 cup (optional)
3. Tomatoes (Finely pureed)- 1 cup
4. Ginger paste (adrak)- 2 tsps
5. Garlic paste (lehsun) – 1 tsp (optional)
6. Whole bay leaves (Tej patta) – 2
7. Whole Cinnamon stick (Dalcheeni) – 1/2 inch
8. Peppercorns (Kali mirch)- 3-4
9. Cloves (Laung/lawang)- 3-4
10. Black Cardamom (Badi Elaichi) – 2 pods (shelled and grind)
11. Salt to taste
12. Turmeric – 1/2 tsp( optional) (if you like the brown color ,you may avoid this.)
13. Chhole masala – 3 Tsp or as mentioned on the packet ( If you are adding the whole spices you may avoid this too).
14. A tea bag or 1 tsp tea
15. Kashmiri red chilli powder – 1/2 tsp
16. Cooking oil – 2 Tbsp
17. Cumin seeds(jeera) – 1/2 tsp
18. Asafoetida(hing) – 1/4 tsp
19. Lemon juice – 3 tsp
20. Whole red Chillies/Green chillies – 4/5
21. Curry leaves ( Meetha neem/kadhi patta) – 5/6
22. Raw onion/Cilantro(dhania) – for garnishing
METHOD:
Preparation Time: 2 Hrs | Cooking Time: 45 Mins | Serves : 2-3 persons at a time
1. Soak the chana overnight or for 2 hrs in hot water.

2. They would swell double in size in this time.

3. Now boil them in a pressure cooker or slow cooker or closed pan whichever way you prefer. Add 1 tsp of salt, and a tea bag. I instead got this small closed tea strainer where I put some tea and just place it in the cooker.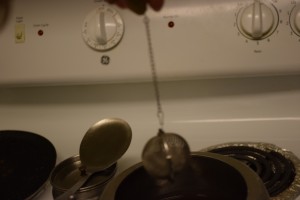 4. Let them boil for nearly 30-35 mins. On the first whistle lower the heat to low and turn off the heat on 2nd whistle.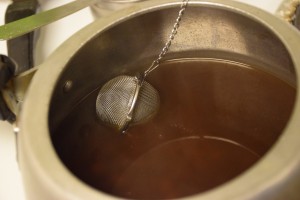 5. Let the pressure release naturally. In the meanwhile lets prepare the gravy. For this heat some oil in a wok(kadhai).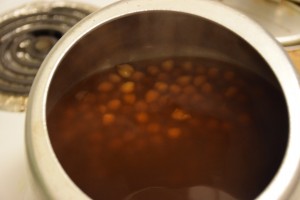 6. You may alternately add just jeera and hing in the beginning.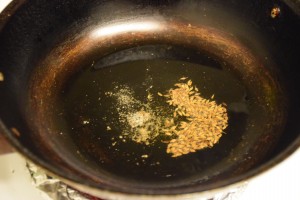 7. Then add the tomatoes ,onions ,garlic and ginger paste. Cook them for 3-4 mins covered or till they get soft and mushy.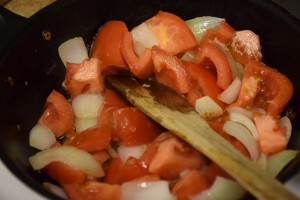 8. Add them in a jar after cooling them for 2-3 mins in a jar of mixer/grinder or food-processor.Puree them in a paste.

9. Now once again add 1 tbsp of oil in the wok,red chillies /green chillies according to your preference and taste, and add the paste in it.Also add curry leaves. Remove the tea bag or tea-holder from the cooker and pour the chickpeas with water in the wok.You may drain some extra water while pouring.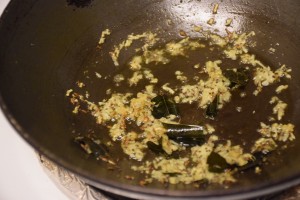 10. Now add the store -bought chhole masala. If your masala is out of stock ,you may add all the whole spices(Ingredient no.6,7,8,9,10) in the oil before adding the tomato puree to it. Stir fry these spices well to get the aroma and flavour.Adjust the salt, red chilli powder and turmeric for the taste and color. Also add a hint of lime juice.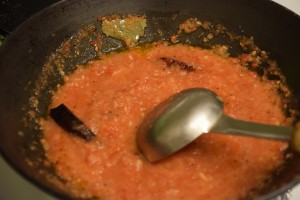 11. Cook these chhole for 5-10 mins in a wok or you may again pressure cook them on high for 3 mins or till the whistle blows. Turn off the heat and let the pressure release.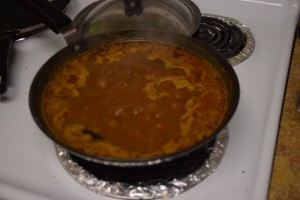 12. Garnish it with slit green chillies ,raw onion rings or Cilantro(dhania leaves).

13. Serve hot and enjoy.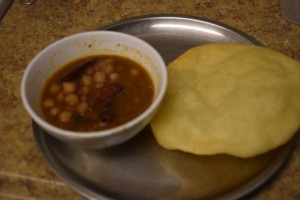 This is the medium thin curry.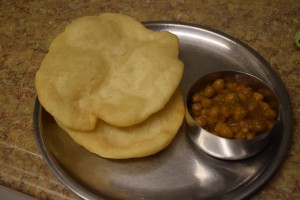 This is the thick curry.

Share your experience.. we always love to hear from you!