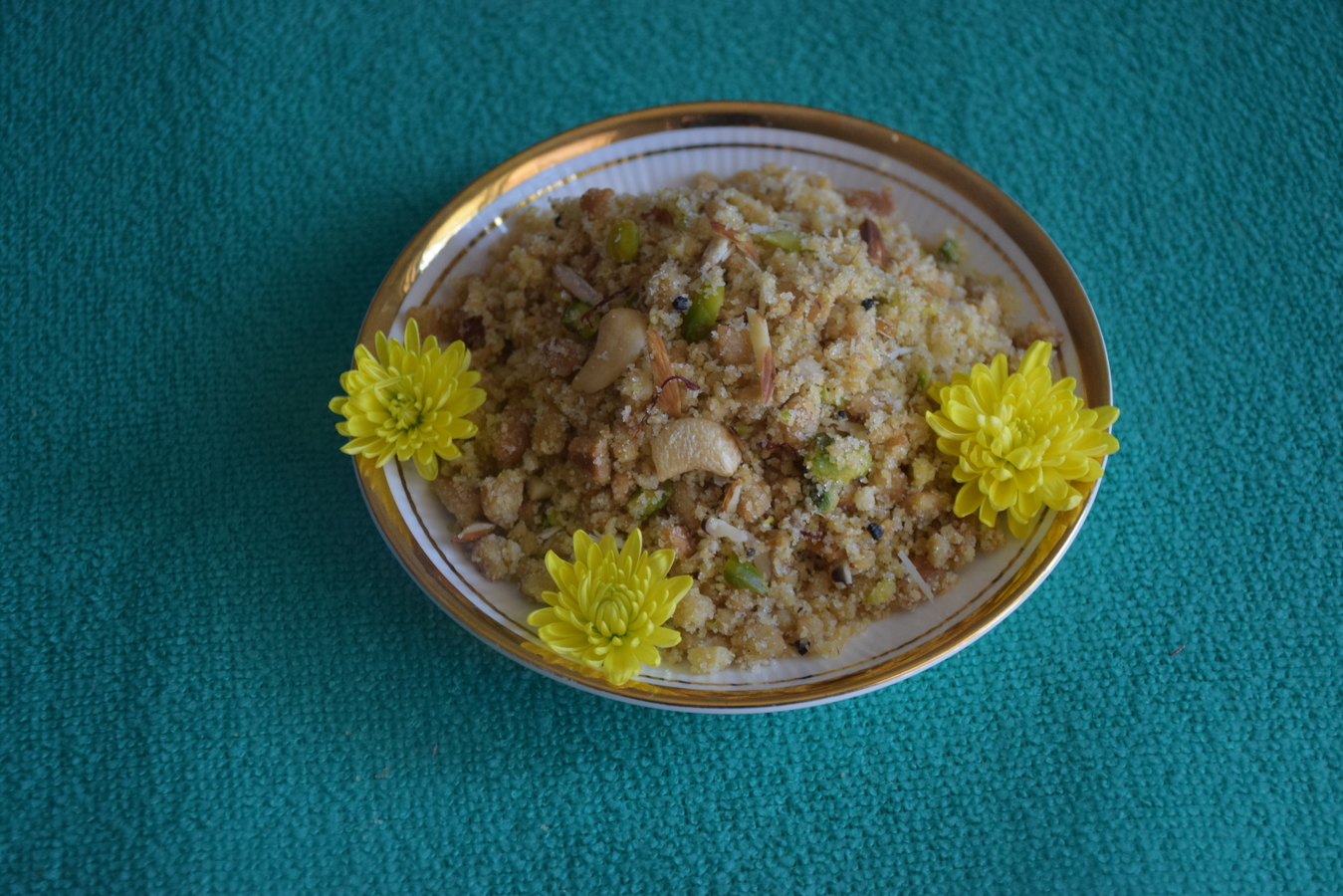 Choorma/Churma (sweet fried flour mix) is a famous Rajasthani sweet. I called it Rajwadi, because I attempted to bring the good flavors of all the three flours in one i.e. Semolina(sooji). Chickpea flour (Besan) and Whole wheat flour(atta) with some nuts and lots of Clarified butter(ghee). 😛

I made this Choorma with four friends for a grand Meetup of 400 ladies in Bay Area in Euphoric Delights event. Hence the quantity mentioned below is huge. Usually ,for a family of 2 , you can divide the whole recipe by 4 or 5. Even if you plan to make it in the same quantity mentioned below and have a big sweet tooth, I would say go for it. Since this is one sweet which could stay fresh on the counter for as long as 3-4 months without any decay. Well, it do needs a lot of ghee in preparation, but then who says Ghee is harmful? In fact, it has been accepted as a healthy option if consumed in moderation with a scheduled workout. For more information on Ghee and its benefits, read the famous dietician's book Rujuta Diwekar or follow this link Rujuta's gyan.

So as the winters knock on your door, warm your home with the aroma and essence of this choorma and enjoy in shivering nights when you get up and crave for something sweet. 😉 The nuts , ghee will together help your empty tummy ,so that you could sleep peacefully again. 😀

Here , I would like to thank my friend Shipra Gupta for sharing her secret recipe with me. So lets proceed to the recipe now..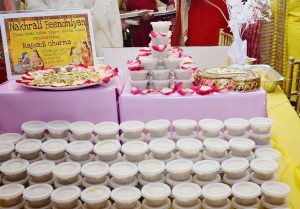 This is the pic taken randomly from the event Where we finally presented our dish. 🙂
Pic courtesy: Rutika Gunjal Photography
INGREDIENTS:
1. Whole wheat Flour (atta) – 12 cups or 5 lbs
2. Semolina (Sooji ) – 3 cups or 1.25 lbs
3. Chickpea flour (Besan) – 3 cups or 1.25 lbs
4. Clarified Butter (Ghee ) – 4 lbs
5. Salt – 4 tsp
6. Sugar (white granulated) – 6 lbs
7. Pistachios (sliced or chopped )- 250 gms
8. Cashews (chopped ) – 250 gms
9. Saffron strands (kesar) – 5 gms
10. Whole Milk – 1 gallon
11. Yogurt /curd – 2 lbs
12. Rose or Kewra essence – 1.5 tsp
13. Cardamom seeds (elaichi dane) – 100 gms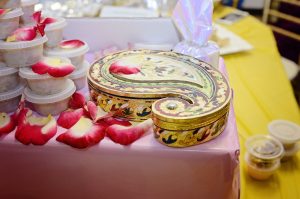 METHOD:
| Preparation time: 4 hrs | Baking time : 1 hr 40 mins | Makes 400 cups of 10 oz each |

1. We start with making the dough for churma just like we made for Baati. For this dough add whole wheat flour(atta), besan, sooji in a tureen(paraat).

2. Make a well in the center, then add half the yogurt in the center, less than half the ghee too in the center. We kneaded this flour in two batches so, we used 1/4 th ghee in one batch and 1/4 in other.Rest half ghee was saved for roasting later. Also sprinkle salt in the ratio of 1 tsp for 1 cup whole wheat flour.

3. Now add milk slowly to bind the flours such that it forms a soft non-sticky dough. The dough is as soft as you knead for parathas. You don't have to knead it for a long time to make it gooey or sticky. Just knead it enough to make it pliable. Don't worry about the cracks too.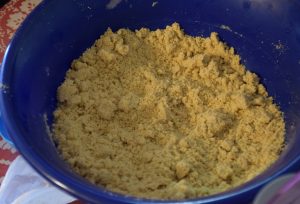 4. Cover the dough with a cloth and allow it to rest for 20 mins. In the meanwhile , preheat the oven to 350 degree F or 180 degree F.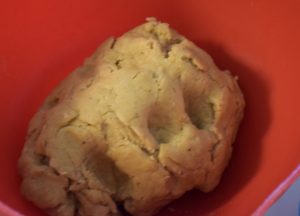 5. Uncover the dough and make small roundels out of it, the size you use for roti or paratha. You may make roundels or fists(muthias). For making muthia, pinch some dough and just press it well in your fist to make impressions of your fingers on it. The shape you got by doing so, is called muthia.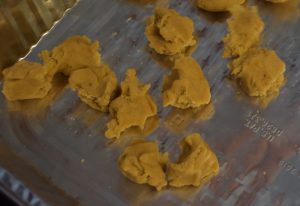 6. Line your baking tray with parchment paper, and then line all the Baatis or roundels in the tray. In absence of a tray you may directly place your baatis in the oven rack ,but just be extra careful while handling.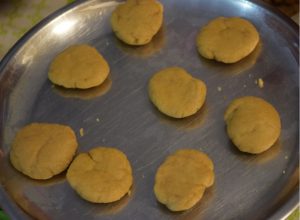 7. We baked as many as 100 baatis at a time, so it took us nearly 45-50 mins to bake them on all sides. After 25 mins open the oven door and turn the baatis on the other side if you see they are baked on one side. In the meanwhile chop and slice all the nuts you wish to add in this choorma. We prepared cashews, pistachios, almonds,cardamon seeds for this churma.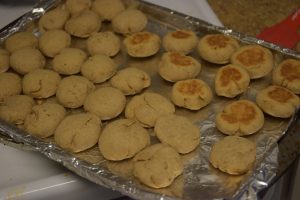 8. When they are done on all sides , take them out and let them cool for 5 mins.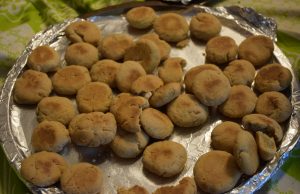 9. Now either wear your gloves or with bare hands , while they are still hot, crush them coarsely in big pieces.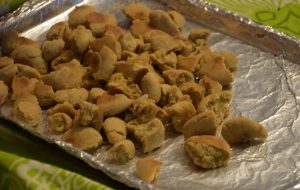 10. Pop these big pieces in a grinder or food processor and churn them to form a rough mixture of powder and some chunks. This time ,we didn't sieve the mixture, since this choorma tastes good with small chunks too. In the similar way ,bake all the baatis and grind them in a coarse powder and collect in a tureen or a thali(platter).
Also we were not going to set it in Thaal(Large platter) like we see in sweet shops in Jaipur, so we leave some chunks intact ,to boost its flavor when served in small cups. 😉
11. Take a large wok (kadhai) or a non-stick pan. Heat clarified butter(ghee) in it.

12. Now add the coarse Baati powder slowly and keep on stirring to check if all the ghee is absorbed or not. If it is absorbed and the mixture starts sticking, add more ghee and then add the rest of the Baati choker (coarse powder) to it.

13. Also add the nuts, cardamom seeds, saffron strands (unsoaked) to it and give the whole mixture a good stir. When you see the mixture is roasted and you sense the aroma of roasted flours, then either lower the heat to minimum or turn it off and add the sugar.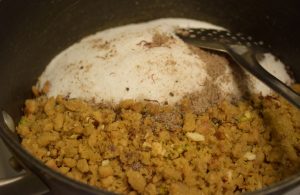 14. Keep on stirring ,after adding the sugar, since the sugar will melt with the heat absorbed in the flour and might stick at the bottom. Also add the rose or kewra essence now. Give the mixture a good stir. For huge quantities clean hands in gloves work best for mixing . We took it out in a big tray and rubbed off together with our hands for even mixing.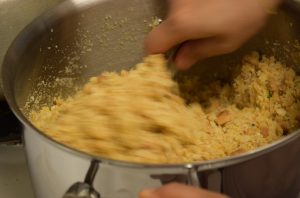 15. Check the sugar and ghee level. If you feel your mixture is too dry, heat some ghee and add it in the mixture again. If you feel the sugar level is less, warm a portion of the churma in pan, add sugar in it and then add this warm mixture back to your tureen (mixing bowl).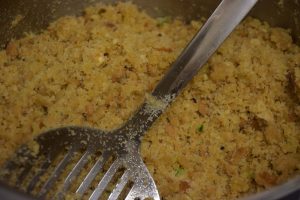 This is a fool-proof recipe, since it can be altered at any stage to change its texture, color and taste. You may skip salt , if you don't like savory taste in sweets. But a pinch of salt is always good while baking goods.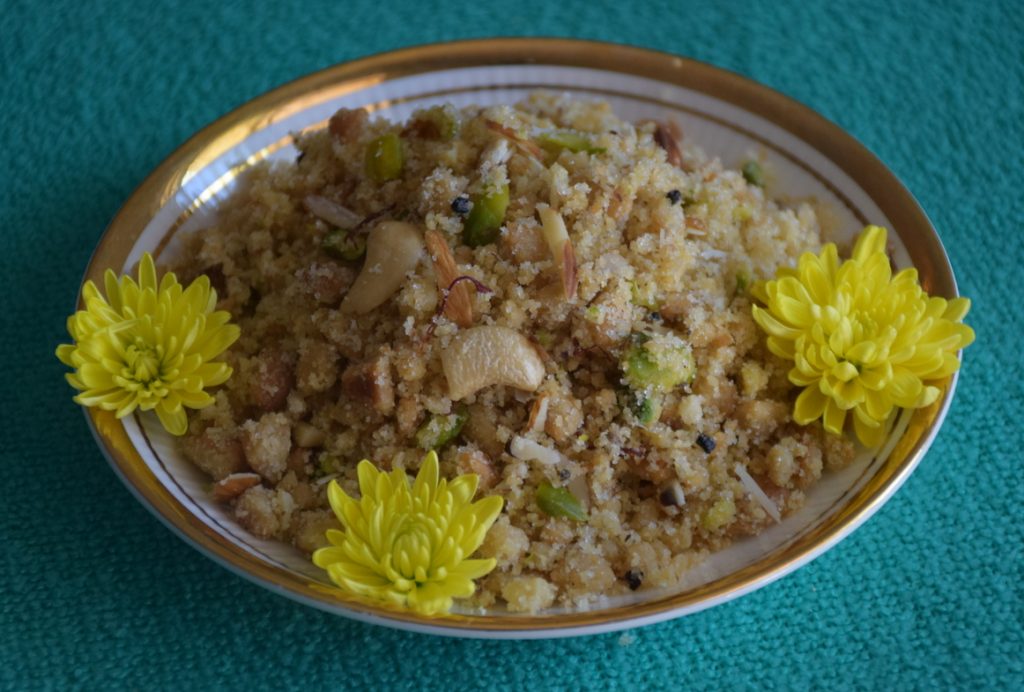 In the meanwhile keep writing to me ,whether your recipes or comments. I would take all with a pinch of salt. 😀
Till then enjoy and Happy Thanksgiving!!