Til Fali Chikki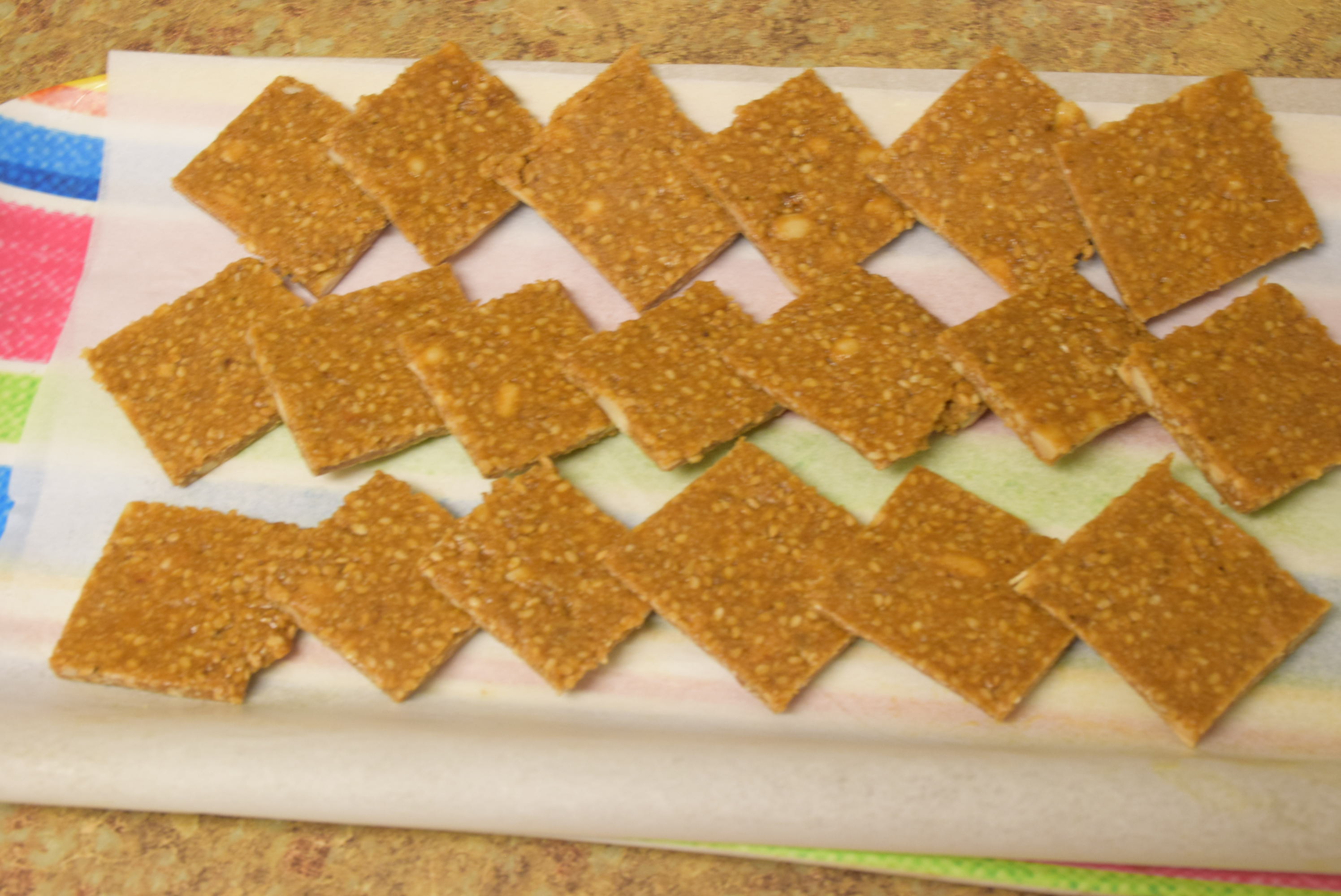 Hello All !! The Month of " Makar Sakranti" is coming to an end. I am fortunate enough to be a part of "Haldi Kumkum" ceremonies in my friends' places so far. Haldi Kumkum as most of us know , is an Maharashtrian festival in which married ladies are invited and offered 'Haldi' (turmeric) and 'kumkum' (Sindoor – a red lead powder) with "Til-gud" ( a sweet prepared from jaggery,seasame seeds) for wishing happiness and welfare of each other and their families. I too prepared "Til-Sheng-chikki" to wish the same for my friends' lives. Originally this recipe needs only jaggery and sesame seeds. But I also added peanuts ,cardamom powder and clarified butter for a twist.
A handful sesame seeds contains more calcium than a glass of milk , full of high quality protein, prevents diabetes, lowers blood pressure and cholesterol , protects our skin from U V rays and wrinkling and so on. What's better than to start this year with including "Til" in your diet? So lets start with this easy to follow recipe..
INGREDIENTS:
1. White Sesame seeds (safed til) – 3/4 cup
2. Old sesame seeds (purane til) – 1/4 cup (optional)
3. Grated Jaggery(gur/gud) – 1 cup or to taste
4. Groundnuts/peanuts (mungfali/shengdana ) whole peeled or with skin – 1/4 cup
5. Clarified butter (ghee) – 2 tsp
6. Cardamom powder (elaichi) – 1/2 tsp (optional)
METHOD:
| Preparation time : 2 mins | Cooking time :5 + 10 + 5 mins | Makes almost 30 medium size chikki bars |

1. Assemble all the ingredients on the counter first. If you don't have old til , you may skip them, I use them for the grainy brown texture I wanted.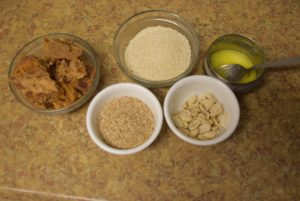 2. Now dry roast the til in a pan ,first the pure white ones and then the old ones in the same wok(kadhai) or pan. As soon as they get roasted took them off the heat and transfer them in a plate or container. It will take just 3-5 mins to dry roast them. Don't over-roast them ,or you will experience a burnt smell in their taste.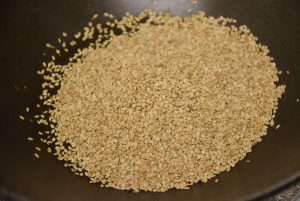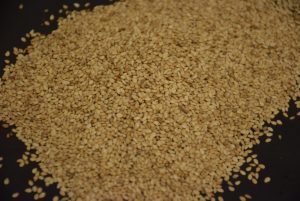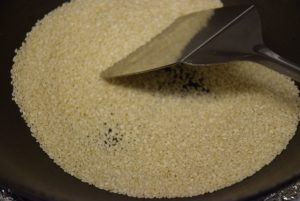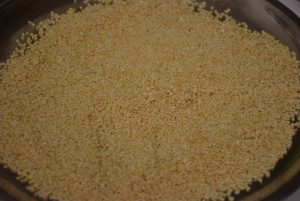 3. Now dry roast the peanuts or add 1 tsp of ghee and roast them on medium heat again like til. Roast them, till they change color. Transfer them to a container and rub them in between a cloth to peel their skins. I ,however, used the peeled nuts , so this task was saved for me.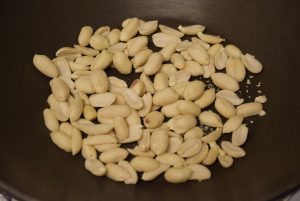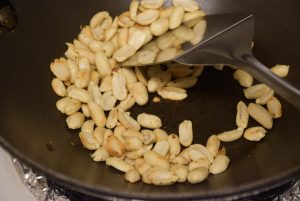 4. Allow the til (except the old til) to cool down and then grind them in a food -processor or mixer to form a coarse powder. Its ok if you are left with few tit-bits in it. Similarly allow the nuts to cool down and then break them in pieces with a mortar -pestle or with your rolling pin by covering them in a cloth.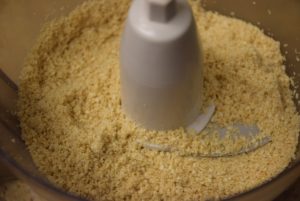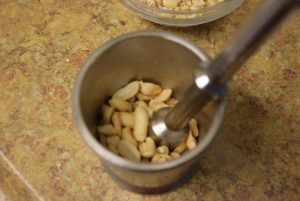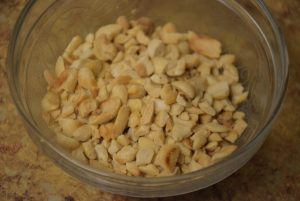 5. Next in the same wok, add the remaining ghee and add the grated jaggery. Also add about 1/4 cup of water to it. Its better to grate or cut the jaggery in fine pieces , before adding to the wok. This gives you a fair idea of its quantity and helps in melting down of jaggery so that it doesn't stick to your wok. In the meanwhile grease a tray or thali(platter)with ghee for spreading the chikki's batter on it. You may use a parchment paper with some ghee on the tray and the paper too.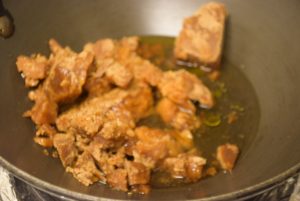 6. As soon as you see the jaggery melting , lower the heat and check its consistency. If its one thread, lower the heat further and keep on stirring till it reaches at least 2 threads or more. For checking 2 threads, drip a drop in cold water of this syrup and try to pick it in the form of a soft ball. If you are able to form the soft ball, turn the heat to lowest and the jaggery syrup is ready.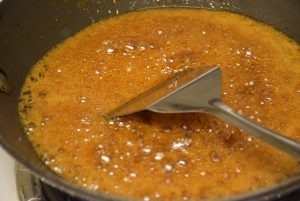 7. Next add the ground til, the un-ground old til , the broken nuts and cardamom powder in a row one by one. Mix and stir with the other hand while adding them consecutively.Turn off the heat and keep stirring ,till it further solidifies in a thick mass .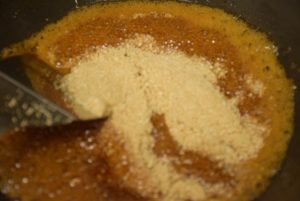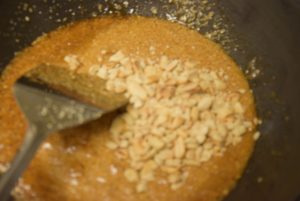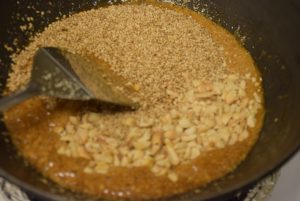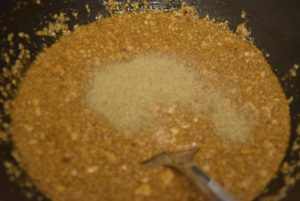 8. Transfer it to the greased tray only once you see that it is a thick mass.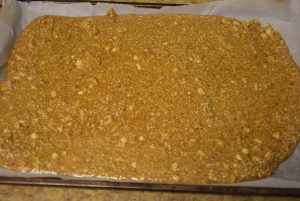 9. Let it cool for half an hour on the counter. In the meanwhile, mark cuts with a greased knife in your desired shapes vertically and horizontally. It is essential that the surface should be well greased on which you have set your chikki.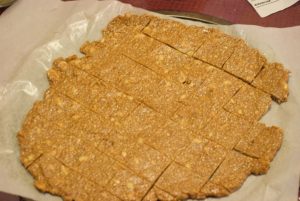 10. After cooling and drying, it would come off easily from the surface with a shiny ,hard coating. Enjoy your chikki, anytime of the day.
"Til -gud ghya , goad -goad bola"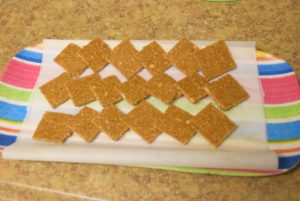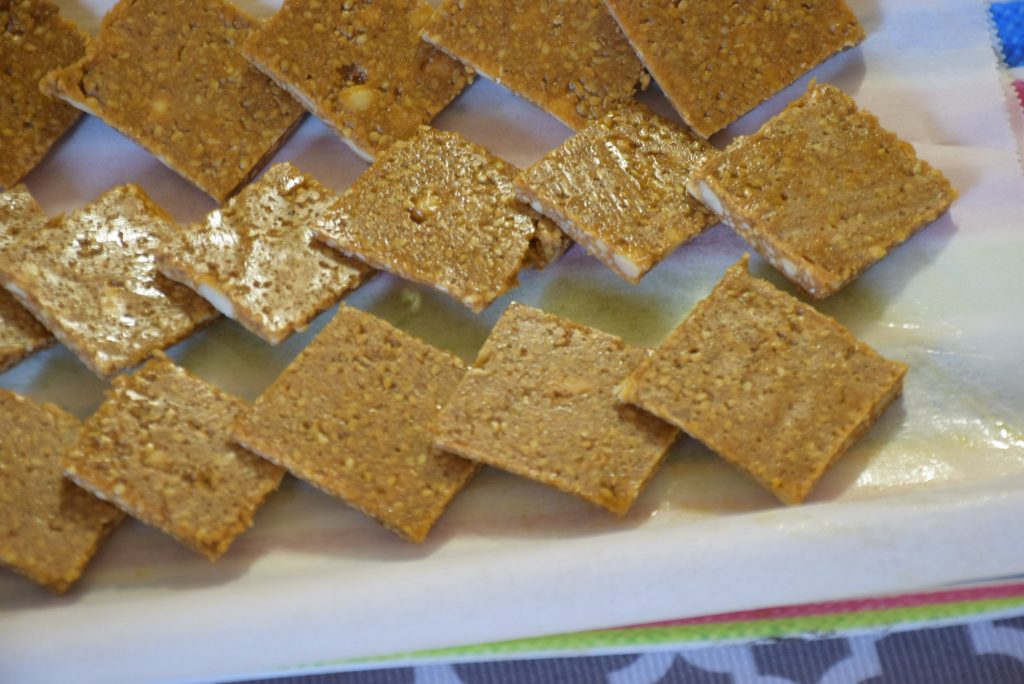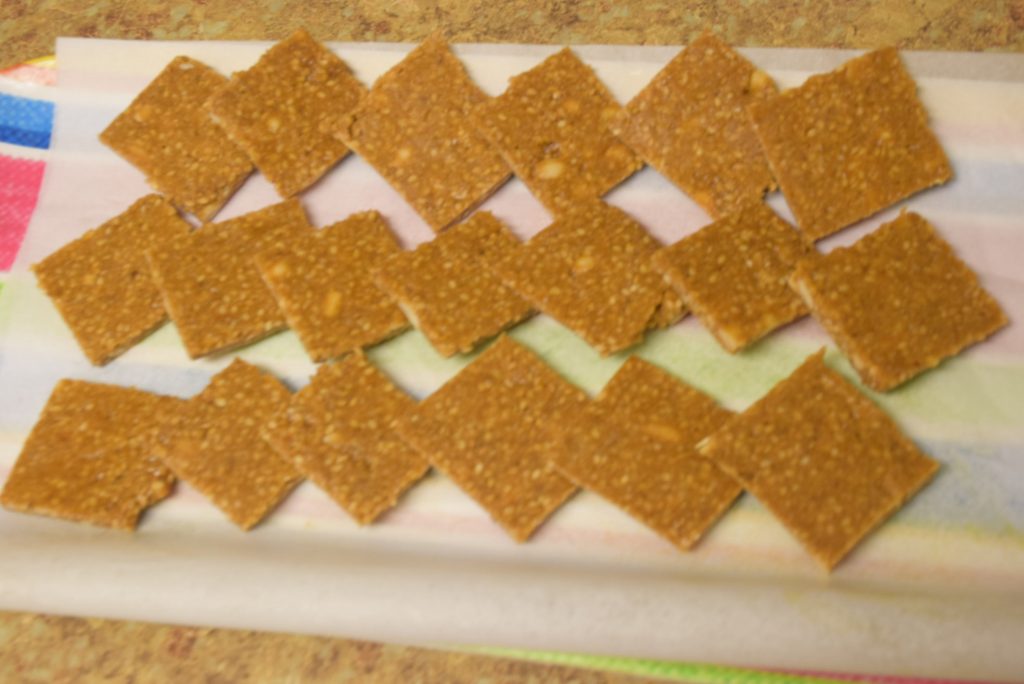 Please feel free to ask questions or post comments in the sections below! Till then keep cooking and celebrating ..
🙂