Today is Sakat Chauth.. Hence Tilkut or Tilbugga is prepared to wish good LUCK, safety of the kids.This is an Indian festival usually falls in the month of January.

On this festival we worship Lord Ganesha and Goddess Sakat .There is old significance of Til(sesame seeds) according to which story, it says that spreading til around oneself, one can save himself from all perils and impending dangers in life. A mother devoted to her son's welfare used to keep fast for his safety and protection and ate just til laddoos on that particular day.Once he went out to find a job for himself ,so she gave him a handful of til for his journey ,so that if he faced any problem or "sankat" he may just sprinkle them all around and pray to Chauth Mata for solving the problem. And thus whenever he needs to cross the river or save himself from dacoits in the forest he did that and returned home safely with a bride and a job.
Ingredients:
1. sesame seeds(safed til) (250 gm)
2. Mawa or khoya(150 gm)
3. Bhura or sugar (100 gm)
Method: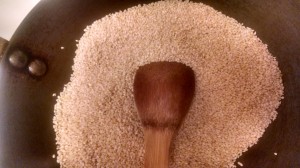 1. Take a wide pan or a wok and pour in the til in it.Roast it for about 5 mins.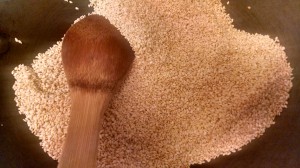 2. This is how they will change colour(above pic) i.e. light brown.Don't roast them too much else they would burn and would taste bitter.
3. Next grind them when they are still hot,else they would consume a lot of time for grinding and wouldn't yield a fine powder as we need.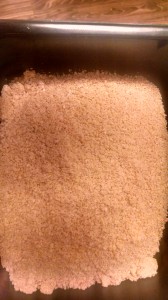 4. As seen from above we have got our powdered white til.
5. Now prepare the 150 gm Mawa. For this you could refer to home-made mawa . But I prepared mawa using milk powder,milk and ghee(clarified butter).For this we need 1/2 Tbsp of ghee, 1/4 cup of milk and 1 cup of milk powder(Nestle).Heat the ghee in wok.Add milk to it and bring it to a boil.Now add the milk powder and continue stirring. After 4 mins you would get your mawa.Turn off the heat and remove the wok from the stove.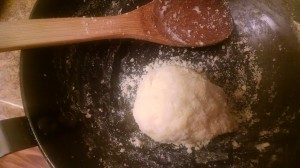 6. As shown above ,we may give it a shape with our hands. Next crumble all the mawa into the til or you may shred the khoya in til and mix it well , using ladle or Big spoons.I prefer mixing with hands ,because that helps removing all the knots ..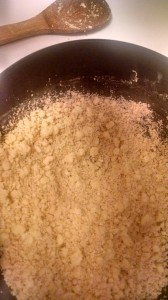 7. Next I added Bhura (bought from India),a special kind of sugar for making sweets. It is coarser as compared to the fine powdered sugar we get in U.S. but smoother than Shakkar(a brown sugar type ,a by-product of sugar).You may add sugar (white) in its place.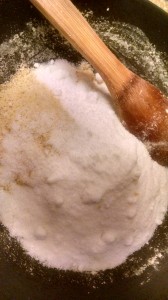 8. Finally mix well all the ingredients and your tilkut is ready.It is good for health in winters. Helps in protecting from Cold winds and develops our immunity.