Vegan Gluten-free Brownies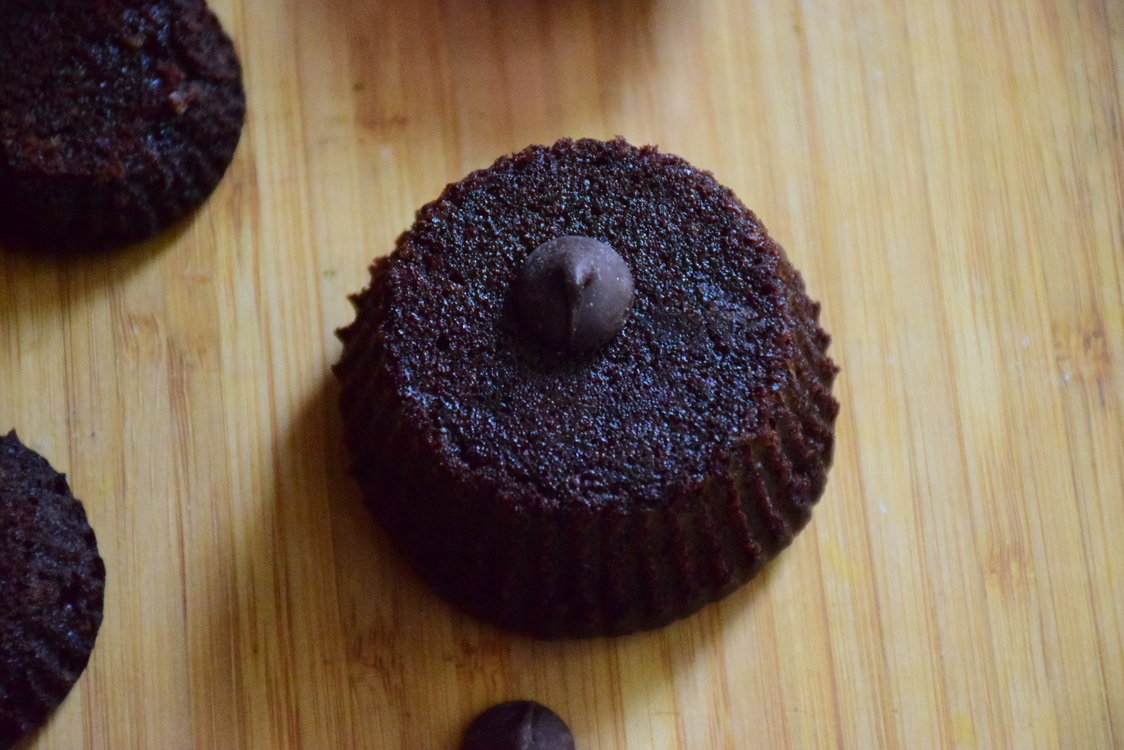 When kids crave for Chocolaty-Gooey-soft-sponges , what do you serve them? Brownies… "Nah.. they aren't healthy. Hey, don't eat more than two." These might be some of your words. But if you check this recipe, you don't have to subdue your or your kids' craving anymore.

I came across this recipe while searching for healthier options in desserts. Any Guesses?? So you are right in guessing that they don't have any wheat flour since they are gluten-free. I have replaced that with Oats. For the Vegan part, I would say they don't have any butter, milk, yogurt, eggs or any animal by-product. As far as the sugar part is concerned, I have used cane sugar(light brown sugar) and vegan dark chocolate chips. I have combined two recipes from the net to bring you the best of both.

Now lets check this recipe , which made some melt-in-mouth brownies and everyone in the potluck devoured them with a smile. 😀
INGREDIENTS:
1. Extra virgin (light taste) Olive oil or Avocado oil – 1/2 cup + 1 tbsp(for greasing)
2. Applesauce – 1/2 cup
3. Avocado mashed finely(1 medium ripe avocado) – 1/4 cup + 1 tbsp
4. Cane sugar(light brown) or Coconut sugar (unrefined) – 1 and 1/2 cups
5. Organic Pure Vanilla extract – 2 tsp
6. Powdered Oats – 2 cups
7. Vegan Dark chocolate chips (53% Cacao) – 1 to 1 and 1/2 cups
8. Unsweetened cocoa powder(Hershey's or Nestle) – 1 cup
9. Baking soda – 1 tsp (optional)
10. Salt – 2 tsp
11. Distilled or drinking water – 2 cups

METHOD:
| Preparation time: 5 mins | Baking time: 30 mins | Makes almost 45- 50 medium squares |

1. Powder the oats in a blender or food processor to a fine powder . Mine was not that fine, but this recipe is forgivable.

2. Now take a big bowl and mash the ripe avocado in it with a fork or just add the avocado,apple sauce and olive oil in a food processor and churn them in a fine thick paste. Don't over-do it or it will incorporate a lot of air and result in brownie cracks while baking.

3. In the same bowl keep on adding cane sugar till all dissolves. I have used cane sugar because of the taste and stickiness preference. You may substitute it with coconut sugar too ,if you like its flavor and dry brownies.

4. Now sift in the powdered oats ,salt,baking soda and unsweetened cocoa powder and stir them so that they get mixed evenly. Add these in parts alternating with water to maintain the consistency and ease of mixing.

5. When all the oats flour has been mixed , add the vegan chocolate chips and stir them in the batter once. Don't over-mix them or they might start melting because of frictional heat. Save some chocolate chips to drizzle on the top while baking.

6. Preheat the oven at 350 degree F or 180 degree C. In the meanwhile , prepare a square or rectangular tray by applying some olive oil, then parchment paper and oil again on top. I also prepared some muffin molds lined with paper cups.
7. Now pour your batter in a single layer in your greased pan and give it a tap 2-3 times on the counter to remove any excess trapped air. Sprinkle some chocolate chips on the top.
8. Bake in the oven for 28-32 mins. The smaller the molds, the lesser time it takes to bake. So keep checking small molds after 15 mins.

9. Check with a tooth-pick or fork inserted in center.If it comes out clean they are done. However, sometimes the toothpick comes out wet just in the bottom may be 1 cm even after 35 mins. That still means , that they are done; because the melted chocolate chips would make it wet each time.

10. Cool the tray to room temperature and then cut out pieces from the tray. I added too much chocolate chips, hence my brownies were dark in color. You may reduce this quantity, to suit your needs.

Serve and enjoy these brownies with a dollop of ice-cream in summers !! 😀 These brownies stay fresh for three to four days on the counter and for two weeks in the fridge.
Hope you all like this recipe and enjoy these brownies as much as my daughter and my colleagues did !! 😀
Till then keep baking..
🙂