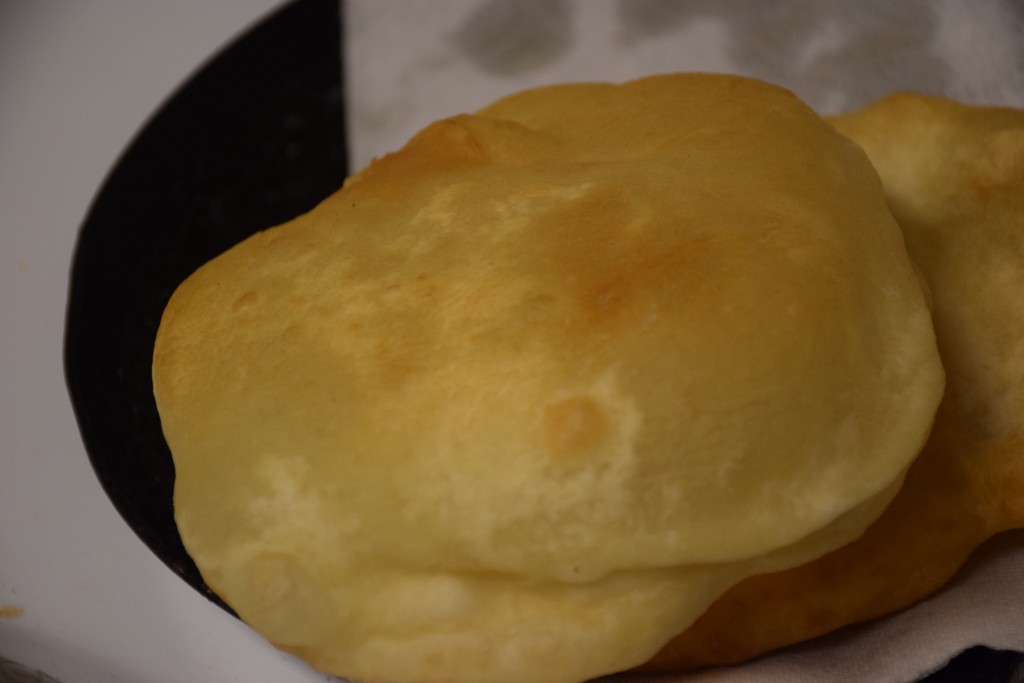 If you would ask any child the synonym of Bhature,he would say "Chhole" ! And though they are best pals,Chhole is an absolutely different dish than bhature.Bhatura is an Indian bread which is although considered to be unhealthy and oily food item ,but no-one can deny the delicious taste and flavor of bhature.

It is mostly consumed with Chhole and Raita(Indian yoghurt with finely chopped onions,tomatoes,cucumbers,cilantro,salt,red chilli in it).You may have it with any dry or gravy type sabzi, pickle or any Paneer dish. But truly the combo of Chhole-Bhature / Chana-Bhatura is deadly. So leave the quotient of calories aside, and devour this yummy dish with me.


Traditionally, the Indian Halwai (or dhaba owners) prepares it without using yeast. But in this modern fast life, where outcomes are expected in a jiffy, yeast is a good option if it's available nearby in the stores.
I will,however, share both with and without yeast recipes. You choose the one which suits you.
Preparation Time: 30 mins | Cooking time: 15-20 mins | Makes 4 medium Size Bhaturas
INGREDIENTS:
1. Maida ( All-purpose Flour) – 1 Cup
2. Dahi (yoghurt/curd) – 4 Tbsp
3. Sugar – 1 tsp
4. Salt – 1/2 tsp
5. Cooking oil – 1/4 cup + 1 cup
6. Sooji(Semolina)- 1/4 Cup
7. water for kneading the dough
8. Baking soda – 1/2 tsp
9. Baking powder – 1/4 tsp
10. Yeast – 1/2 Tsp (optional).
Note: For a healthier option you may take 0.5 cup of maida and 0.5 cup of atta,but then you might have to compromise with the authentic taste of bhaturas.
METHOD:
1. Take a big shallow bowl called paraat. Sieve the flour,baking soda and the baking powder in it and mix them well with a spatula.

2. Now add sooji,curd, oil ,salt and sugar in the right proportions. Mix them well with a spatula. The flour would start coming together now,but still it would not form a dough.

3. Now take a 0.5 cup of water and add it slowly to it to form a dough.[ At this point I would like to add ,that if you are adding yeast too, then dissolve the yeast in this luke-warm water with the sugar mentioned above.Keep this water aside for 5 mins till the yeast ferments,or you see the yeast coming on the top and floating. Now in the end add this yeast-sugar water to the flour to form a dough.]Knead it for 5 mins.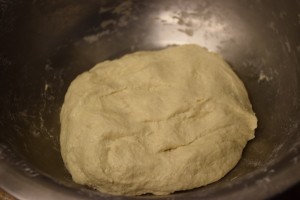 4. With yeast your dough is ready to be rolled in just 30 mins. Yes, it would double in size in such a short time. But without yeast , cover the dough and keep it in an air-tight container in a warm place so that it gets fermented and forms a lot of gluten. (Here warm place does not mean, you need to heat the dough. It just means that choose a place you would pick for setting your curd/yoghurt.)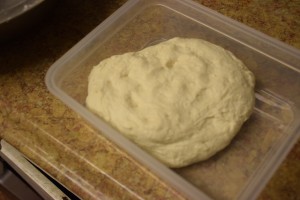 5. Now uncover your dough and knead it with your ghee-greased hands for 5 mins.In the meanwhile take a wok,add oil in it and turn on the heat under it.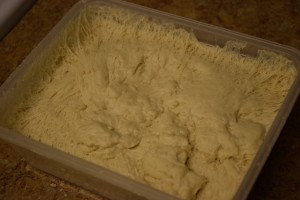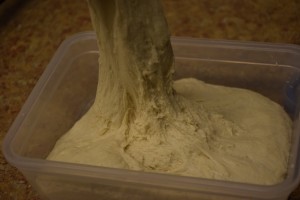 This is how the dough looks after 2 hrs. Although 30 mins are sufficient too. See the softness and smoothness of the dough.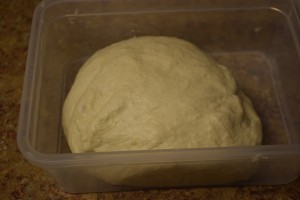 Just see how it looks after kneading 2nd time.

6. Check the oil by dropping a small pinch of dough in it, if it comes up slowly and swells,then the temperature is perfect.

7. Now take a ball from the dough, press it between your palms. Roll it with a rolling pin on the counter-slab or your Chakla.In between grease the pedha in oil for smooth rolling.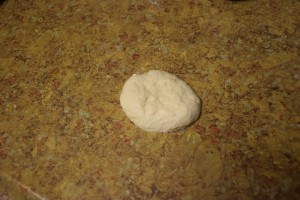 8. Also you will notice that the bhatura flips back to the smaller size again n again like a rubber. This indicates that a lot of gluten is activated in it. Hence ,in contemporary days, the halwais use to flip the pedha between their palms and pat it in such a way as to enlarge it into a bhatura.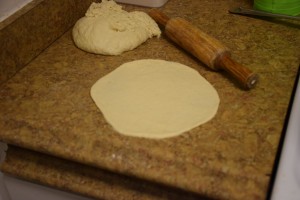 9. Now slowly drop your rolled bhatura in the hot oil and let it swell on one side slowly .Rotate it slowly in the oil for even cooking and puffing of air.Stretch once again with a rolling pin, just before adding to the oil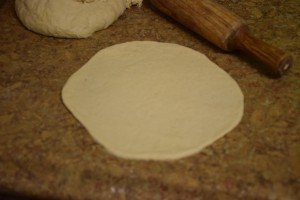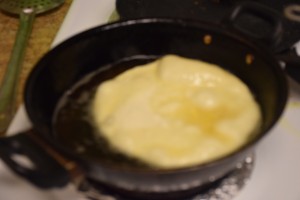 10. Now gently flip the bhatura with a ladle and cook the other side too till it turns light brown on both the sides. This will take approximately 4-5 mins each.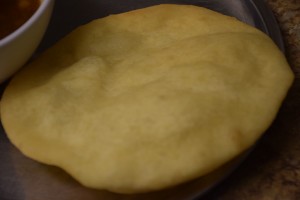 11. Take them out and drain the excess oil and place them on a tissue lined plate to absorb the excess oil on its surface.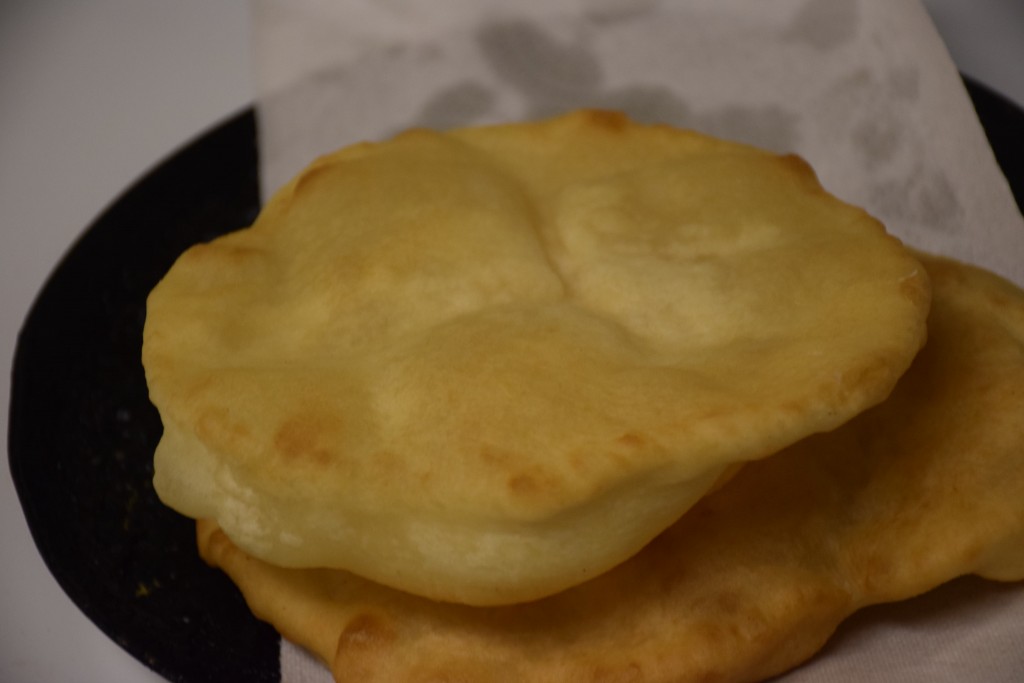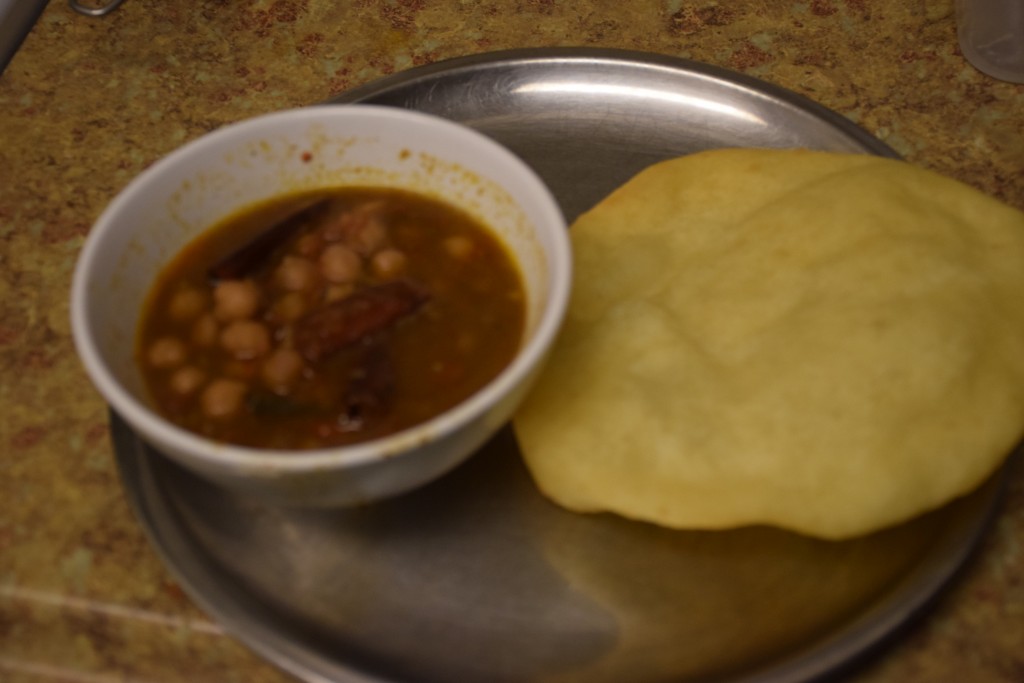 12. Serve hot and enjoy!!!