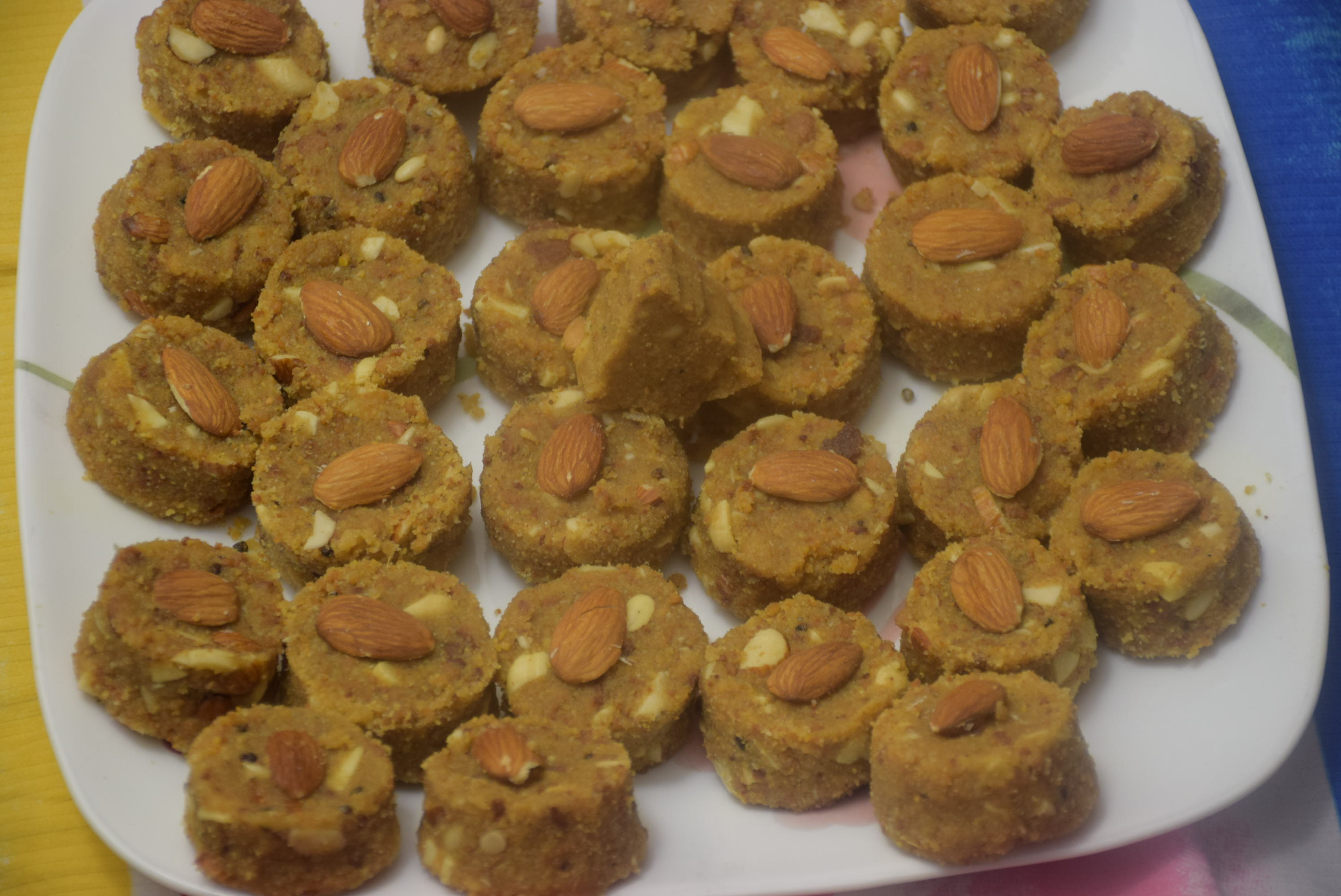 Winters are famous not only for ample amount of vegetables but also for Pinni . Pinni is the favourite on the go dessert or sweet in every North-Indian household. I have made whole wheat flour(atta) and chickpea flour (besan) pinni earlier. But this time , I wanted to try with Urad Dal (whole washed black lentils without skin) and Chana Dal (yellow split chickpeas lentil).
Now , I don't wanted to go through the usual process of soaking dal, grinding and then roasting in clarified butter till my hands start aching. 😉 So I developed an all new delicious short cut to the whole process and the outcome was unparallel. The pinni that came out was not only mouth -melting but also it needed just half the ghee(clarified butter) than the 'usual process'.
Usually, for making a Dal pinni , we soak the Dal for at least 2-3 hrs and then grind it coarsely in a mixer. Then we roast it almost in equal measure of ghee (clarified butter) in a wok (kadhai). We roast mawa(milk solids) in a wok for a grainier texture and make 2 thread consistency sugar syrup. Then in the sugar syrup we add the mawa and the roasted Dal and stir it till it gets thick and then set it in a thali or tray . Then cut out pieces or make roundels of pinni.
However, skipping all these steps, I simply used Urad Dal flour and Chickpea flour to form a dough and then baked it like Baati in oven, crushed with hands, and roasted in little ghee with nuts ,magaz(melon seeds) and edible gum(gond). Added some Bura and brown sugar and our flavorful Pinni is ready.
Let's jump to the recipe now …
INGREDIENTS:
1. Urad-Dal Flour ( Urad ka atta) – 3/4 cup
2. Chickpea flour (Ladoo Besan) – 1 cup
3. Milk solids (Home-made or store bought Mawa/khoya) or Milk powder – 3/4 cup (grated)
4. Semolina (sooji) – 1/4 cup
5. A form of sugar (Bura/ Tagar) – 3/4 cup
6. Light brown sugar – 3/4 cup
7. Clarified butter (ghee) – 1 cup
8. Almonds ( sliced +finely chopped) (Badam) – 35 whole pieces
9. Cashews (kaju) finely chopped – 20 whole
10. Edible Gum (gond) – 3 tbsp
11. Cardamom powder and seeds – 1 tbsp + 1/2 tbsp
12. Melon seeds (Magaz/ kharbuje ki giri) – 1 tbsp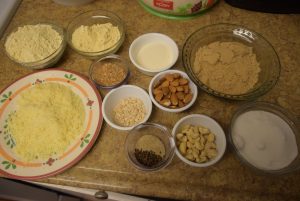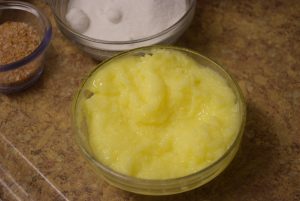 METHOD:
| Preparation time: 10 mins | Baking time : 20 mins | Mixing and shaping time : 60 mins | Makes about 32 pieces|

1. We start with making the Pinni dough. For this take Urad Flour, chickpea flour, semolina in a bowl. If you have Mawa, then grate it finely using a grater or use same amount of milk powder.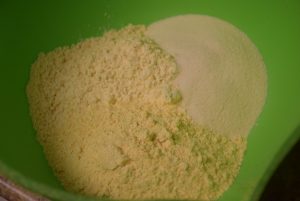 2. Now add this mawa in the flours. Add half the quantity of ghee in the flours to combine them such that they all come together. If you feel the mixture is still too dry, add milk , a tbsp at a time and try to combine it. I used 3 tbsp of milk to form the dough.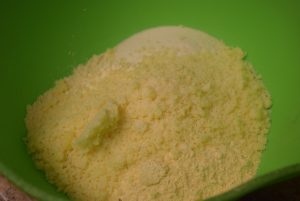 3. Preheat the oven to 350 degree F or 180 degree C. Cover the dough with a cling wrap or plate to prevent it from drying. Pinch small equal size portions from the dough and make small lemon size roundels of them.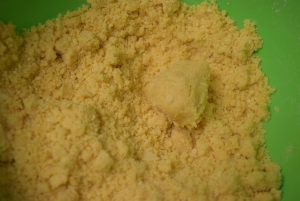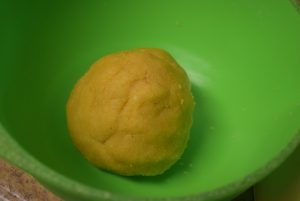 4. This will bake faster than other dough, because we have added mawa here. So line the baking tray with parchment paper(spray some water on the tray and the paper will stay in place on the tray. No oil needed on paper) .Place the roundels formed from the dough over it. Press each roundel a bit from the center. In the meanwhile, chop all the cashews to small pieces and half almonds to pieces. Slice the rest half almonds into halves for garnishing at the end.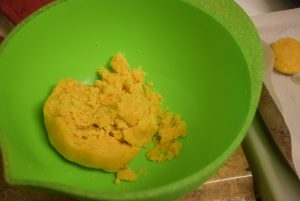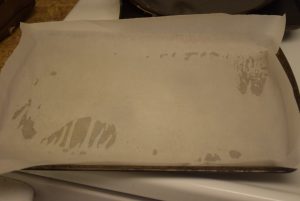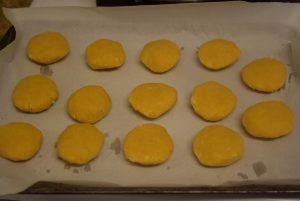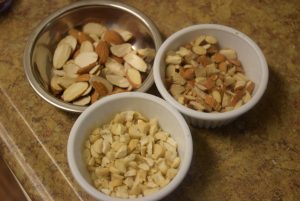 5. After 10 mins check them, if they have change color on one side ,turn them to the other and place them back in the oven. Mine took 12 mins. In the meanwhile, heat 2 tbsp of ghee in a wok(kadhai) on medium heat. When it gets warm, add the edible Gum(gond/Dink) in it. They will puff up in some time and turn pale in color. I used the small gond, because they could be easily crushed later. Similarly you may roast the melon seeds(magaz) and strain them from the clarified butter in a plate.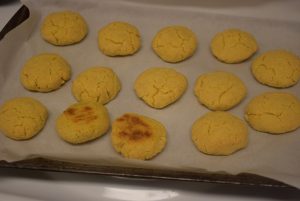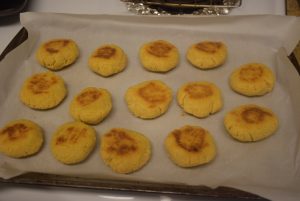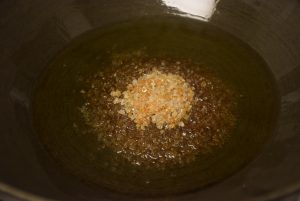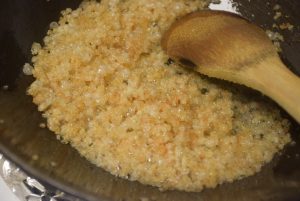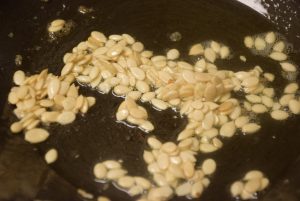 6. After another 10-15 mins check them, if they are browned on all sides, take them out and let them cool down a bit.( I baked them a bit more i.e. for 30 mins in all, hence this color.)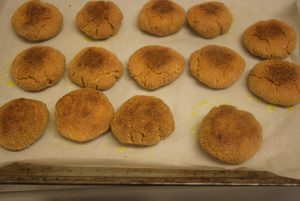 7. While the roundels are still warm, crumble them with your clean hands into powder or pieces. You will get a good roasted crumbly powder.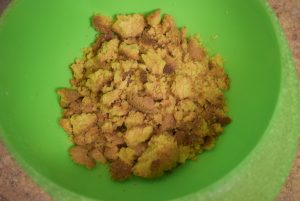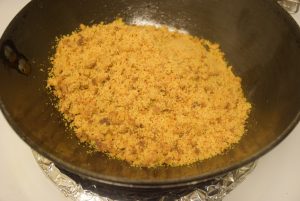 8. Add the leftover clarified butter in wok with the crumble obtained after baking. Also add the nuts, melon seeds and crushed gum. Stir them nicely till they all are mixed well on low heat.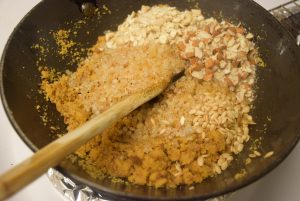 9. Now add the Bura(a form of sugar) and continue mixing on low heat.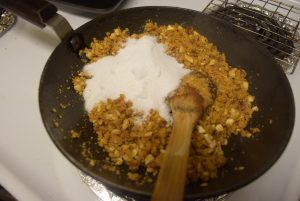 10. Next add the Brown sugar for a beautiful color and a healthier touch to our luscious Pinni. Mix all well. Turn off the heat. Remove from stove and transfer it in a big container to cool down the mixture rapidly.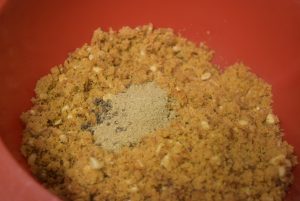 11. Let the mixture cool down for 10 mins or till you are able to touch it with hands. If you feel the mixture is too dry and un-binding , you may add ghee at this stage too , a tbsp at a time. To give it an authentic flat round shape , I used a bottle's cap . You may use any cookie cutter to make it kids-friendly.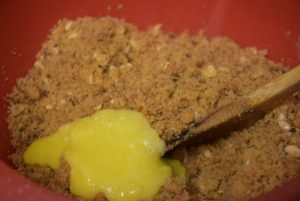 12. First I divided the whole mixture in Big Laddoos . 😀 you may eat them now, but to lure your special guest, you may follow the steps below.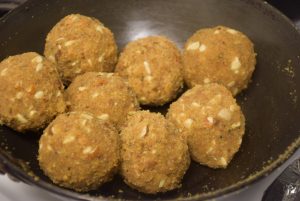 13. I grease the cap with ghee and added the mixture in cap, press it slightly and then invert it slowly on the other hand, to get the perfect shape. To further hold the shape, you may press it slightly along the circumference while rotating in your hands.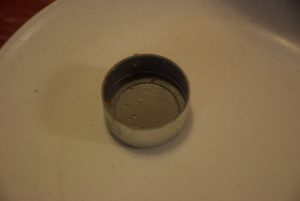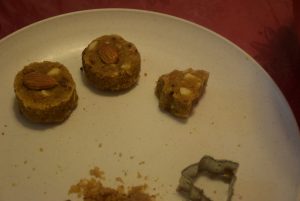 14. Place a sliced almond on the top and it is ready. I tried with one of my cookie cutter to impress my daughter . She was super delighted to have it.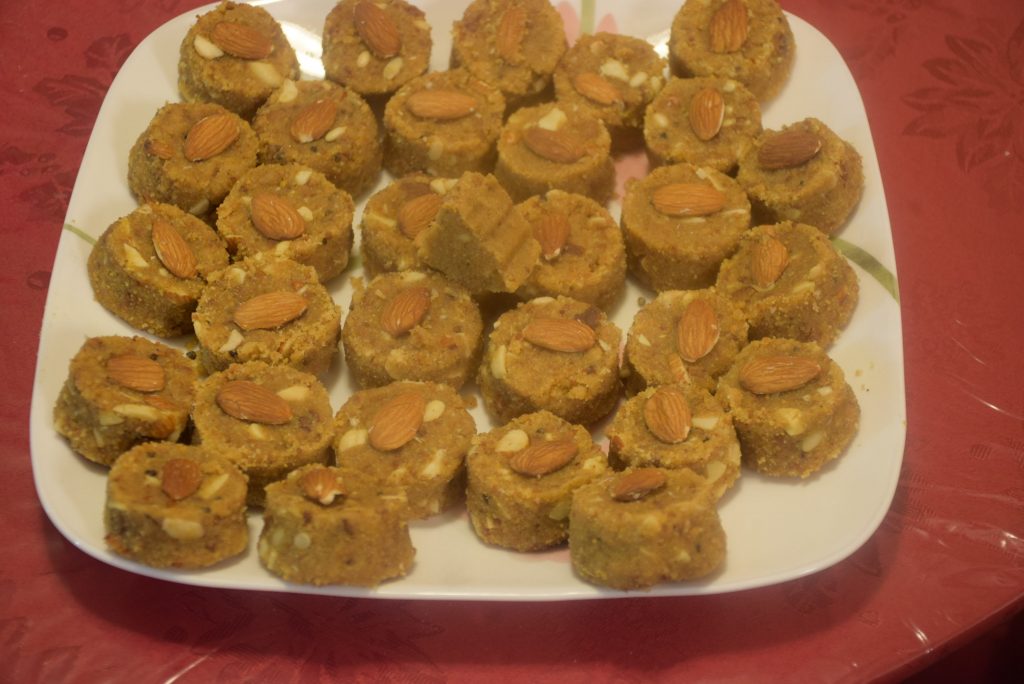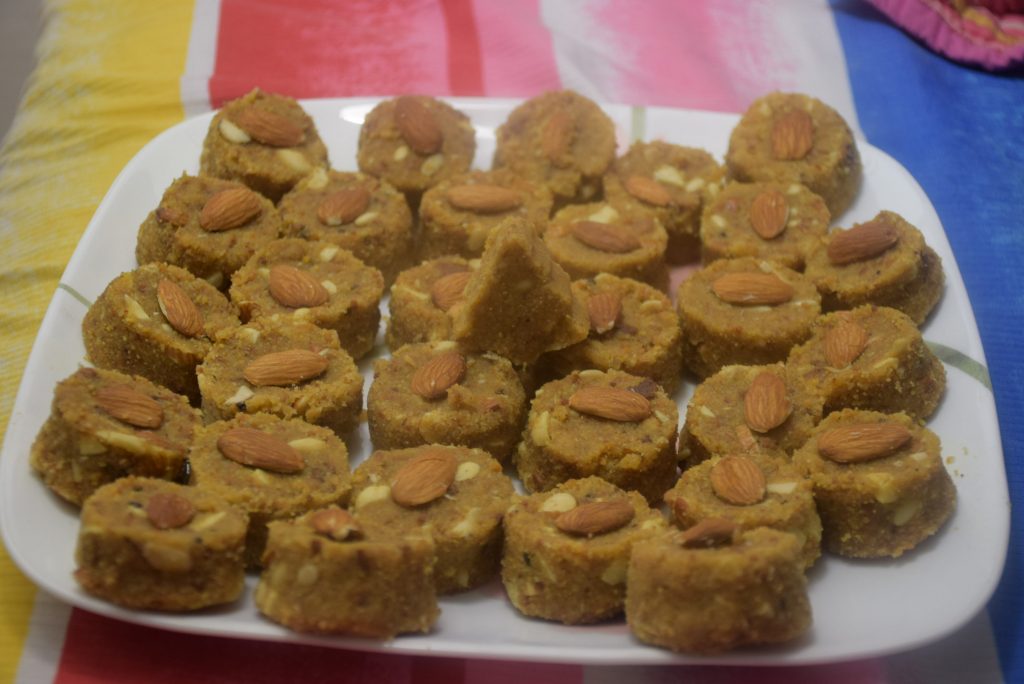 Hope this recipe helps those who are looking for a "Healthy and short-cut Pinni" !! For more recipes, please keep writing to us your thoughts !! Wish you all Happy Holidays!!
Till then stay fit and warm
🙂