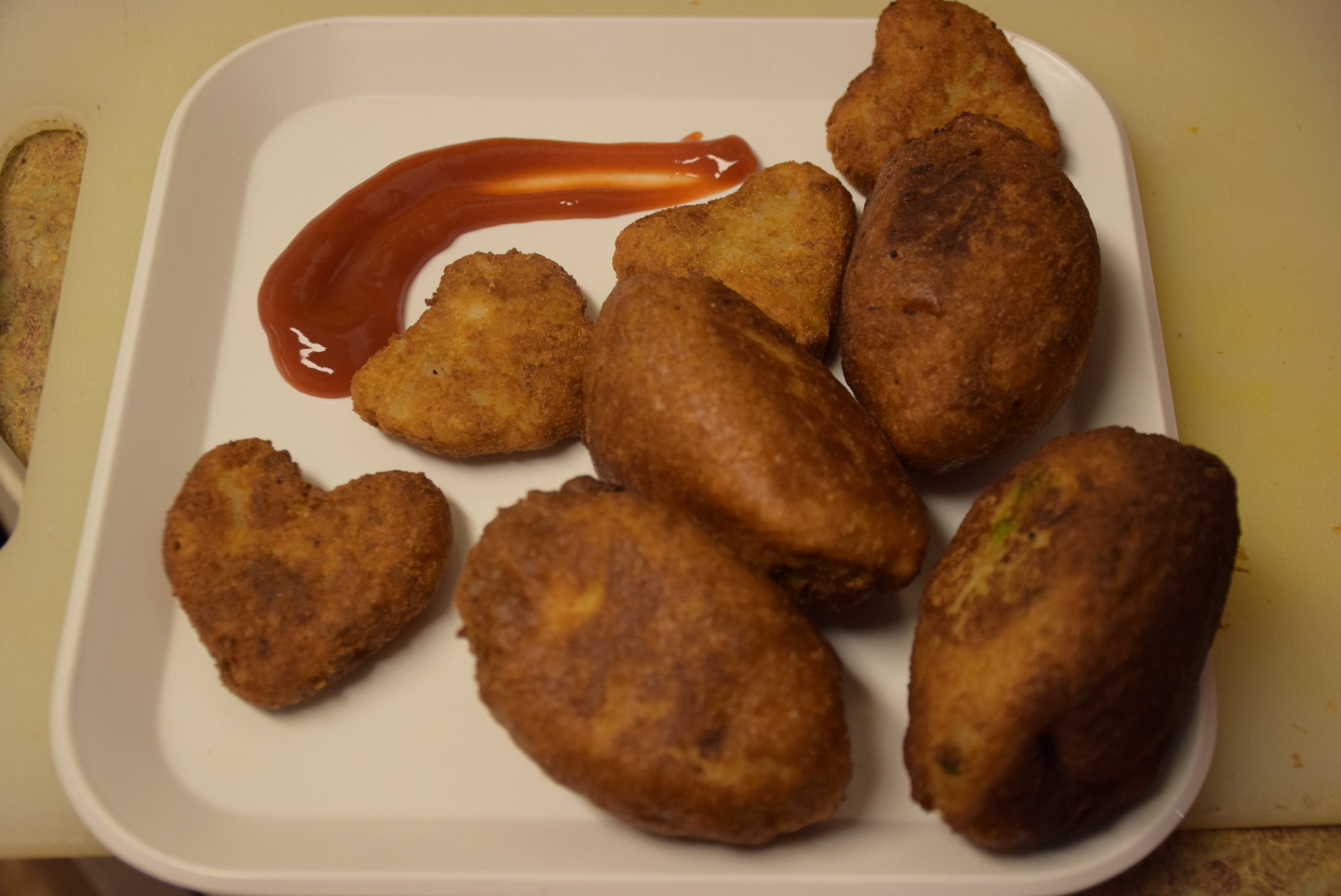 Rains in winter are windier and colder. But anyways a change in weather is always welcomed by everyone. So today's morning fresh breeze with heavy rains prompted me to make some deep-fried Bread Rolls .

Lets enjoy this morning with these lip-smacking stuffed bread rolls 😛
INGREDIENTS:
1. Boiled Potatoes – 3 (medium size)
2. Peas (frozen or fresh) – 1/4 cup
3. Onions chopped finely – 1/2 cup
4. Green chillies finely chopped – 2
5. Salt to taste
6. Turmeric (haldi) – 1/4 tsp
7. Coriander powder(pissa dhaniya) – 1/2 tsp
8. Fennel powder ( saunf) – 1/2 tsp (optional)
9. Red chilly powder – 1/5 tsp
10. Cumin seeds (jeera) – 1/2 tsp
11. Asafoetida (Hing) – a pinch
12. Cooking oil – 2 cups +2 tbsp
13. Bread slices(whole grain wheat or brown) – 7 to 8 including bread tops and bottoms.
14. Water – 1 bowl
15. Chaat masala/Garam masala/Amchoor – 1/2 tsp (optional)
METHOD:
| Preparation time: 30-35 mins | Cooking time : 15 mins | Makes 7 to 8 bread rolls |

How to make stuffing>>>
1. Boil the potatoes in microwave or pressure cooker. I have boiled in cooker which took 10 mins.

2. In the meanwhile, chop the onions, chillies ans wash the peas.

3. Take a small wok(kadhai) or non-stick pan. Add 2 tbsp oil in it and heat it on medium.

4. Wash the boiled potatoes in cold water and let them cool. Then peel them and mash them lightly.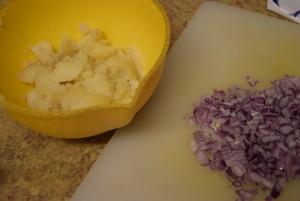 5. When the oil is heated ,add jeera and hing in it. Let it sizzle for 30 secs.



6. Next goes in the onions and peas. Stir them and add salt too.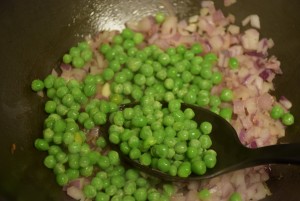 7. After sauteing the onions and peas for 3-5 mins, add all the dry spices viz, the coriander , fennel powder, chilly powder, turmeric and stir everything together.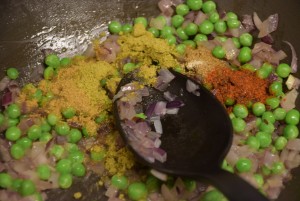 8. In the end add the potatoes and now lower the heat while stirring and mixing them.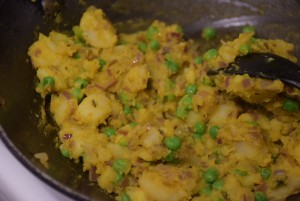 9. Turn off the heat and let this stuffing cool down before preparing the bread rolls.Transfer it to a bowl for faster cooling.

How to prepare the bread rolls>>
1. Take a shallow bowl filled with water.

2. Pick up one slice (the top and bottom of breads are very useful for bread rolls) , dip in the bowl of water and squeeze out the water by pressing between both the palms. If your bread is not a whole grain bread , and is normal white bread, then don't press too hard lest it might crumble.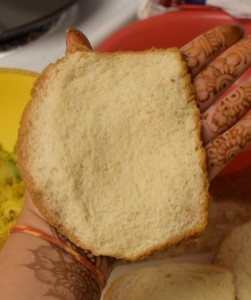 3. Place 1-2 spoonful of stuffing in the center of the wet bread placed on left palm.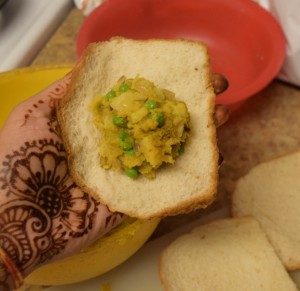 4. Bring all the corners in the center and seal then together with the other hand. You can bring the diagonally opposite corners first ,seal them and then the other 2 corners to seal them at the top.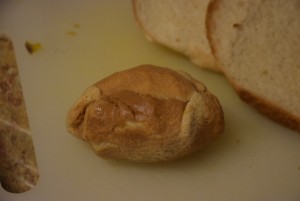 5. Once it is sealed from all sides, press it in your fist to squeeze any excess water or to ensure it is tightly wrapped. If you are making these for the 1st time, be light with the stuffing and concentrate on wetting the edges of the bread ,so that they are closed nicely on wrapping.

6. Heat almost 2 cups of oil or more in a wok for deep frying at high.

7. Similarly prepare all the bread rolls and keep them in a dry plate.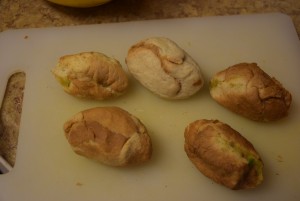 8. When the oil is sufficiently hot, place 2-3 bread rolls in the center and fry them till golden brown.

9. Turn them on the other side for even browning.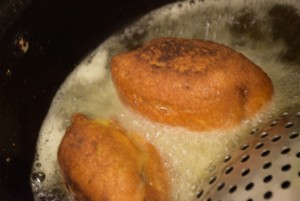 10. Take them out in a paper-towel lined plate with a slotted spoon after draining the oil in the wok.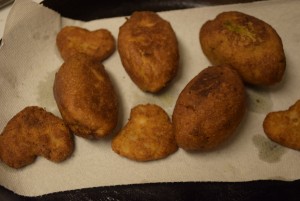 11. Serve them hot with tomato ketchup or home-made green dip.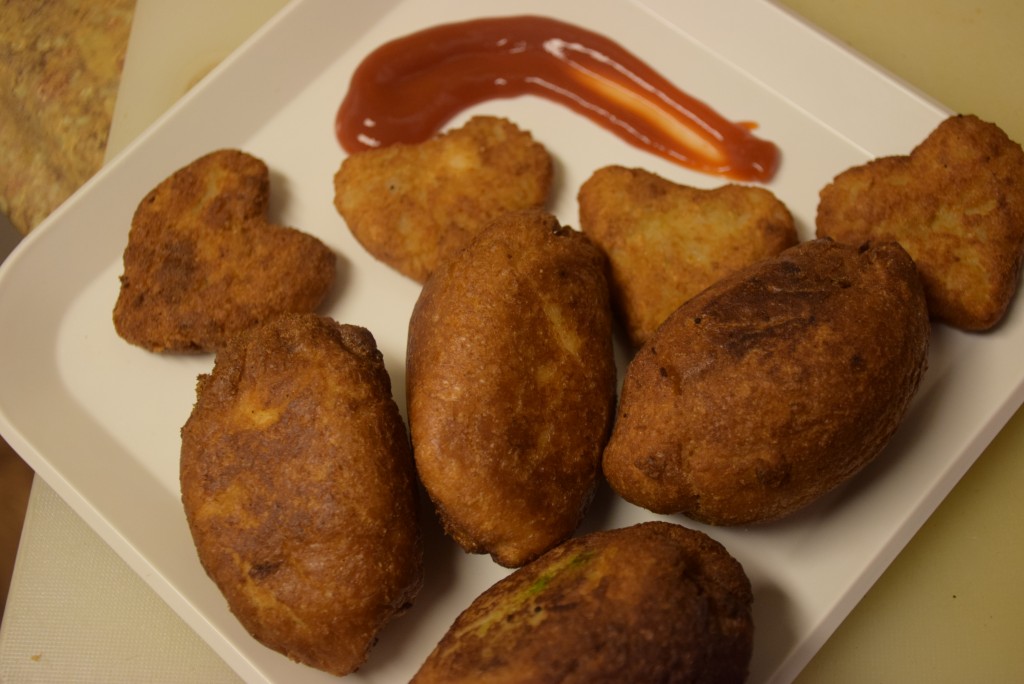 My daughter and family enjoyed them a lot !! Hope you enjoy them as well with the lovely weather!! 😀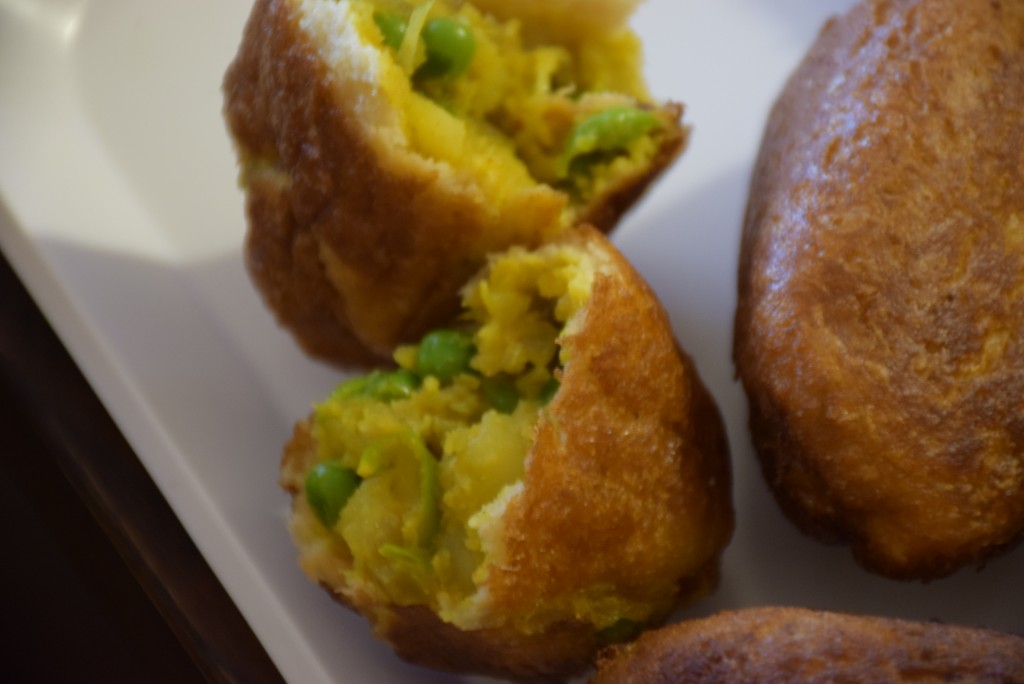 Please feel free to ask or suggest in the comments below ! We love to hear from you 🙂