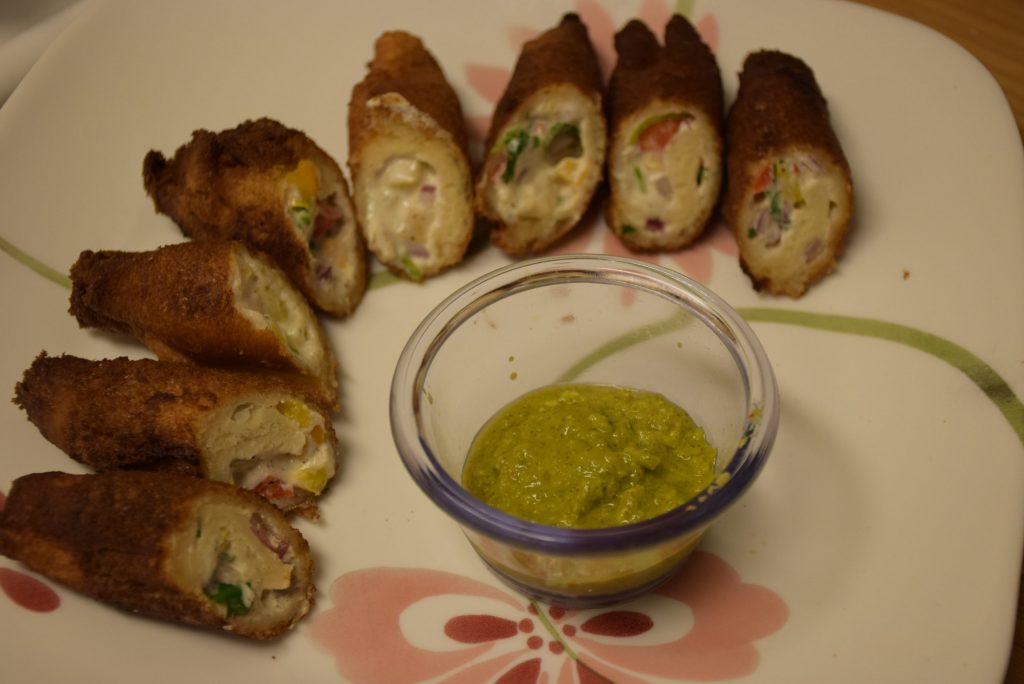 In February this year, I went to India for my brother's marriage. I tasted these "Dahi ke kebab" or Dahi ke Sholay for the first time. Instantly me and my family fell in love with them.

Cold winds have started blowing. In the lurk of some hot warming recipes, this one stands out. So those who avoid curds owing to its coldness, would not even mind having them till the last bite. They go well with hot tea or coffee in this cold weather.

They have a crunchy bread coating outside with creamy curd filling inside. They are called sholay because they have the peculiar shape of embers. The Greek yogurt (or hung curd) balances the spices of these kebabs. A fried food, but still potato-less will give those a new experience who shirk away from potatoes and paneer. Enjoy these vegetarian kebabs with a dip (mint chutney), tomato ketchup and tea.
INGREDIENTS:
1. Bread slices(white or whole wheat) – 4 to 5
2. Greek Yogurt or hung curd (shrikhand wala dahi) – 4 to 5 tbsp
3. Finely chopped yellow peppers (peeli shimla mirch) – 1 tbsp
4. Finely chopped red peppers (lal shimla mirch) – 1 tbsp
5. Finely chopped orange peppers (narangi shimla mirch) – 1 tbsp
6. Salt – 1/2 tsp or to taste (I like to add lesser than required.To know why ,go to method.)
7. Black pepper (kali mirch powder) – 1/4 tsp
8. Finely chopped green chillies (hari mirch) – 1 tsp
9. Finely chopped cilantro (hara dhaniya) – 1 tbsp
10. Finely chopped onions (pyaz) – 2 to 3 tbsp
11. Chaat masala – 1/2 tsp
12. Sugar – 1 tsp (optional)
13. Oil – 2 cups (for deep frying)
METHOD:
| Preparation time : 10 mins | Cooking time : 15 mins | Makes 10-12 pieces |

1. For straining the curd , use a cheesecloth or a net strainer with small holes to separate the water and thick curd. You may keep it hung tied in a cheesecloth for 3 hrs or overnight. Alternatively, you may use Greek Whole milk yogurt from the store too. I used my small mesh, but it is easier with a large cheesecloth where you can also squeeze out the water by simply rotating it many times.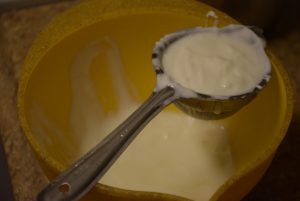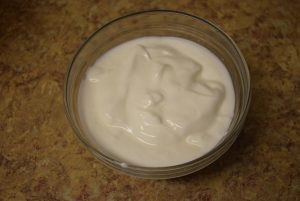 2. Trim the edges of the bread you are using. This helps in easy rolling and closing of the ends after stuffing.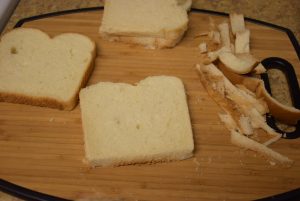 For healthier options, you may use whole wheat bread. Don't discard the trimmed edges. You can store them for using as bread crumbs.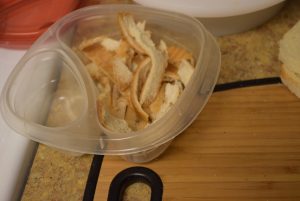 3. Chop all the veggies required in fine pieces. You may add corn, peas, spring onions, beans, carrots or any veggies of your choice. But make sure they are in small quantity or you might end up making more stuffing than the breads in hand. 😉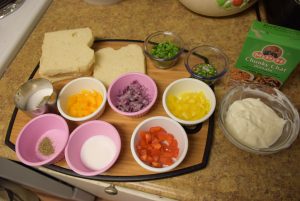 4. Now mix all the veggies with the thick hung curd, little salt, chaat masala, black pepper, green chillies, cilantro etc. I have mentioned less salt since salt tends to make the stuffing thinner and watery. We need a thick stuffing which would just moist the bread from inside and not flow outwards while wrapping.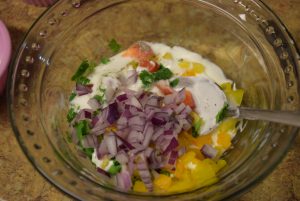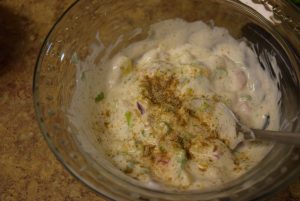 5. Roll a piece of bread and moisten all the edges with a dab of water . If you see holes in bread after rolling, you can cover them by plucking a piece from the corners of the bread and paste it with some water in that opening. Roll it gently on that spot again.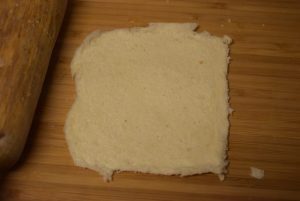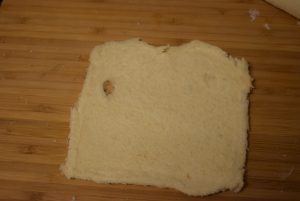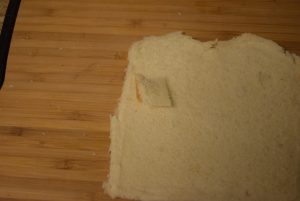 6. Place a spoonful of stuffing in the center of one half of the bread.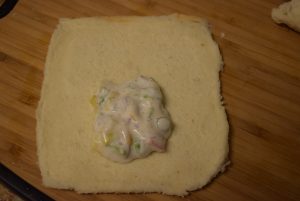 7. Picking the side of the stuffing start rolling the bread inwards with hands firmly and steadily to make a log kind of roll.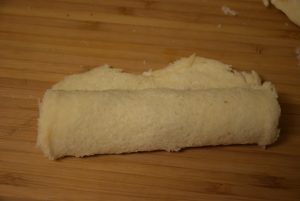 8. Seal the openings on two side of the log by twisting like a toffee wrapper to form the shape of a rolling pin or a toffee or sholay(embers).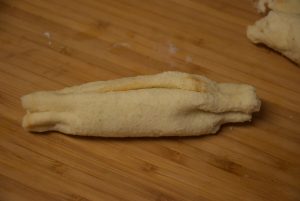 9. Similarly make all rolls (sholays) and place in a plate. Meanwhile heat some oil for deep frying (on medium to high heat)in a wok(kadhai).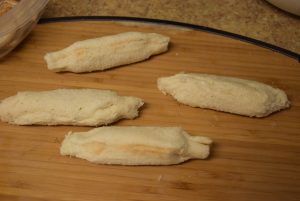 10. When the oil is sufficiently hot, drop 2 pieces at a time with seam side facing upwards. The oil should neither be fuming nor be lukewarm, just hot enough to start frying. If the temperature is too low the rolls might open up and the curd stuffing will ooze out in oil , if its too high, the rolls will get browned instantly and might get burnt on one side. Take them out on a paper towel lined plate with a slotted spoon.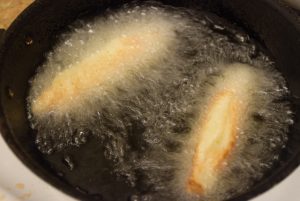 11. Cut them diagonally in the center with a knife and serve with your favorite dip.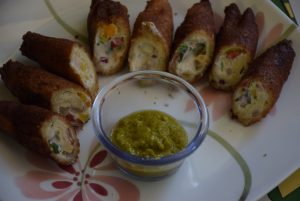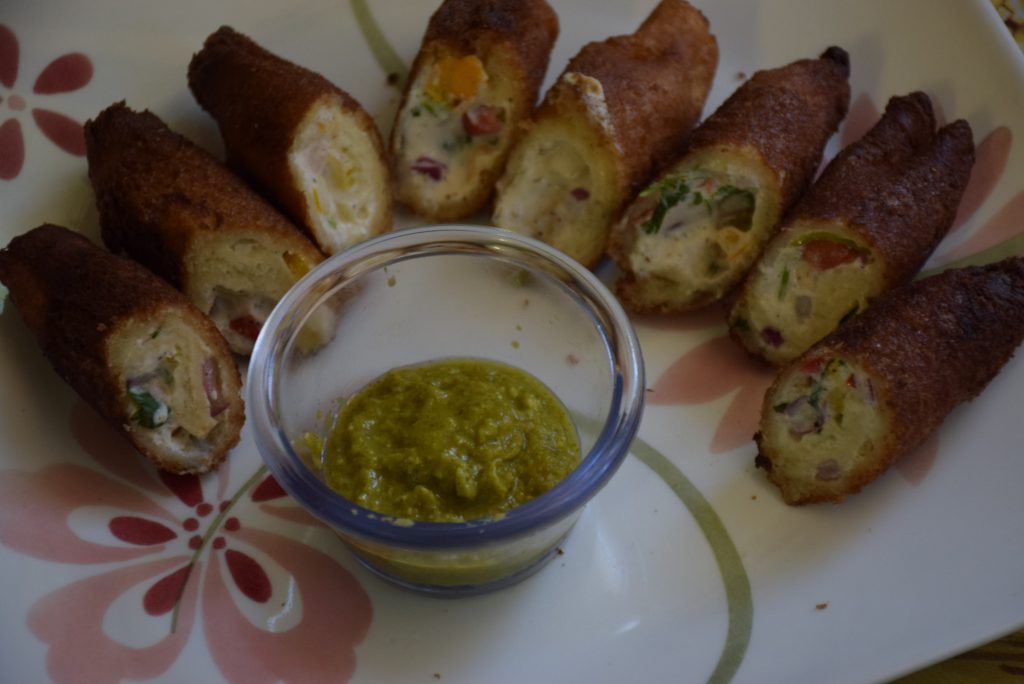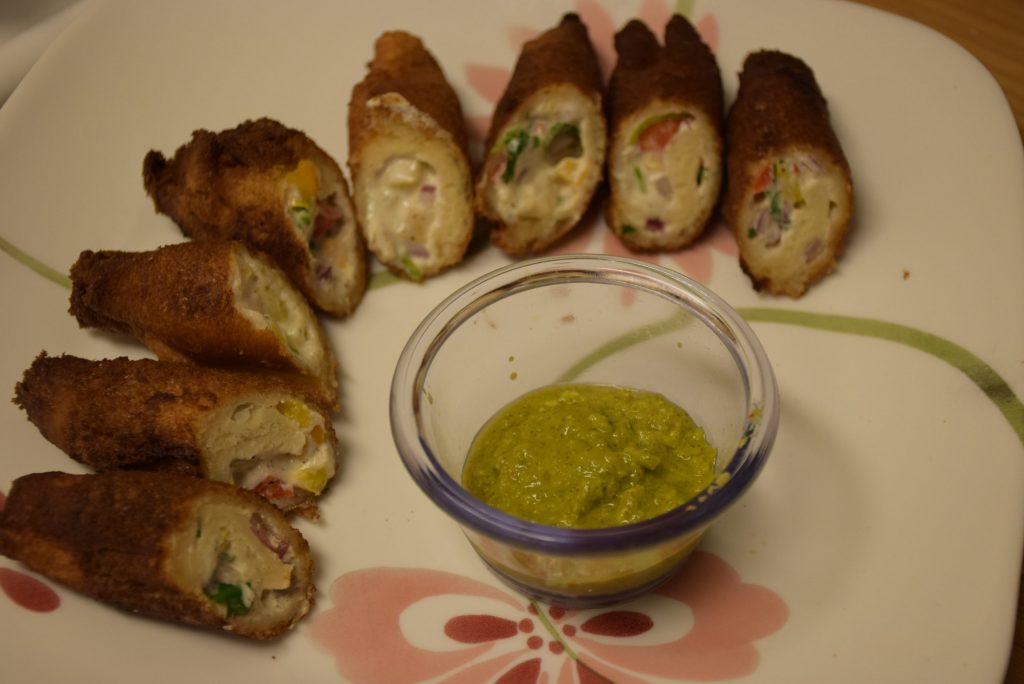 Enjoy the festivals and the cold weather with these hot bread rolls in a different style!! 😀
Hope you enjoy reading this recipe. If you want more such recipes, please leave a comment in the box below. I will be happy to make and share with you !
Till then Happy cooking…
🙂