Handvo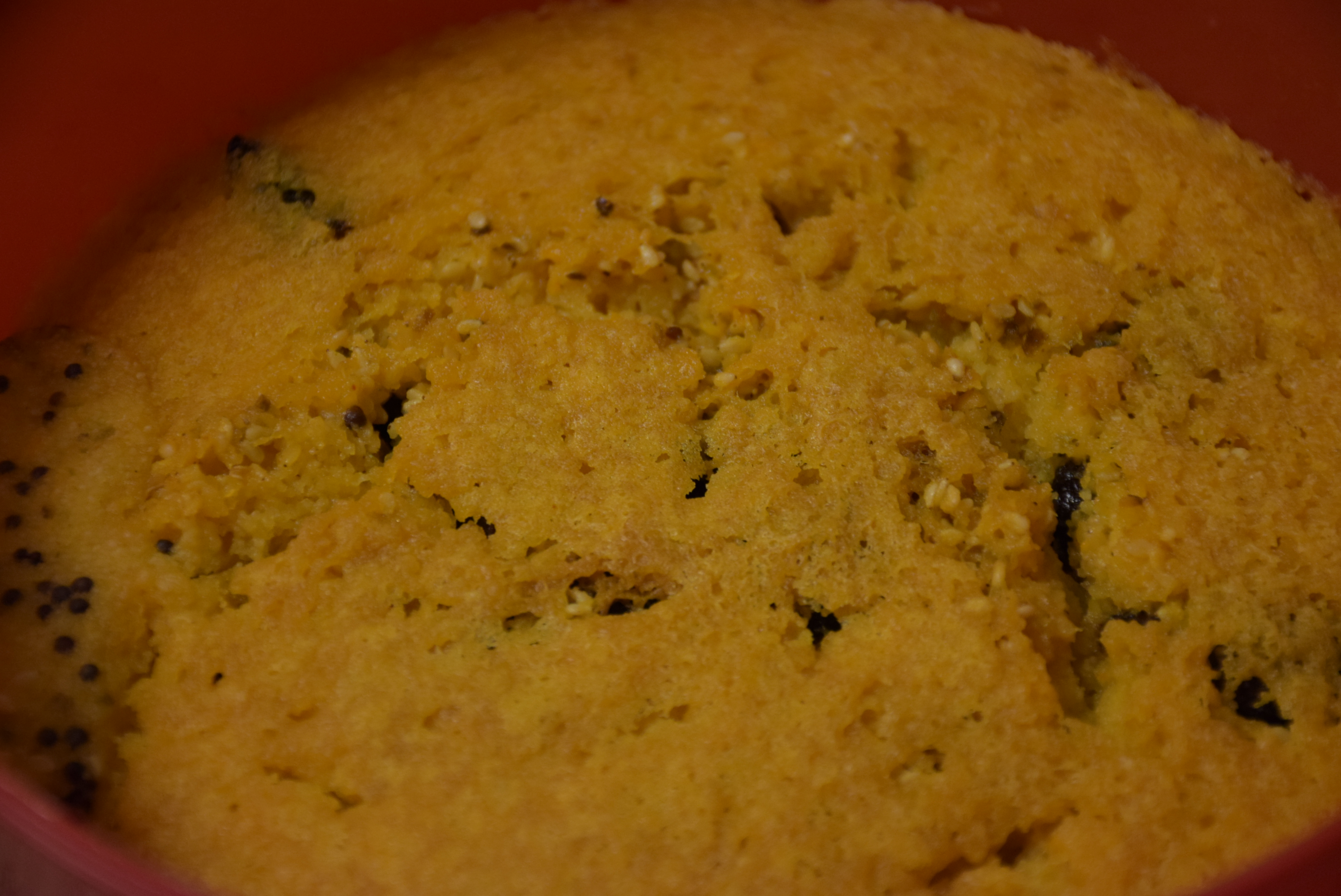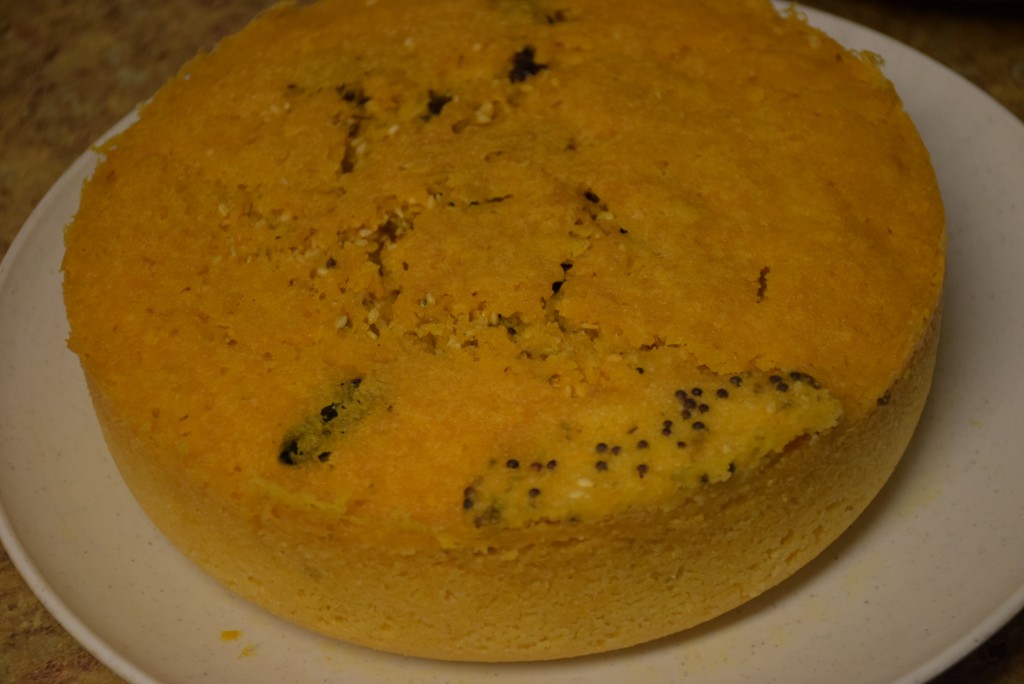 Hello Readers !! So what do u like to have in your supper in the evening ? Handvo, a Gujarati Appetizer is a good choice other than Dhokla or Khandvi. It gives the essential heat during winters and the savory cake add twist to your taste buds.

The traditional recipe needs a lot of patience and time, but the recipe I am going to share with you today needs least ingredients and least time and efforts. Thanks to Kalpana Chaudhari, one of my dear friend for introducing me to this recipe. Earlier I thought that Handvo could be only baked or made in Handvo cooker or in a large pan. But then I thought of trying this in microwave. Not just I got surprised to get that same authentic taste but my family and friends loved it too.

So no more frowning of non-availability of oven or handvo cooker! 😛 Try this quick recipe and enjoy the cold season.
INGREDIENTS:
1. Gits handvo mix packet – 500 gms or 3 cups
2. Yogurt (Dahi) – 1/4 cup
3. Cooking oil – 3 tbsp
4. Water – 600 ml
For seasoning :
1. Cooking oil – 1/4 cup
2. Sesame seeds (kale til) – 1 tsp
3. Mustard seeds (rai) – 1 tsp
4. Red chillies (lal mirch) – 3 whole
5. Curry leaves (meetha neem/ kadhi patta) – 4-5 (optional)
METHOD:
| Preparation time : 3 mins | Cooking time : 12 mins | Makes 12 servings of 85 gms each|

1. Take a large mixing bowl. You will need a large bowl, because as soon as you mix water in the batter it will foam and rise to the edges. Add the dry rice-lentil-spices Handvo mix in it .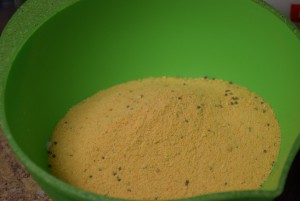 2. Make a depression and then add the yogurt and oil. Stir them in the mix.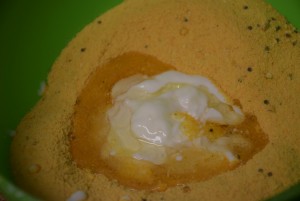 3. Next add the water and lightly mix the batter with a spoon or whisk. Don't mix it too hard or the foam will settle down.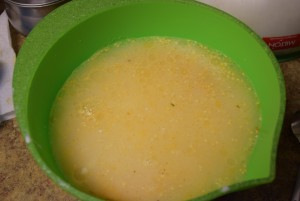 4. Grease a microwave safe bowl . You may add the batter in two small bowls instead of a large one.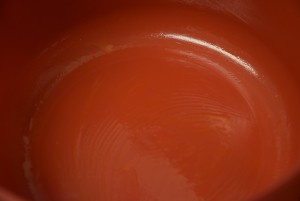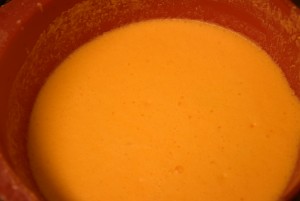 See how the batter has foamed..

5. Now heat oil in a fry-pan or wok. Add sesame seeds, mustard seeds to it. Let them crackle , then add the red chillies and curry leaves too.
6. Add this seasoning on the top of the batter mix in the microwave bowl. I have used my rice-cooker for making this handvo.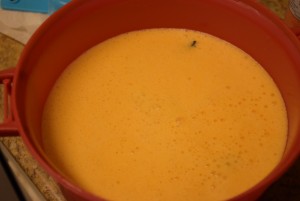 7. Keep this bowl in microwave at high power for 12 mins. Take it out after 10 mins and insert a knife and check it. If the knife comes out clean it is ready.If not keep it for another 1 min and check again.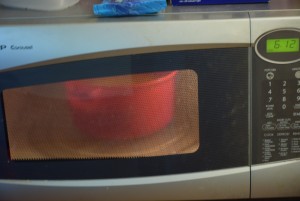 8. Take it out and let it cool in the bowl for 5 mins. Once it is cooled, run a knife all through the edges and invert the Handvo in a plate.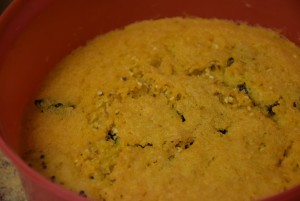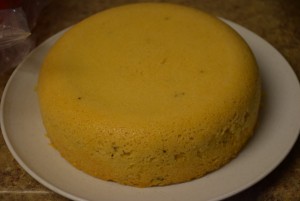 9. Invert it again on the top side in the plate with hands. Cut slices and serve with green chutney or ketchup.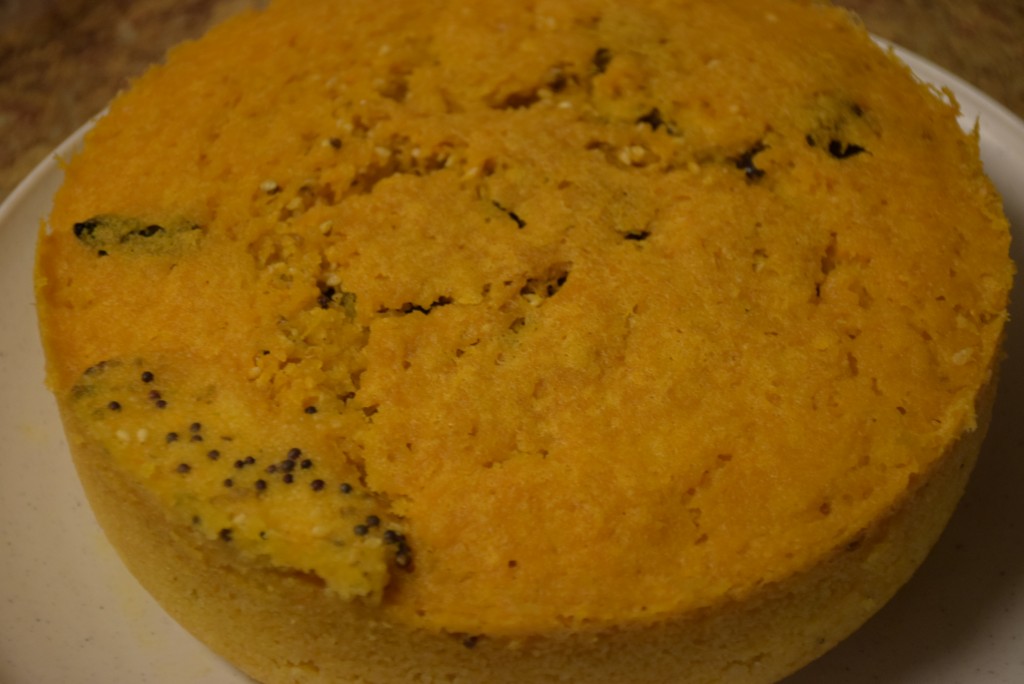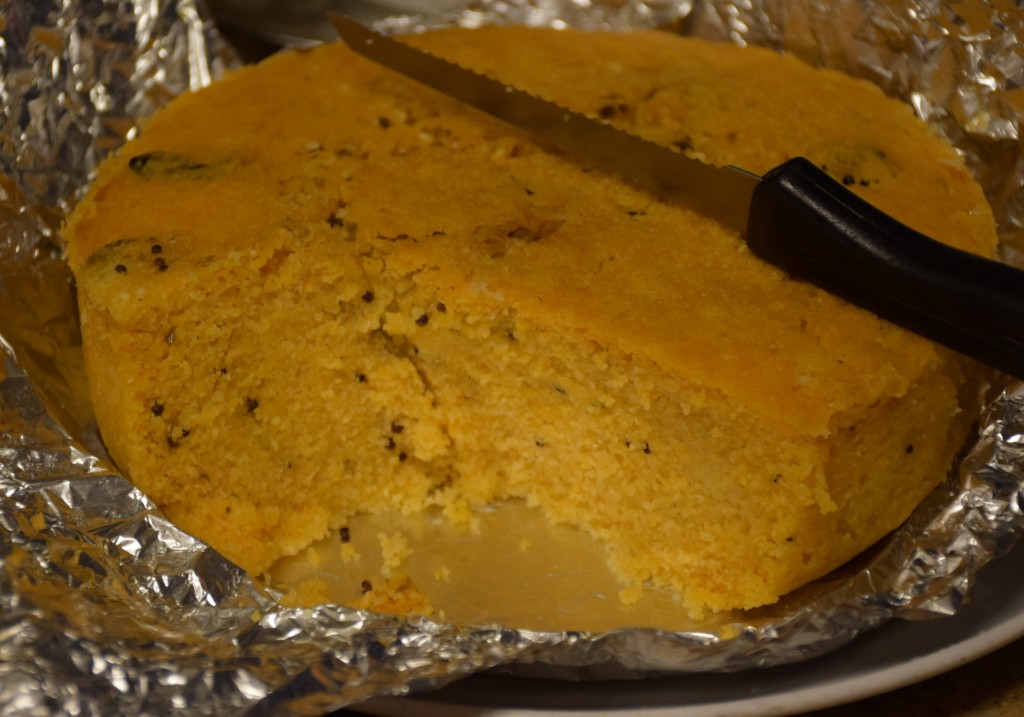 Enjoy this in breakfast or evening snacks or during a picnic. 😀
I will be back with some more winter recipes !! Till then keep cooking and making merry!! 🙂