Home-made Yogurt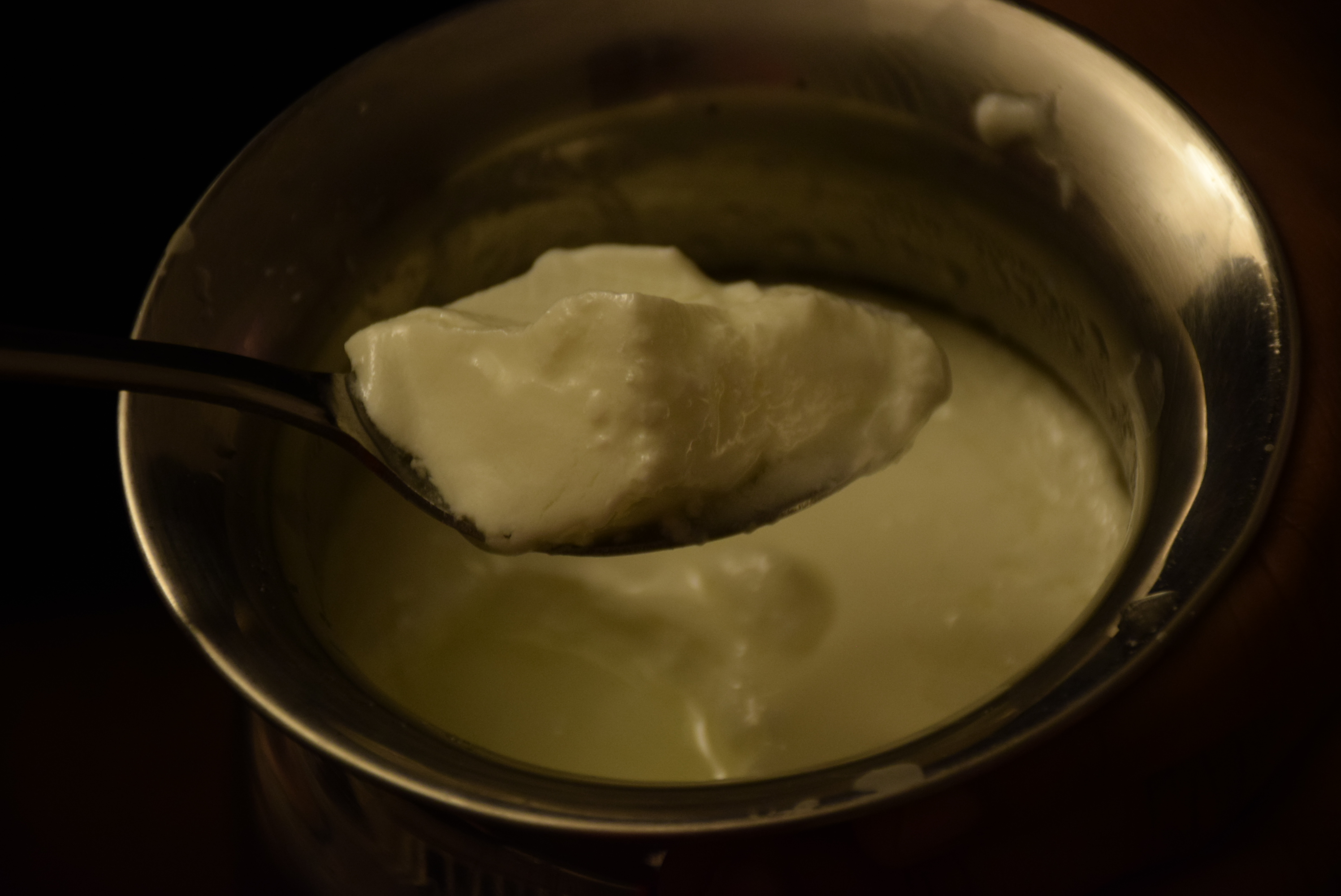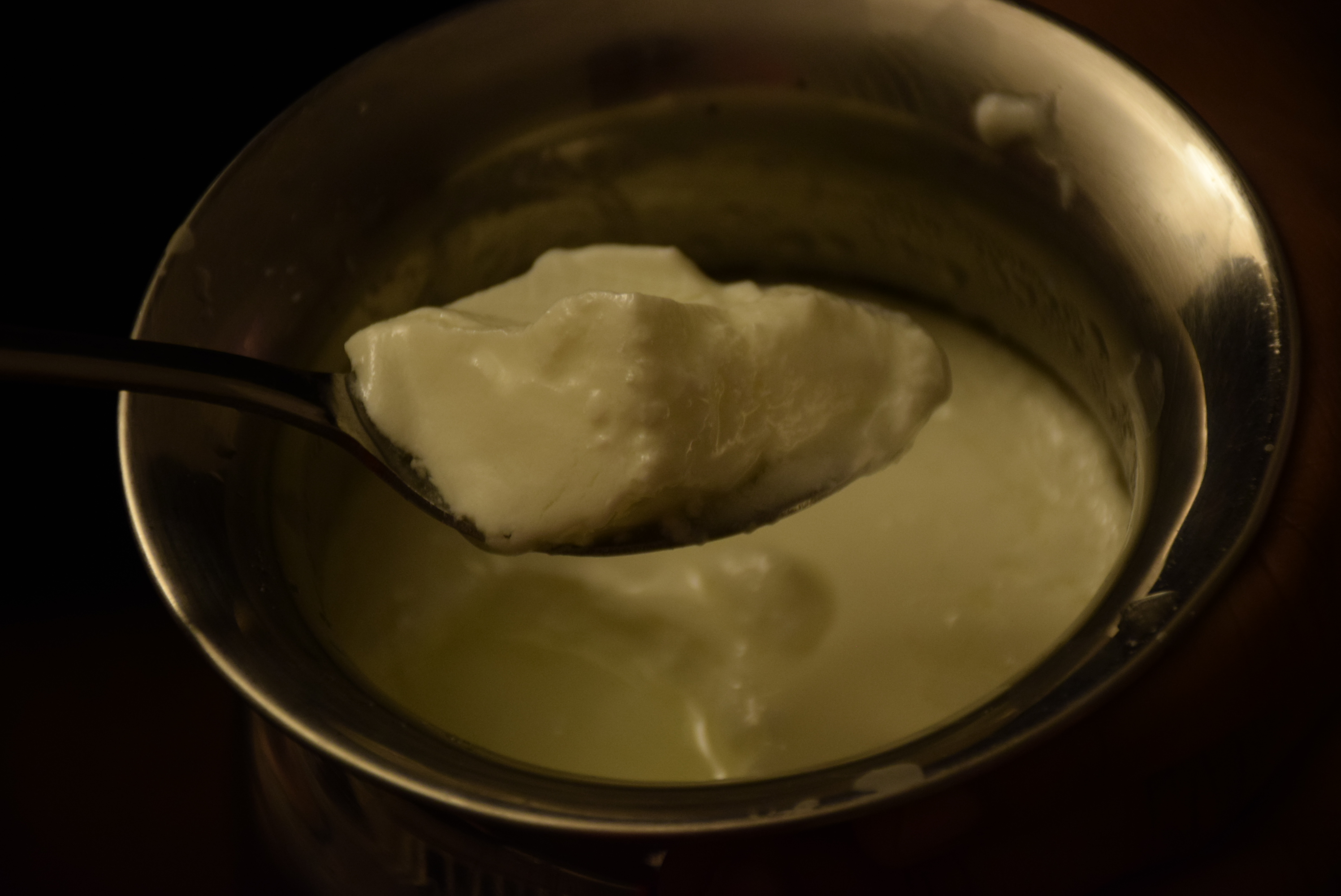 Hello Readers !!

I know many of us buy store -bought yogurt/curd (dahi). But I never liked the gelatinous yogurt available in the markets here in USA. So I have always set the curd with Whole milk and it came out perfect each time. This is a fool-proof recipe. So lets go to the recipe now. 😀
INGREDIENTS:
1. Whole Milk (Berkeley /Organic /Strauss ) – 1700 ml ( 7 cups) approx.
2. Starter yogurt (dahi) – 4 spoons
3. A steel container or casserole or an air-tight vessel
4. Towel (optional)
5. Thermometer (optional)
METHOD:
|Preparation time : 5- 6 hrs | Cooking time : 15 mins | Makes about 1.75 liters of curd |

1. Take the milk in a pan and bring it to a boil. You may just halve or take just quarter the quantity if trying for the first time. For 1 liter milk you need just 1 tsp of starter yogurt.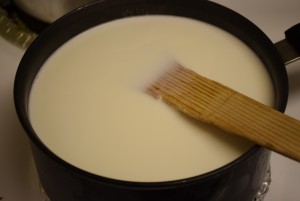 2. Remove from the stove-top and place the pan on the counter to bring the milk to just lukewarm condition . If measured on thermometer it should be between 110 degree F to 118 degree F. It should be just warm to touch , not burn your hands.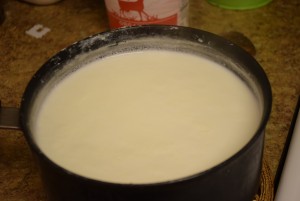 3. My milk got cooled down in about 75 mins (it depends on the quantity of milk taken). When it reached 118.5 degree F, I added the starter yogurt in the respective Steel Lota(Buta/Burbot) and then the milk and give it a nice stir. Alternatively , you may pour back the milk with starter in the pan , from the pan to the Lota and back and forth 3-4 times to enable good mixing of the starter yogurt. Hence I started at little higher temperature, because this brings down the temperature faster.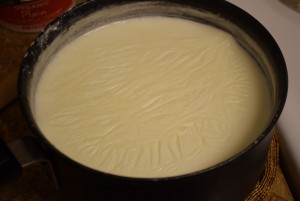 4. You may simply stir the started yogurt in the milk after adding to the lota.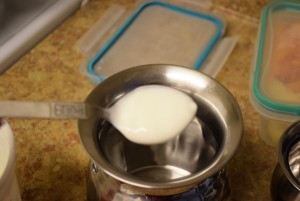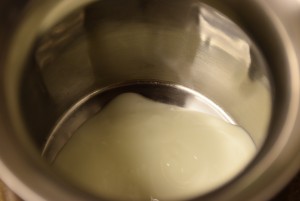 (P.S. : Here I have stressed on a steel or brass/copper container more,because metal is a good conductor of heat. It doesn't allow the heat to escape quickly and for setting the curd , this is very important that the temperature is maintained throughout the setting period. Or if you are using a plastic container, use a bottle shape container or one which has a narrow mouth , for setting the curd.)

5. Cover them instantly with a plate or lid.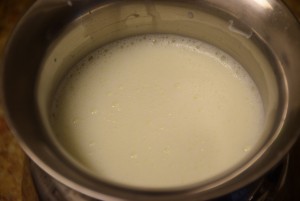 6. Keep them in a warm place in your kitchen . I prefer keeping in the oven, with its light on.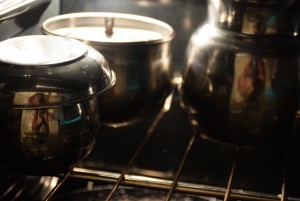 7. Let it sit in that warm place for 4 hrs undisturbed.

8. I took them out after 6 hrs, and see my yummy curd is ready to devour. If you don't like the sour taste , you may add 1/2 tsp sugar in 1 liter milk with starter yogurt. Or you my take it out after 4 hrs and then refrigerate.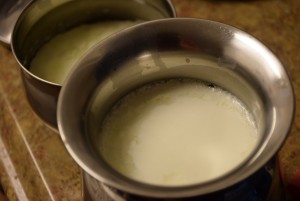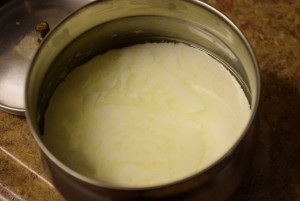 9. But yes, how do we know that our curd is set? For this, just gaze at the top layer of the curd. If you could see some greenish water floating on it and while taking out you could feel it is a mass, not a liquid, it is set.
10. What if the curd doesn't set even after 7 hrs? i)Take out the lotas, preheat the oven to the lowest temperature i.e. 200 degree F for 2 mins. Turn it off. Keep the vessels wrapped in towels again for an hour.
ii) Or warm 2 cups of water in a pan. Place the lota (1 liter) in it for 30 mins.

11. Too cold or too hot temperatures sometimes kill the cultures in the milk. If you don't get the results even after using the above tips and method, boil the milk again and make paneer using this recipe: home-made paneer 🙂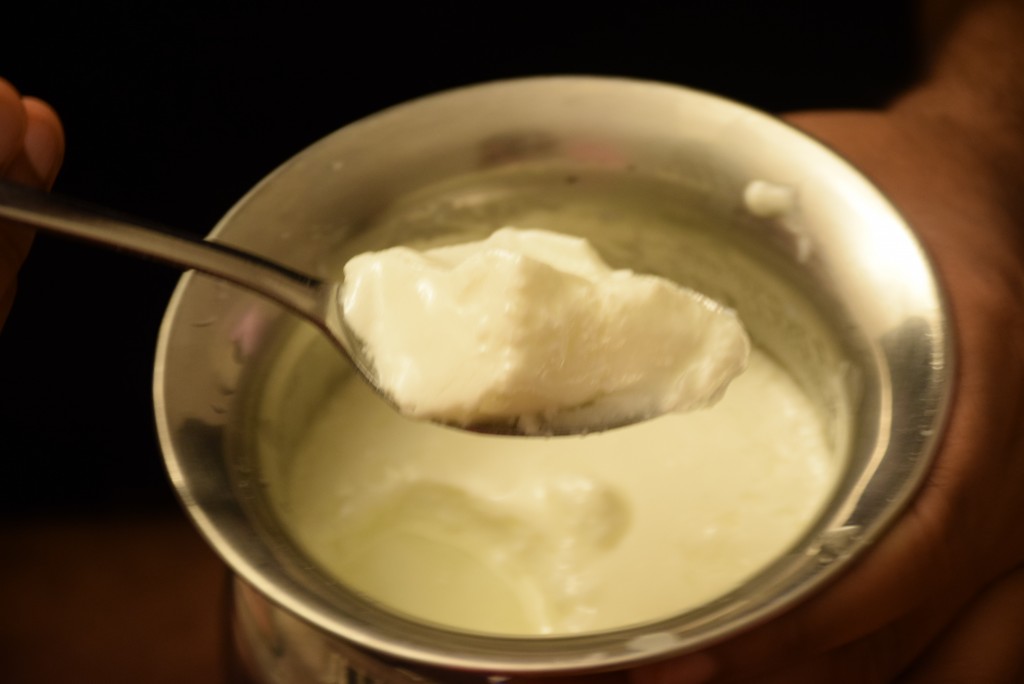 This curd remains fresh for a week after it is set. I really like its taste, texture, cut-in types, and is good for making a variety of recipe like fried idli, kadhi pakora, bhatura, tawa kulcha, buttermilk,etc.
Keep it in the refrigerator and enjoy!! 😀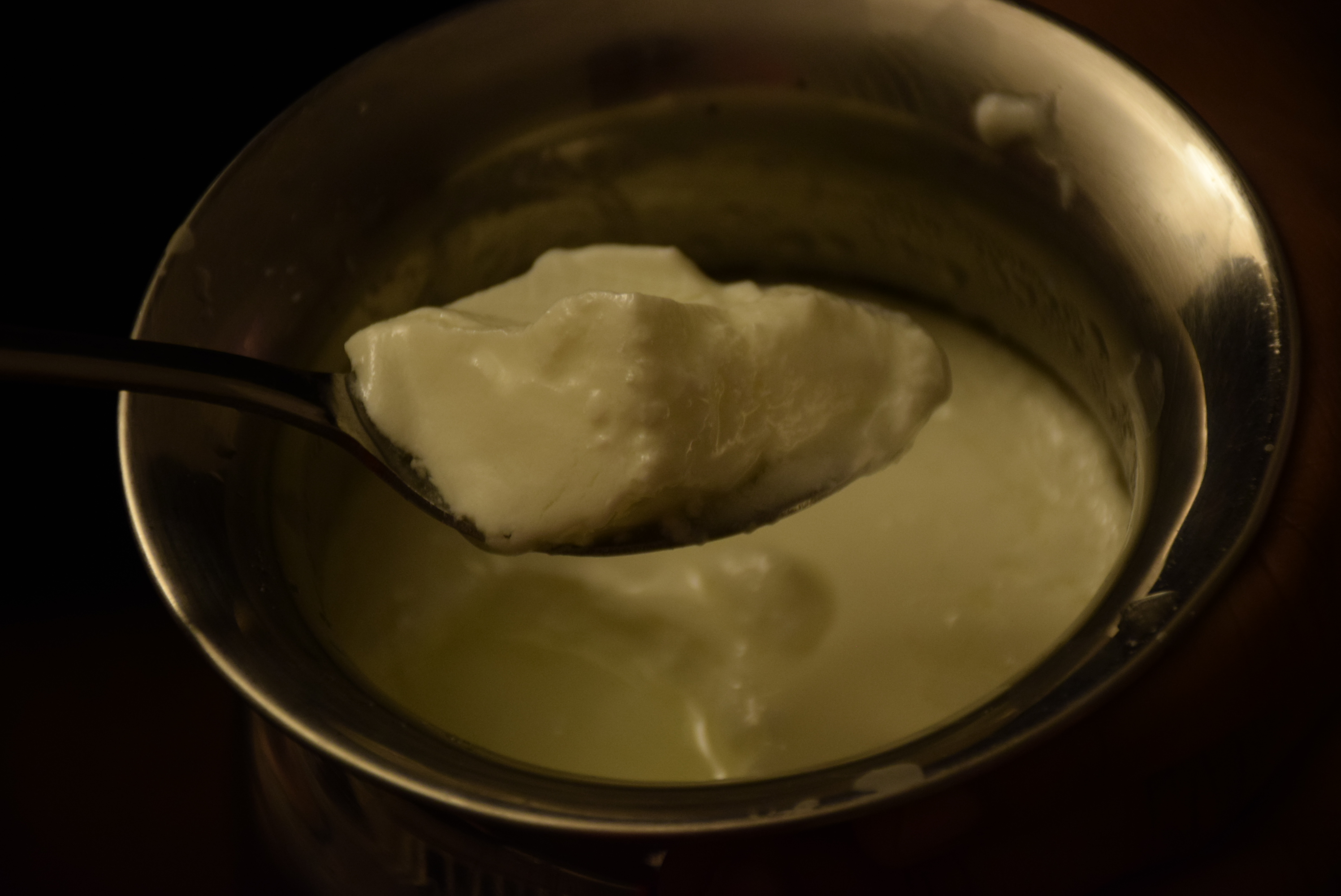 Please feel free to ask or suggest !! Happy to hear from you 🙂