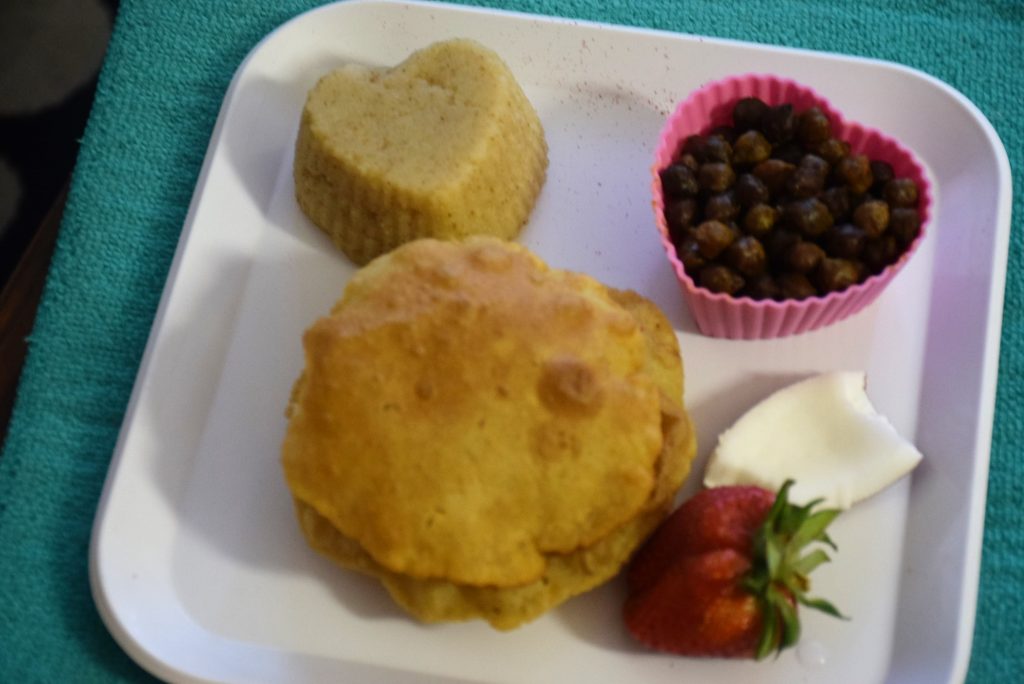 Little hands holding a little gift , most of us could relate to this practice during Navratri.. 😀 The little girls (kanchak) holding the food's plate and blessing us is a relishing moment. "Kale Chane" or Black chickpeas reminds me of those "Durga Ashtami" days.

This time, although , I didn't have the pleasure of inviting young kanya to my home ! But last year's fond memories are so heart-warming ! Kale chane could be prepared almost on every other day, depending on the type of body you have among these three: Vata, Pita and Kapha according to Ayurveda. I mean, that it depends on your potential to digest them consistently. Not only they aid in digestion, help in stabilizing Glycemic Index ,good source of protein but also prevent various types of cancer and diabetes. For more info on health benefits please click this : benefits of black chickpeas.

So let's find out about this easy-peasy recipe.
INGREDIENTS:
1. Black Chickpeas (Kale Chane) soaked in water overnight – 2 cups
2. Salt – 1 tsp or to taste
3. Turmeric(haldi) – 1/4 tsp
4. Cooking oil – 1 tbsp
5. Cumin seeds(jeera) – 1 tsp
6. Asafoetida (hing)- a pinch
7. Coriander powder (dhaniya) – 1 tsp
8. Fennel powder (saunf) – 1/2 tsp (optional)
9. Indian Curry powder(garam masala) – 1/4 tsp (optional)
10. Chaat masala – 1 tsp
11. Red chilli pepper(lal mirch) powder – 1/4 tsp (optional)
METHOD:
| Preparation time : 4 hrs to overnight| Cooking time :30 mins | Makes 3 to 4 cups of cooked chana |

1. Wash and soak the Chane in water overnight. I soaked them for an overnight ,so that they just double in volume and size. If you are short of time, you may soak them in warm water for 4 to 5 hrs.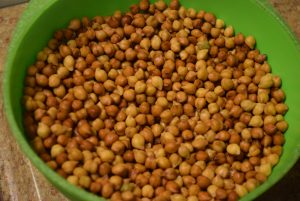 2. Next day, drain the soaked water and pressure cook them in about as much water as much space they take in cooker for 2 to 3 whistles. Also add salt and turmeric , while boiling, in water. After 1st whistle ,I lower the heat to medium or low and then turn off the heat after 2nd whistle. If you don't have a pressure cooker , you may boil them in slow cooker or any pan filled with hot water.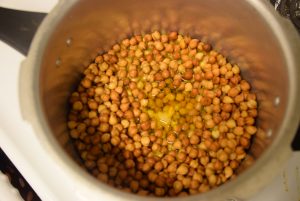 3. Let the pressure release on its own. Then open the lid and drain the excess water from the cooker. Now take a wok(kadhai). Add cooking oil or desi ghee in it and turn on the heat.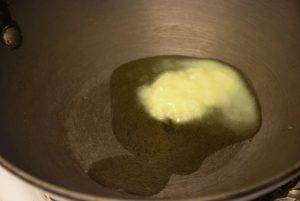 4. Add Jeera and hing to the oil.

5. Now add all the dry spices powder and the boiled Chane in the wok. Stir them well so that the spices are coated evenly on all Chickpeas.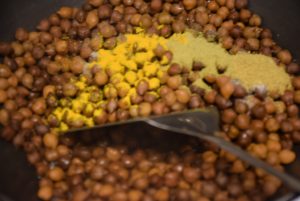 6. Simmer them on low heat for 3-4 mins and keep them covered.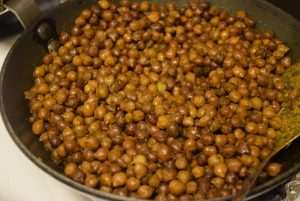 7. The easy-peasy Chane are ready to serve now. Take them out as Prasad for Maa Durga and then serve it to the family and friends. 🙂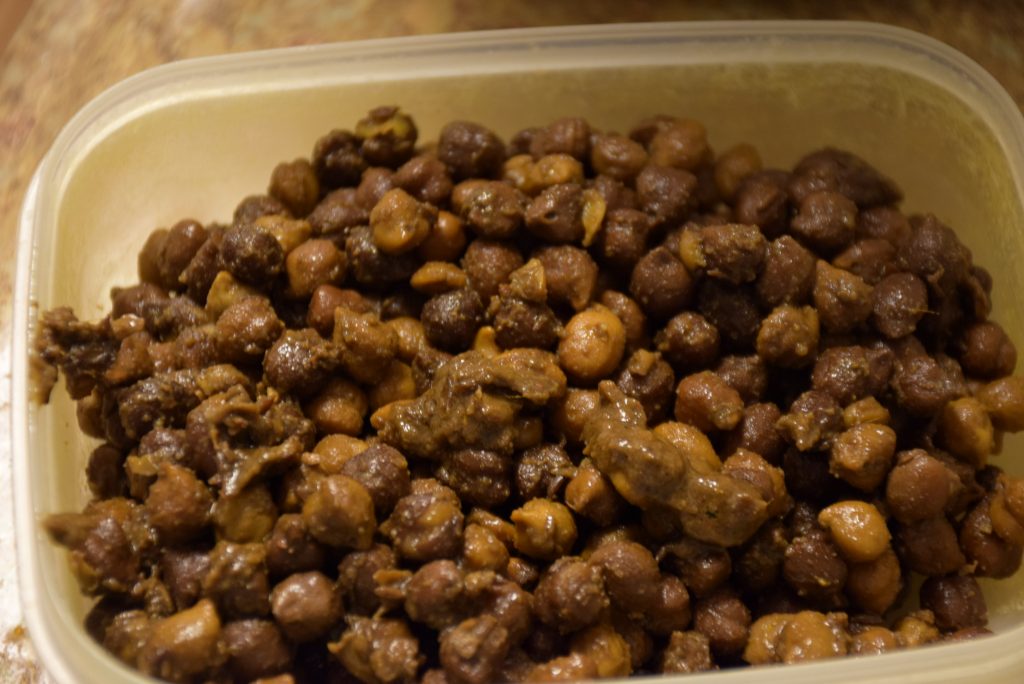 These chickpeas taste good with Poori, paranthas, Suji Halwa. In many temples in India, this is a common prasad being distributed in Devi Maa's shrine.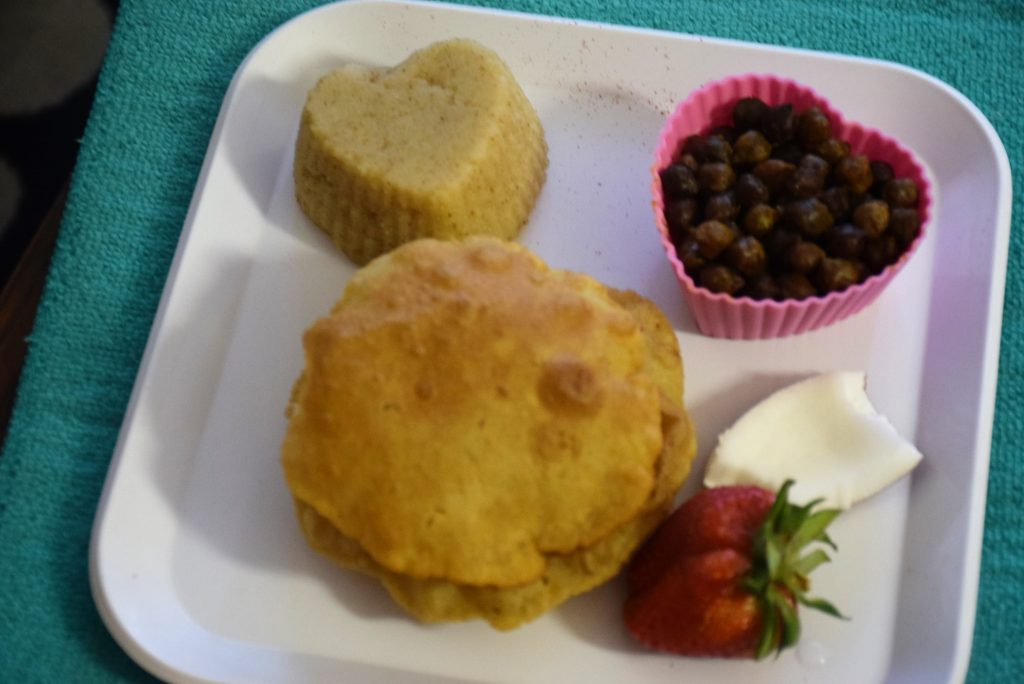 Till then keep cooking…
🙂