Mirchi ke tipore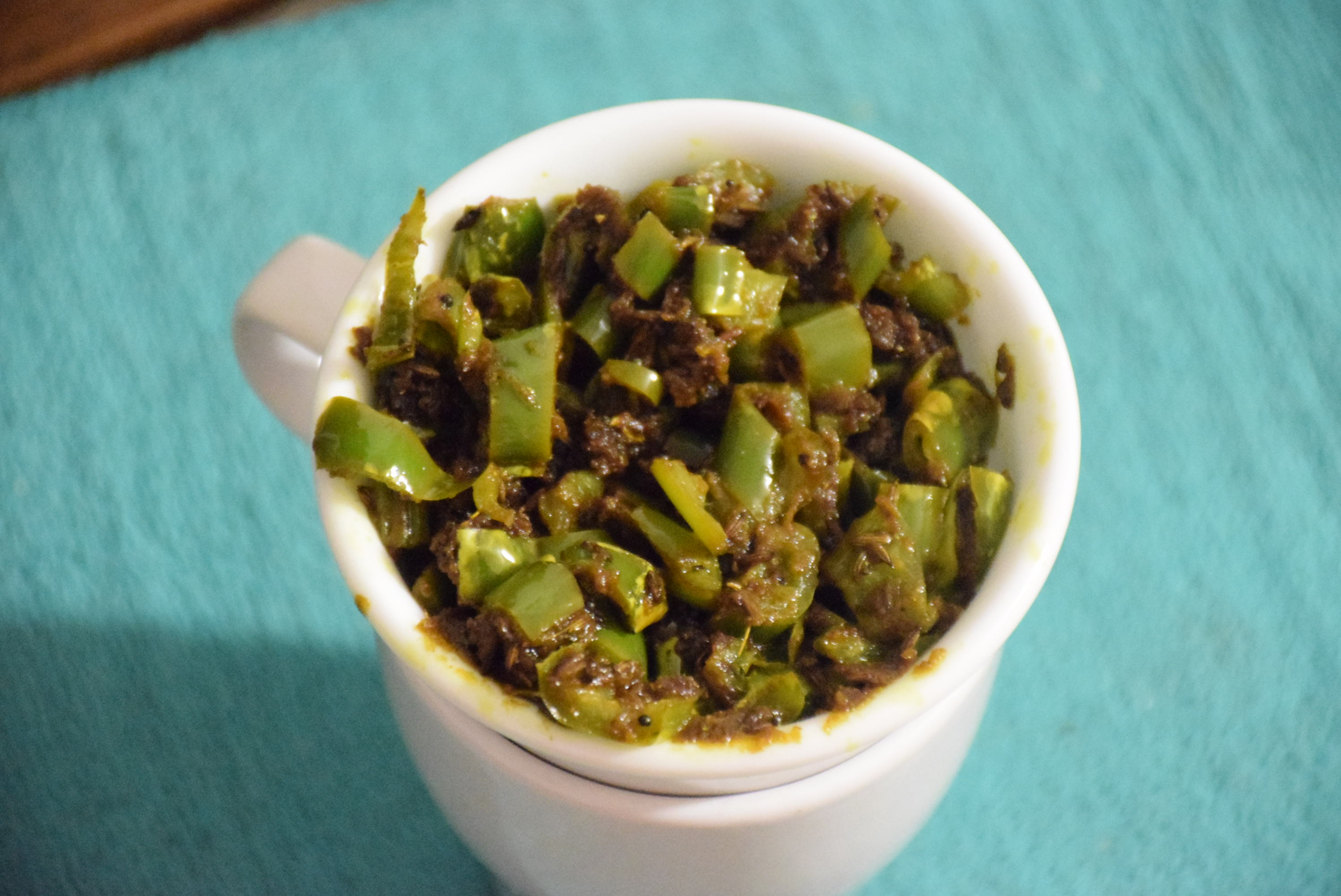 Before the Auspicious Navratri begin in India, lets enjoy some pickles .. 😀 This "Mirchi ke Tipore" or "Tapore" is an easy, handy recipe for making home-made pickle in minutes. All you need is a pair of gloves , chilies and spices.

I first ate it in My Bua's (Aunt) home . After marriage , I visited her for the first time. My Cousin sister Rakshita (Reshu di) prepared this with a lot of food that my Bua offered to us. Since then , I have had it many times at my mom's , at a friend's place. But tried this recipe just last year, owing to my hubby's craving. He rarely eats pickles, but this is his favorite like "sirke ki pyaz".

I am sharing the Rajasthan version of this recipe, if you have prepared it in a different way, I would be happy to learn that too. So bring it on !
INGREDIENTS:
1. Green peppers slit, de-seeded (Hari mirch) – 1/2 lb (or 1 and 1/2 cup)
2. Refined oil (Tael) – 1 tbsp
3. Asafoetida (Hing) – 1/2 tsp
4. Cumin seeds (Jeera) – 1 tsp
5. Mustard seeds (Rai) – 1 tsp
6. Coriander(dhaniya) powder – 1 tsp
7. Fennel seeds (Saunf) – 1 tsp
8. Dried mango powder (Amchur) – 1 tbsp
9. Red Chili (Lal mirch) powder – 1/4 tsp or to taste (optional)
10. Turmeric (haldi) – 1/2 tsp
11. Dry Ginger powder (Soonth) – 1/2 tsp
12. Salt – 2 tsp (or to taste)
13. Water – 2 tbsp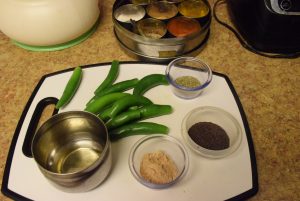 METHOD:
| Preparation time: 15 mins | Cooking time : 5-6 mins | Makes 1 cup of pickle |

1. Wear your kitchen gloves first. Although, your hands might not be sensitive to chilies,but better be safe than sorry. Wash the peppers in cold water,wipe them and remove their stems(danthal). Slit them in halves and scrape them with your knife to remove all the seeds.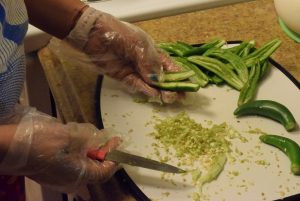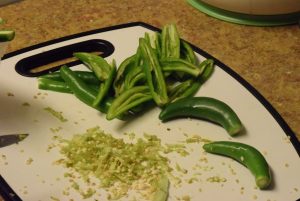 2. Now chop them finely or the size you wish. You may add just slit peppers too ,like I did last time.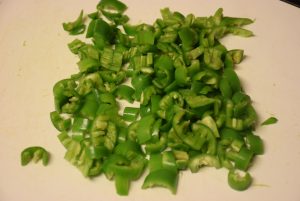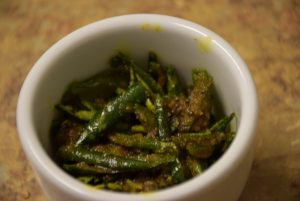 3. Heat oil in a wok (kadhai) or wide pan. Once it is hot , add rai and jeera. Let them sputter. Stir and add hing.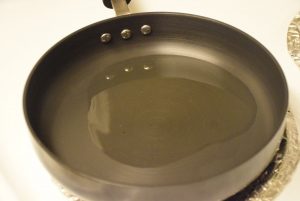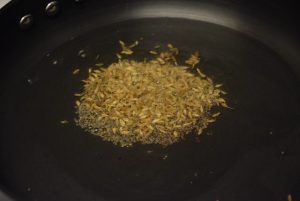 4. Now add the haldi, dhaniya and saunf . Quickly toss the chopped peppers and stir them together.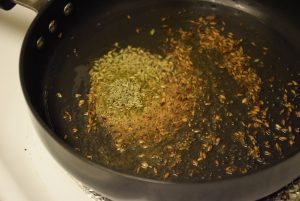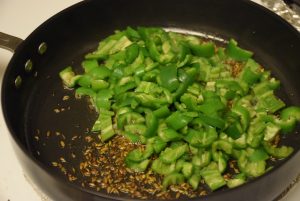 5. Add the amchur powder [or chaat masala or Anardana powder (pomegranate powder)], Lal mirch powder and soonth and mix it well with the chilies. It is this sourness which cuts the hotness of the chilies. So add it generously, don't hesitate. 😉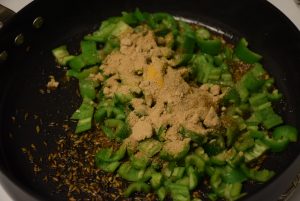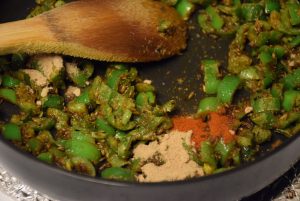 6. In the end Add salt and water and cover the lid. If you don't have amchur, you may add lemon juice now .Let it cook for 3-4 mins or till the water dries up.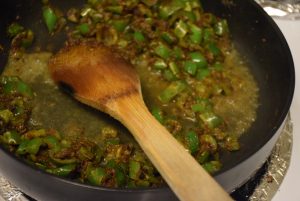 7. Once you see the mixture is dried up and the chilies are cooked ,take them off the heat. Empty them in a container and enjoy ! If you don't wish to add water, you can add more oil in the first step.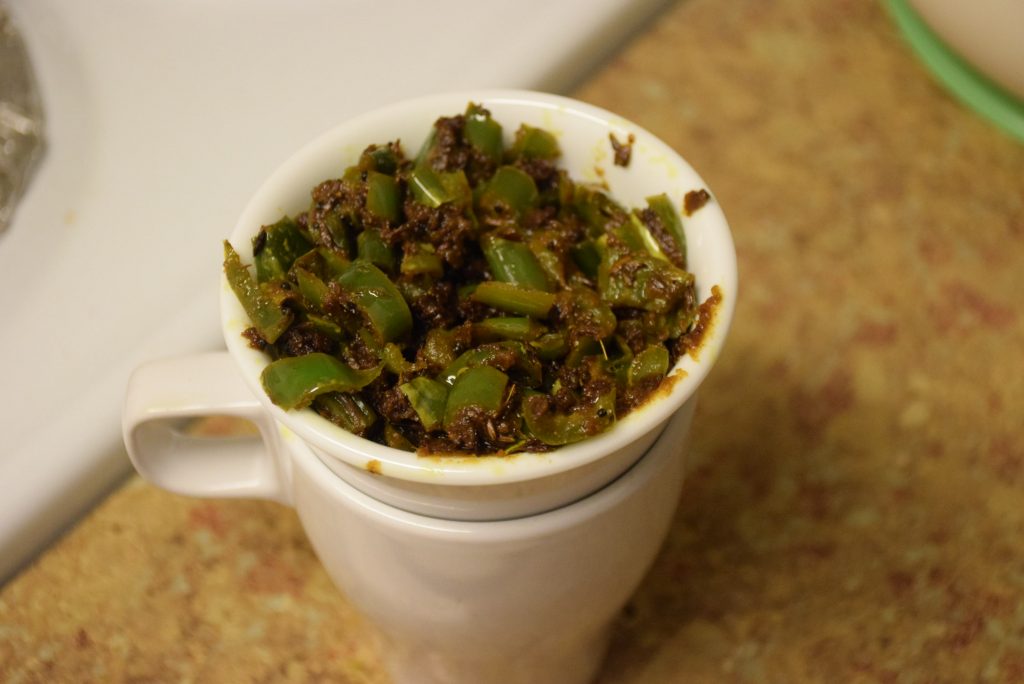 Enjoy them with any lightly spiced gravy or curry or mix them in rice and enjoy the heat !! :p
If you have any similar recipes to share, write to me in the comments below, would love to hear from you !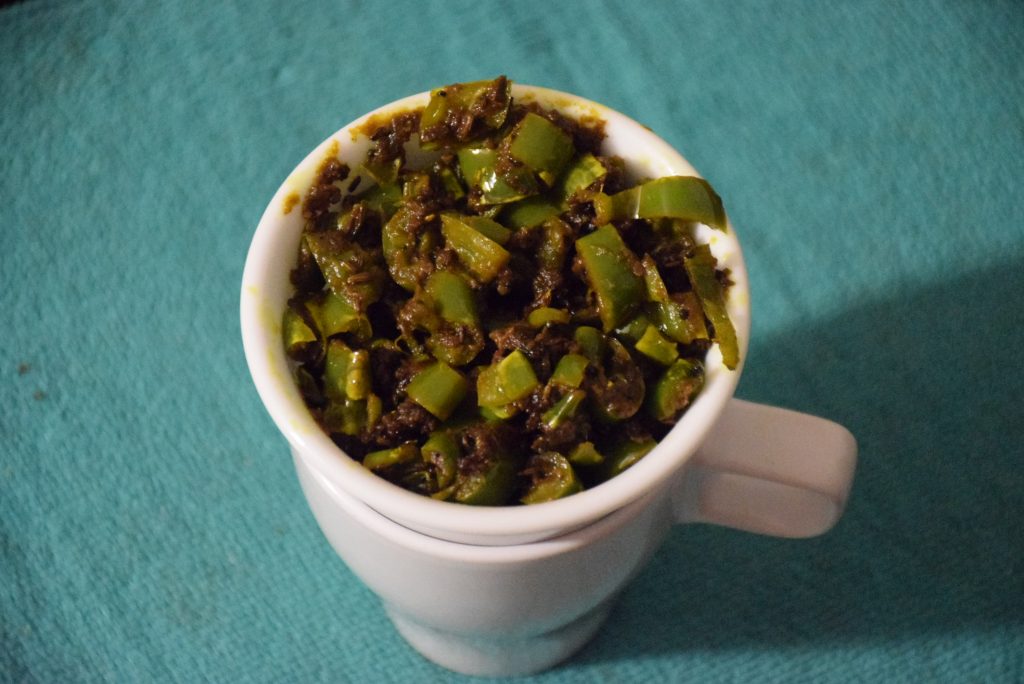 Till then keep cooking ..
🙂