Pina colada sewai kheer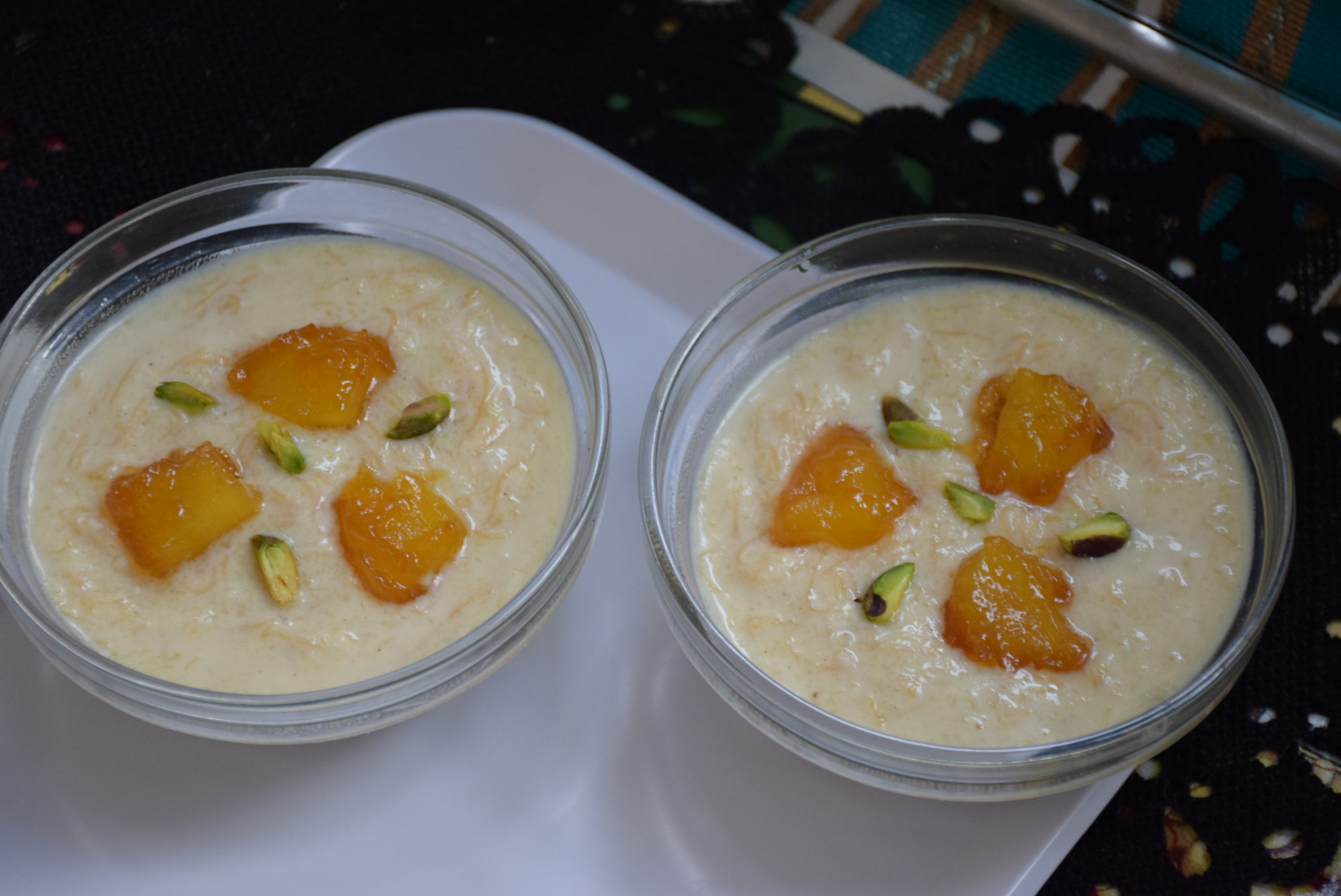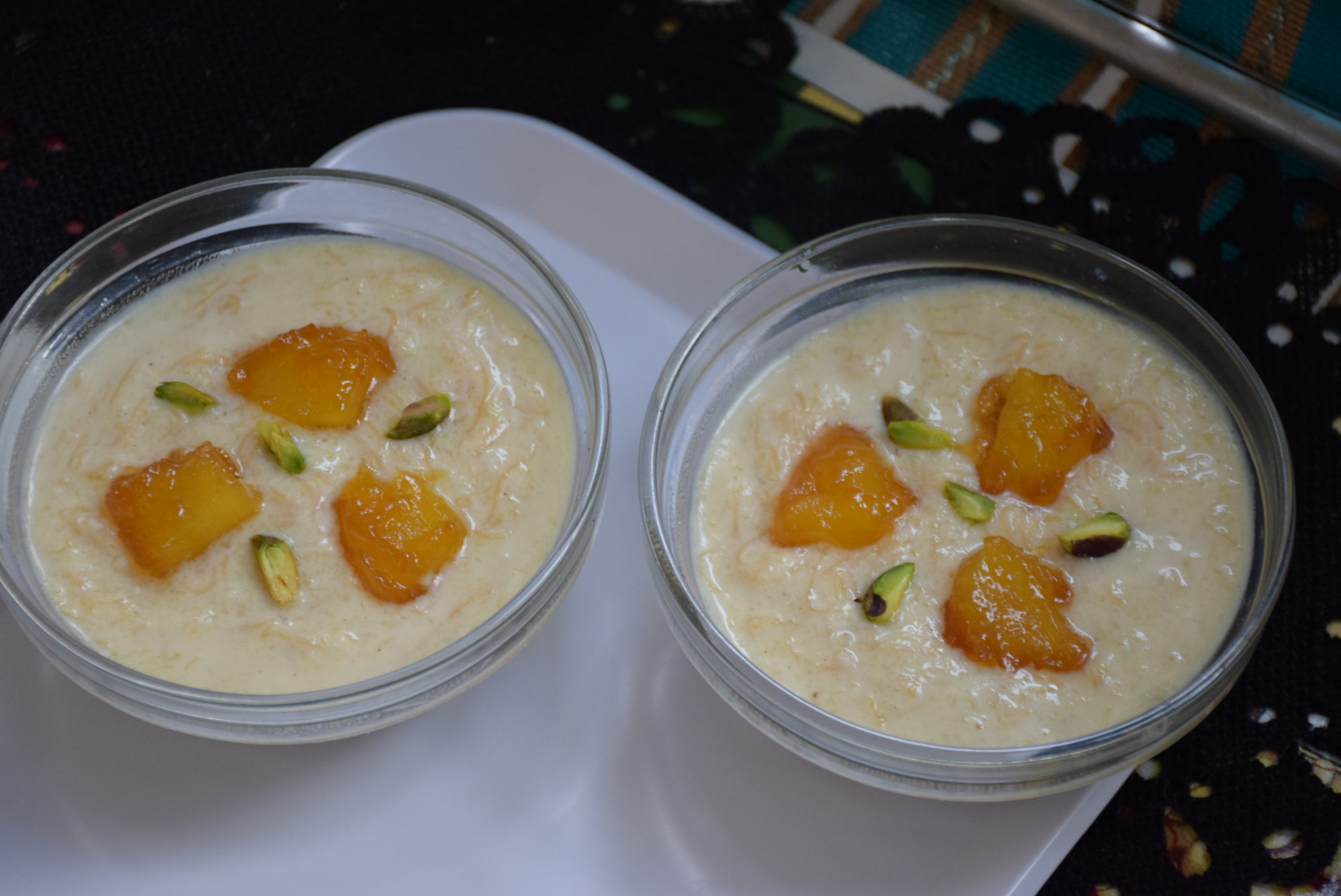 Hello Readers !! This Rakshabandhan (Indian Festival) surprise your family and brother's or sister's family with this twisted kheer. 😉 Rakshabandhan or Rakhi is a festival which is celebrated to strengthen the bond of brother-sister relation by tying a band (rakhi) around brother's arm-wrist by his beloved sister. But sisters could now play with brother's emotions by offering him this kheer and waiting for his reaction , 😀 . See I told you another trick to irritate your BIG bro 😀 .
Nevertheless, this delicacy is sure to add an extra flavor to your regular sewai kheer , and it tastes delicious too. As the name suggests, two additional ingredients are pineapple and coconut. This recipe is inspired from the "Pina Colada " ice-cream which is a spanish term for Pineapple-Coconut. A little extra effort would give you pleasant dessert. You may use canned pineapple too , I have used the fresh ones here. Caramelizing the pineapple is important since, it gives the crunchiness and saves your milk from curdling. So lets go to the detailed recipe now.
INGREDIENTS:
1. Whole milk – 3.5 cups
2. Coconut powder/fresh grated coconut – 1/4 cup
3. Pineapple puree – 1/2 cup
4. Pineapple pieces (Ananas) – 7-8
5. White granulated sugar – 1/2 cup or to taste
6. Cardamom powder (elaichi) – 1 tsp
7. Pistachios sliced (pista) – 2 tbsp
8. Arrowroot powder/ Corn starch – 2 tsp
9. Sewai thin ( Bareek sev)/ Home-made sewai – about 20 strands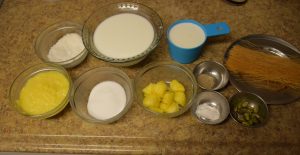 METHOD:
| Preparation time : 5 mins | Cooking time : 10 + 25 mins | Assembling time : 2 mins | Makes 4-5 bowls |

1. In one pan pour the milk and keep it on high flame for boiling. In the meanwhile, cut the pineapple using a pineapple corer. See in the pictures below how easy it is to cut a pineapple without hurting yourself using this corer. It separates the inedible core and the skin so easily. Then puree the pineapple . I pureed 6-8 slices for the half cup.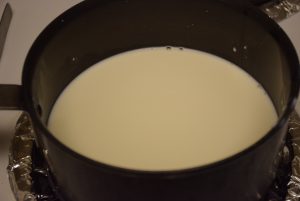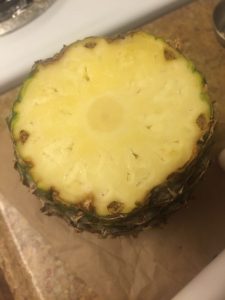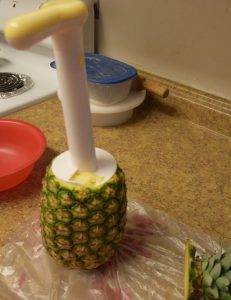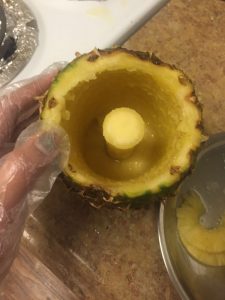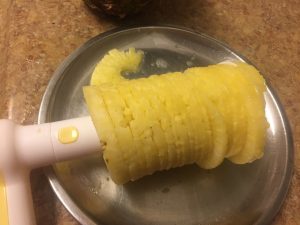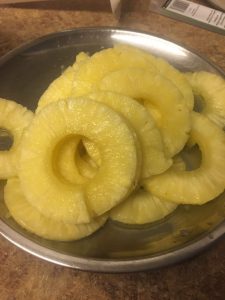 2. In a separate wok(kadhai) or non-stick pan, add the pineapple pieces and sugar on medium heat cook it till it gets thick and hash-browned. Turn the heat to low if starts sticking to the bottom.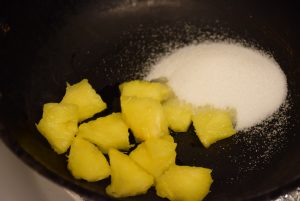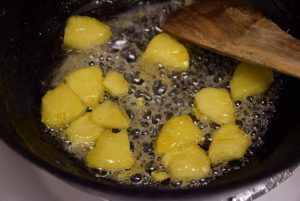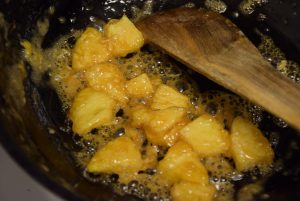 3. As soon as they change color take them out on a greased (well-oiled) parchment paper and leave them to dry or cool down.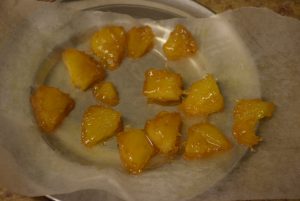 4. In the same wok, now add the pineapple puree and repeat the above process. As soon as it changes color after adding sugar, turn off the heat. Allow it to cool to room temperature.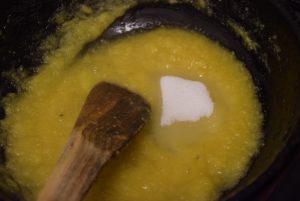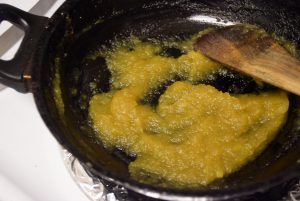 5. The milk would have boiled by now,add the Sewai. Also add the coconut powder now and stir well to keep mixing. Add coconut powder as much or as little as you like. It helps in balancing the tartness of the pineapple in the pudding. Keep stirring till it reduces and thickens to 75% level. When the sewai has softened and puffed up, then turn off the heat or go to step 6. You may also use parboiled rice or sona masoori rice or broken basmati rice in place of sewai. Just it needs more milk and more cooking than the sewai.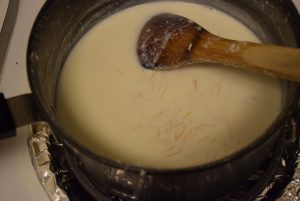 6. Lower the heat and add the milk- cornstarch paste to it. For making this paste ,add 2 tbsp milk to the corn starch or arrowroot powder and stir well at room temperature. Add this paste to the boiling milk and stir well to mix it in the pan. This step is only to thicken the milk fast, if , however you like to reduce it to 50% level on low heat ,you can skip this step.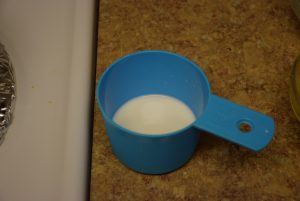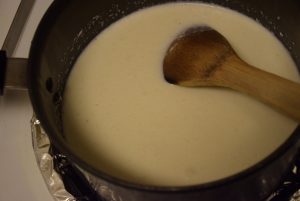 7. Allow the milk to cool on room temperature. Add the cardamom powder and mix well. In the meanwhile , slice the pistachios and keep aside.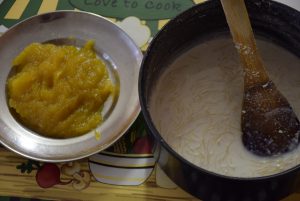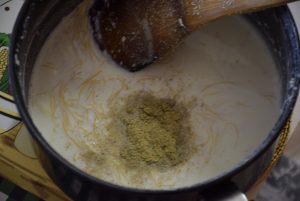 8. Now add the cooled pineapple puree to the cooled milk-mix and stir well. Refrigerate it or serve in the bowls as it is.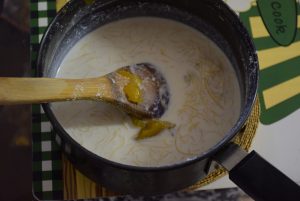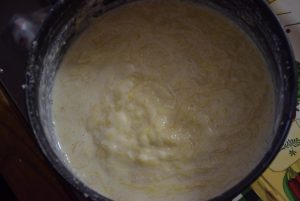 9. Garnish the bowls with pistachios and caramelized pineapple pieces. Serve and enjoy the cool mouth melting crunchy kheer. 😛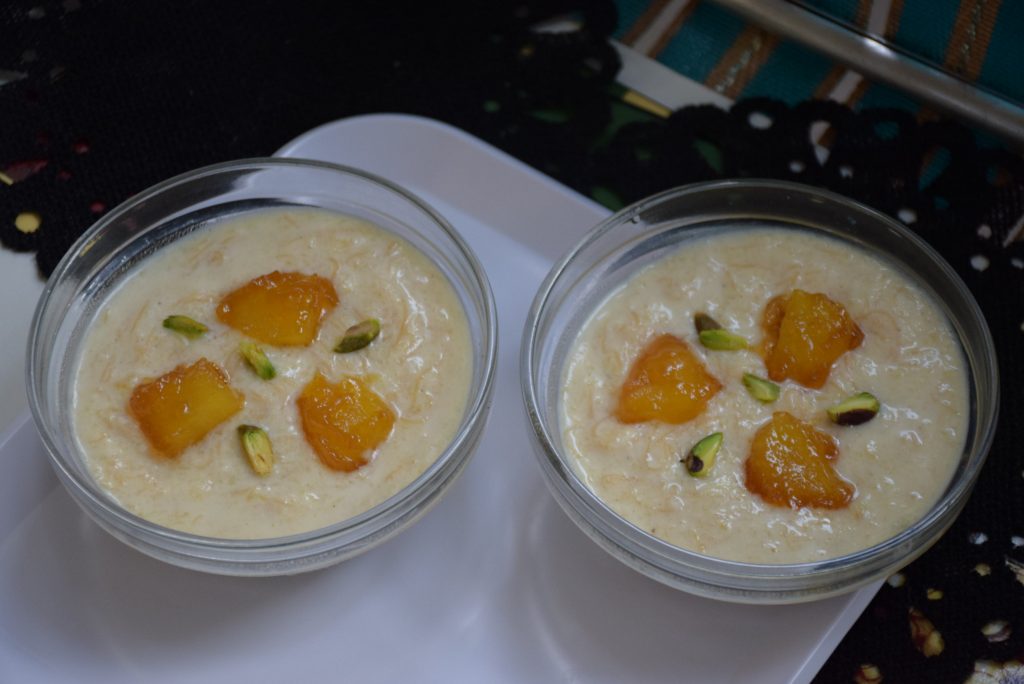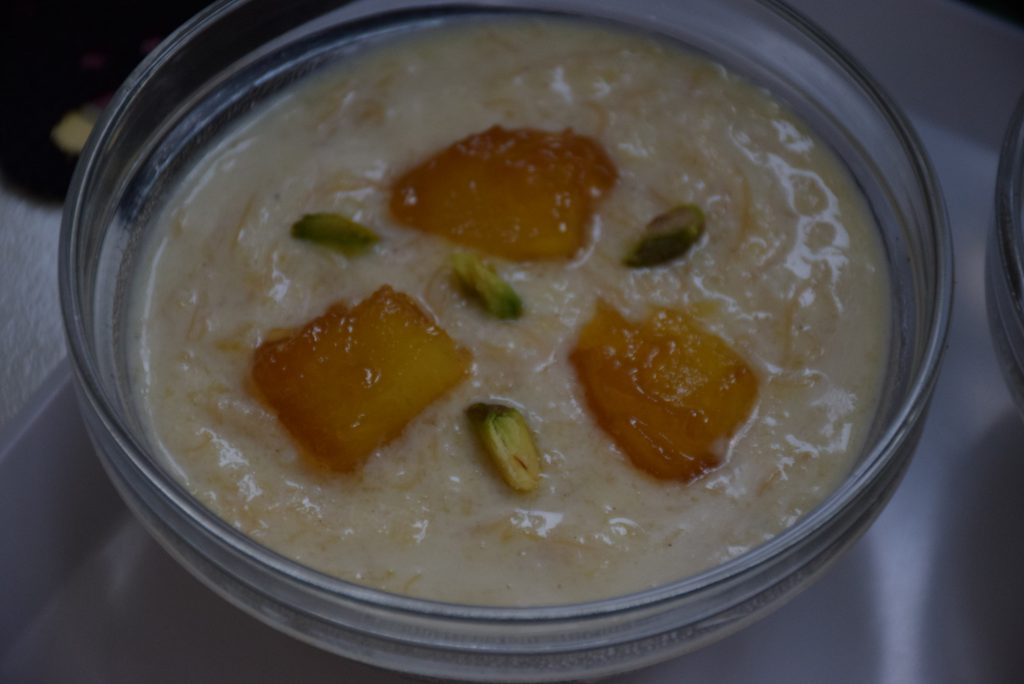 Enjoy this pudding on any festival and add a twist to your fun!! Your suggestions are heartily welcomed. 🙂
Till then keep cooking !!