Pizza Parantha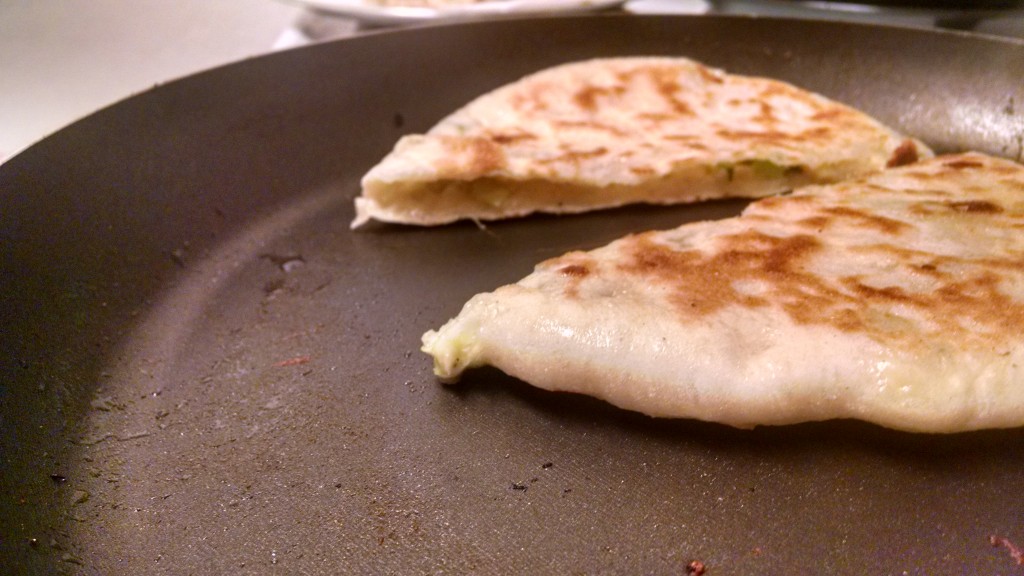 Do your tasting buds crave for Italian pizza but owing to its difficulty level you give up your cravings. No more give ups.This pizza parantha is a fusion

of indian and italian breads and I bet that you and your whole family including children would love these.
Also I discovered that this Parantha can be made with whole wheat too. So I substituted half maida with half atta and the result was still appealing. This way you make sure that your kid is feasting a healthy meal without any compromises. I have added these pics recently for more clarity .

Just remember that yeast is the essential ingredient here,so make sure you get it before starting with this.
Ingredients:
For the Crust:
1. All- purpose Flour (maida) – 1 cup
2. Yeast ( I used Fieschmann's Active dry yeast) – 2 tsp
3. sugar – 1 tsp
4. Water for binding the dough
5. Whole wheat flour (atta) – 1/2 cup (optional)
For the Filling:
1. Mozzarella cheese grated (low moisture preferably)- 1/2 cup
2. Finely chopped capsicum- 1/4 cup
3. Finely chopped cabbage – 1/4 cup
4. Finely chopped spring onions – 1/4 cup
5. Finely chopped baby corns (drained from can) – 4-5 whole pieces
6. Green chillies finely chopped – 1 tsp (optional)
7. Grated ginger – 1 tsp (optional)
8. Salt – 1 tsp or to taste
9. Black pepper – 1/4 tsp or to taste
10. Monterey Jack shredded cheese (dried) -1/2 cup (optional)
Method:
| Preparation time or rising time : 2 hrs or overnight | Cooking time : 5 mins for each | Makes 3 paranthas |

1. Take a paraat or large shallow bowl and add flour in it.

2. Now mix yeast in lukewarm water with sugar.

3. Add this mix into flour slowly to form a soft dough.

4. Don't knead the dough too much.

5. Cover it and store for at least half an hour in warm place. I had kept for 2 hrs.The more the better.

This much dough is sufficient for making 3 paranthas.
6. When your dough has risen double to its volume , then start preparing your filling.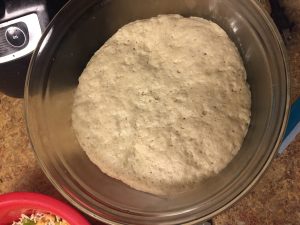 7. Mix all the filling ingredients in a bowl and in the end add cheese,salt and black pepper. Mix them well.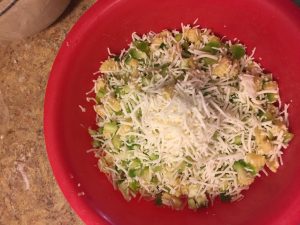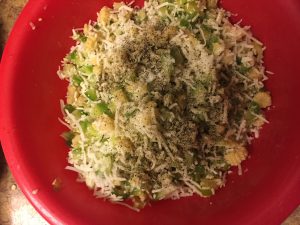 8. Now make 3 equal parts from the dough and make 3 big pedas or rounds from it.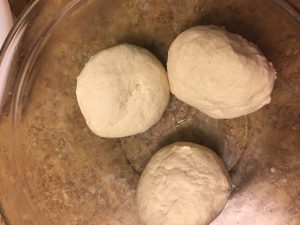 9. Dust the dry flour and pat it on your first peda. Now roll it with a rolling pin(belan) in a circle .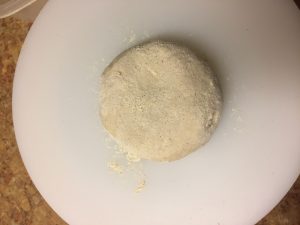 10. Keep the filling almost 2 spoonfuls in the center and picking up all the sides gently close the rolled roti.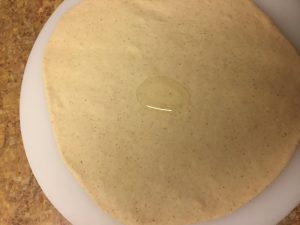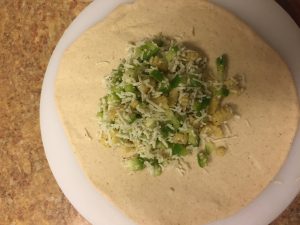 11. Similarly stuff all the other pedas and keep them aside for 10 mins. Meanwhile turn on your stove and heat your griddle(tava).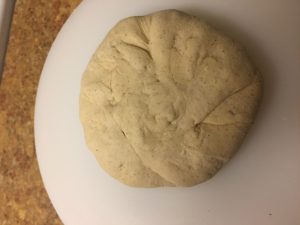 12. Now they will puff up even more, so take the rolling pin and gently roll it into a full circled parantha.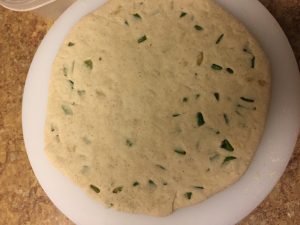 13. Put it on the griddle and let it toast and when small tiny brown spots appear on the bottom,then flip it over and cook the other side.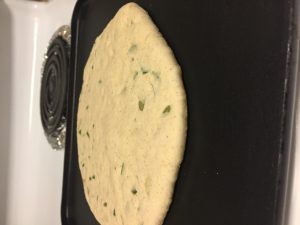 14. When you start seeing the brown spots on the other side too then apply cooking oil or ghee on the top and flip it over.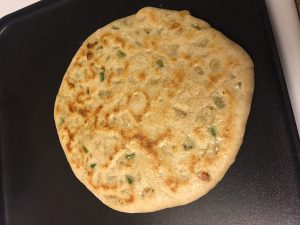 15. Again apply oil on the other side and cook it like any other parantha.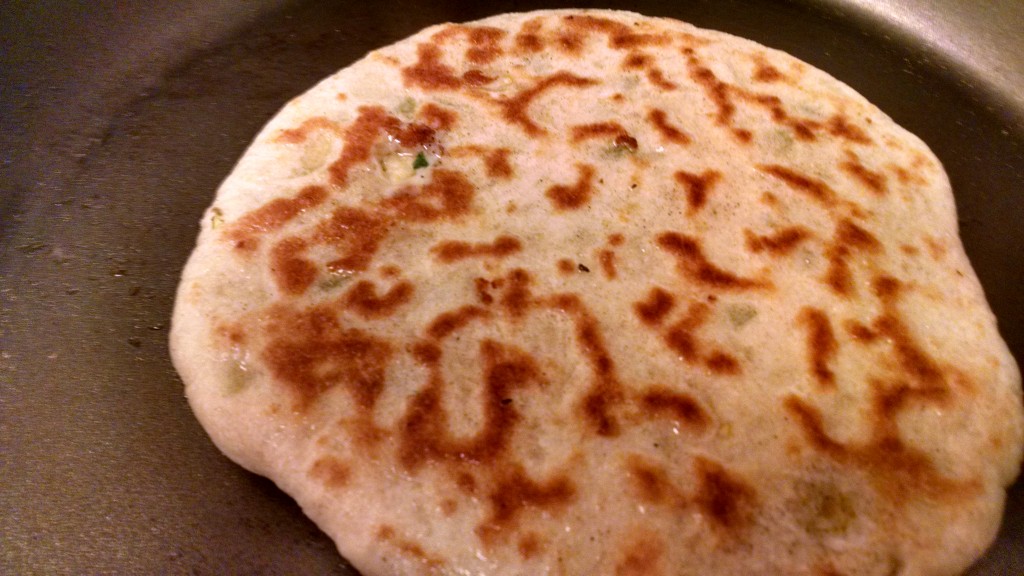 16. It will swell up like a pizza. Once cooked take it off the griddle and cut out four or two pieces out of it.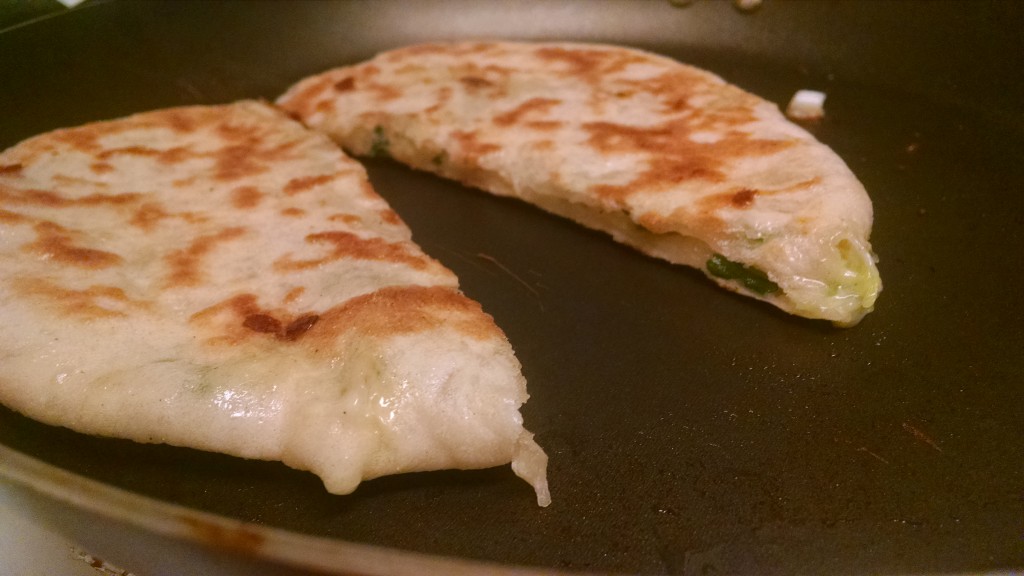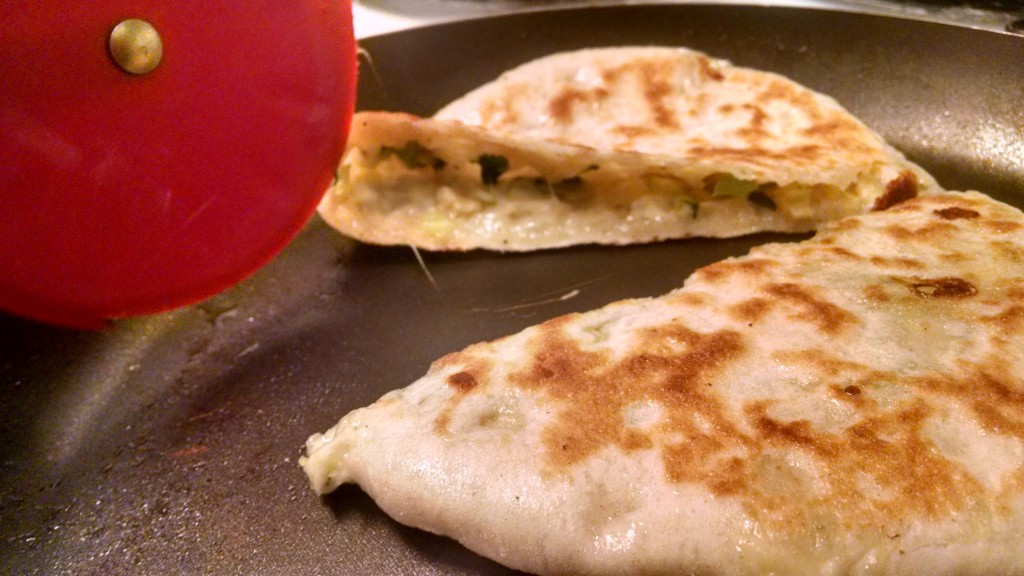 17. The filling is extremely hot since the cheese has melted and retained the temperature.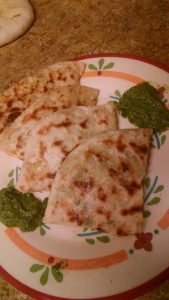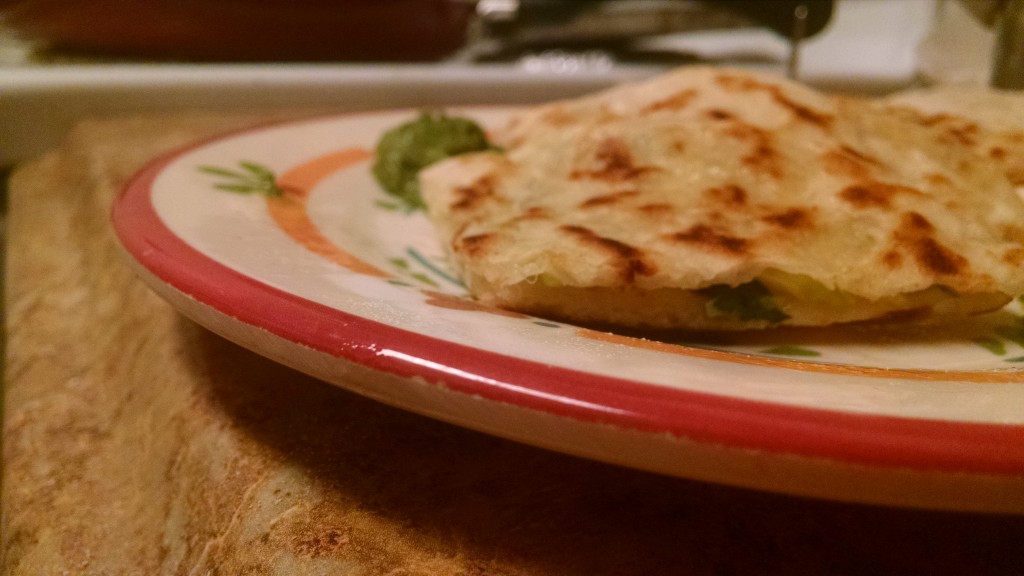 Enjoy your pizza parantha with any home-made chutney,pickle, curd or gravy .
An alternate whole-wheat mixed pizza parantha is shown below ..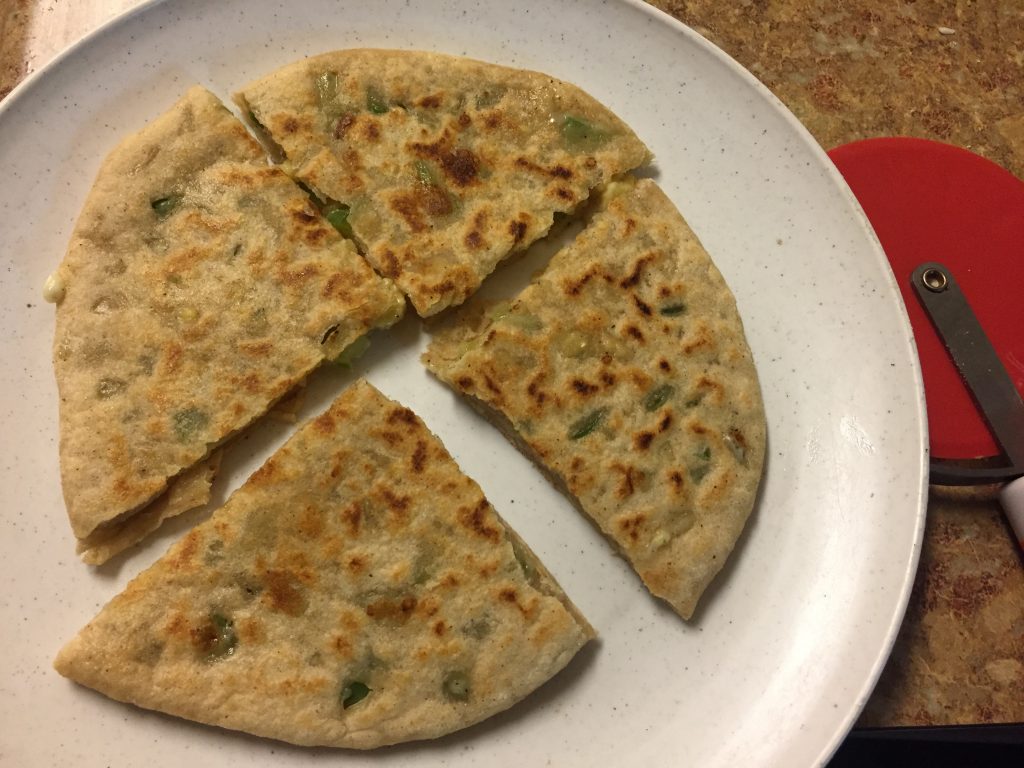 Enjoy this Winter with all the veggies and this Pizza Parantha !! Till then, keep cooking..
🙂