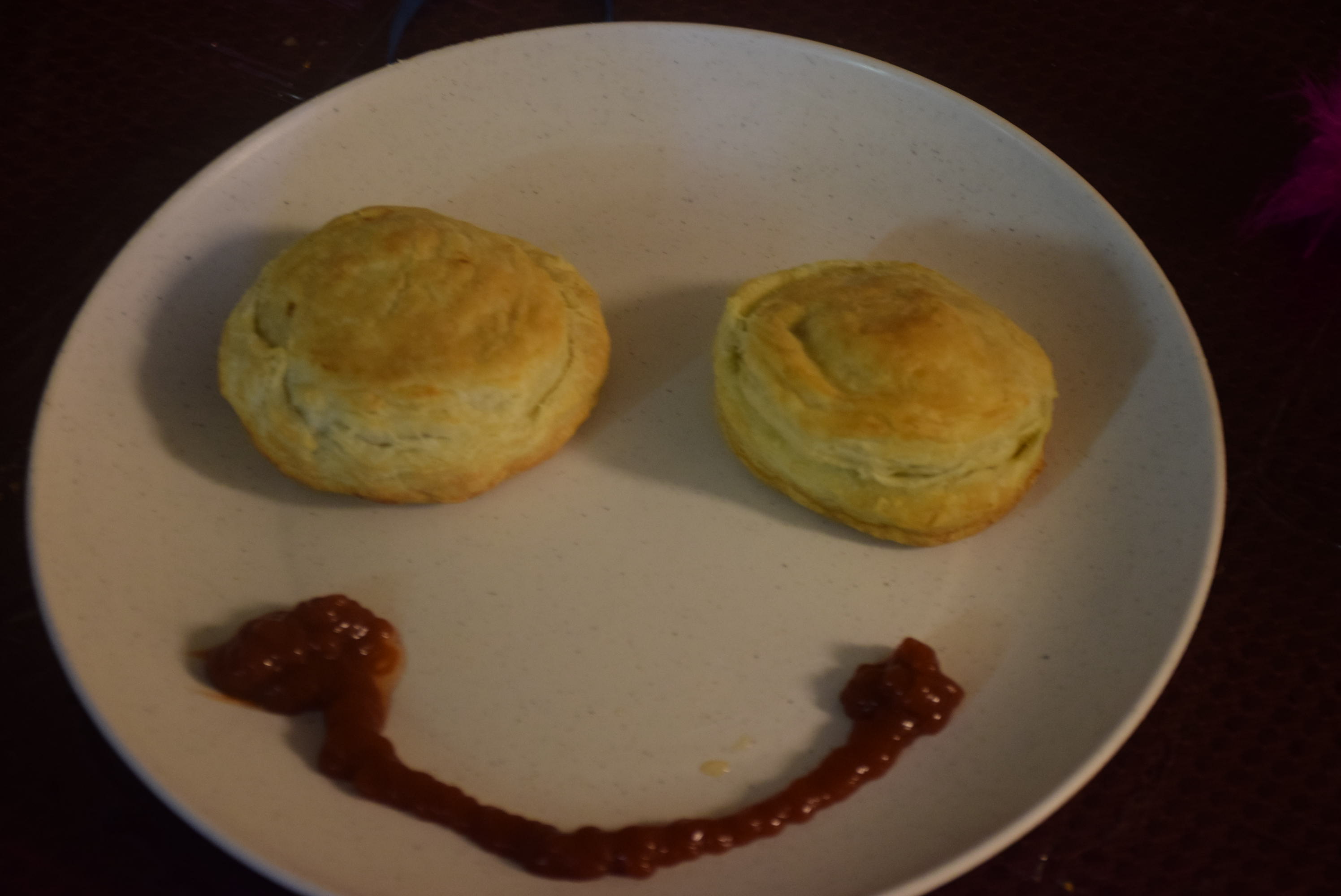 Its raining again in California ! 😀 and in India too ! The Indian taste buds are on a swing again. But I didn't wanted to curb my desire with a store's samosa this time. So thought of a baked kachori. Now imagining its hardness and roughness, further transform my idea to this puffed kachori with "Pepperidge Farms" puff pastry sheets. Recently I learnt , that "Puffs" or "Pettise" are commonly known as "Baked Samosa" in Indore, Madhya Pradesh.
Believe me , these were better in taste than the deep fried kachoris. Though I can't bet on the nutrition scale. Still they are irresistible . Since now , you know the secret lets jump to the recipe.
INGREDIENTS:
1. Pepperidge farms pastry sheets – 1 Whole
2. Dry flour (maida/atta) – 1/4 cup (for dusting)
3. Cooking oil (olive/canola/soybean) – 2 tbsp
4. Cumin seeds (jeera) – 1/2 tsp
5. Mustard seeds (rai)- 1/2 tsp
6. Onions finely chopped (pyaz) – 1/2 cup
7. Potatoes boiled (aloo) – 2 medium sized
8. Indian Cottage cheese (paneer) finely cubed – 1/4 cup
9. Peas frozen or fresh (matar) – 1/4 cup
10. Carrots finely chopped ( gaajar) – 1/4 cup
11. Ginger (adrak) finely grated – 2 tsp
12. Green pepper (hari mirch )finely chopped – 1 tsp
13. Cilantro (hara dhaniya) finely chopped – 2 tbsp
14. Salt (namak) – 1 tsp or to taste
15. Dry mango powder (amchur) – 1/2 tsp
16. Turmeric( haldi) – 1/2 tsp
17. Coriander (dhaniya) powder – 1 tsp
18. Fennel (saunf) powder – 1 tsp
19. Red pepper (lal mirch) powder – 1/4 tsp or to taste
20. Curry (garam masala) powder – 1/4 tsp (optional)
METHOD:
|Preparation time: 25 mins | Baking time : 12- 15 mins | Bakes 7 medium size kachoris |

Preparing the stuffing>>
1. For making these kachoris , first lets prepare the stuffing. You may use any vegetables of your choice in the stuffing , potato being the most common one. You may use any leftover dry sabzi too ;). But allow the stuffing to come to room temperature before starting.

2. I have boiled two potatoes in pressure cooker and allowed them to cool. On cooling , peel the potatoes skin.

3. Chop all the required vegetables and assemble them on the counter. Its advisable to either chop them finely or just grate or blend them. Big pieces are usually disliked in the stuffing.

4. Now heat your wok (kadhai) or non-stick pan. Add oil on high heat .

5. Now add the cumin seeds and mustard seeds. Cover and let them crackle. Once they are done, lower the heat to medium and add all the veggies starting from onions, ginger, carrots and green pepper. Let them cook for 3-4 mins.

6. Add the dry spices viz. turmeric, coriander, fennel, curry powder and salt. Mix them well and then add the boiled potatoes. Mix and turn all the veggies together to blend all the spices together. Add the amchur or chaat masala in the end and then turn off the heat. By this time , the mixture should be yellow in color and all the veggies must be cooked from the center.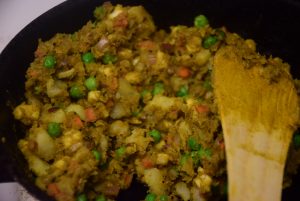 7. Now add the chopped cilantro and toss it well in the mixture. Invert this stuffing in another bowl so that it cools down by the time.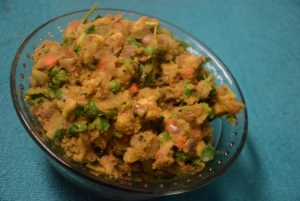 Making Puffs >>
1. Whenever , we plan to make puffs or Kachoris , these puff sheets have to be thawed in advance. I took them out of my freezer and left them on my counter for nearly 1.5 hrs before starting this process. Even when we deep fry Kachoris , we prepare the dough in advance to give it some resting time.
2. Now dust your clean counter with some dry flour. Roll out one sheet both length-wise and breadth-wise such that it softens a little. Preheat the oven to 400 degree F.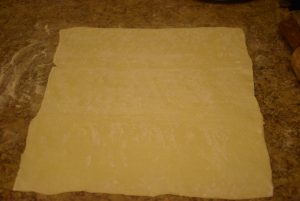 3. For making round shapes , you will need any plastic cutter or cookie cutter or the cap of any jar with sharp edges. I used two different sizes of cookie cutter to cut out two circles for one kachori.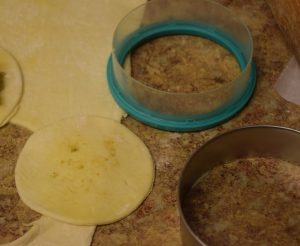 4. I used the bigger circle as the base of kachori. Brush the bigger circle with some oil or butter leaving the circumference of the disc.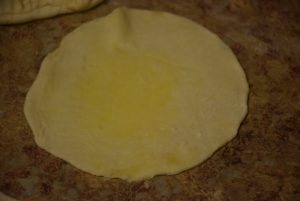 5. Now add a spoonful or 2 spoonful of stuffing in the center.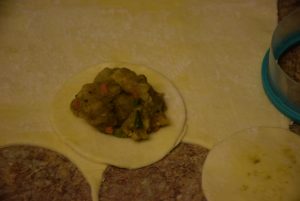 6. Place the smaller one over this filling and try to seal all its sides with hands first.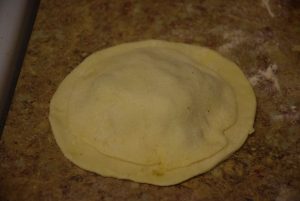 7. Using some water and your fingers start pinching it the same way we do for a chandrakala to seal all the edges beautifully and neatly. Don't be disheartened ,if you didn't get those cute shapes in first trial. Since your puffs would still come out perfectly baked without any spillage. This is the advantage of baking over frying.



8. Use the leftover cutout area of the puff sheets to make another shape like a rectangle or square. Just remember one thing, when you pick the leftover cutouts , stack them first one over the other and then roll them in any desired shape. Since these sheets are made with butter and repetitive stacking , so crumbling them in a pedha (rolled ball) will lead to oozing of the butter from the sides, and you might not get the desired shape while baking .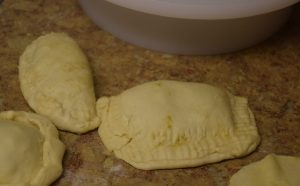 9. I was able to make 5 suryakala shaped kachoris ,one rectangle shaped puff and one gujia shaped. Bake them in a preheated oven at 400 degree F till they turn brown on both sides in the middle rack.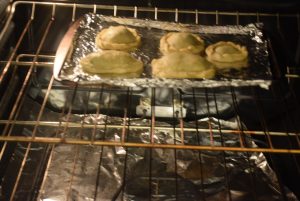 10. Serve it with your favourite dip or ketchup. While eating , please beware the filling is hot, so don't just dig in it but relish it slowly with hot tea or milk .:D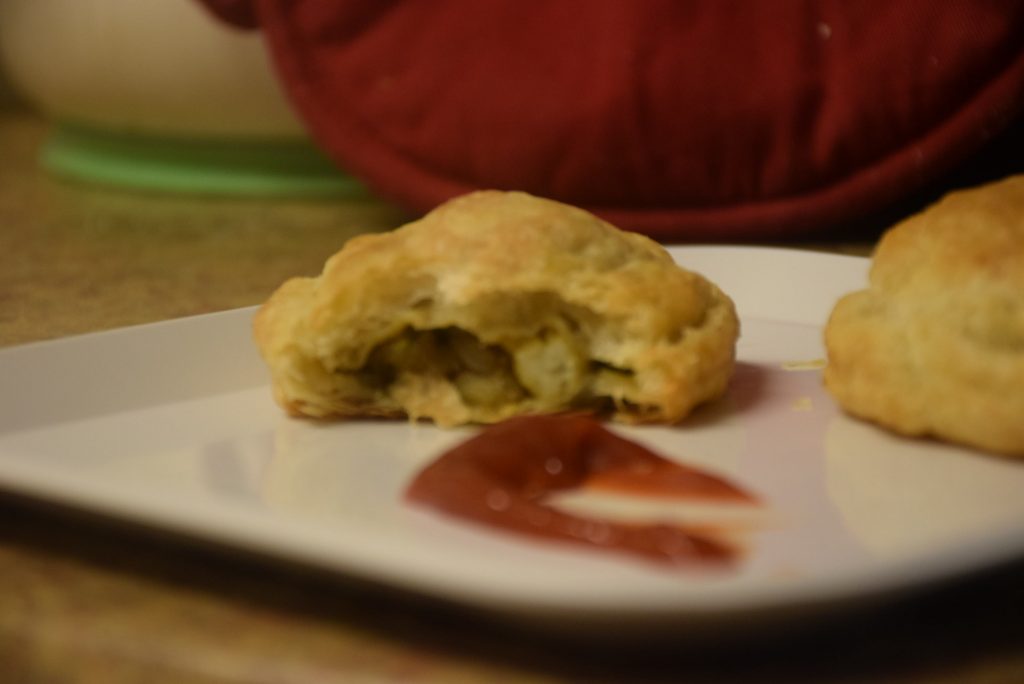 Till then keep cooking…
🙂