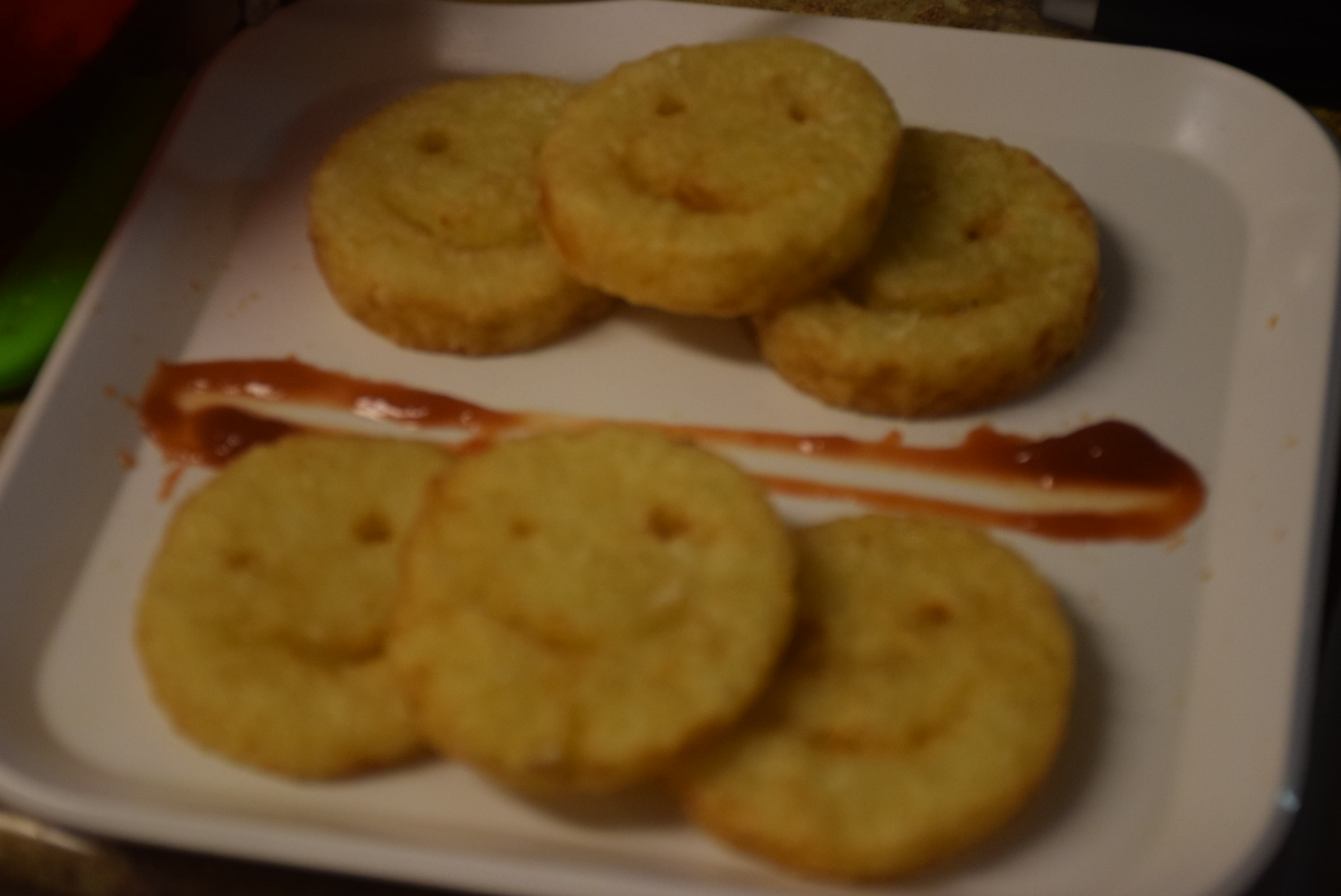 Smileys are the most common kids-favorite snacks. The basic ingredient is omniscient and you guessed it right – Its potato. 😀 .I call them an Indian version of Tater-tots or Hash-Browns. My daughter is a connoisseur of all potato tastings . When I saw her sparkling eyes filled with love for these Smileys, I thought to give them a try.
After enjoying a good hike with family the previous day, we gorged these Smileys and begin our next day. Indeed such little moments are precious . You may however, make these smileys to appease your guests or your kids' friends at a potluck. Following this recipe is a left hand job for any amateur.
INGREDIENTS:
1. Boiled potatoes – 2 large
2. Salt – 1/2 tsp or to taste
3. Corn Starch (not corn flour ) – 1/4 cup
4. Cooking oil – for deep frying
5. Chaat Masala (Indian spice) – 1 tsp or to taste for sprinkling
METHOD:
| Preparation time : 20 mins | Cooking time : 10 mins | Makes approximately 12 smileys|

1. Boil potatoes in a pressure cooker or microwave. Let the pressure release by itself. Then open the cooker and cool them under cool tap water. Peel them and keep aside.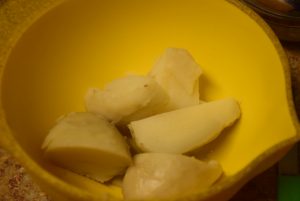 2. Now cut the potatoes in small pieces or grate them with a grater in a big mixing bowl. I instead mashed them later.

3. Add corn starch and salt and mix everything together to bind them in the form of a dough. Add more corn starch if needed to bind the dough. You may skip salt if you are planning to make dough ahead of time. Try adding as little salt as possible so that your dough won't lose its shape and firmness.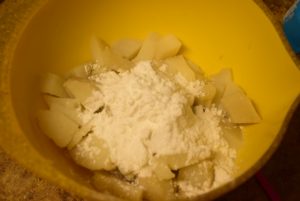 4. For this peculiar shape, all you need is a round cookie cutter or a jar cap , a spoon and a straw. Heat some oil in a wok(kadhai) at high.

5. When the oil is sufficiently hot, drop a tiny bit of dough and check whether it comes up instantly or not. If it comes, and floats and changes color within a minute, the oil is ready. Roll your dough on a wooden board or rolling board (chakla) . Dust your board with some corn starch before beginning to roll.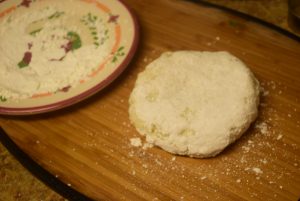 6. Roll the dough 1 inch thick. Now take your cutter and cut out rounds for the faces. Pick up the left out dough portion and bind it again in the form of a pedha (ball).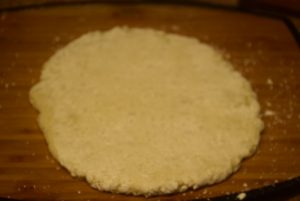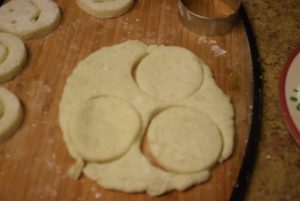 7. Pick the straw, press it in each face at two spots to make the eyes such that it goes through the face on both sides. You will get these cute two holes.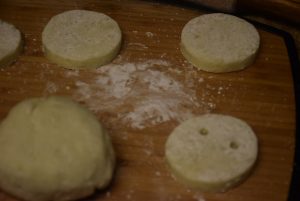 8. Now take a sharp edged spoon and rotate it slightly to form a semicircle mouth like a smile below the eyes on the face. Sometimes it does not cut through to the other side, so turn your smiley and repeat this step at the same spot to get a perfect smile on the face. 😉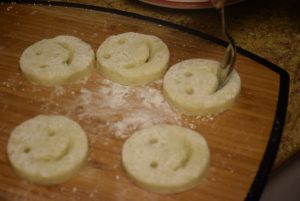 9. Similarly make all the smileys . Deep fry them in hot oil. Drop them carefully and turn them after a minute to fry on both sides. Alternate their sides while frying to ensure even cooking and take them out once you see the change in color. I like them slightly browned, but if you like them just yellowish you may take them out on a paper towel lined plate with a slotted spoon (poni).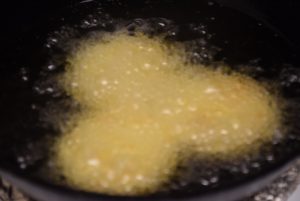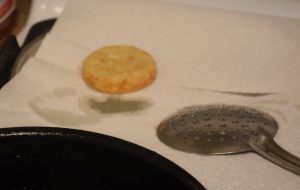 10. Serve them in a plate. Sprinkle some Chaat masala or serve with tomato ketchup. I bet your kids and family would love them and crave for more.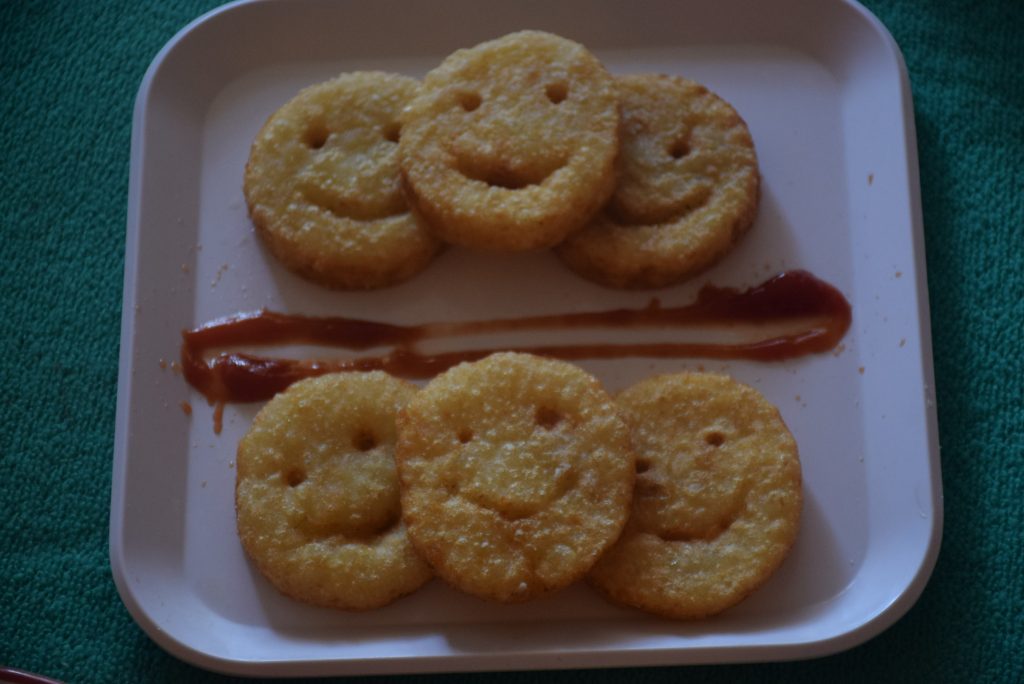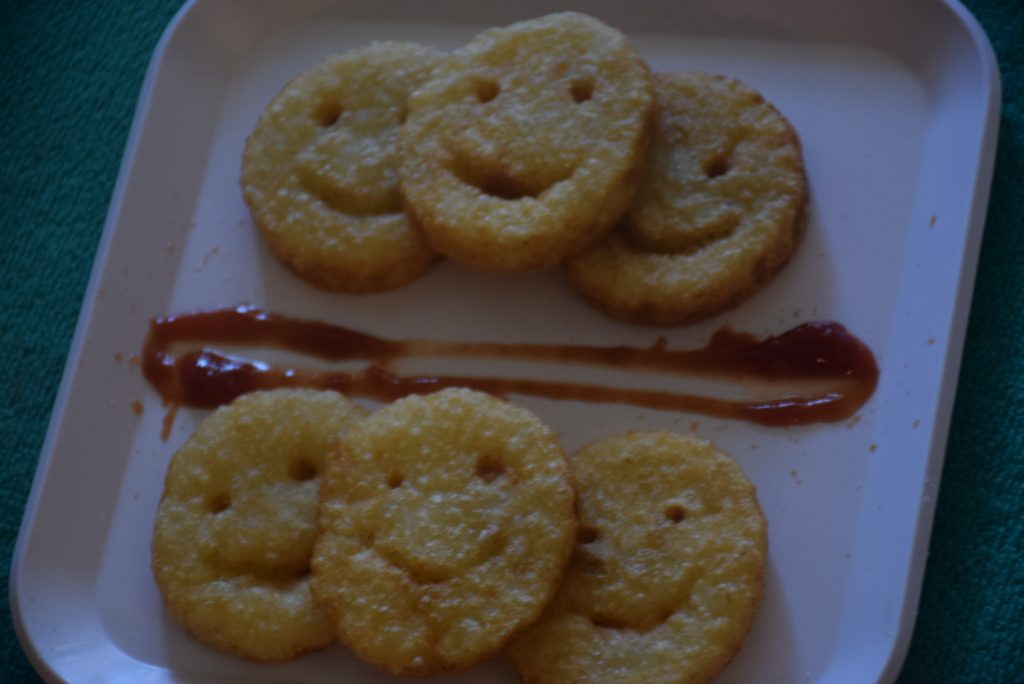 These are a big hit in birthday parties ! So make sure to make them in abundance . 😀
Till then keep cooking …
🙂