Tater Tots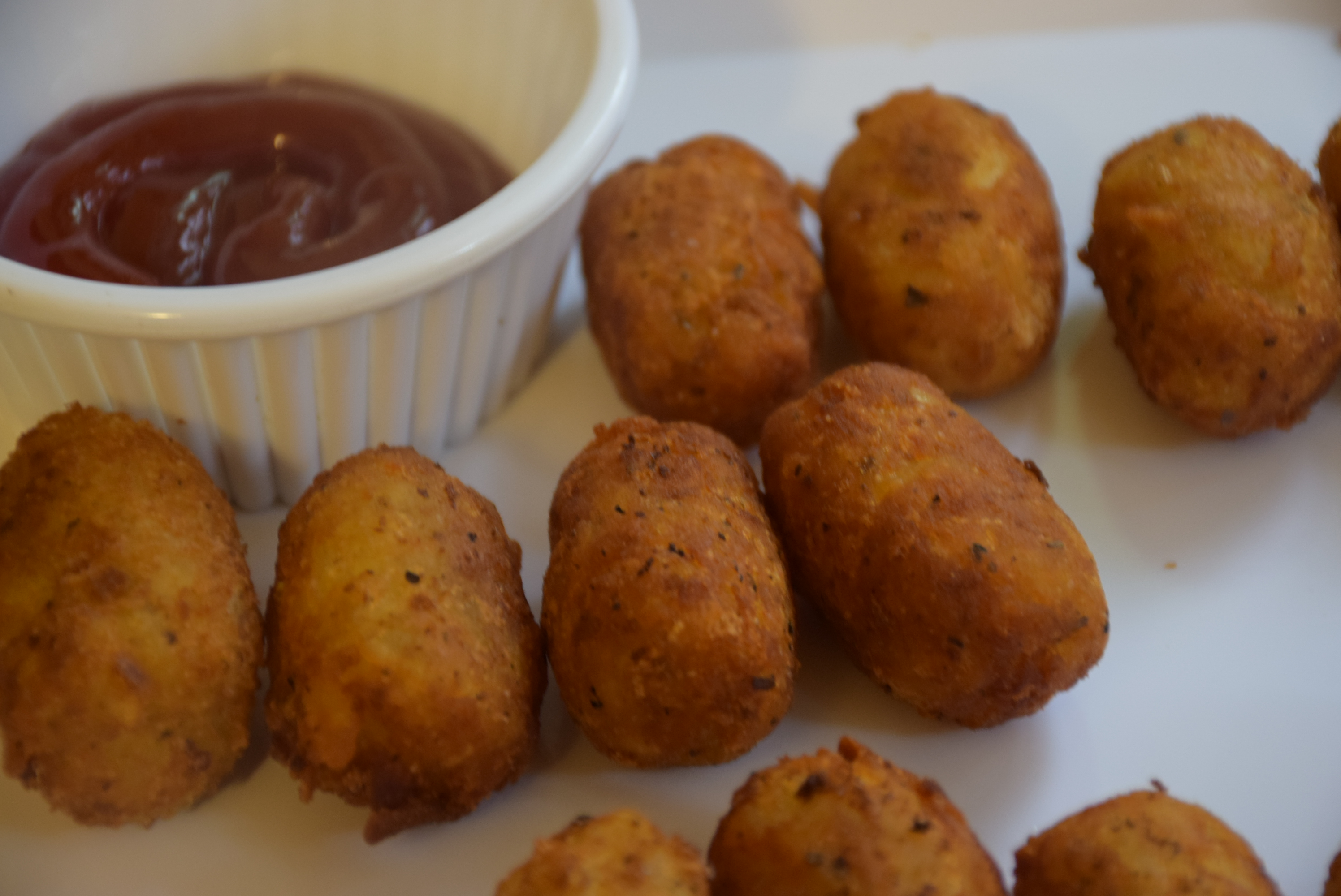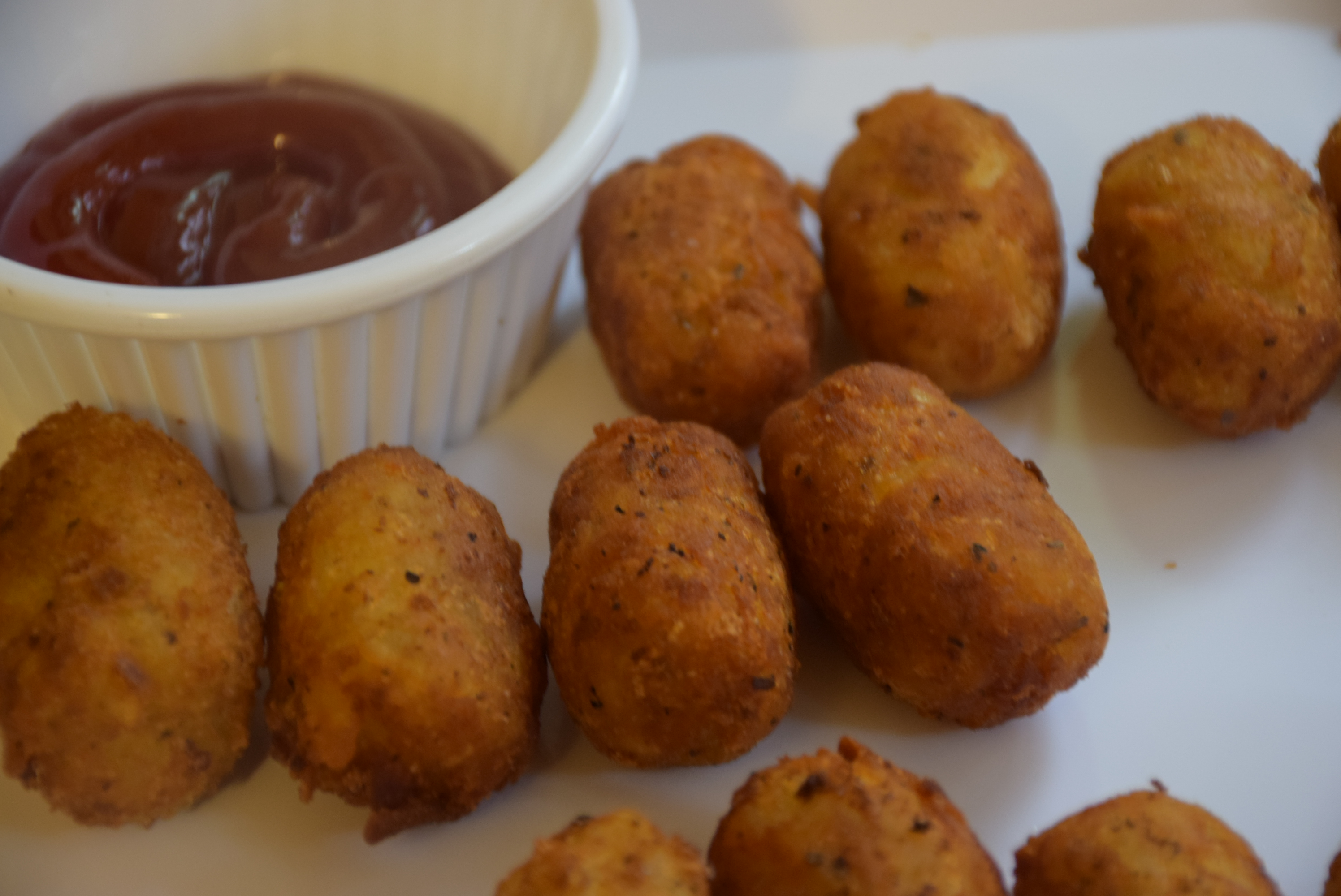 For all the potato-lovers, this recipe is for you . Tater -tots are par-boiled potatoes shaped in tots and deep-fried in oil. These stay crunchy for nearly 4 hrs after frying.

Also you may customize them to make for your fasts during Navratri. 😉

Believe me, after making them at home, you would stop buying the frozen Tater tots from market anymore. 🙂
Ingredients:
1. Potatoes peeled and chunked – 4 medium
2. Salt – 1/2 tsp
3. Dried Oregano powder – 1/4 tsp
4. Garlic powder – 1/4 tsp (optional)
5. Onion powder – 1/4 tsp (optional)
6. Black pepper powder – 2 pinch
7. Bread crumbs powder – 2 tbsp (optional)
8. Cooking oil – 1 cup or more (deep-frying)
Method:
1. Take a pan and add 2 cups water to it. Add a pinch of salt and the potatoes cut in big chunks or just quartered or halved.

2. Bring the water to a boil and turn off the heat. Drain the water and wash the potatoes in cold water.

3. When you touch the potatoes you would feel they are raw from inside and difficult to cut through with fingers. This is perfect for this recipe.

4. Now grate the cooled potatoes using a shredder or a food -processor.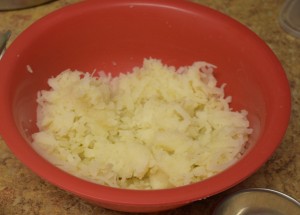 5. Squeeze out the water if left by any chance from the grated potatoes.Add all the above spices and mix them well.The dough thus formed is dried and moisture-free.

6. In a wok heat some cooking oil. When the oil is sufficiently hot, start shaping the dough in small tots and roll them in a bed of powdered bread crumbs. If you don't like to roll in bread -crumbs you may skip this step.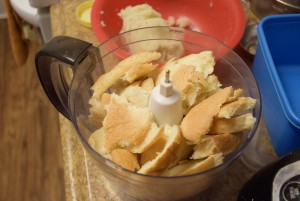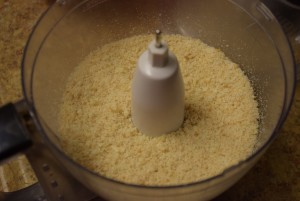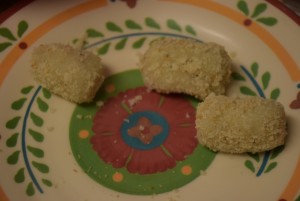 7. Now slowly drop in the tots in the hot oil and deep fry them ,turning occasionally.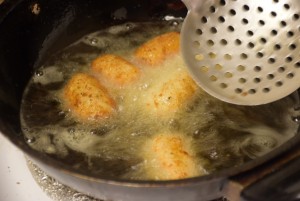 8. At a time I fried 4-5 tots and it took 8-10 mins to fry them evenly till they get the brown crunchy texture.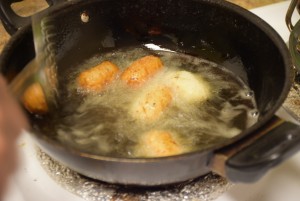 9. Take them out on a paper-towel lined plate with a slotted spoon draining the excess oil.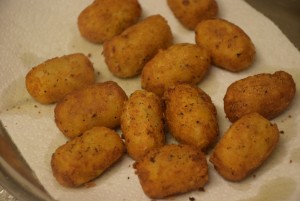 10. The dough if left, could be frozen in zip-lock bags for future use.
P.S. : The dough made from par-boiled potatoes is binding enough to get the perfect crunchy taste. So even without rolling in a bread flour or semolina you will get the crispy outer texture. However, if they get soggy after a few minutes, it means that they were boiled fully and not partially.
Serve with green chutney or tomato ketchup and enjoy !!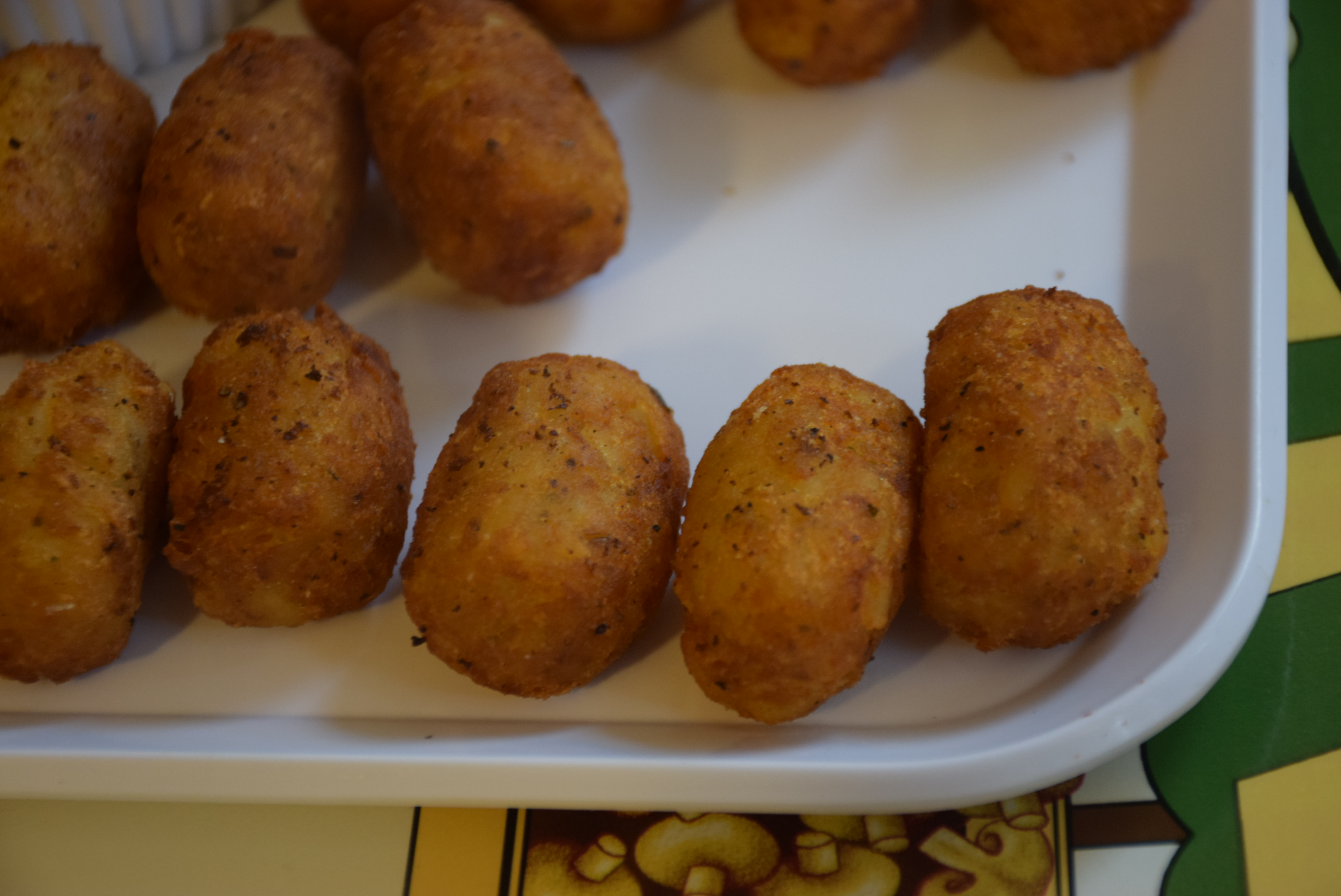 Please feel free to ask or suggest !! Till then Happy Navratri and Happy cooking !! 😀