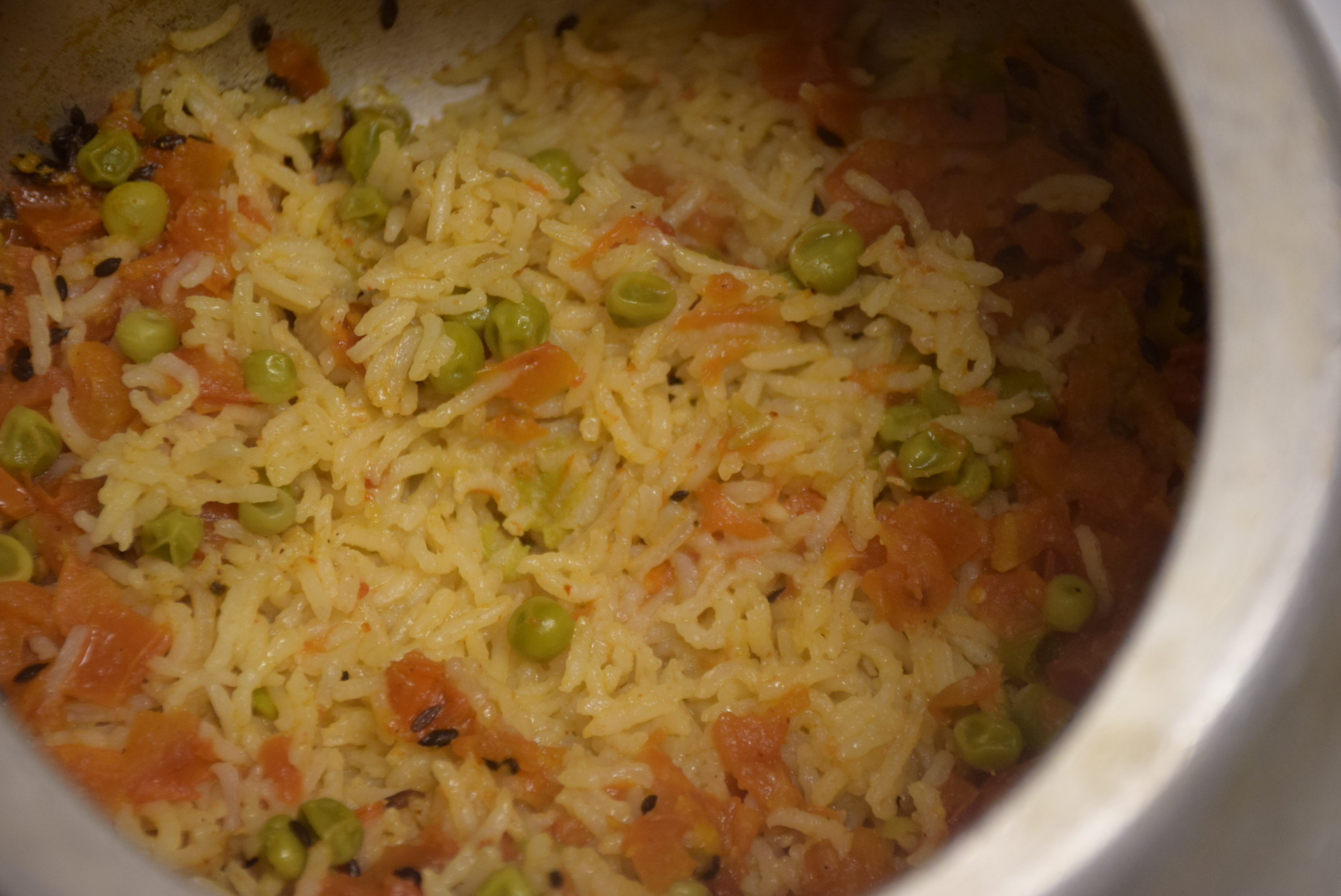 Tomato Peas Pulav or Taahri (as called in U.P.) is the easiest option for the lunch of two at any time. For a lazy winter afternoon or when u return home tired after a round of shopping, this recipe comes handy then. Since my childhood I always dream of making the perfect rice in pressure cooker which has long grains, fresh aromatic smell , separate and fully cooked each grain. I have tried several times and then I come up with this recipe which does not make a cluster of cooked rice or sticky rice .

We sisters, were very fond of making pulao and having it with Mint dip, yogurt or pickle. So in this fondness, we learnt the right recipe for making it in a jiffy. Also if you are adding more veggies, then the water content is also increased a little bit. For example if you are adding 1 onion , 1 potato, 1 carrot, 5-6 cauliflower florets to this recipe, then add one-fourth cup of more water. The water layer should be just more than the rice and vegetables layer at any time and with any amount. Such that they are just covered with water. If the water is too less, they might stick at the bottom and get burnt and if it is too much they become soggy and sticky .


So let's jump to the recipe now.. For more questions write to me in the comments below ..
INGREDIENTS:
1. Whole Basmati Long Grain Soaked Rice – 1 cup
2. Frozen petite peas or fresh peas washed – 3 tbsp
3. Tomatoes finely chopped – 1/4 cup
4. Green chillies finely chopped – 2
5. Water – 1.5 cups ( i.e. 1.5 times the rice in winter and 2 times in hot summer)
6. salt – 1 tsp or to taste
7. Coriander powder (dhania powder) – 1/2 tsp
8. Fennel powder (saunf powder) – 1/2 tsp
9. Red chilly powder (Lal mirch)- 1/4 tsp
10. Curry powder (Garam masala)- 1/4 tsp
11. Cumin seeds (jeera) – 1/2 tsp
12. Asafoetida (Hing)- a pinch
13. Cooking oil – 1 tbsp
METHOD:
| Preparation time : 10 mins | Soaking time : 15-20 mins | Cooking time : 5 mins | Serves 2 to 3 persons at a time|

1. Take rice in a large flat plate (thali) and separate the dirt , stones, or pests if any by throwing them in a bowl of water. Now wash and rinse it 2 to 3 times in water to separate any minute dirt if left.
2. Soak it for 15-20 mins in the same bowl in the measured water and cover it. While adding water be conscious, less water would burn the bottom rice and more water will make them sticky lumpy. Also it is always good to read the water level prescribed for your pressure cooker and for rice in their respective manuals.
P.S. : You may soak them for as long as 1 hr too. The more the time of soaking the less time is taken in cooking and the grains are long and thin.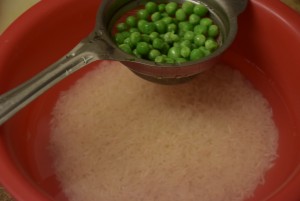 3. In the meanwhile , wash the peas , chop the tomatoes and chillies. You may add onion,ginger,garlic too if you like. But I wanted a quick recipe ,so skipped it. I like the tartness of the tomatoes and hence couldn't skip them in any dish. Also the combination of peas and tomato brings a good sweet-sour taste to this Pulao.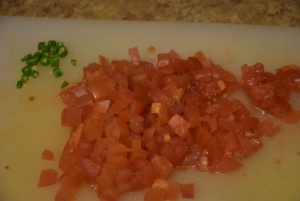 4. Now heat oil in a cooker ,add jeera and hing in it. Let it sizzle.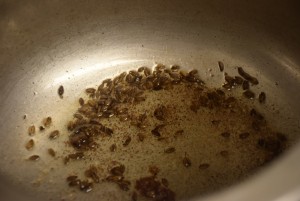 5. Next add in the tomatoes ,peas and rice. Add the spices and salt.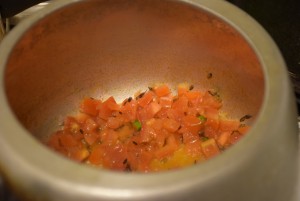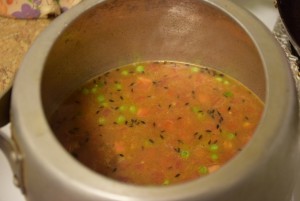 6. Close the lid of the cooker and let it whistle on high for once. After one whistle simmer the heat to less than medium (no.2 on my range) and let it whistle again on the same.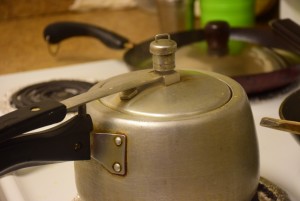 7. Turn off the heat after the 2 whistles and let it release the pressure for 5 mins.

8. Now open the lid and aromatic yummy pulao is ready to gorge. 😀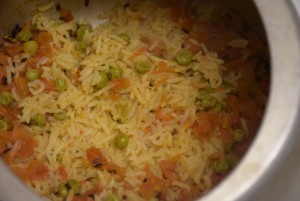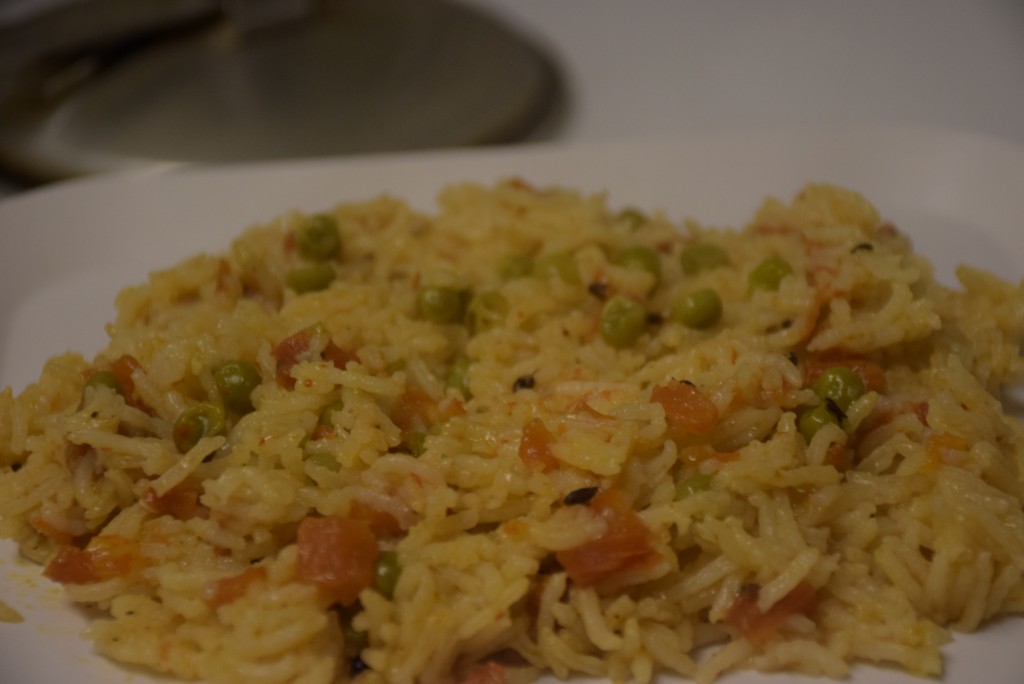 Last but not least always remember one thing, while following any recipe , believe in each and every word written .Because it is your belief which will make the dish perfect and yummy , not the recipe. 🙂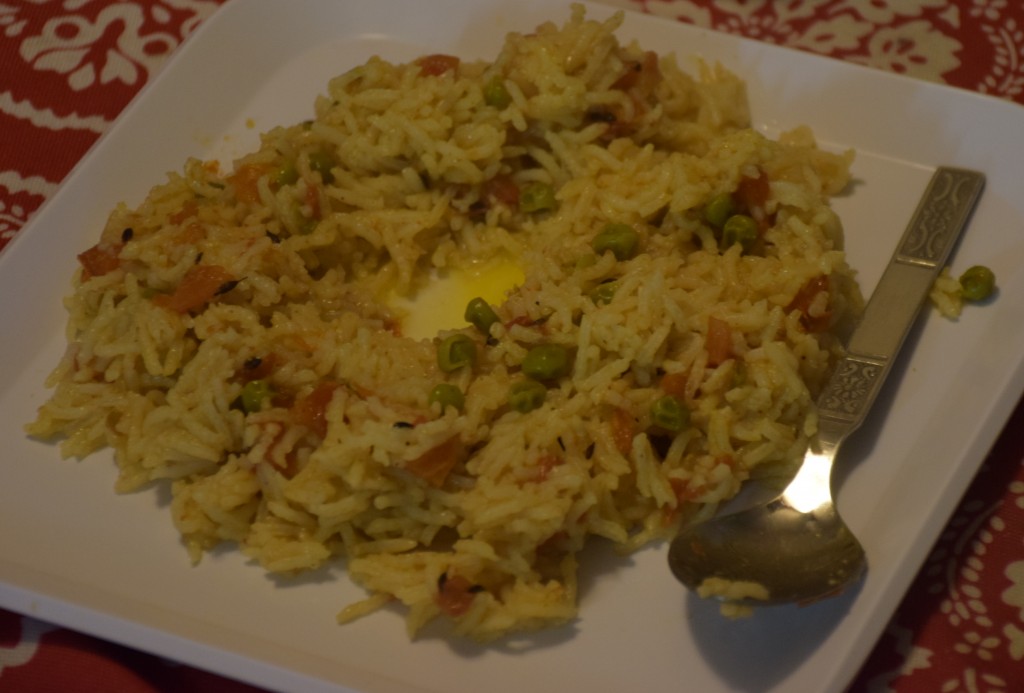 P.S : The rice has absorbed some redness of tomatoes , hence this color. If you like them plain white, skip the tomatoes.
Enjoy !! Please feel free to raise questions or suggest in the comments below!!