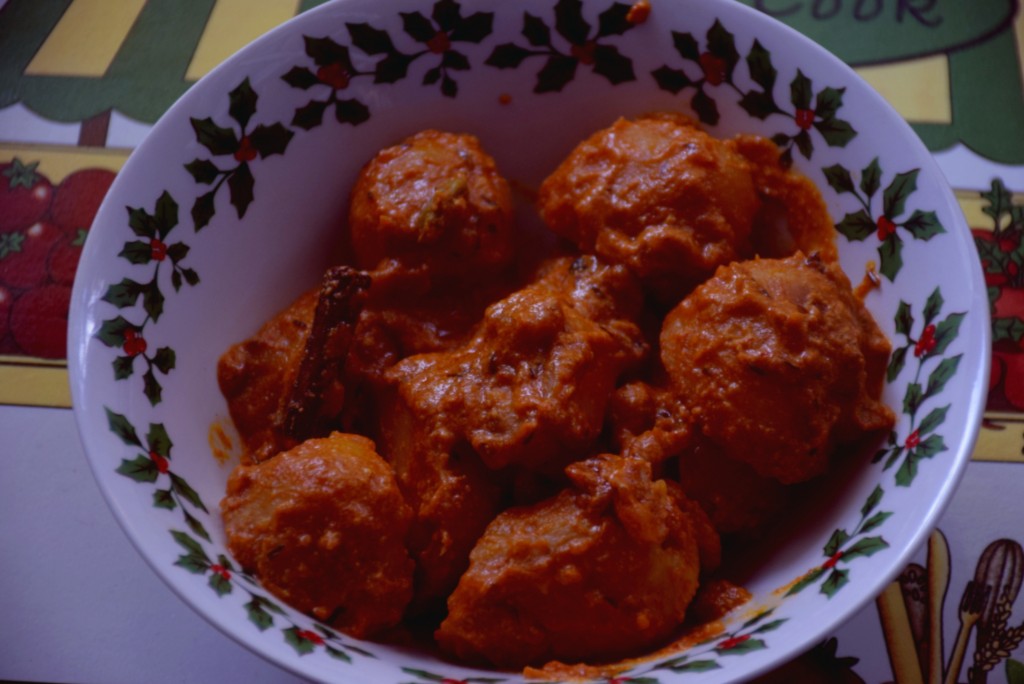 Kashmiri Dum Aloo, the name itself brings water to our tongues. 😛 I never thought that Dum Aloo can be prepared without onion, tomato and garlic until I came across this recipe.

I greatly admire the author of vegrecipesofindia.com Miss Dassana Amit for sharing this recipe with us. As she had mentioned ,this is authentic Kashmiri Dum Aloo, but on a spicier side.

For those, who don't like spicy Dum aloo, may follow my Non-fried Dum Aloo here. But both have their distinct aromas and flavor. 😀
INGREDIENTS:
1. Smallest size baby potatoes washed (White potatoes)- 13-16
2. Curd/yogurt (Dahi) beaten fresh – 6 tbsp
3. Mustard oil for cooking and frying – 2 tbsp + 3/4 cup
4. Kashmiri red chilly powder or deggi mirch powder – 3 tsp dissolved in 2 tbsp water
5. Caraway seeds/Black Cumin (Shah jeera) – 1 tsp
6. Cinnamon stick (Dalchini) – 1 inch
7. Black peppercorns whole(Sabut kali mirch) – 4-5
8. Cloves (laung) – 3
9. Black cardamom (Badi elaichi) – 1
10. Green cardamom (chhoti elaichi) – 1
11. Dry ginger powder (soonth)- 1/2 tsp
12. Fennel powder (saunf) – 1 tsp
13. Salt – 1.5 tsp or to taste
14. Water as needed for boiling potatoes and making gravy
15. Asafoetida (Hing) – a pinch
METHOD:
| Preparation time : 30 mins | Cooking time : 15- 20 mins | Serves 3-4 persons at a time|

1. boil the washed potatoes in a pressure cooker with as much as 3-4 cups of water and 1/2 tsp lime juice to avoid blackening of the walls of cooker. Turn off the heat after 1 whistle. Allow the cooker to release pressure on its own.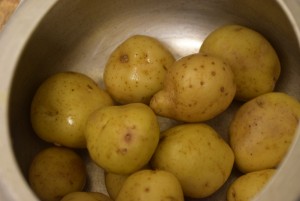 2. Open the lid and wash the boiled potatoes under cold water. When they cool down a bit , peel them with hands or peeler. However, you may leave the peel, if you like.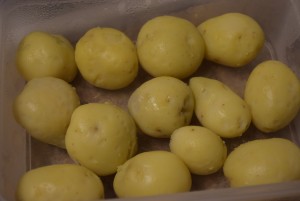 3. Heat mustard oil in a wok(kadhai). Don't worry about the smell of this oil, you won't guess they were fried in this oil after you taste the curry. Also this curry is totally "satvik " without any onion,turmeric ,garlic, tomatoes in it.
4. Poke all the peeled potatoes with a fork.If you feel some are big in size just halve them and then poke.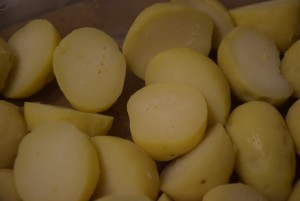 5. Fry them till they develop a golden layer on top and then strain them out on a paper towel.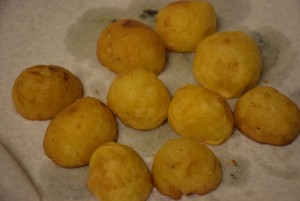 6. Similarly fry and strain all the potatoes. In the meanwhile whisk the curd.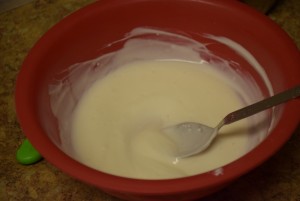 7. Again poke fork in the fried potatoes. This forking help the potatoes to absorb all the flavors and spices of curry when dipped in it.
8. Take the same wok or pan and add 2 tbsp oil in it. When it is hot enough, add the hing in it .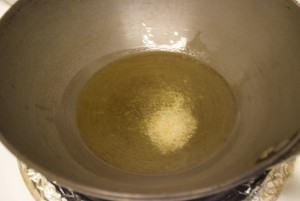 9. When it starts sizzling ,add the red chilly powder solution to it and stir it .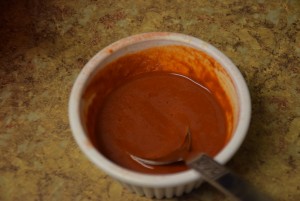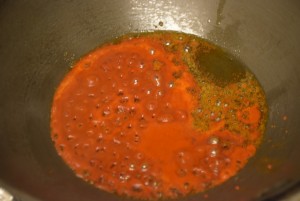 10 . Lower the heat and slowly add the beaten curd and whisk it continuously while adding it, so that the curd does not split.
11. Now add the water and stir them . Bring this to a boil on medium heat.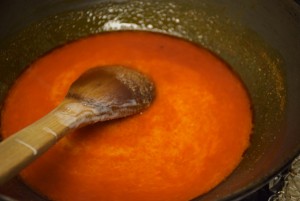 12. Now add the fennel powder, dry ginger powder and the whole spices viz. peppercorns, cinnamon stick, cloves, cardamoms etc. and stir all well.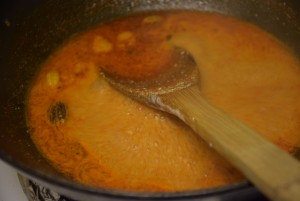 13. Next add the potatoes and stir them.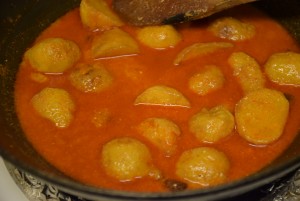 14. In the end , add the salt and cover it with a lid to cook on medium -low heat for 8- 10 mins.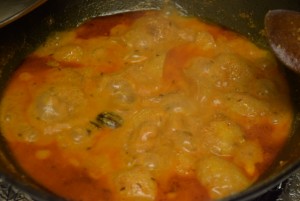 15. Add some water if you see the water -level has dropped. This cooking on low heat is called Dum cooking. Since we like it thick , hence we didn't added water in the end.
16. Garnish it with shah jeera and serve hot with paranthas(Indian flatbread) or puri (Puffed fried Indian bread) or rice.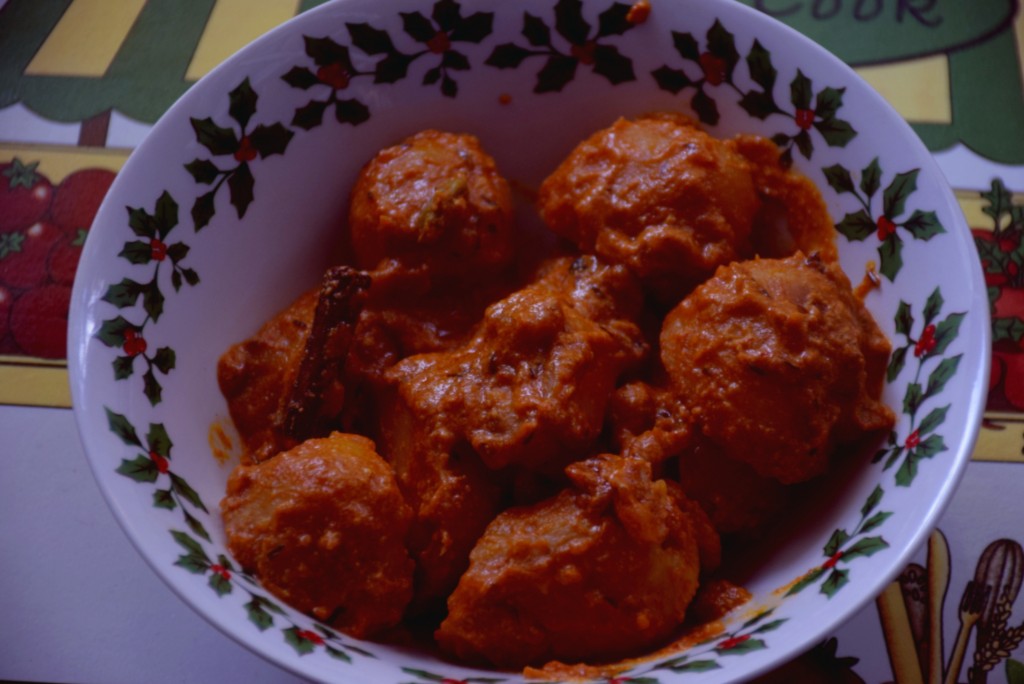 For trying other aloo dum recipes please follow : Dum Aloo in U.P. style.
Till then enjoy cooking!! 🙂