Kothimbir Wadi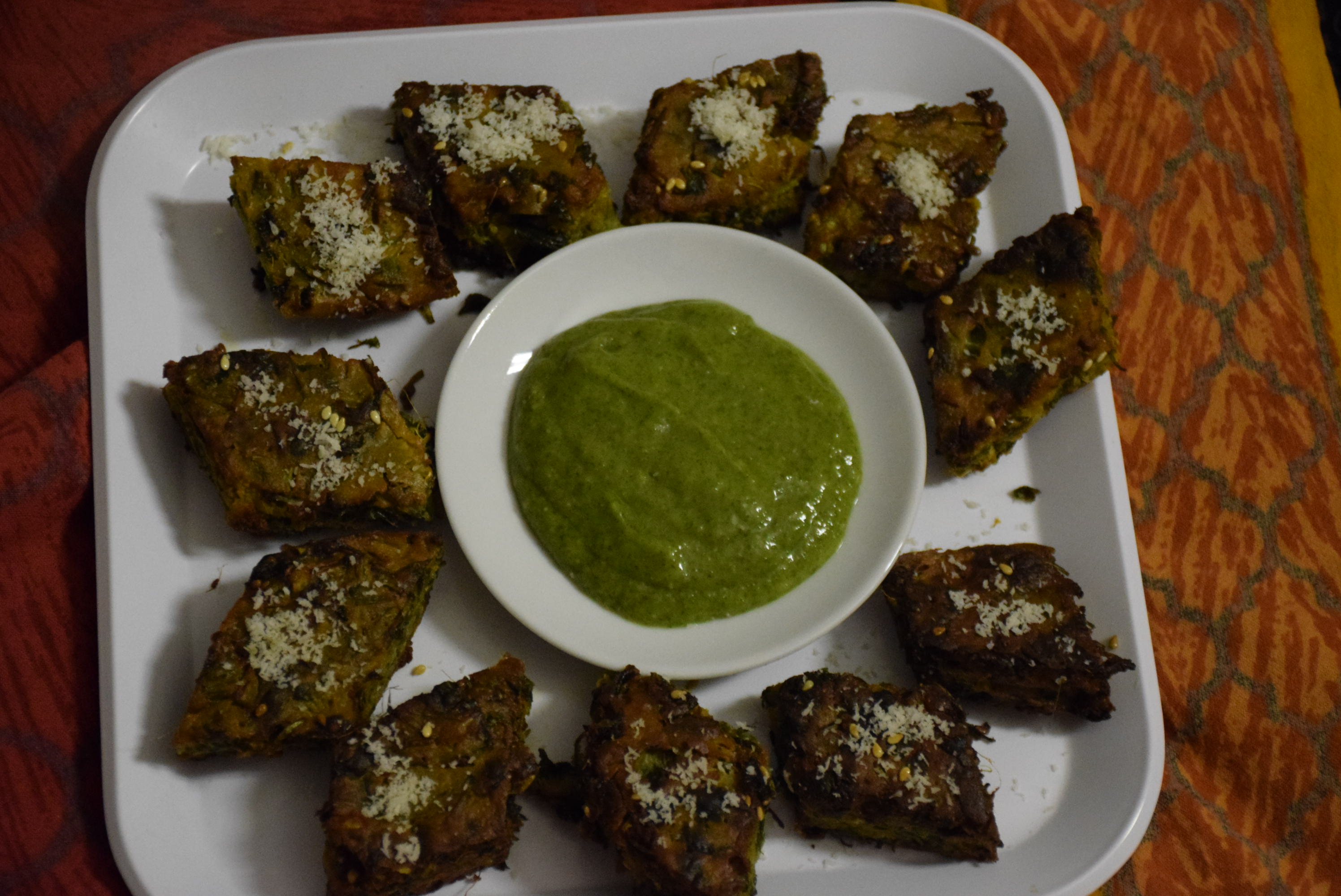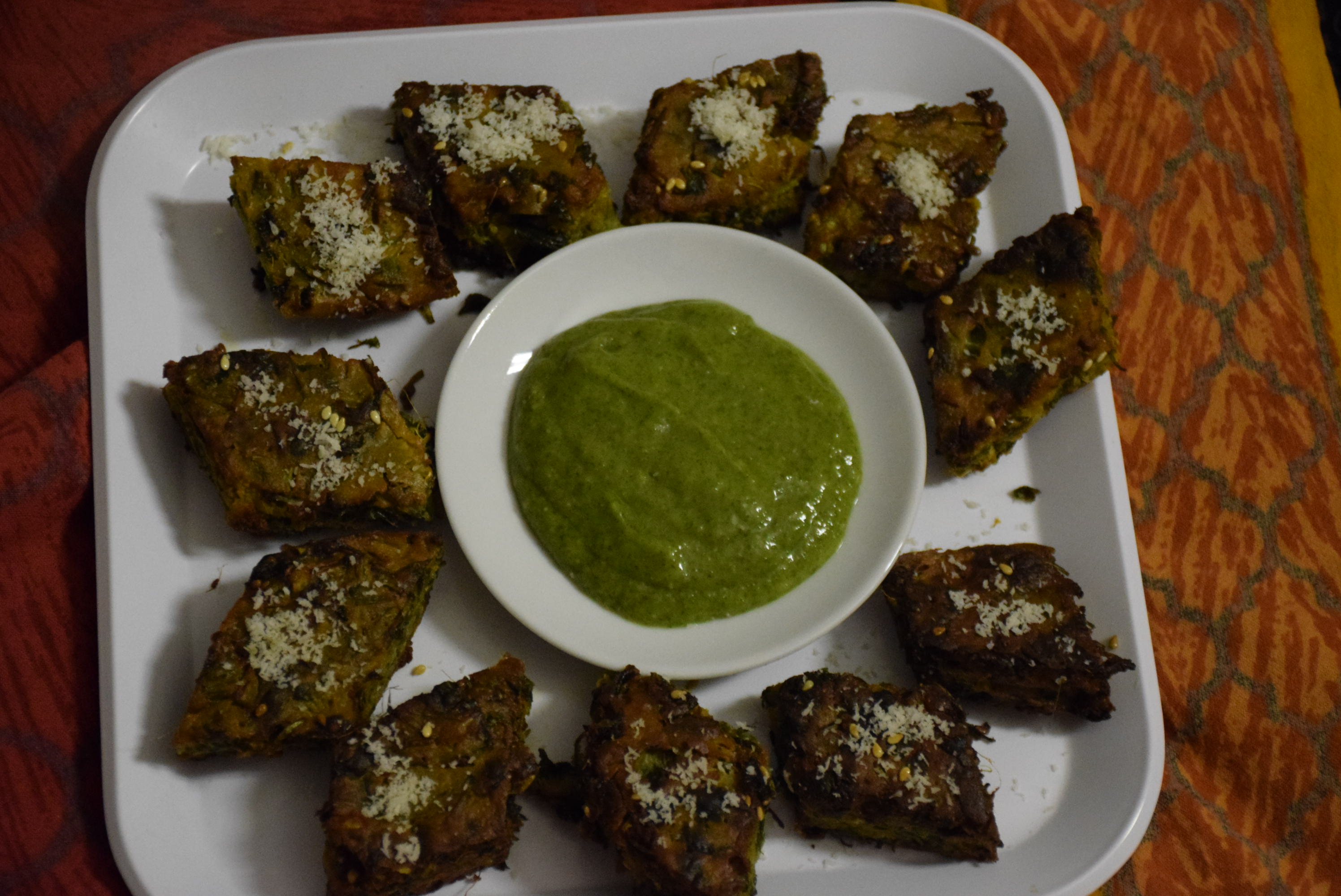 In this festive season, I was reminded of the "Kothimbir Wadi" ( Cilantro fritters) I ate once in a pure Maharashtrian restaurant("Annapurna") in Bay area. The thought itself was so enticing that I stood up to make them and enjoy once again.

"Kothimbir" means Dhaniya or Cilantro leaves and "Wadi" means pakode or Fritter. Yes ,in spite of living in Mumbai for 7 years , I was oblivious of them until I came here. These snacks proved to me again, that India is a land of rich and varied cultural heritage.

For all those who count calories ,this is a comparatively healthy yet fried appetizer. Since it is made by steaming the paste and then shallow frying them or you might even bake them. So lets prepare them from some greens now..
INGREDIENTS:
1. Fresh Cilantro (Dhaniya patte)/Coriander leaves finely chopped – 1 bundle (2 cups tightly packed)
2. Chickpea Flour (Besan) – 1/2 to 2/3 cup
3. Rice Flour (Chawal ka atta) – 2 tbsp (optional)
4. Ginger (adrak) grated – 1 tbsp
5. Green Chillies (hari mirche) finely chopped – 5 to 6
6. Coriander(dhania ) powder – 1 tsp
7. Salt (Namak) – 1 tsp
8. Cumin (jeera) powder – 1/2 tsp
9. Turmeric (Haldi) powder – 1/3 tsp
10. Red chilli (Lal mirch) powder – 1/4 tsp (optional)
11. Yogurt /curd (Dahi) – 2 tbsp
12. Chaat Masala powder / Dry Mango (amchur) powder – 1/2 tsp
13. Water – 1/4 cup or less
14. Oil or butter (for greasing) – 1 tsp
For seasoning :
1. Cooking oil – 1 tbsp
2. Sesame seeds – 1 tsp
3. Dry Coconut (sookha nariyal kas) powder – 2 tbsp (for garnishing)
METHOD:
| Preparation time : 5 mins | Cooking time : 4 mins| Frying time : 5 mins | Makes 20-25 pieces |

1. Wash and wipe the Cilantro leaves (dhaniya ) . Chop them roughly. Grate ginger and chop green chillies. I didn't add garlic , if you wish you may grate and add it too.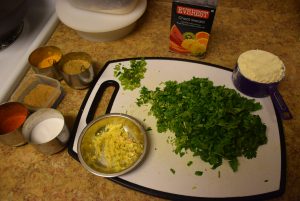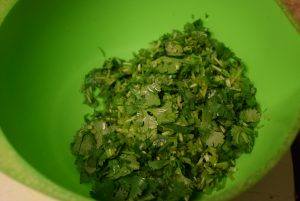 2. In a wide bowl, add the chopped leaves, chillies and ginger. Also add yogurt and mix everything nicely.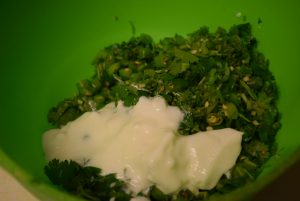 3. Add all the spices viz. cumin powder, red chilli powder, turmeric, coriander powder ,salt and Chaat masala. Chaat masala is optional,but I love the flavor it adds to any fritters.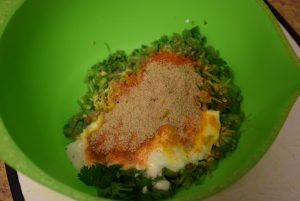 4. Also add besan and rice flour. Start adding water 1 tbsp at a time. Don't add too much water ,or it will take more time to cook. You need a thick paste ,which gets steamed fast. [Rice flour is not essential, you may skip it in case of unavailability.]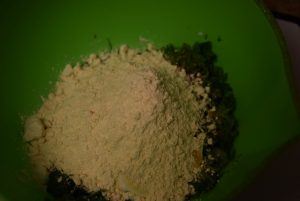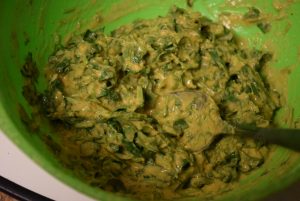 5. Grease a Microawave safe vessel with oil or butter. I am going to steam in Microwave . You may steam it on your stove too.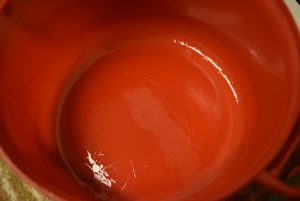 For steaming on stove, boil the water in the steamer and then steam it in a greased pan for nearly 20 mins covered.

6. Let it cook in microwave for 4 mins or until toothpick inserted in center comes out clean. On stove it may take 10-15 mins to get fully cooked .
7. Take it out and let it cool on the counter for 3 mins. Once cool to touch, invert it in a thali(plate).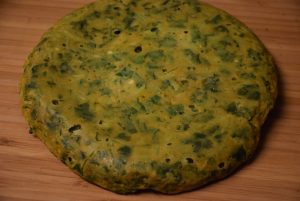 8. Cut out diamond shape slices or square shapes of nearly equal size with a knife.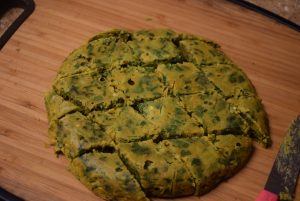 9. Heat some oil in a non-stick pan for shallow frying. Alternatively you may roast them in oven at 400 degree F in the middle rack after brushing them with oil or butter.
For baking in oven preheat the oven to 400 degre F. Brush the cut wadis with oil. Bake them for nearly 10 mins on one side and 5 mins on the other. Check in between after every 10 mins.
10. When the oil is hot enough, add the sesame seeds and let them crackle. I added them now, you may add these in the batter or while garnishing too, if you like.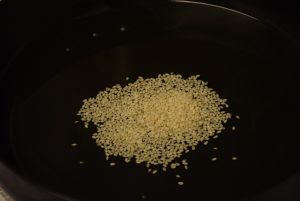 11. Add as many pieces as the pan could accomodate for shallow frying and turn the heat to medium or low. Let them fry at low heat evenly on all sides. Keep on turning them to avoid over-frying from one side.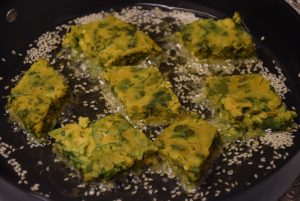 12. Once you see the change in color on both sides, take them out in a paper-towel lined plate by draining the excess oil back in the pan with a slotted spoon(poni).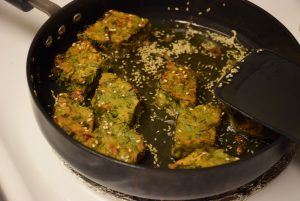 13. Similarly fry all the wadis. Garnish them with fresh grated coconut or dry coconut powder. Serve hot with a
green dip
or tomato ketchup.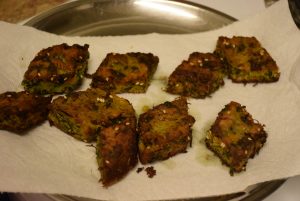 Frankly speaking, I enjoyed them more with tomato ketchup rather than the
Hari Chutney
. Enjoy this healthy fried appetizer with your tea or morning breakfast . Share your ways of trying it !!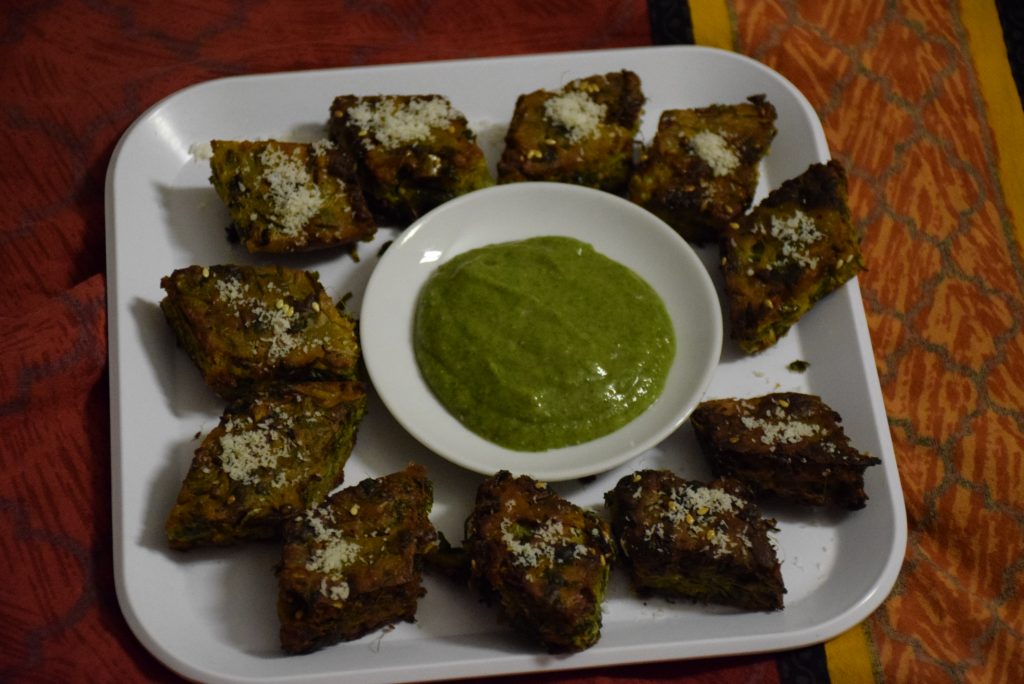 Till then keep cooking ……. 🙂