Mathura ke Pedhey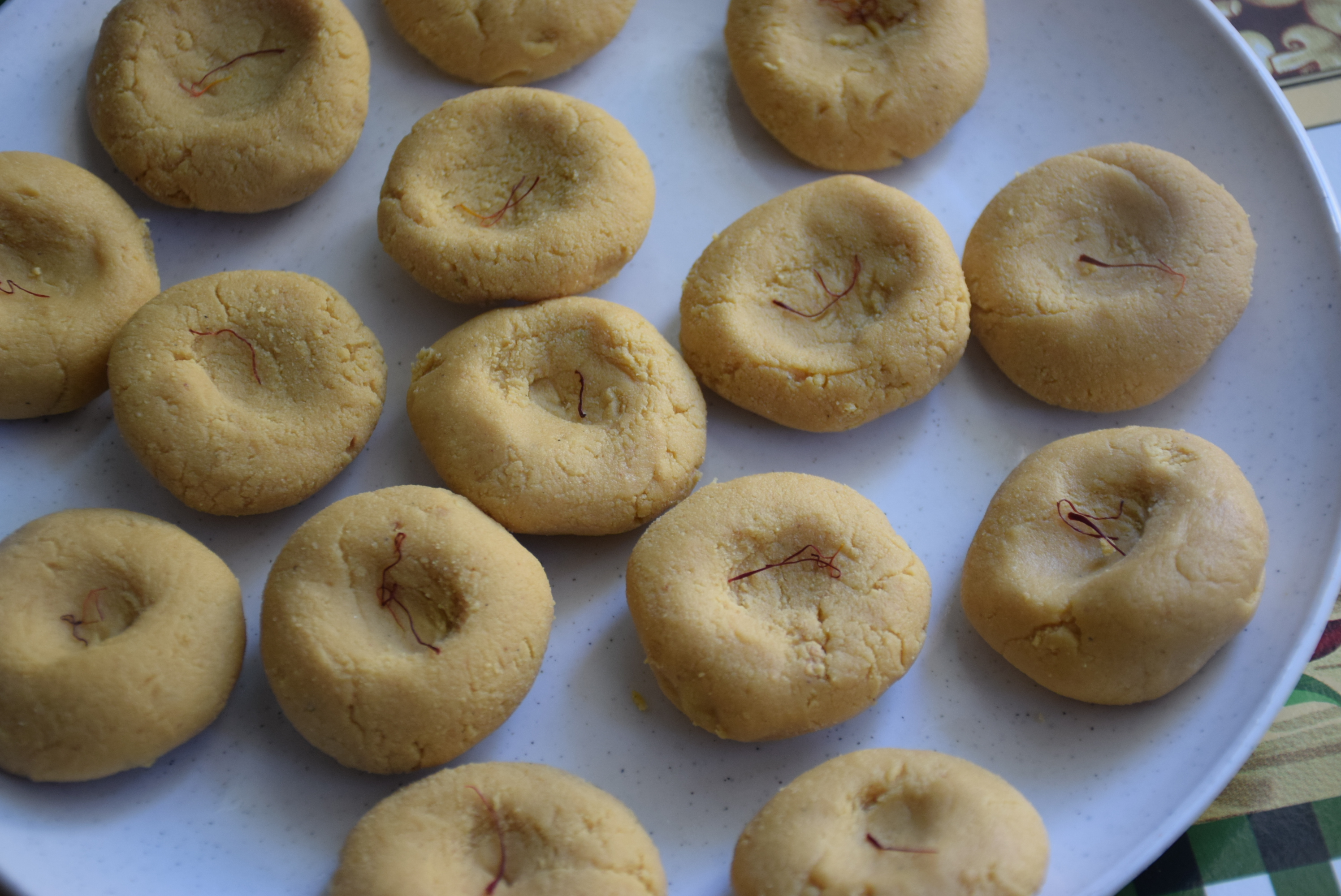 In India ,almost every city is known by its Special sweet. Just like Mathura, the birthplace of Lord Krishna and where he killed the Demon ,"kansa". Just like Mathura ke pedhey , we know agra ka Petha, Jaipur ka Ghevar, meerut ki Balushahi,Bikaner ki Barfi, Mumbai ke Modak, Kolkata ka Rasgulla.. Yes, we all remember these sweets and delicacies during our festivals.

I made these "pedhey" especially as an offering for our Lord Krishna on Janmashtami – the Auspicious day of his birth. He was born on the 8th day of Hindu month, hence "ahstami" and janam means birth. Aala re aala Govinda Aala. … 😀
While making pedhey I realized that we can make bikaneri barfi too out of this mawa, so will share that recipe too..;) Also this recipe is failproof. You can correct it at anytime of the cooking or moulding pedha.
INGREDIENTS:
1. Kesari Mawa or store-bought – 2.5 cups
2. Saffron(kesar) – 15 strands
3. Powdered sugar or (Bhura) – 1/2 cup + 2 tbsp
4. Milk – 1 cup
5. Cardamom powder – 1 tsp
6. Kesari milk masala – 1 tsp or (Nutmeg powder – 1 tsp + dry-fruits powder – 1 tsp)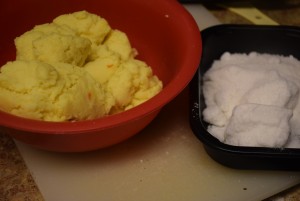 METHOD:
|Preparation time : 20 mins | Cooking Time : 30 mins | Makes 24 Pedhas |
1. Take non-stick pan or Wok.Heat it. Add kesari mawa and sugar to it. Mix them together. If your mawa is store-bought grate it or use shredder to help easy mixing of sugar and mawa.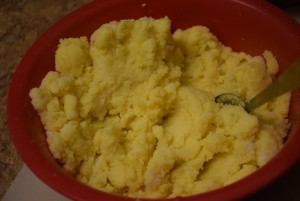 2. Now keep the heat low and start stirring.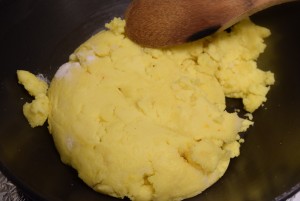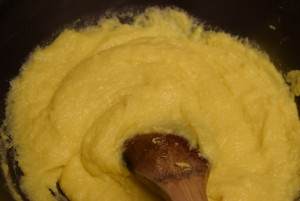 3. Add milk and keep stirring on low – medium heat till it forms a brown gooey mix.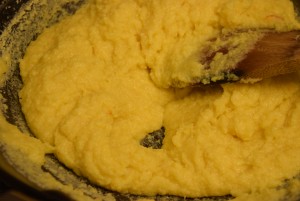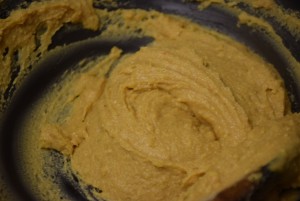 4. Now further lower the heat and stir contantly to avoid sticking to the bottom. Soon you will see a brown lump which will leave the sides and collect in the center.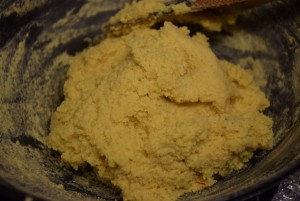 5. Turn off the heat when it is still moist. By this time you could smell the nice aroma of roasted mawa.Just at this time add the cardamom and nutmeg powder to it or alternately add the kesari milk masala and mix everything together.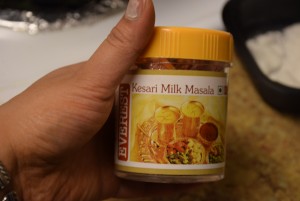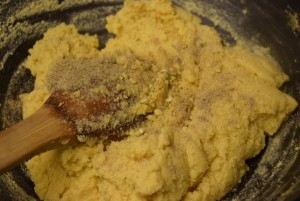 6. Quickly transfer it to a shallow plate or thali and cool down a bit. Don't scrape the wok ,because the mawa that has sticked to the wok is hardened up.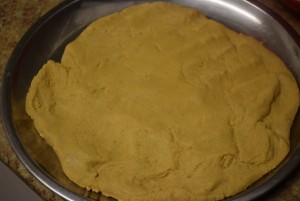 7. Don't cool it much or else it will harden up. Now when it is warm enough to touch , pick some portion from the dough and roll it in your palms.

8. Pick one saffron strand and press it in the center to give a pedha shape. You may use moulds to give them a beautiful round flattened ball shape too. Garnish them with choice of your nuts.

9. Also for those who prefer less sweet , you could roll some of the pedhas in Bhura or powdered sugar later too.I love their brown color, hence have added the 2tbsp sugar in the beginning itself. 😉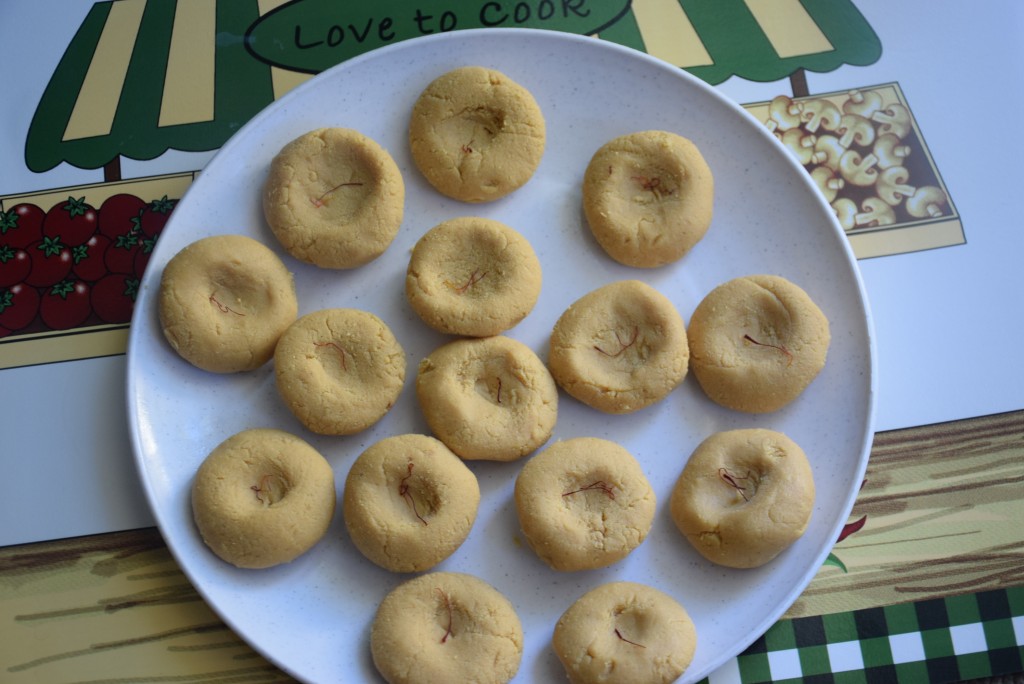 [Note : This recipe is failproof because at anytime if you feel that the mixture is too dry, you can amend it by adding 2 tbsp milk at a time and heating it again to form a gooey lumpy mixture. Secondly if you feel the mix is too sticky just add in 2 tbsp ghee or grease your palms before rolling. if it is too moist, let it cool down a bit more or heat it up again to dry the excess moisture.]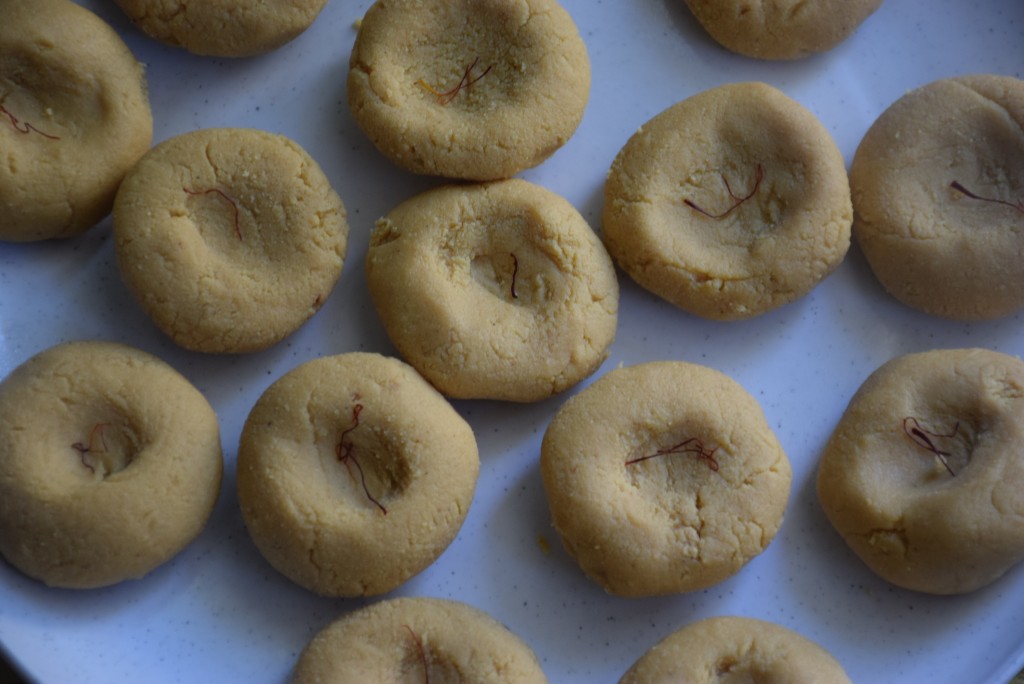 So just enjoy your festival and welcome Kanhaji with this delectable recipe!! 😀
For any suggestions or queries, please feel free to comment! We love to hear from you!! Happy Janmashtami 🙂