Puranpoli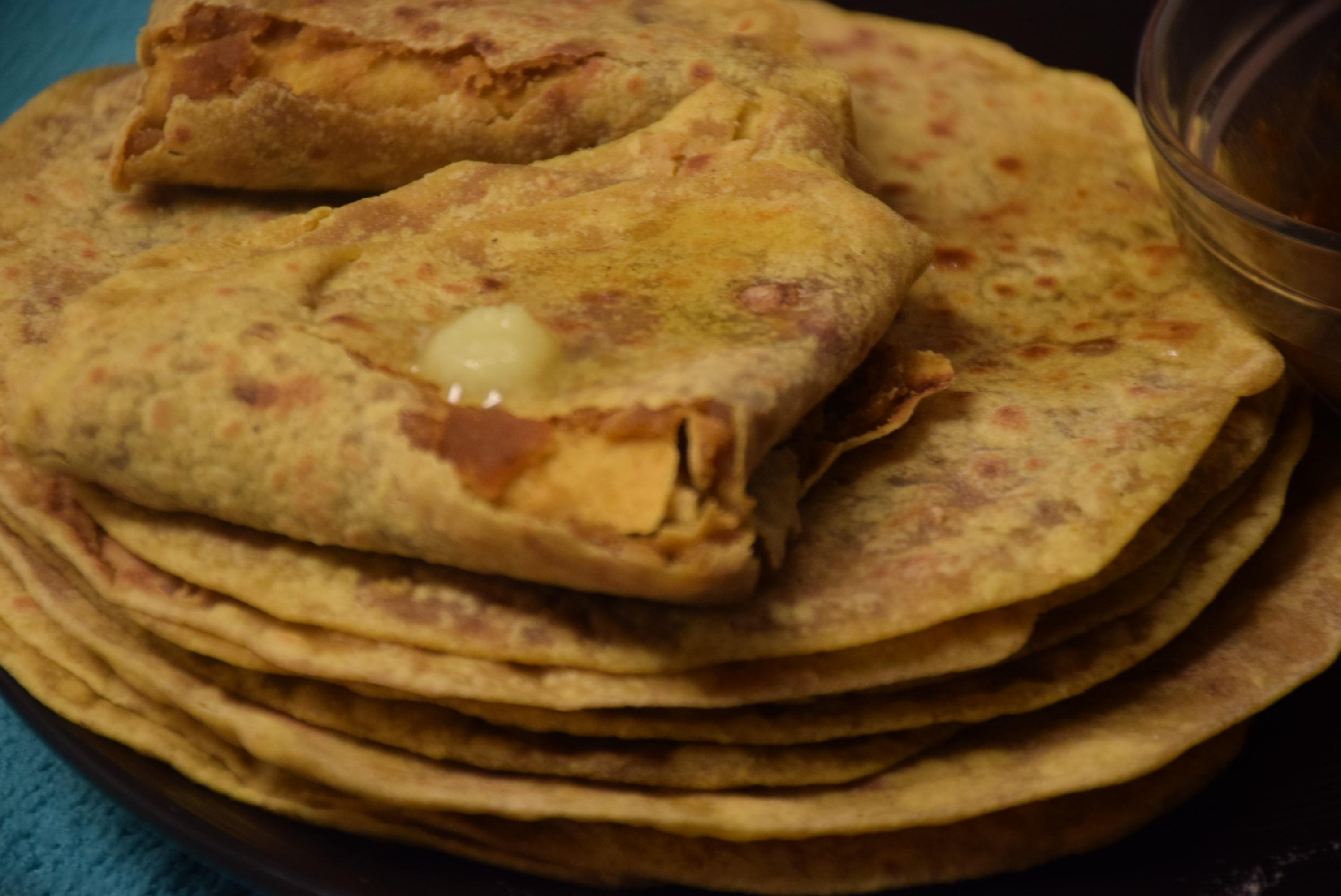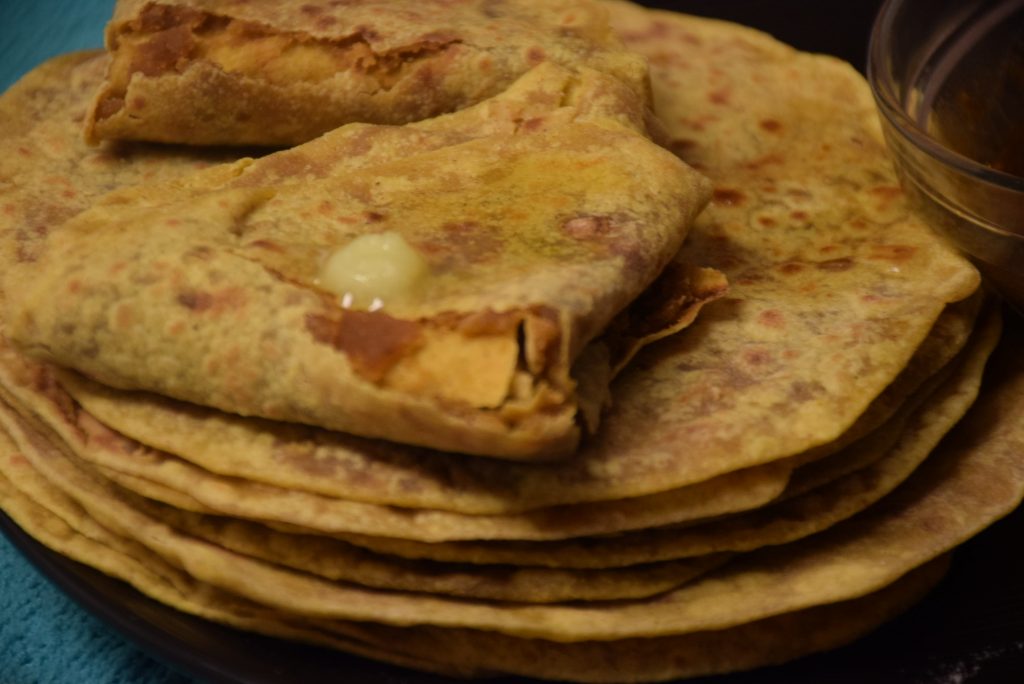 Today is "Gudhi Padwa" – the first day of Hindu New Year. It is celebrated as "Ugadi" in Andhra Pradesh, "Yugadi" in Karnataka and "Cheti Chand" among the Sindhi people. It is also the first "Navratri" (First out of 9 Holy nights of Goddess Ambe). "Padwa" in Marathi("Pratipada" in Sanskrit) means First day and "Gudhi" means flag, which is hoisted in the front of every gate or balcony in a home to mark the victory and coronation of Lord Rama or celebrate New year.

You will see a green or yellow colored cloth adorned with a brocade tied on a bamboo stick over which sugar, neem and mango leaves are tied; a silver or copper pot inverted over it .

To celebrate New year, this time I too thought of trying my hands at the luscious "Puran-poli" which is famous both in Maharashtra and Gujarat. "Puran" means the stuffing made of jaggery and Dal (Chana or Toor) and "Poli" is a roti (bread) made of whole wheat primarily. I will share the Maharashtrian recipe with you . Thanks to my friends Asavari, Amruta and Srishti for re-introducing this sweet poli to me. I also made "Katachi Amti" to go along with it. It can be served with Ghee (clarified butter) too.
INGREDIENTS:
Puran :
1. Jaggery (gur) – 3/4 cup
2. Split chickpeas (chana dal) or Toor dal – 3/4 cup
3. Turmeric (haldi ) – a pinch (optional)
4. Water for boiling dal – 2 and 1/2 cups
5. Green cardamom powder (Elaichi) – 1/2 tsp
6. Nutmeg powder (Jaiphal powder) – 1/4 tsp
7. Clarified butter (ghee) – 2 tsp
8. Saffron strands (kesar) – 1/2 tsp
9. Fennel Powder (saunf ) – 1/2 tsp

Poli:
1. Whole wheat flour (atta) – 1 cup
2. Refined flour (Maida) – 1 tbsp
3. Oil or ghee – 2 tbsp
4. Water for kneading – 1/2 to 3/4 cup
5. Salt – a pinch
6. Turmeric (haldi) – a pinch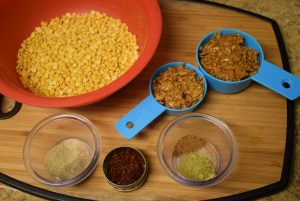 METHOD:
| Preparation time : 4 hrs | Cooking time : 15 mins for puran + 2 mins each poli | Makes about 12 polis |

1. Wash the dal with fresh running water 2 times. Soak the chana dal for 30 -60 mins in water.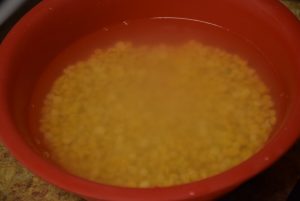 Making Dough:
2. In the meanwhile , prepare dough for poli. Add flour,salt, oil and turmeric in a tureen (parat). Add water little by little to the flours and knead in a soft pliable dough. Smear it with oil and knead it for 5 mins. Smear some more oil and cover it with plastic wrap and keep aside for 4 hours. I have kept it for 3 hrs although. We need an elastic very soft dough ,hence the dough is kneaded and rested.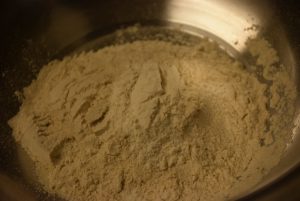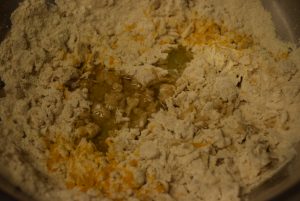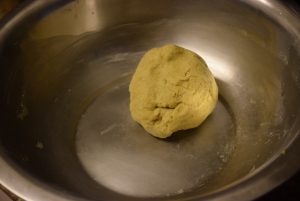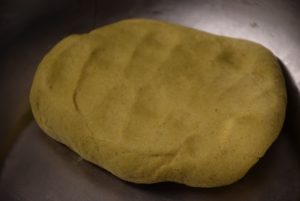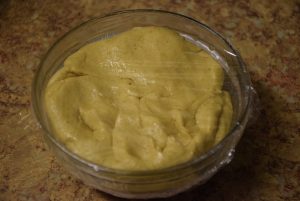 Making Puran :
3. While our dough is resting,we will make our stuffing or puran. For this pressure cook the dal in pressure cooker with water and turmeric(optional) for 5-6 whistles.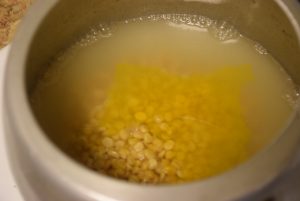 4. When the pressure is released , strain the dal through a colander. You can keep the strained liquid dal for making Katachi Amti.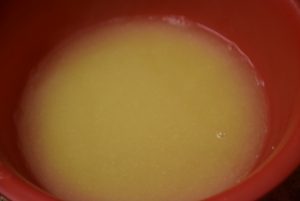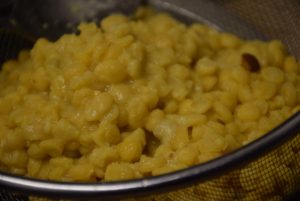 5. Heat ghee in a wok(kadhai). Add Nutmeg powder, fennel powder in it.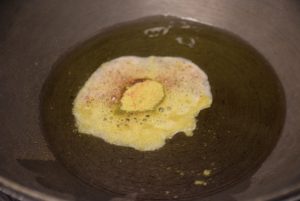 6. Then add the strained dal and gur to it. I have used desiccated organic gur. You can use a shredder to grate the gur before adding or add in small bits to help in mixing.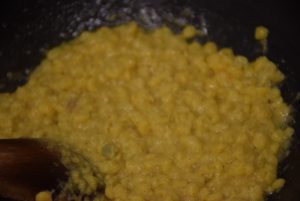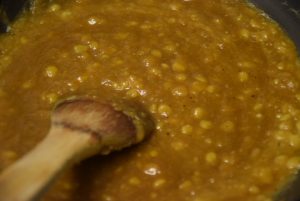 7. Turn the heat to medium or low and continue stirring the mixture till it gets thick. This will take around 10 – 15 mins.

8. When the mixture has become dried and could rotate in the wok with the spatula, it is ready.
9. Turn off the heat and take it off the heat. Add the cardamom powder and saffron strands in it and mix it well. Also mash it using a potato masher or bhaji mash. I although mashed with a spoon , hence was left with pieces of dal bits in the puran. For an even puran, we may use "Puran Yantra" too. Let it cool down at room temperature. This will take around half hour.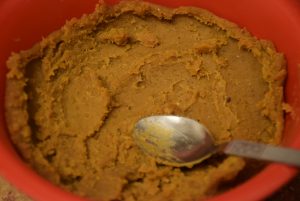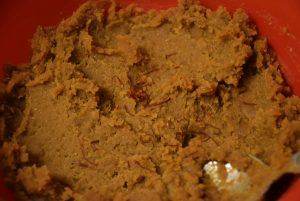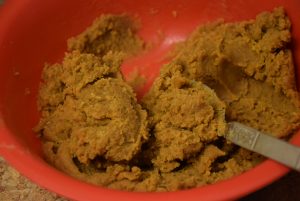 Remember,smash it when it is still warm . After cooling, it gets hardened.
Making Puran poli
:
10. When the dough has rested for a sufficient time, take off the wrap and knead it again with hands to soften it. Preheat the griddle (tawa) at medium heat. Pinch a small portion of the dough and roll it in a ball (pedha). Also make small roundels of puran or stuffing after smearing some ghee on hands. Make sure the dough roundels are of the same size of puran roundels. The dough balls can be slightly smaller than the puran balls too.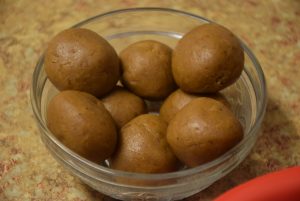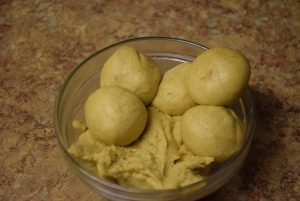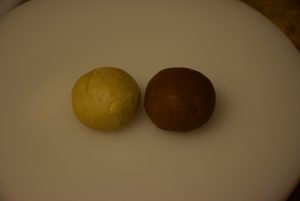 11. Roll the dough ball on a flat surface (chakla) with a rolling pin (belan). Use some rice flour for dusting, since this does not stick to the dough or griddle and can be dusted off easily. Don't roll it into a whole circle, stop midway.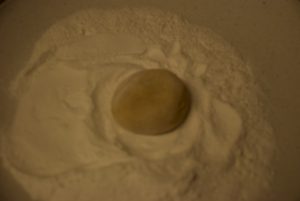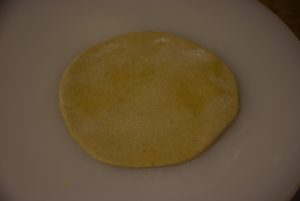 12. Now apply some ghee and just place the puran ball in the center of the rolled poli.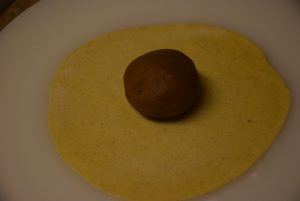 13. Picking up all the edges , bring them all at the top of the puran to close the loose ends. Pinch the extra dough from the top. Flatten it gently with the pressure of your palm and working surface.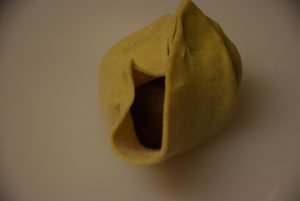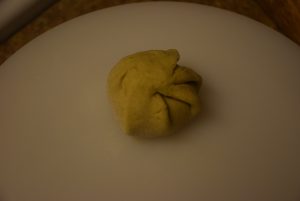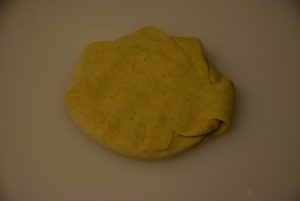 14. Dust it in rice flour bed , start rolling the stuffed roundel evenly on all sides to form a thin circular poli or roti. Try to make it as thin as possible.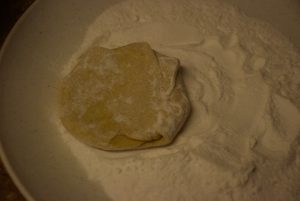 15. Pick it up and place the top face of the roti face down on the griddle(tawa). Let it cook for a min or till you see the small white blisters on the bottom face.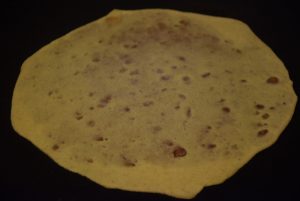 Since the dal is not mashed properly , you can see bits of dal tearing through the poli.
16. Turn it over and let it cook on other side for a min or two. Let it puff up gently on the sides and the center a little, before turning it over again.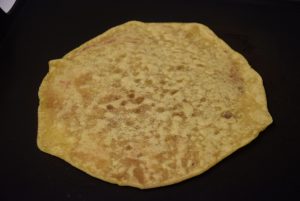 17. Flip it and press with a kitchen towel or spatula on all sides evenly to help it puff up like a roti (Indian flat bread) or
parantha
. You may use some oil or ghee for smearing on both surfaces now. But, I skipped it.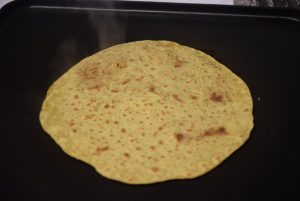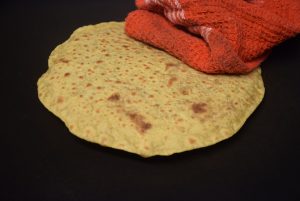 18. Place it on paper towel when cooked from both sides. Don't overcook them. Its always better although to leave them a bit under-cooked to maintain their softness for a long time.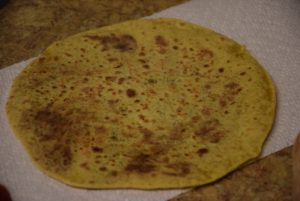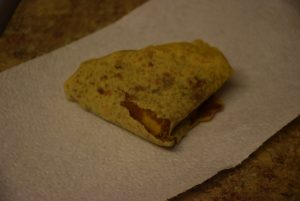 19. Similarly make all the puran-polis. Fold them in quarters or halves and stack them in a casserole for later.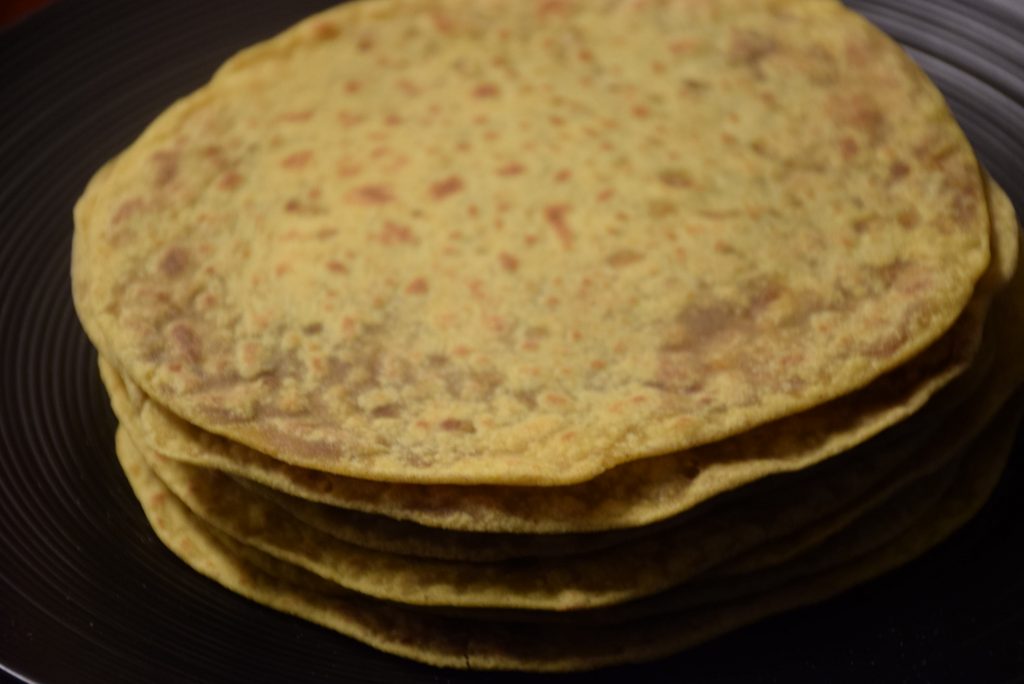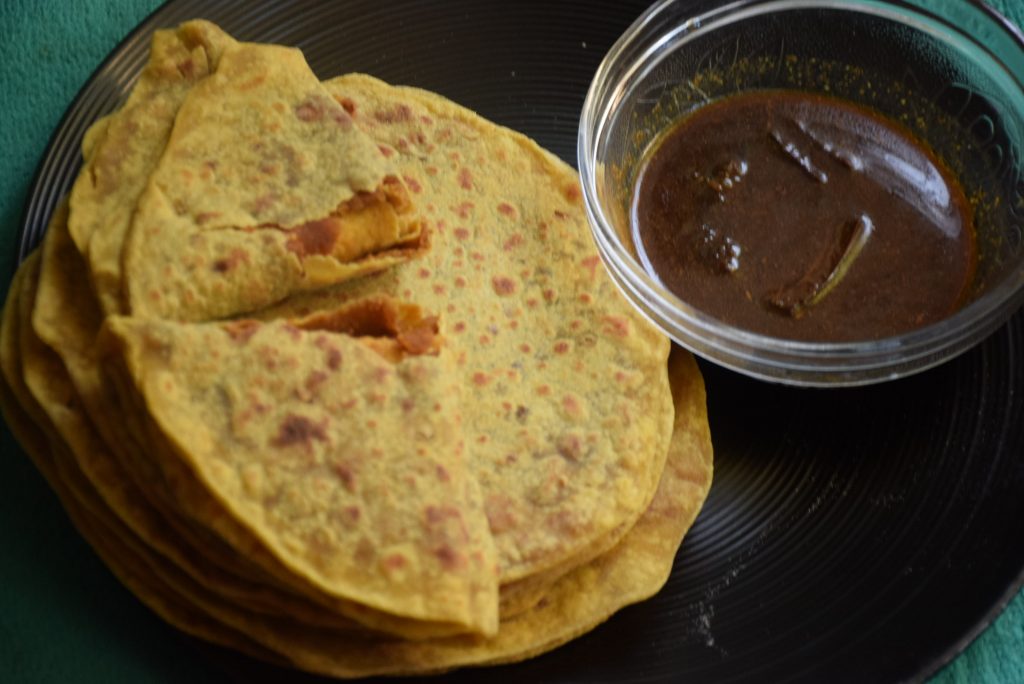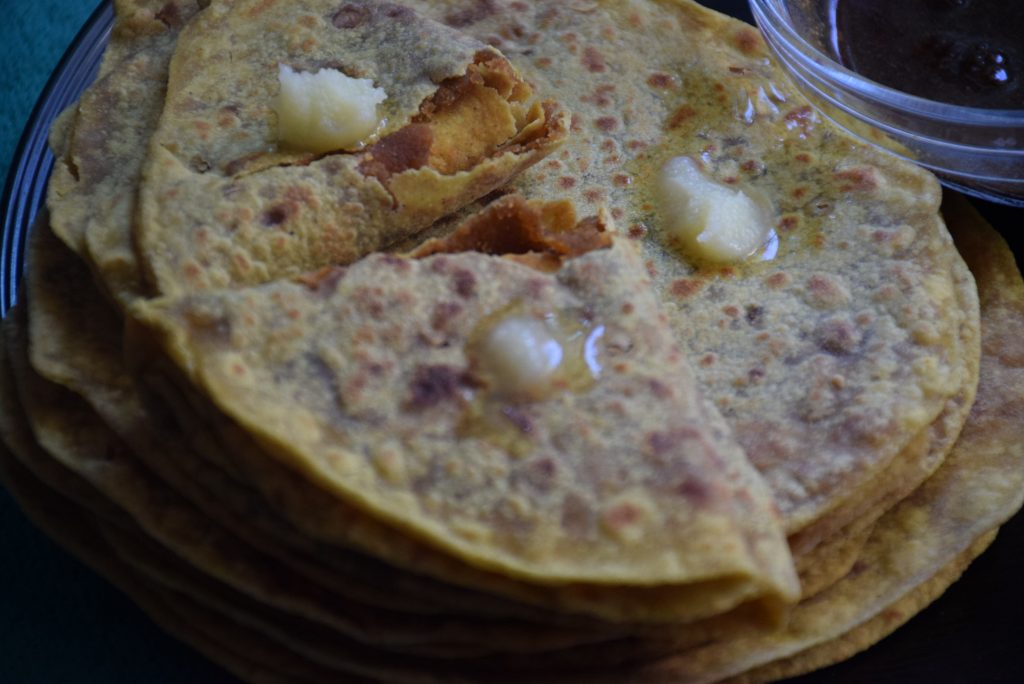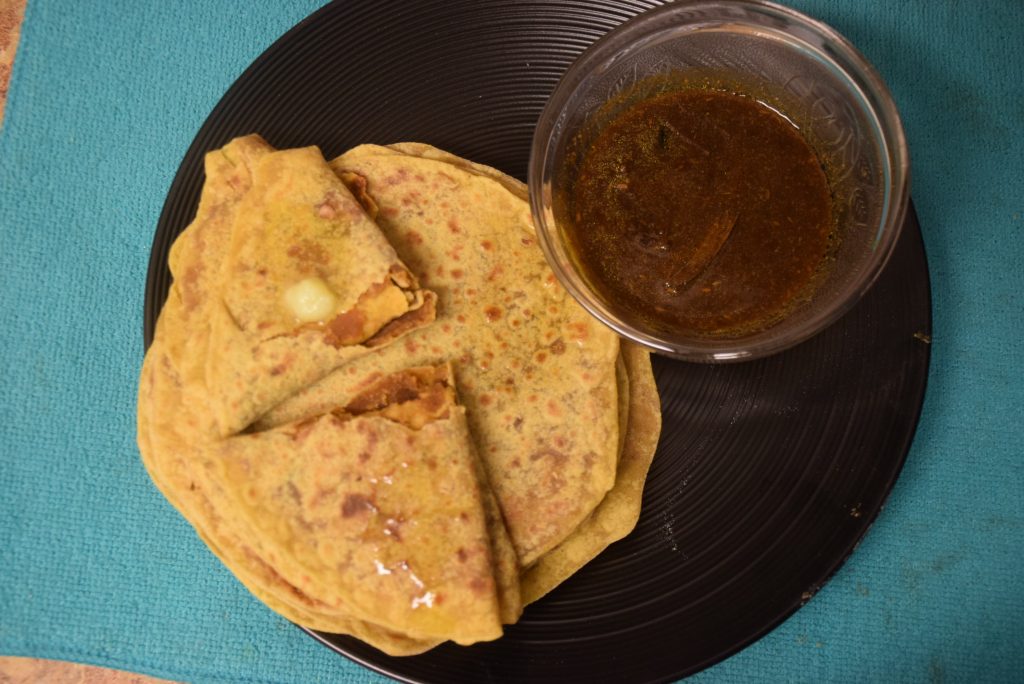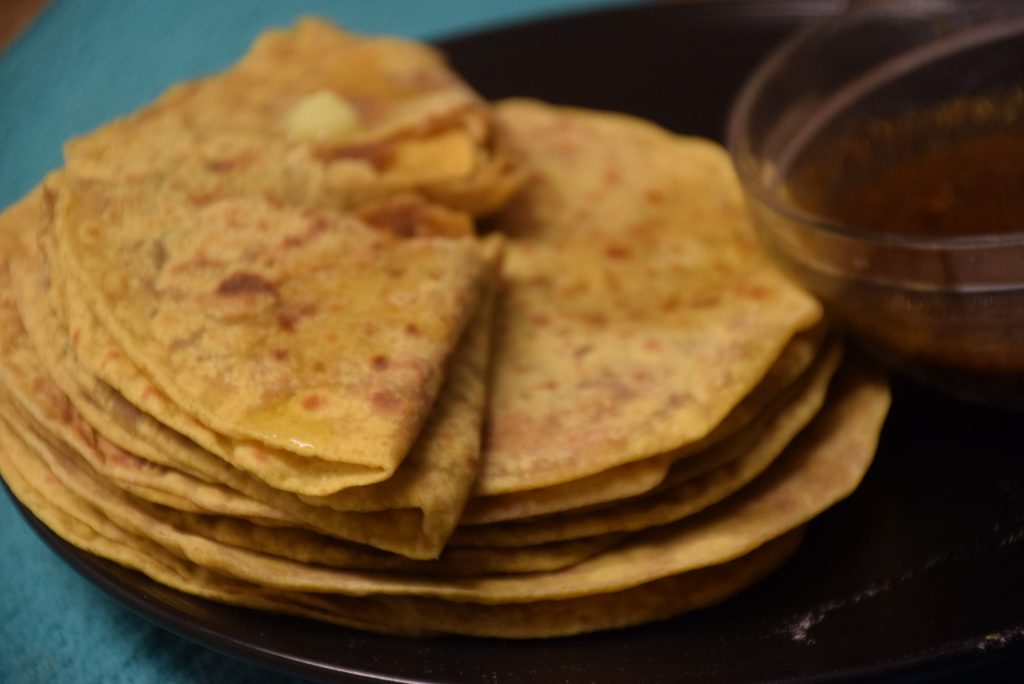 To serve, place a generous dollop of ghee in the center of the poli and serve it with Katachi amti. Or have them with rice ,dal and bhaji.
Wishing you a very Happy New year !! May this year fulfill your wishes and bring prosperity everywhere !!
😀