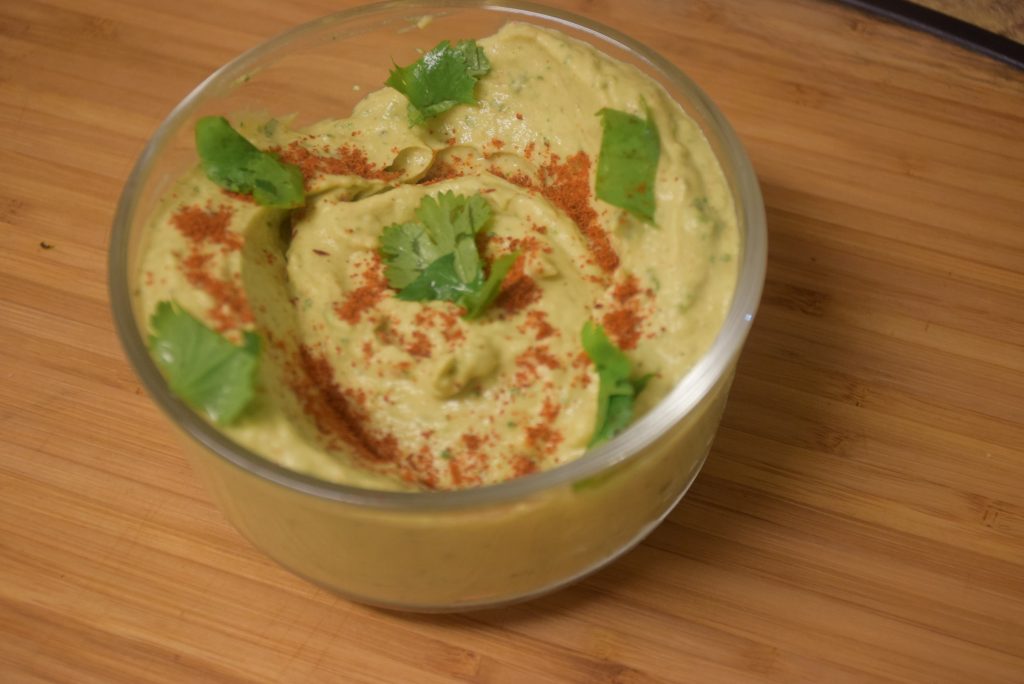 What happens when you soak chickpeas , make dough of all-purpose flour (maida) ? It raises hopes for Chhole –Bhature 😀 . The same thing happened with me when I was preparing the dough(for pita bread) and soaking chickpeas ( for hummus and falafel). It was fun to watch his expressions turn the other way around on learning the truth in contrast to his expectations. 😛

Well , Hummus is serves as a side with Falafels in a Mediterranean meal . It is a creamy , smooth kind of dip (not actually a dip ,after learning its process) which tastes best when served cold. To add to the creaminess , I added avocados which is a perfect blend of Guacamole and Hummus . So lets jump to the recipe and dip in this creaminess now ….
INGREDIENTS:
1. Chickpeas(soaked and boiled)/2 cans garbanzo (chhole) – 1 cup
2. Lemon Juice – 2 tsp or to taste
3. Roughly Chopped Parsley leaves (organic half-dried) – 2 tbsp
4. Olive oil/sesame oil – 3 tbsp
5. Raw garlic cloves peeled – 2
6. Salt – 1.5 tsp or to taste
7. Cumin powder ( jeera powder) – 1/2 tsp
8. Black pepper ground ( kali mirch powder ) – 1/2 tsp
9. Paprika – 1 tsp (for garnishing)
10. Avocadoes (mexican fruit ) – 2 whole peeled and pitted
11. Tahini sauce – 3 tbsp
12. Water – 1/4 cup
13. Cilantro (taza dhaniya) – 2 tbsp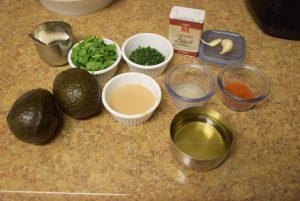 METHOD:
| Preparation time : 4-8 hrs soaking | Boiling time : 25- 30 mins | Prepping time : 10 mins | Makes almost 4 and half cups of hummus |

1. Wash and soak the chickpeas (chhole) for at least 6 hrs or overnight in lukewarm water.
2. Boil them or pressure cook them for 2-3 whistles and allow the pressure to release on its own. This took around 30 mins.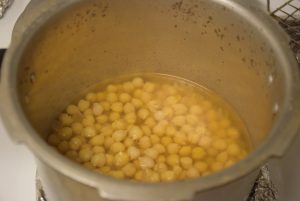 3. Once the pressure is release , rinse them under cold running water. This would help isolate their skins from them, you may throw away the skins floating on top or retain them as per your wish. For smooth silky texture, I usually rinse them repeatedly till I get rid of 90% skins. You may use a colander to separate the skins and chickpeas too.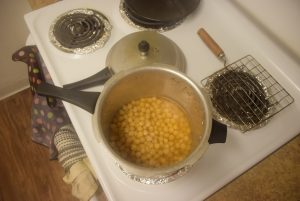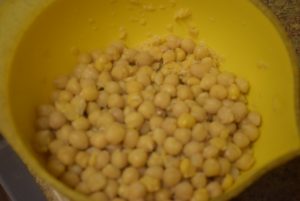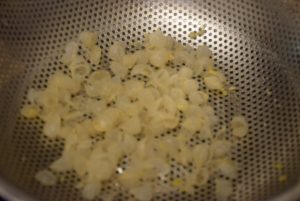 4. Now take a jar or food-processor , add the rinsed chickpeas, fresh or dried parsley leaves, cilantro,black pepper,cumin powder,paprika and garlic cloves and pulse them together without any water or oil to a rough paste.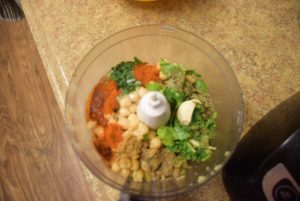 5. Now add, oil, avocados pitted and skin removed, little water and pulse again to get the smooth texture. Add salt and lemon juice too when fully minced and creamed. You can add salt earlier too. I added lime juice to maintain the green color of avocados, you may skip it too.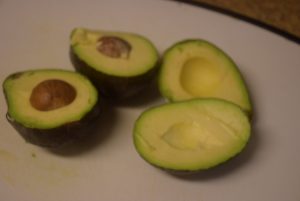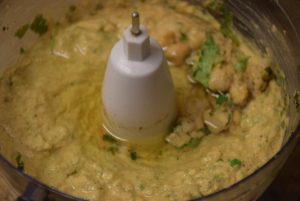 6. Take it out in a bowl with a scraping spatula and garnish with fresh cilantro leaves , little oil and paprika.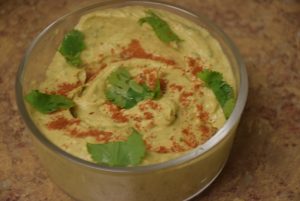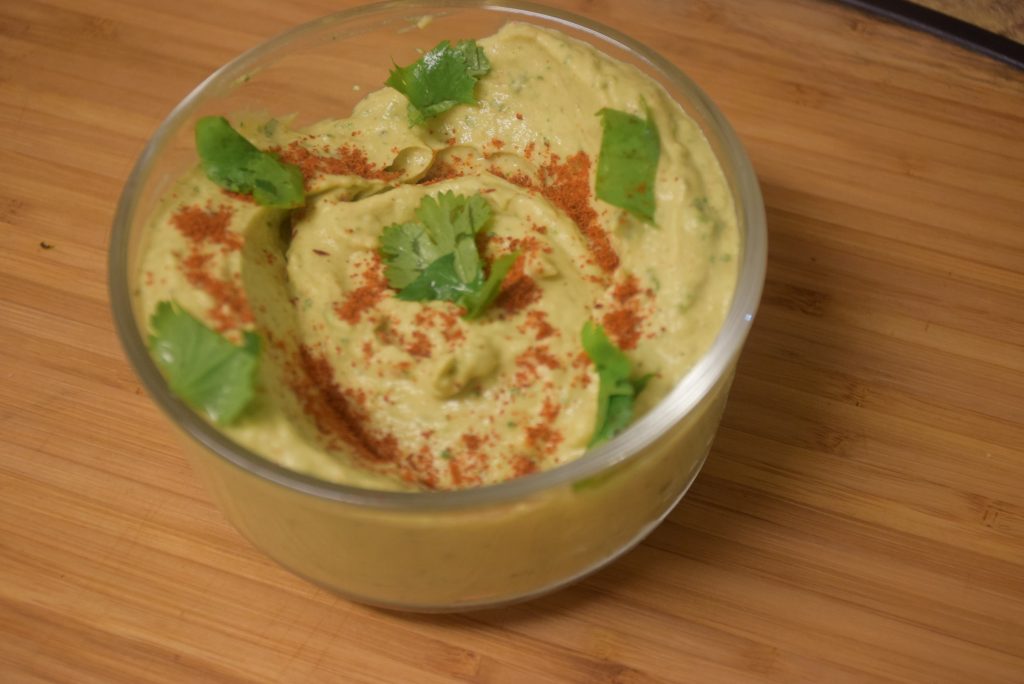 Enjoy this with Falafels , or with chips or with any fried pakodas . We recently enjoyed with lentils dosa. You may keep it in refrigerator for about a week. You may use it in sandwiches or burgers.
The avocados give a healthy , nutty ,creamy flavor to this dish!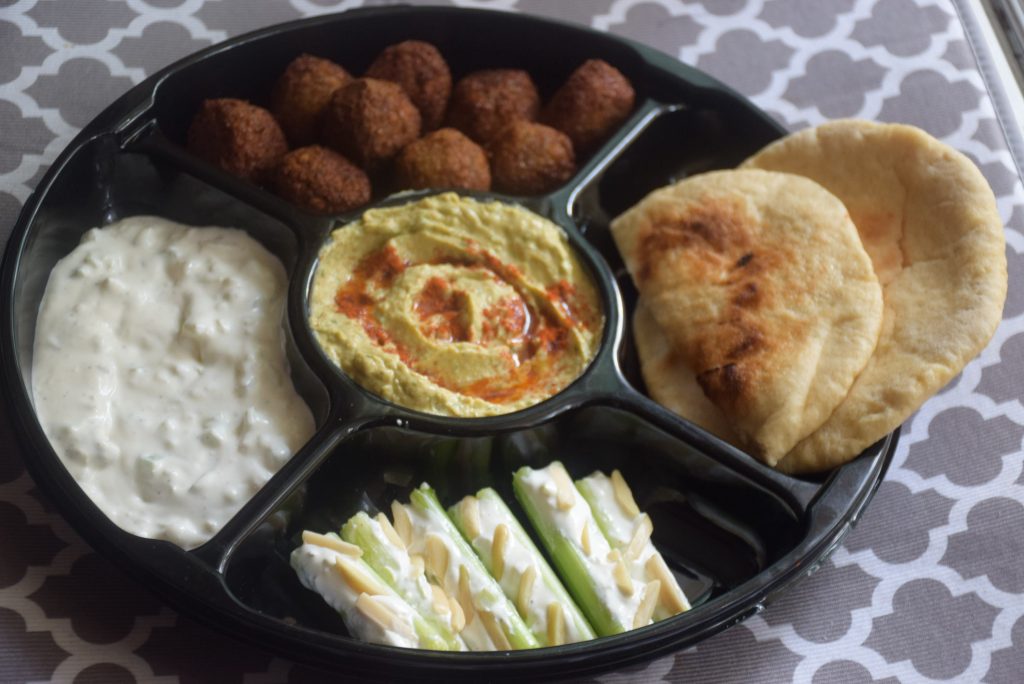 Please share your comments below , we love to hear from you!
Till then keep cooking…
🙂