Bienvenido a Cancun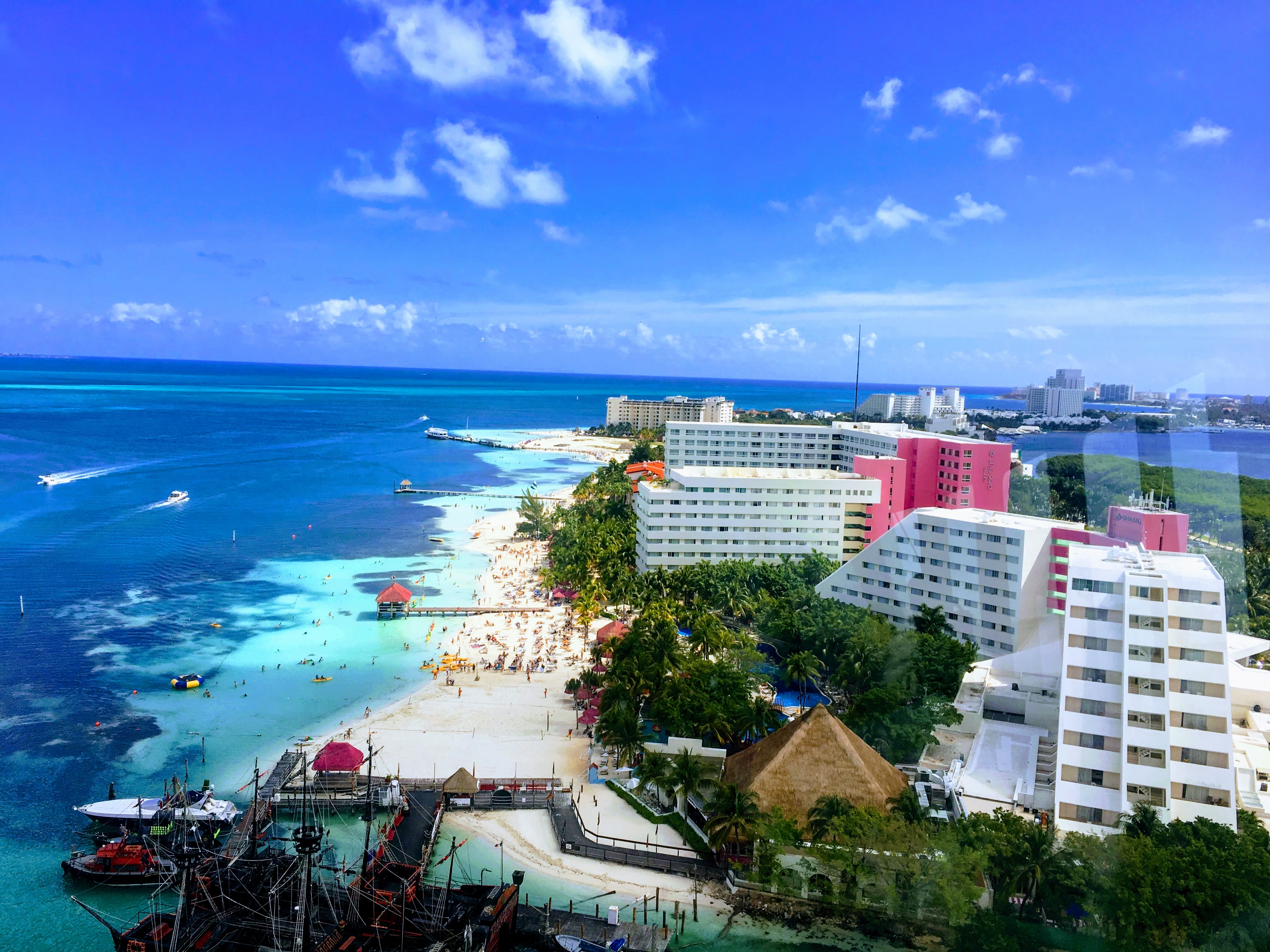 "Bienvenido A Cancun" (Welcome to Cancun)!! Yes, everyone greets you here with "HOLA" . 😀 .Mexican culture (also the Mayan culture) ,the limitless bargaining while shopping, the relaxed way of life, the patriotism of locals, the frenzy traffic on roads, all take you to an al-together different world. The whole trip is packed with excitement, activities, street food and 'amigos'(friends) which we make. 😉

                 When we had begun the planning of this trip, the only wish in my mind was to see those pristine beaches and visit Chichen Itza (one of the seven wonders of the world). I never knew a place could be a great life-time mentor in itself. Yes this place has so much to offer that FOUR days would be less to absorb in all. Inspired by Sheetal Devidasani, my dear friend, I planned this trip for the first week of February. She visited in December though.
Here is my whole itinerary : Cancun Itinerary
DAY 1:
                                 We took an overnight flight on Thursday evening at 11 pm from SFO and reached Cancun on Friday Morning around 8:15 am. Although we booked drop off and pick up from Super shuttle from the airport, there are other better options too like renting a car or taking public transportation or Collectivo or Shared cabs for commuting anywhere around 100 miles in Cancun. Our Hotel "Wyndham Gardens" was in Playa Del Carmen – a small town around 30 miles from airport.
                              Playa Del Carmen is a small unsophisticated local town with driveable roads and traffic. Similar to Cancun with respect to the beaches and activities it offers , but the hotels are quite less expensive than those in Cancun. Also we(being teetotallers) didn't wanted an all-inclusive hotel , so that we could have more time in hand for sight-seeing, travelling and visiting our target places. This town has developed over the last 5 -6 years and beaches, Xcaret, Chichen Itza were all accessible from there. But Cancun with its Grandeur Restaurants , Beach-accessible hotels, Nightlife partying with its 7-shape island like location is worth visiting and staying too.
                                We checked in our hotel at 9:30 am , got ready and had breakfast at 10:00 am  (Yes ,:D the breakfast was served till 10:30 there starting from 6:30 a.m.) and walked towards the downtown which was just 0.5 miles away from our hotel. Also Playacar beach was less than a mile from our hotel, but we didn't get time to visit it ;it was surrounded by Hotel Zone in Playa Del Carmen. The Plaza La Fiesta (Downtown) was hustling and bustling with people, the 5th Avenue (Quinta Avenida) was just some steps aways from the place we rented our car (Budget). After a lot of paper work and verification, we got the car at 1 p.m. So our day one started with a visit to Tulum Mayan Ruins and Tulum Beach.
                                     We reached Tulum Mayan ruins at around 2 p.m. and felt the heat for the first time in Mexico there. Of course, we were prepared with sunscreens , hats, goggles,snacks and water beforehand. There was a free shuttle service which took us to the ticket booth of Ruins. While waiting for the shuttle, we heard the melodious songs of black bird ; saw parakeets, parrots amongst the thick red leafy trees and the unavoidable lurking iguanas. The short-shuttle ride was pretty much like the tractor ride in India ( 😀 , if you have ever been to the rural areas in India, you would experience that). Not only the people but the coyotes too greeted us there with a warm smile. You would be surprised to see a Coyote family which lives 'domestically' in the outskirts of jungle nearby humans and relax right in front of you. You might see some turtles hiding and sleeping in the shady grounds. Iguanas will cross your ways more than once; don't jump off, just walk straight. These are the only ruins which have the beach access. The archaeological sites (or ruins) which are preserved by INAH ( 'Instituto Nacional de Antropología e Historia' ), have their own stories . A temple of Wind god, A temple of Sun God, A temple of Kulkulan , a place of meeting, a place of sacrifice, etc. are basic elements of Mayan culture. After wandering through the ruins we finally descended down the steep steps to the beach. The water was glistening green in the sun, the winds were whispering in our ears and the my daughter – she fearlessly jumped in the water leaving our hands for the first time.
                            Just then we realized the clock ticking by ,hurriedly had lunch and packed up for our next stop – the Xpu-Ha beach. Being an American tourist, you are expected to give tips everywhere (Useful tip: Whenever they tell you the price in Dollars, ask them in Pesos.) , so be prepared .

                            Coba Ruins in Coba is another worth-visiting place there , just 2 hrs drive from Playa Del Carmen . There is an Akumal Beach – Yal Ku Lagoon (Along 307 carraterra highway) worth visiting for snorkelling and other water activities. But due to insufficent time left in our hands, we skipped them and went to Xpu Ha beach instead. Although a paid beach, it was well maintained with swings set up in bar, with pop music playing loud in the background, with laid out beds under umbrellas and shades to see your family having fun. In total , a perfect beach where our daughter could collect white shells and rounded pebbles from the sand while we could just chill, before going back.

                              After returning the car, back to the hotel, we freshen up for our visit to the downtown of Playa Del Carmen. The Plaza La Fiesta ( no cars allowed on 5th Avenue ) is a lot more happening in evening than in the morning. After 5 p.m. nearly all restaurants and shops are up and running. To our sheer luck, we found an Indian Restaurant – The Curry Omm in the beginning of the downtown. Strolling through the downtown we saw the amazing feat of Flying Dancers, their play and dance on ashes , fire pits and rocks. The shops are decorated with ancient artifacts, large sized shells, conches, mexican hats, maracas (Rattles made with gourds),sand shoes, umbrellas and so much to see,feel and touch.
                               We finished off the day with the dinner in Curry Omm ,followed by famous gelato sticks in Chocolate-Oreo and Mango-pineapple flavors. We were happy with their flexibility in timings, they both served us 5-10 minutes later than their scheduled closing times.
 For more pics : Check Cancun Album .
For next day's details click on the Page 2 below .