Bienvenido a Cancun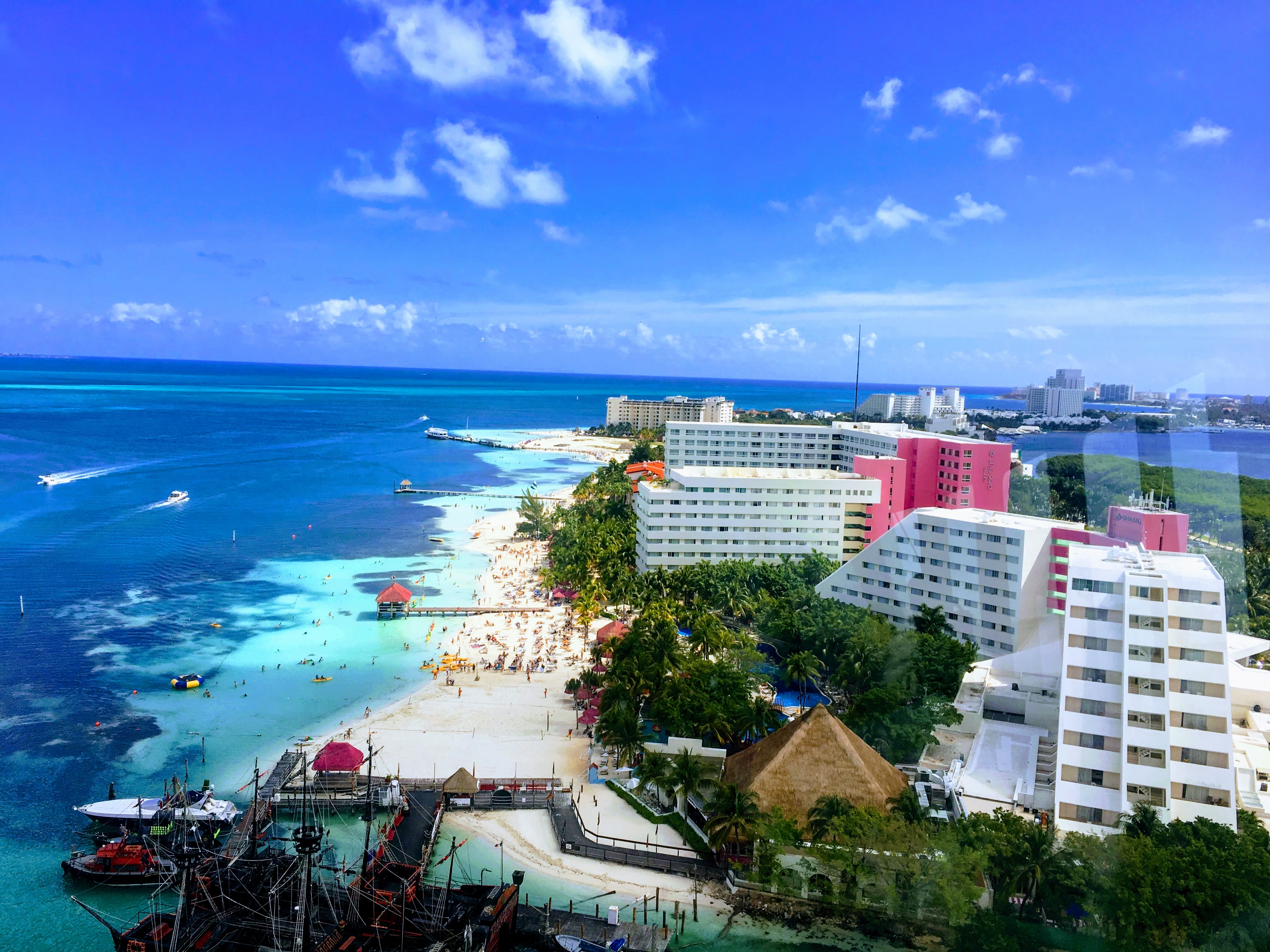 DAY 4:
This was our last and the most important day of our trip. We had booked our Chichen Itza tour on the 2nd day of our trip through internet . It is better to book your Chichen Itza tour on a weekday rather than a weekend to beat the crowds , hence we booked it for Monday,5th Feb.  Little did we know that 5th Feb, is the Constitution day in Mexico – a national Holiday  😀 . We got a pick up from Plaza La Fiesta – our downtown at 8:45 am. While walking to our bus-stop, I enjoyed catching up with the rising sun straight ahead.   🙂   Chichen Itza is in Yucatan another state of Mexico. So it is 1 hr lagging behind the Quintana Roo time, where Playa Del Carmen and Cancun are located.
                            The tour guide gave us some important facts about the town of Valladolid -the oldest of Mexico. We got a short stop of 20 mins at the City center, the Central park of this town. It has the oldest Church of Mexico and some shops selling ancient artifacts. A special black-greenish-golden colored stone called Obsidian is said to possess healing powers and is very sacred according to the Mayans. It was also used to see the sun directly during eclipses since it blocks most of the rays. You will find many mininature pyramids built out of it in the shops. The Mayan calendar which is a confluence of three calendars – The Tzolkin calendar (which conists of 260 days), the Haab(the solar calendar of 365 days ,which consisted of 18 months each of 20 days ,one month having the extra 5 days) and the Long Calendar (which calculated billion years) is a popular gift item here.
                             It was time to enter Chichen Itza site now.  Our guide handed us over our tickets and we waited anxiously in lines.  But be prepared for the hottest place of Mexico. This place is usually 10 degree hotter than Cancun and Cancun is 20 degree warmer than Bay Area in February. We saw a group of people clapping hands in front of Chichen Itza(El Castillo) in a musical way(sound of quetzal). When asked we learnt about the acoustics of Chichen Itza. (For more : check this video). This Pyramidal temple, Temple of Kulkulan was the place ,where the Mayan ruler sat and addressed as many as 10,00,000 people from the top.
Mayans believe that (the serpent God) God of Kulkulan descends down on earth 2 times a year – on Vernal Equinox(21st March) and Autumnal Equinox(21st September) and gave them blessings and tell them to harvest their crops. On these days, the sun's rays cast a shadow of each block in such a way that it forms a serpent. Many people from all over the world gather to see this unusual phenomenon which lasts only for four minutes only on Spring equinox and Fall equinoxes . (For more : Check this fast-forward video ). You can also see the ancient Cenote Sagrado (the Sacred Cenote) in the east , the temple of warriors in the south , The El Caracol (the observatory temple) in the west, The Osario pyramid in the south east and the Ball court in the northeast of "EL CASTILLO"(the great pyramid). This pyramid, has exactly 91 steps in 4 directions making upto 364 and one step extra on the top of the north direction which depicts the 365 days of our calendar. The ridges of 9 squares on either sides of the steps depicts the number of full moons and new moons in a year – 26 (13 full moons and 13 new moons).
                              The ball court which we supposedly think is a playground, was not a game. The ball game was played in honor of a ruler to appease Gods with a beheaded player. For more info, write to me in comments. I would be happy to help. 🙂
                               After visiting the sacred Cenote, everyone wanted to actually dive in a Cenote and relax for few hours.  So our tour took us to Xcajum Cenote, where we had our lunch buffet coupled with a boat ride. ( I was afraid to dive in the 50-feet  deep water from the ground level) .  After descending 150 feet down the stairs,  we felt the Cenote's fresh water filled with small fishes of all types.  Apart from Xcajum, "Ik-kil" , " lik", "X-keken", "Zaci", "Suyutun", "Azul", "De los Patos" and "Lu'um" are some of the other exciting ,adventurous Cenotes in the  Yucatan peninsula. We reached back  our hotel at 8 pm from the tour, ate our pre-ordered dinner and slept. Apart from the places mentioned above , if you have time, you can visit Las Coloradas – the pink lakes about 5 hours drive from Cancun.
The last day, Feb 6th, we woke up at 4 a.m. to catch the flight on Tuesday morning for coming back to our Sweet Home in the afternoon !! Yeah this flight was not right in terms of timings, but we got to see the amazing beauty of San Francisco, San Jose, Fremont, Oakland nearly all of them(yes, the Apple's new office too!) from the top.
See More Pics here : Cancun Album
Months to visit Cancun:       
I would recommend visiting Cancun in winter, since it is hot and humid all the year round. The peak visitor season begins from November to 1st week of March. Prices are high from mid-December to mid-January.The cheapest months to visit is from May to November – Spetember and October being the rainiest months. But many people plan their visit around 21st March or 21st September to see the feather Serpent phenomena of Chichen Itza.
                                   Mexican people are warm ,welcoming and helpful. But have you heard of "when in Rome, do as the romans do"? So these are some of the hints that will make your journey pleasant and memorable :
1. Don't drink tap water anywhere, rather carry your bottled water without ice. Drink without ice here, since we never know the sources of ice used.
2. When you first landed in Mexico, you must have got a Customs form, so save it and keep it secure with your passports. You will need this while leaving Mexico.
3. Don't throw the toilet paper in the pots, rather than in the dustbins kept next to them.
4. Don't try to pet stray dogs, since they might bite you.
5. Learn a few spanish words like Hola(Hi), Gracias (thank you) , Por Favor (Please), De Nada (You are Welcome), Propina (Tip), Adios (Bye), Leches (Milk), Agua (water), Banos (restrooms), Ninos (children), Salida (exit), Estacionamiento (parking : Hence the Symbol is E ) etc.
6. The Mexican food in Mexico is not like the Mexican food found in U.S. or Europe. So try out new things when you know your favorites are already on the menu.
7. In restaurants mostly the tips are already included in the bill, so ask for Propina(tip) and give tips in the hotel to the cleaners, bartenders etc. Since many people have low wages or they live off the tip.
8. While hiring a taxi, buying some stuff or booking any tour, bargain or negotiate the price before the payment.The first price is not the last price.
9. Don't drive in Mexico especially at nights ,if you don't need to. Since some people here don't follow speed regulations.
10. Don't think that Cancun represents the entire Mexico, because every state is culturally, regionally and topographically different.
11. Keep your hotel's wristband safely with you , since losing them would enforce you to pay for the new ones.
12. Don't get pressed to buy tours , tickets or anything from the Cancun airport. Since they flock the tourists and try to sell you their stuff.
                                  In all , this trip is worth every penny ! The whole experience is entertaining, relaxing, knowledgeable and cherishable !!!! If you have some questions or information to share on any spots mentioned above, feel free to comment. I will get back to you asap.
Till then , Adios !!!
🙂