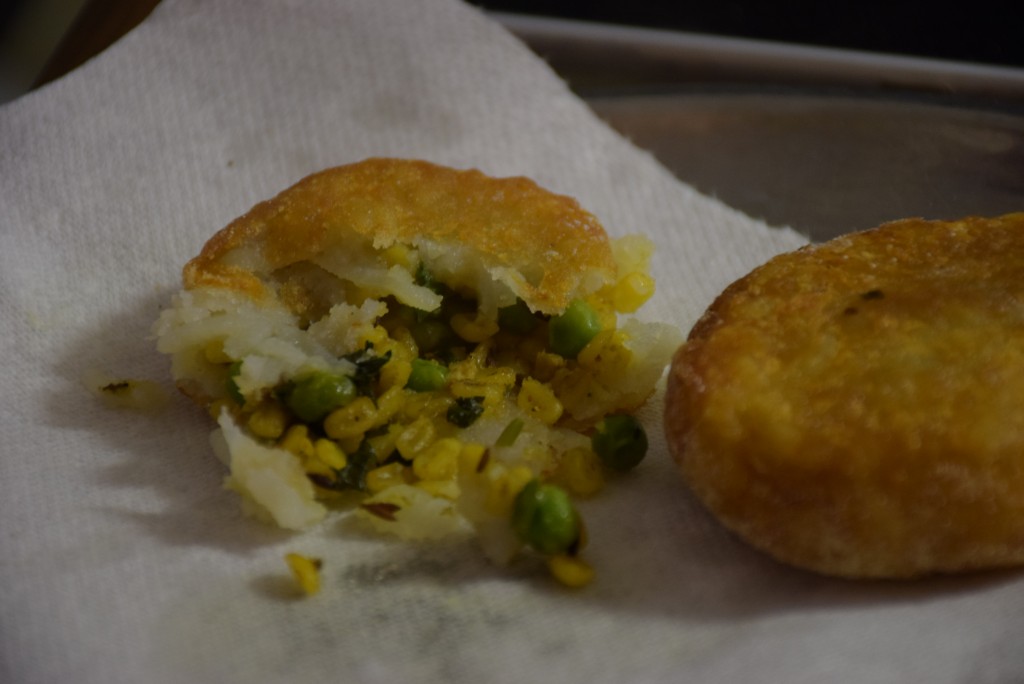 Till Yesterday I thought that I can never make a "Karari Aloo tikki" chaat like the street food in Yamunanagar or Delhi in India. But after learning this recipe, I not only make them repeatedly but also love the outcome.

Yes it has a secret ingredient and for that you will have to read the recipe. No it is not the corn starch, not the rice flour and not the bread crumbs. Also be lenient with oil, the less you use the less crispier they will be. In oven they will get dry and crunchy but not crispy. This recipe is unhealthy but really tasty.

Also this is the only Aloo tikki which could be had as it is with a tomato ketchup or just with some chaat masala. But you may add Chhole, Mint dip, Tamarind -Date dip , raw onions, pomegranate and beaten curd too. 😀
INGREDIENTS:
For Tikki :
1. Potatoes Boiled – 4 Medium size
2. Green chillies finely chopped – 2/3
3. Peas washed (matar) – 1/4 cup
4. Yellow Moong Lentil (Dhuli moong dal) – 1/4 cup
5. Cumin seeds (jeera) – 1/2 tsp
6. Asafietida (hing) – a pinch
7. Ginger finely chopped (adrak) – 1/2 inch
8. Turmeric (haldi) – 1/4 tsp
9. Red Chilly powder – 1/2 tsp
10. Lemon Juice – 1 tsp
11. Coriander powder (dhania powder) – 1/2 tsp
12. Fennel powder (saunf) – 1/2 tsp
13. Salt – 1 tsp [for the stuffing only]
14. Beaten Flattened Rice flakes (poha thick) – 1/4 cup [secret ingredient]
15. Rice Flour – 1 tbsp(optional)
16. Cooking oil – 1/2 cup for shallow frying
17. Finely chopped cilantro (dhaniya /coriander leaves) – 1/4 cup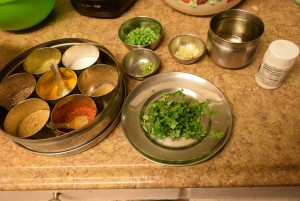 For Chaat :
1. Beaten curd – 1/4 cup
2. Green chutney – 4 tbsp
3. Imli chutney – 4 tbsp
4. Chhole – 1 cup
5. Finely chopped onions – 1/4 cup (optional)
6. Pomegranate peeled – 2 tbsp (optional)
7. Sliced juliennes of ginger – 1 tbsp(optional)
8. Fresh Dhaniya – 2 tbsp
9. Chaat Masala – 1 tsp
10. Cumin powder(jeera powder) – 1/2 tsp
11. Red chilly powder – 1/4 tsp
12. Black salt (kala namak) – 1/2 tsp

METHOD:
| Preparation time : 20 mins | Cooking time : 30 mins | Makes 16 medium sized tikkis |

1. Wash the medium size potatoes and either prick them with a fork on two sides or insert knife in one side and boil them in pressure cooker with a tsp of lemon juice and water enough to cover them till 1 whistle blows.

2. Let it release the pressure and then open the lid and wash them thoroughly in cold water to further cool them.

3. Now peel them and grate them with a grater first. Grating helps to create more starch in them. Also the middle portion if left uncooked could be grated and mixed with the rest easily.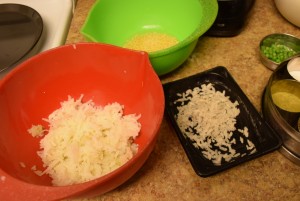 4. In the meanwhile take a pan or a flat wok(kadhai) with oil and heat it on medium heat. The oil should be enough to reach the 3/4th height of tikkis such that their top remains uncovered . However, if you can compromise a bit on crispiness, you can use less oil may be 2 tbsp for each tikki and shallow fry them.

5. Take poha in a colander or strainer and wash it thoroughly under cold water till it swells up or absorbs water.

6. Mix the poha , rice flour (you may skip this ) and grated potatoes together with hands or a masher.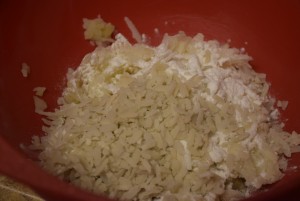 7. Make a Dough of potatoes.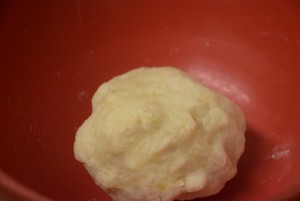 P.S. : Never mix spices or salt in potato dough. This would make the dough loose and sticky and the tikkis will soften up.
For the stuffing:
1. Soak dal in hot water for 15 mins.



2. Boil 1 cup water with salt and haldi in it. Add dal to the boiling water and cook for 3-5 mins. Alternately I microwaved dal for 2 mins on High with salt and turmeric. We have to boil it enough to get soft ,but it should neither lose its shape nor get crumbled or mushy. Strain the dal after boiling through a colander.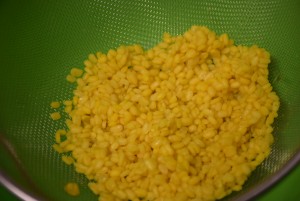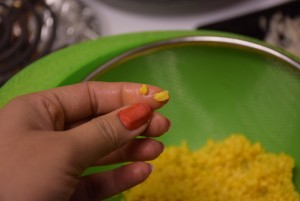 3. Now add 2 tbsp oil in a wok and add jeera ,hing to it.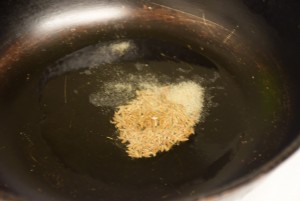 4. After sputtering of jeera starts ,add the peas and ginger and stir them well.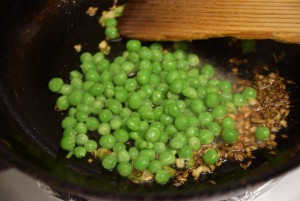 5. Now add the dry spices, chillies and stir them well on medium heat till all the water gets evaporated and it becomes dry.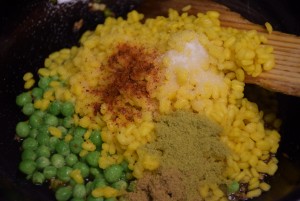 6. In the end add the cut cilantro and mix it well. Here I would like to mention that, Instead of Moong Dal, you may use Urad or Chana dal too for stuffing . Whichever Dal you use always use Hing. It helps to prevent the formation of uric acid in bones.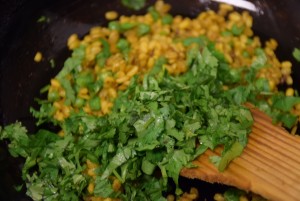 7. Let this stuffing cool down to room temperature before your dough is ready. Transfer it to another container for faster cooling.

Final Assembling:
1. Grease your hands with oil and pinch a lemon size portion of potato dough.

2. Flatten it with both hands and make a dent in the center by rotating it in one palm in one direction.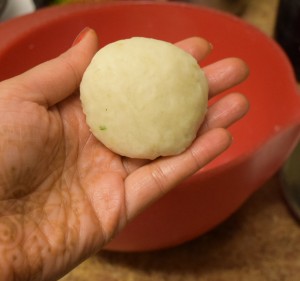 3. Place 1 spoon ful of stuffing in the center.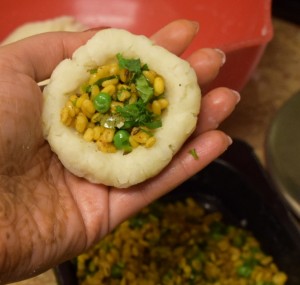 4. Now try to close all the edges on the top by constraining it slowly in the palm ,rotating constantly and sealing the top in the end.

5. Roll it between your palm and again shape it in a thick wheel-shape tikki. Don't press it too hard to make it thin or the stuffing might come out while frying.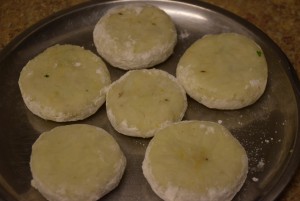 Please see that I have gently roll their edges in corn-starch but they cook well without breaking even without corn-starch.

6. Place them one by one in the pan with oil .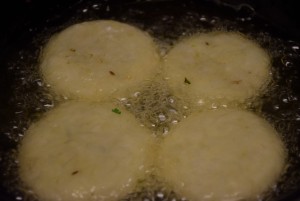 7. Now be patient . Each tikki will take 15- 20 mins to get cooked both sides. SO depending on the space allowed ,I added 4 at a time so that in 20-25 mins 2 tikkis were done.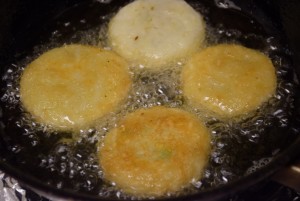 8. The oil should always be kept at medium or low so that they get cooked from inside too and don't get burnt form outside. Each side initially will take 15 mins ,but later on will take 10 mins.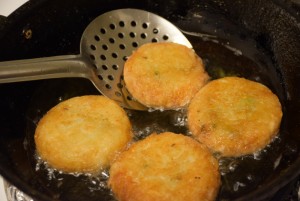 9. When they are sufficiently brown and crispy on both sides take them out with a slotted spoon on a paper towel lined plate and serve them hot as it is with chaat masala.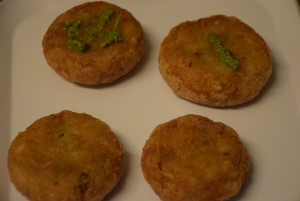 10. Or serve them with other accompaniments like Chhole, Dahi, Anar, pyaz, hari chutney, meethi chutney , jeera powder, lal mirch ,namak and chaat masala.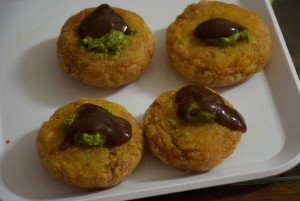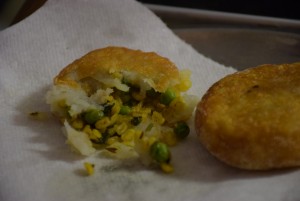 Believe me they were crispier than Tater Tots and the stuffing inside added to the flavor. 😀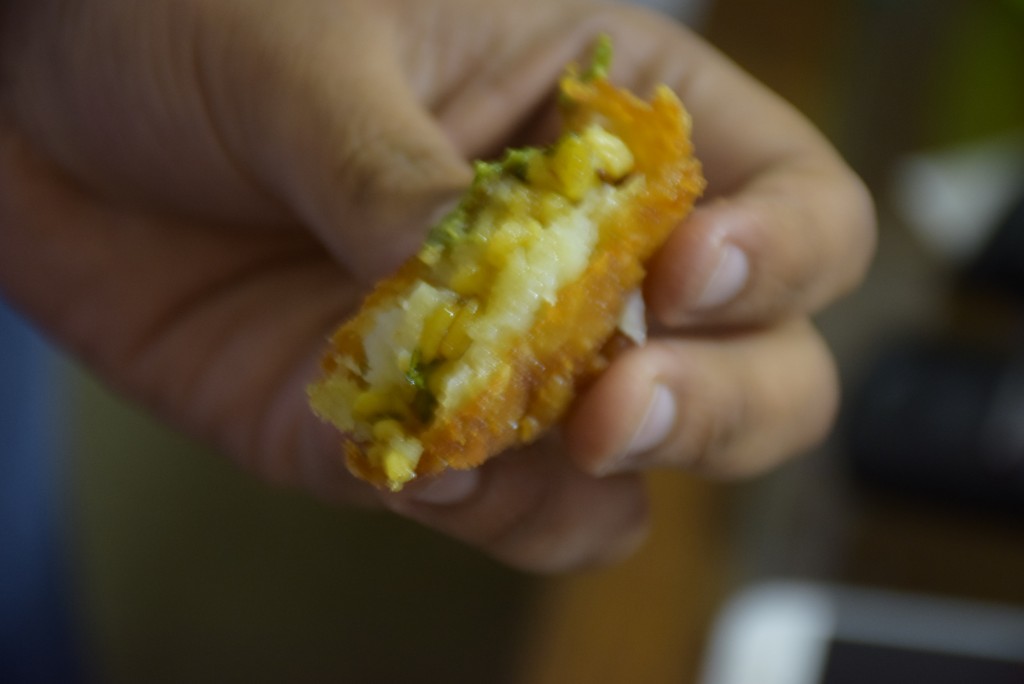 Please feel free to ask or suggest below!! 🙂 Till then happy cooking!!