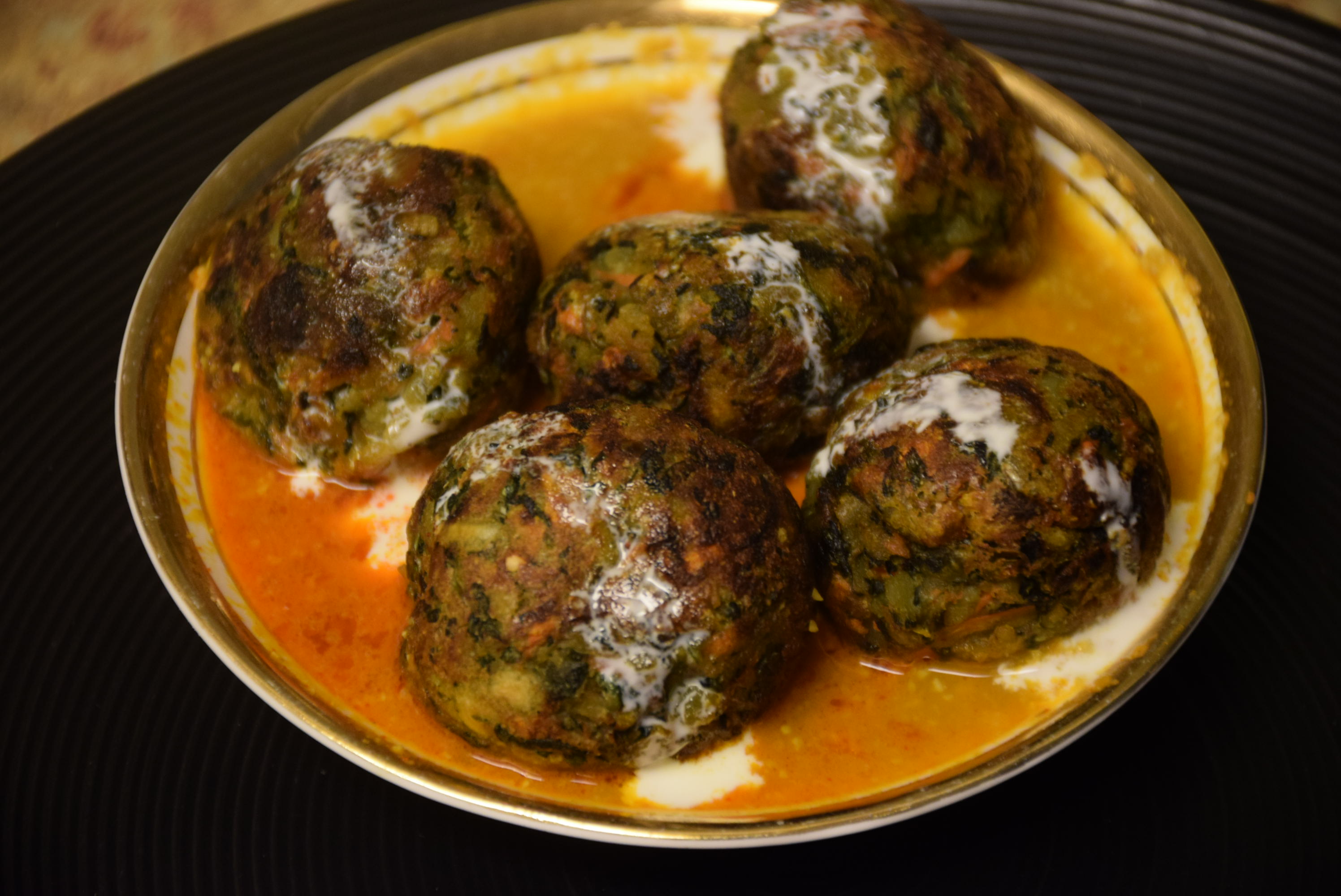 Spring is in .. so bidding adieu to the winter's delights , I thought of experimenting with the left-over veggies in my refrigerator. My hubby is fond of fried food and I am always in a conflict with me to resist his temptation and pursue my health-freak instincts. While contemplating of consuming my spinach leaves, all I could think was of "Palak ke pakode" (spinach fritters made with chickpea flour) ,but this is not a healthy option.

So , my mind came up with this make-shift solution to both our needs ad hoc . All you need is some 1.5 hours or even less and follow this easy, nutrient-rich recipe below. This is purely my innovation, you could add any of the available vegetables you wish to add.


Why I call it healthy? Because it doesn't involve : deep frying, boiling of spinach leaves, roasting spinach, using chickpea or refined flour , using arrowroot, using bread crumbs, using sooji(semolina) etc. Yes I have added some cream towards the end, but you may skip that and still relish your kofte with pleasure.

This is the first time , that I am publishing a recipe in its first try. Usually I prepare my counter,assemble ingredients and go by a defined procedure. But this time ,everything I did was impromptu. So ask questions or offer suggestions as many as you like.
😀
INGREDIENTS:
For Kofta:
1. Spinach leaves (palak) – a pack or bunch
2. Cilantro/Coriander leaves (Hara dhaniya) – half bunch or handful leaves
3. Boiled potatoes (aloo) – 2 medium
4. Flattened rice (poha) – 1/2 cup
5. Green chillies (hari mirch) – 1 or to taste
6. Salt (namak) – 1/2 tsp
7. Coriander powder (dhania) – 1/2 tsp
8. Fennel powder (saunf) – 1/2 tsp
9. Oil – 2 tbsp
For Curry or gravy :
1. Tomatoes (tamatar) – 5 large or 8 medium
2. Cashews (kaju) – 10 to 12
3. Walnuts (akhrot) – 5 to 8
4. Melon seeds (kharbuje giri) – 1 tbsp
5. Ginger (adrak) – 1/2 inch
6. Kashmiri red chilli powder (lal mirch) – 1 tsp
7. Turmeric (haldi) – 1/4 tsp
8. Coriander powder (dhania) – 1/2 tsp
9. Fennel powder (saunf) – 1/2 tsp
10. Salt – 1.5 tsp or to taste
11. Cloves (laung) – 2
12. Bay leaves (tej patta) – 1
13. Cumin seeds (jeera) – 1 tsp
14. Asafoetida (hing) – a pinch
15. Cooking oil – 2 tbsp
16. Indian curry powder (garam masala) – 1/2 tsp
17. Heavy whipping cream or fresh malai (milk topping) – 3 tbsp
METHOD:
| Preparation time : 30 mins | Cooking time :10 mins+ 5 mins + 5 mins + 15 mins | Makes 24 koftas , good for 4 sevings |

Preparing the Koftas :
1. For the koftas, boil potatoes in microwave or pressure cooker. It took almost 10 mins to boil and then release the pressure and cool them down.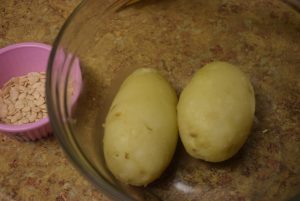 2. Wash the spinach leaves (palak) in fresh water till you don't see any impurities in water(usually a clean pack needs just 1 wash). Boil some water in a pan. Add some leaves and strain them out after 30 secs in a colander, wash them in cold running water. Similarly blanch all the leaves. This would maintain their nutrient level. This step will need 5 mins.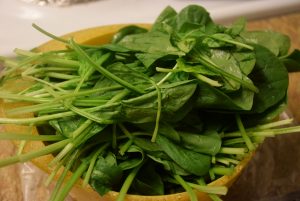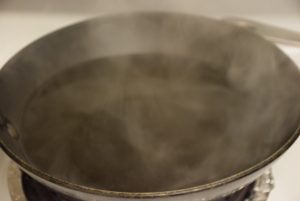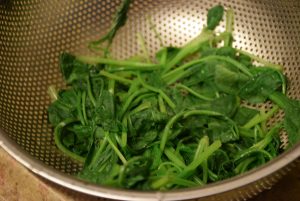 3. Grate carrots and add them to mashed boiled potatoes.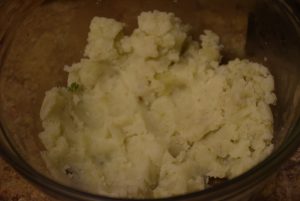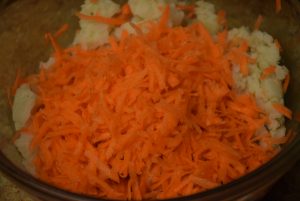 4. You may blend the spinach , cilantro(dhaniya) and green chillies in a blender coarsely. Or you may chop them roughly with knife. Add this blend to the potato-carrot mash. The fresh cilantro adds a kick to these koftas.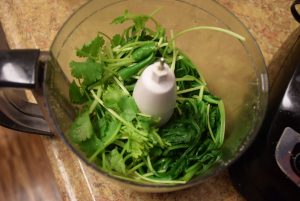 5. Oops, since I blended the leaves, it released some juices in the food processor. But don't worry, the fixer is coming up. Now add, medium thick or thin poha to this mixture and knead it with hands or fork till you see that the mixture has dried up.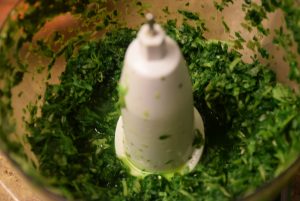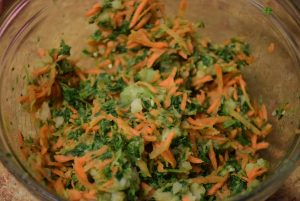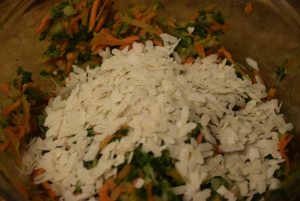 6. Add the spices as mentioned above, with a light hand on salt. Salt compels the mixture to get soggy again.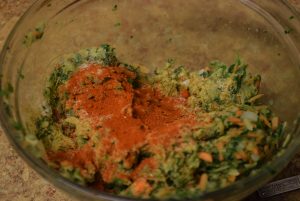 7. Form a dough kind of mixture. Make small roundels and arrange them in a dry plate.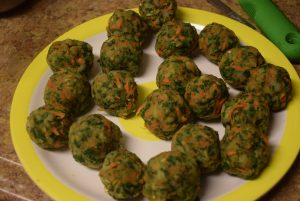 8. Preheat the appe-pan tray at medium heat. Add some oil if you like.

9. Now add each roundel in the cavity of the appe-pan. Cover it with a lid and let it cook for 5 mins.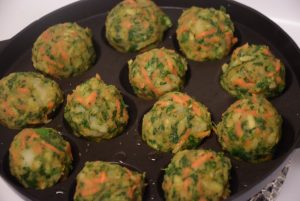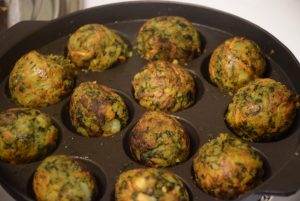 10. Check them with a spoon or a stick , if done from the bottom, turn to the other side and let it cook for another 5 mins. When done on all sides , take them out in a plate and repeat the steps for the left out roundels.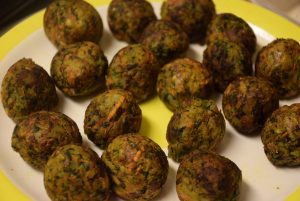 For preparing gravy:
1. I have used only tomatoes and nuts for the gravy. You may use onions,garlic too if you wish. Here too, for preparing the healthy way, add tomatoes, cashews or almonds, walnuts,ginger to the boiling water. Let it boil for 2 mins.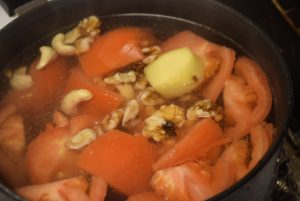 2. Strain them through a colander(chhanni) and let them cool to room temperature. Now add melon seeds to them and grind them in a paste like consistency. I did not sieve it , you may again strain it through a colander (jali).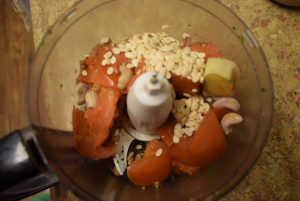 3. In a wok(kadhai) add oil. Once it gets hot, add jeera,hing, tej patta, laung to it . Let them roast for 30- 45 secs.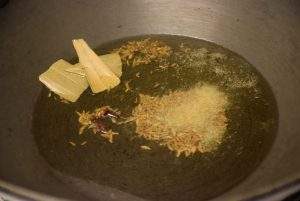 4. Now add the tomato puree to it and let it cook for 5 mins. You may cover it to avoid splattering.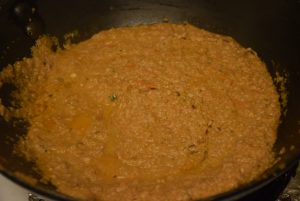 5. Next add the spices viz. saunf powder , dhania powder, lal mirch powder, salt, haldi , garam masala and some water. I added almost 1 cup water to it. Let it come to a boil again.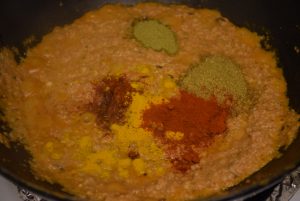 6. In the end, add the whipping cream ,if you prefer, and turn off the heat .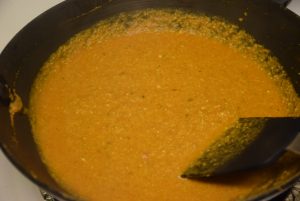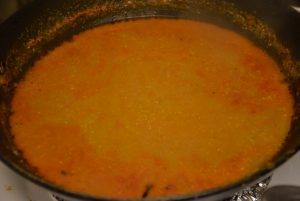 Serving :
1. You may keep the koftas covered on the counter and add them in the curry or gravy while serving. Or prepare the koftas in advance and refrigerate them in zip-lock bags for the next day.
2. If you are serving the same time, dip the koftas in the hot gravy and serve. Since they absorb water from the gravy, adjust its consistency beforehand. Also after adding koftas, don't turn them again and again or they would break and dissolve in the curry.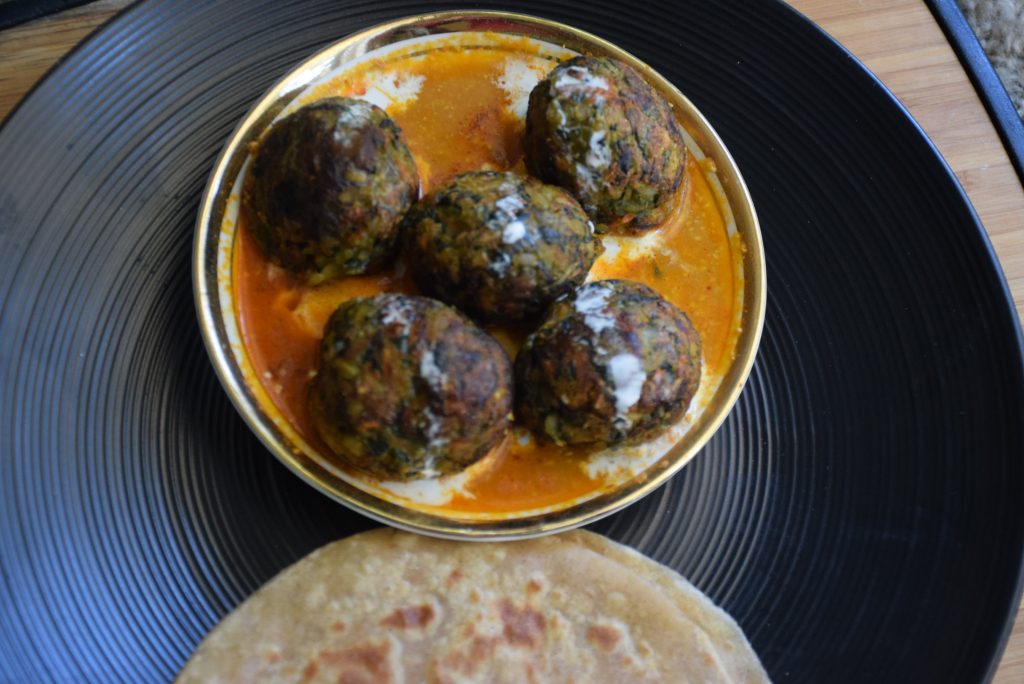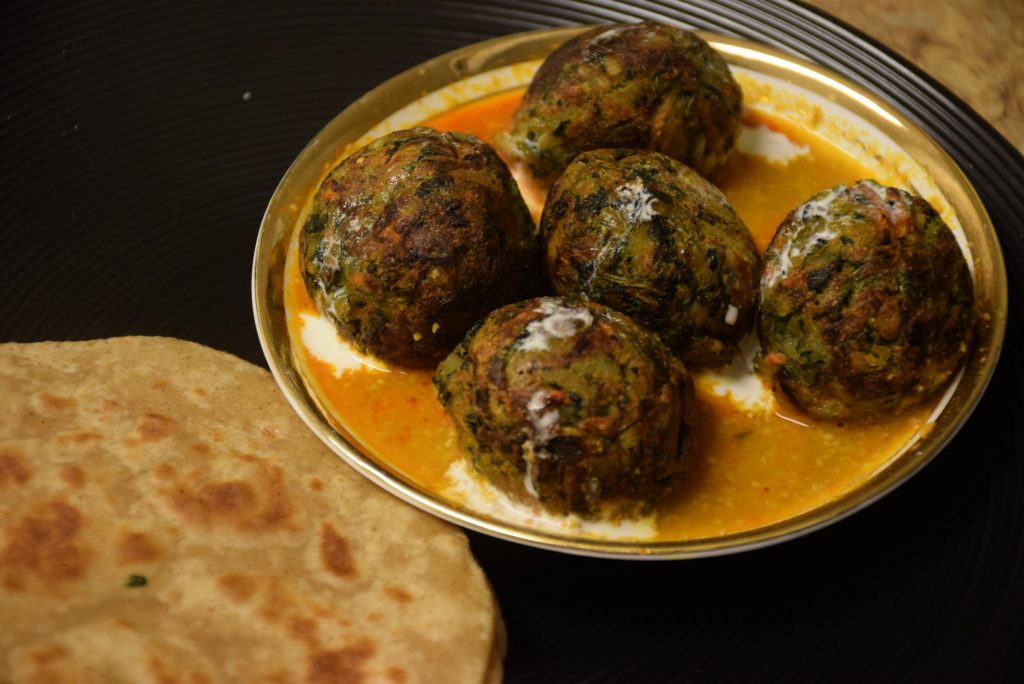 Serve them with paranthas , rotis or rice !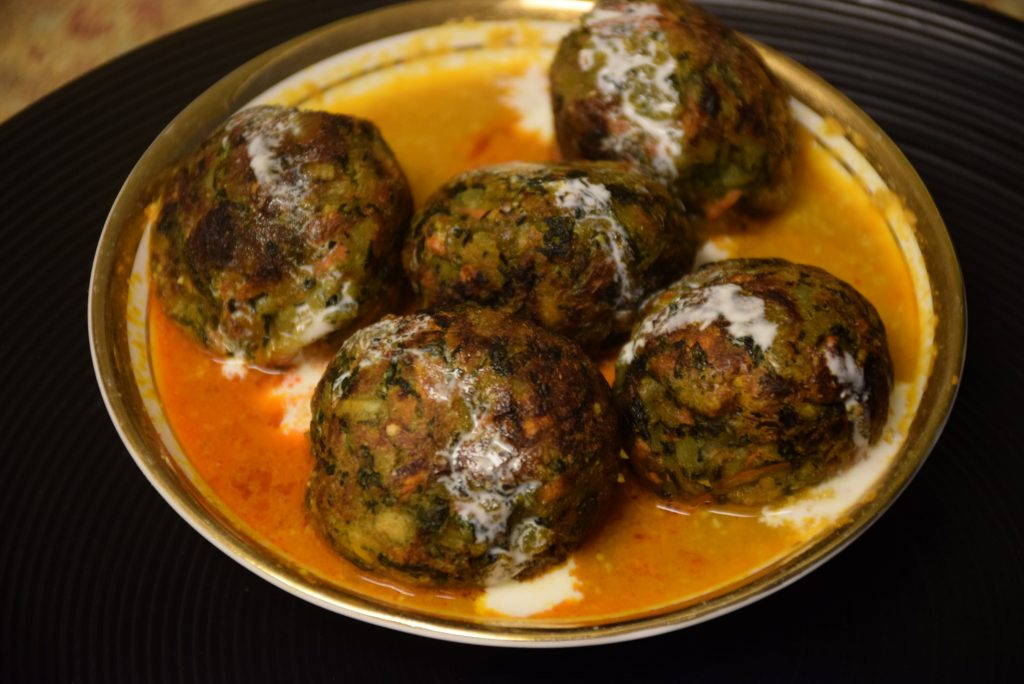 Enjoy your meal with this nutrient-savvy dish !
Till then keep cooking ….
🙂